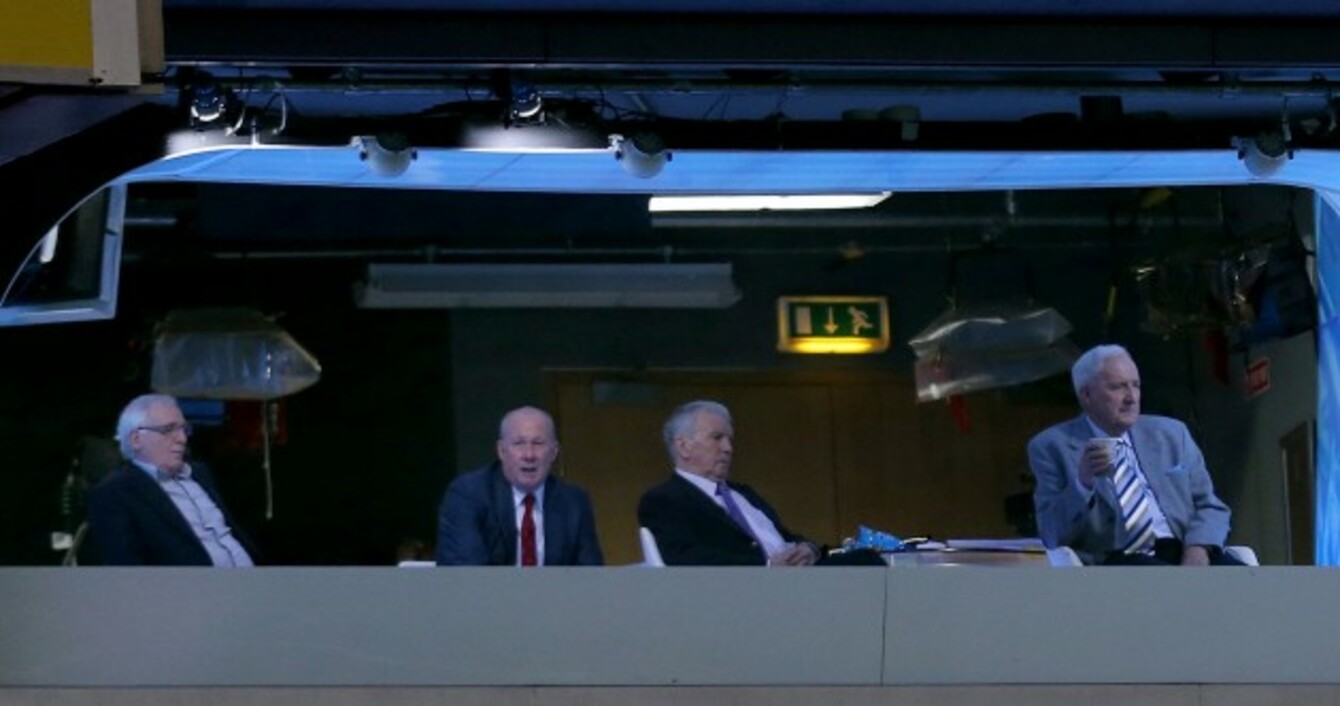 Image: ©INPHO/James Crombie
Image: ©INPHO/James Crombie
IT WAS A low point for everybody connected with Irish football.
Anders Svensson was sitting snug and smug on the Swedish bench having fired his side into the lead.
The Lansdowne roar was a feint echo of an old memory and the Aviva Stadium groaned as one ball after another was cleared by a yellow shirt.
"I didn't really care at the end," came the summation from John Giles last Friday night.
The voice of reason in the RTE studio had reasoned enough. The points had been made and replayed so often and repeating them only makes these performances hurt more.
A week is a long time in football, however. Ireland now know rather than expect to be watching the 2014 World Cup from a safe distance and Giovanni Trapattoni is no longer the manager.
"I thought it was bad on Friday. Not the other night [against Austria]," Giles told TheScore.ie yesterday. "I was just really down watching it."
"My criticism of Trapattoni is I think he created this style  before giving his players a chance to play any other way. In other words, I don't think he played that way when he was manager of Juventus – I don't think it was all long ball [there].
"I think with the players he had made up his mind; 'well, the Irish players can't play so I'm not going to ask them to play'. My opinion was you should try and ask them to play first in a constructive way. If it's not working then we'll change to what you think will, but I don't think they got a chance."
Trapattoni's departure has also made half a dozen players sit up and start to think about playing for Ireland again. Either next month or next year, there will be a brand new manager to attempt to please or mistakenly annoy.
"All managers  fall out at some times with certain players. When that manager leaves those managers come back into the fold. That's one of the pluses in the manager going."
He added: "There were different reasons for different players. in Stephen Ireland's case he decided to retire himself. So I wouldn't have any qualms about that, but I think the likes of [Darron] Gibson, one or two others, will make themselves available for selection again."
'Joy to watch'
A week is a long time in football, John Giles woke up last Saturday morning still caring deeply about football and took in the " joy to watch" that was the St Francis' under-13s 3 – 0 win over Home Farm. The game proved a breath of fresh air despite his son being the coach on the wrong end of the hiding.
Positivity is suddenly not such a difficult commodity to find around Irish football.
"I think the change was inevitable and the new man coming in gives everybody more reason to be hopeful."
John Giles was speaking as an ambassador for YourClub.ie. Click here to help your club set up a website and become financially self-sufficent.