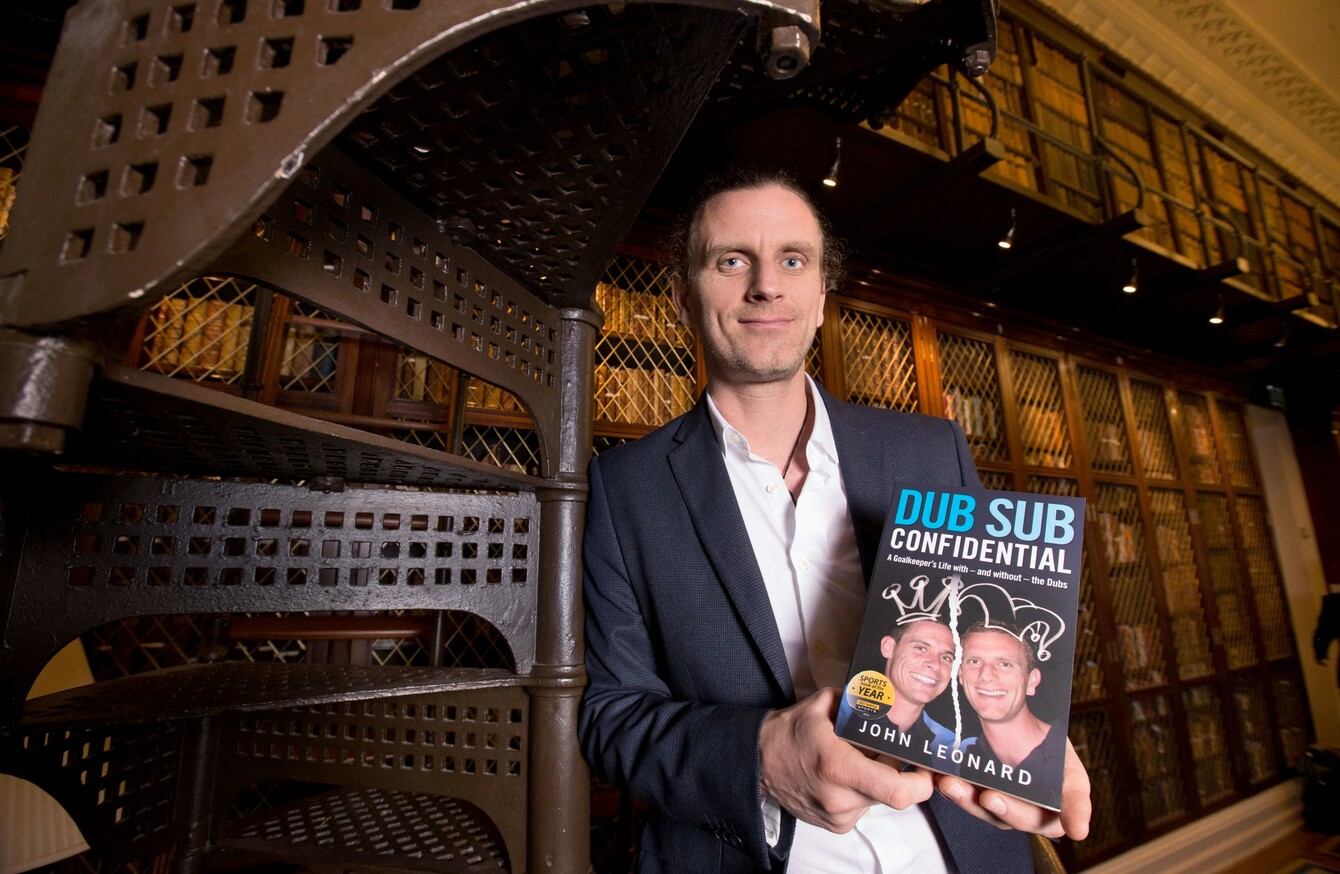 Image: Cathal Noonan/INPHO
Image: Cathal Noonan/INPHO
JOHN LEONARD'S STORY to this point has been one of abuse, alcohol, drugs, depression — and, ultimately, a journey back to life.
Dub Sub Confidential, his searingly honest memoir, was yesterday named as the winner of the inaugural Setanta Sports Book of the Year award.
It's partly the story of a young Gaelic football goalkeeper who ended up as the understudy to one of the modern game's greats, Stephen Cluxton.
But it's much more than that.
Abused by paedophile priest Ivan Payne aged nine, Leonard's battle with his demons led him down troubling paths that were as many as they were varied.
As his father Jim fought multiple sclerosis, he resolved to do three things: get sober; write a novel; and make the breakthrough to play for the Dubs.
"When I first got back onto the Dublin team in 2006, I knew that I had been in India smoking opium less than two years earlier," he explained yesterday after collecting the award.
"I knew that I had been doing ketamine every day and losing my marbles.
And I just thought that that journey, from being in the Himalayas smoking opium to winning an All-Ireland with Dublin, would have made a great story.
"That was in my head but then we never won. We didn't make it with Pillar (Caffrey), we didn't get it over the line. So I kind of parked it for a few years."
In an era drowning in bland cliches and soundbites, Leonard's warts-and-all honesty is refreshing — though, he says, there were a number of stories left on the cutting room floor for legal reasons, or for the next book.
"I had a few stories that I wanted to tell — the drinking, the drugs, the football — and I wanted to put them together but I had to be extremely honest doing about what I had been up to and where I had gone to.
I don't think trying to cover that up would have got me anywhere. It would have been a sham of a story. I just let go of that fear of what other people would think.
Be part
of the team
Access exclusive podcasts, interviews and analysis with a monthly or annual membership.
Become a Member
Revisiting those dark moments was both therapeutic and traumatic, he reflects, though he was most concerned at the time with getting words on the page.
"It was really like a process. I wasn't finishing a chapter about Ivan Payne doing things to me and thinking, 'Okay, ah, that feels great now it's off my chest'.
"I don't want to be too flippant about it. When the whole book is finished and it is there in front of you, then you sort of think that is part of your life, full stop, and you can move on.
"At the time, though, it is a process when you are writing one or two thousand words a day."
Leonard's is one of the more remarkable GAA stories to make it into print but having lived with one foot in that world for a time, he believes that there are plenty more out there waiting to be told.
"The players have to be open to talking about these things. Certain players would have to step away from the game and then be willing to put their balls on the line or their reputation as GAA men.
"It's that kind of closed circle to a degree. You don't move beyond the ranks, you don't talk about what's going on, because you don't want to be that person to be standing up.
"You hear all the interviews with players now, and I think it was a journalist who wrote about it, that you have to go to Division 3 or Division 4 footballers to get some kind of honesty because everybody just regurgitates the same crap, the same thing about the training and the opposition.
It's just like a mantra. It's effective for building good teams but it's not effective when you're trying to get a good story or to find out reality.
"You need people to be able to break away from that mould but it's difficult. I always enjoyed writing but I don't know of a lot of other GAA players who are into writing as well. It will take some combination of those.
"We need more GAA players to go and do Arts degrees and not accounting or whatever it is because if you get that potential to have a spliff here or there, we might be have people who are more open-minded at the end of it."