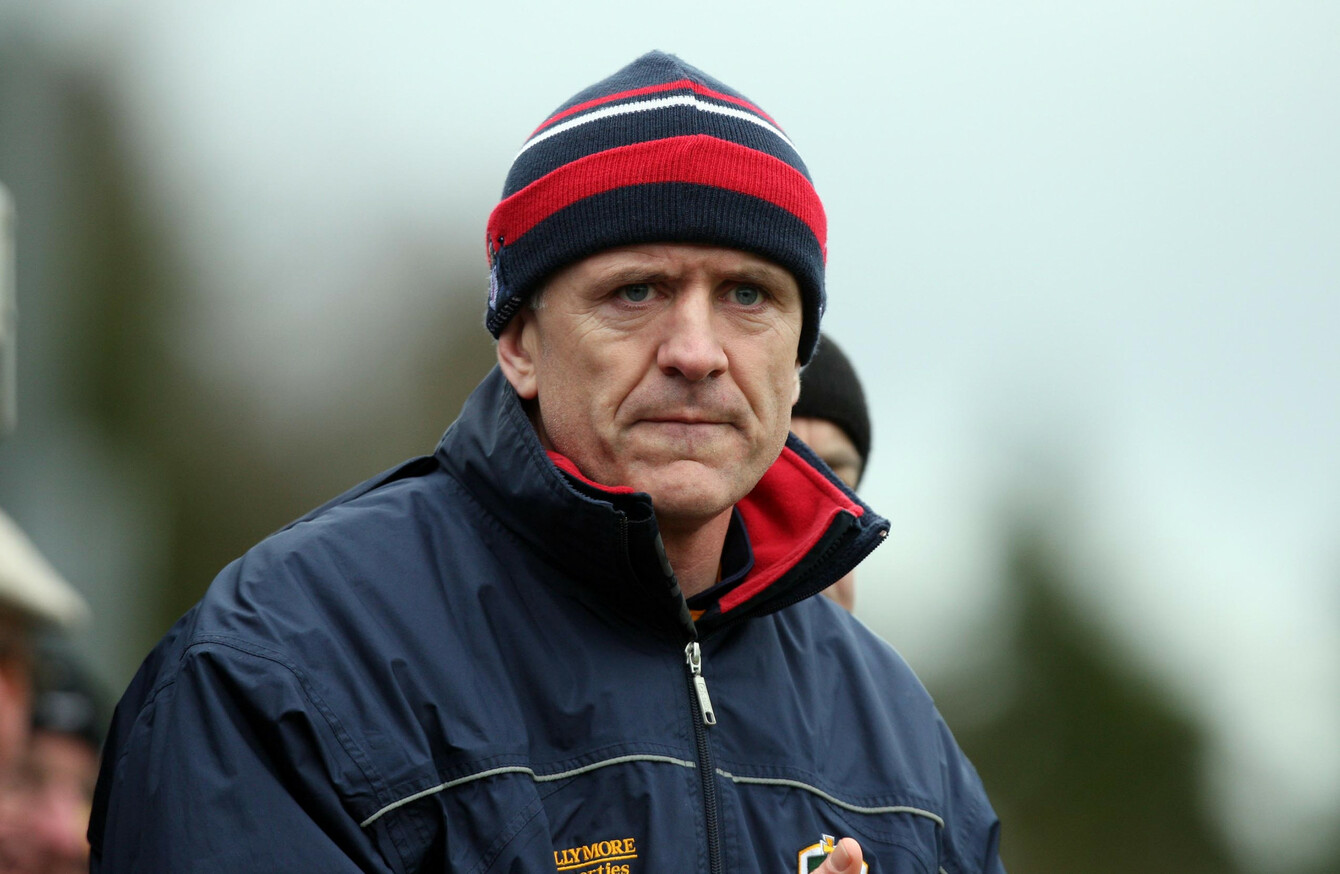 Image: Donall Farmer/INPHO
Image: Donall Farmer/INPHO
Updated at 20.26
FORMER MANAGER JOHN Maughan fears that Mayo have blown their "greatest opportunity" to win a first All-Ireland senior football title since 1951.
The Westerners fell to an agonising one-point defeat against Dublin in last Sunday's decider – and had Donal Vaughan sent off in the second half.
And Maughan, who was in charge when Mayo lost out in the 1996, 1997 and 2004 deciders, feels that a 15 v 14 numerical advantage would have got Stephen Rochford's men over the line.
John Small was dismissed for a second bookable offence after careering into Colm Boyle – but Vaughan saw red moments later for retaliation.
And Maughan said last night: "It was one of those fleeting moments – and hard to rationalize it looking on.
"He's a great guy and was playing brilliantly well but with the numerical advantage, we would have gone on to win it.
It was that little rush of blood but he'll be the first man to know. You could see in his body language coming off the pitch that he was quite distraught."
Mayo fell to a ninth All-Ireland final defeat since 1989 at the weekend – and Maughan is beginning to wonder if the door will ever open.
He added: "This is the hardest one of all to take, without a doubt.
"Last year was difficult and I get the impression that time might be running out.
"I'm fearful that might happen but having said that, I have heard some of the comments from the post-match reception that everybody is prepared to go at it again."
Maughan added that long-serving stars like Alan Dillon and Barry Moran might slip into retirement – but he believes the core group of players, and manager Stephen Rochford, will stay on for another crack at landing the Holy Grail.
But he reflected: "There are no guarantees in life and sport and you have to wonder.
I don't believe in a curse or any of that nonsense but you do wonder after watching yesterday because that was arguably the greatest opportunity of all time.
"That's nine we've lost and it's difficult. Nobody deserves to win anything in life but if a team did deserve to win one, it's this group because they've been remarkable.
"We're not looking for sympathy but there have been a lot of nice things said and plaudits directed towards the team from football people around the country."
Maughan admits that fans were "very confident" ahead of the game – and he felt Rochford's men had built up an unstoppable head of steam.
He said: "We were very confident coming up to this All-Ireland.
"The team was playing exceptionally well and there was a seismic shift in attitude among all Mayo people since the Roscommon replay victory.
We looked to be hitting good form against Kerry but if anything, the three-week gap might have been a little bit of a nuisance because they were on a great run.
"If the final was a week or two ago, who knows?
"But we're exceptionally proud of them – there was great manliness about every single one of them.
"We should have been three or four points up at half-time – we missed a couple of easy chances.
"(Paddy) Durcan had a chance, (Lee) Keegan left one short and Cillian (O'Connor) missed a free or two.
"The red card was the turning point and the talking point and we would have had the numerical advantage and would have been able to squeeze up on Stephen Cluxton's kick-outs.
"That will play on his mind for a long time to come and then Cillian's late free came off the post and if that had gone over, I felt we would have won it.
"But you have to give great credit to Dublin – they're an awesome team and Mayo people will wish them well."
Despite another heartbreaking setback, Maughan believes that Rochford and his men will rally for another big assault on Sam.
He added: "The reality is that they've done that every bloody year – they're a remarkable bunch of lads.
"This will hurt for a couple of weeks but Monday came and Tuesday will come.
"I think he's (Rochford) done a very good job.
He came in for a lot of harsh criticism but show me someone that's never made a mistake. There were a couple of things that might have been questionable but on Sunday, when the pressure was at its greatest, he got it absolutely spot on.
"His match-ups were brilliant and his team came into the final in terrific shape.
"He deserves credit for that and he took a chance this year with Mayo fitness-wise because when I look back on the game against Galway, the team only looked half-fit.
"But he had them spot on for this game and he deserves credit for that.
"He's a young manger who's embellished his reputation as the season went on and in the semi-final replay against Kerry, everything came up trumps for him.
"There's nothing more he could have done.
"The players will gather together and stick together for a few days.
"They'll get a little bit of comfort as the days roll on but they'll look back on this one and what a glorious opportunity.
"66 years of want and desire could have been bridged but it hasn't happened.
"But Mayo are the one team in the country who can put it up to Dublin and football needs a team to break their cycle of victories."
Subscribe to The42 podcasts here: