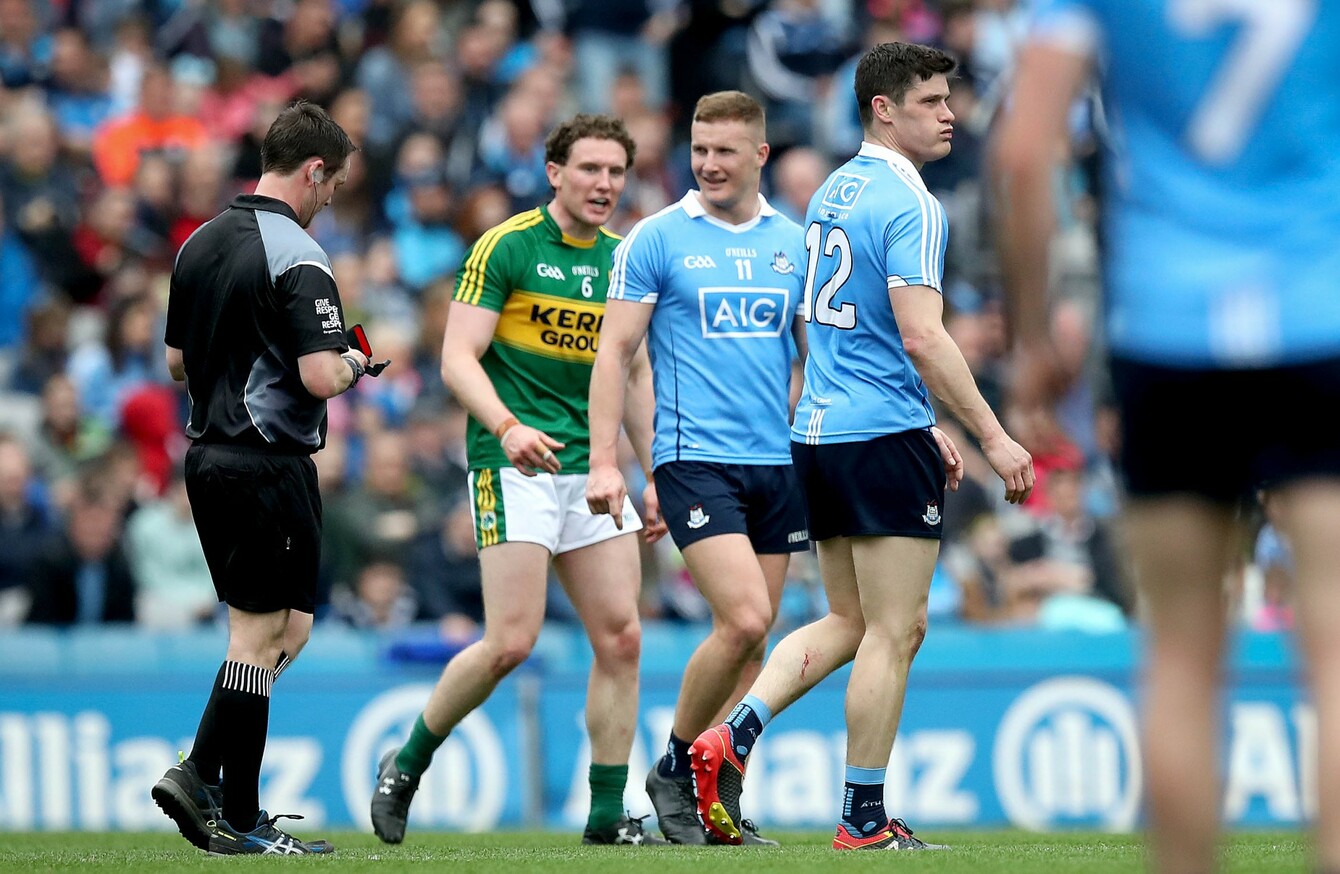 Image: Ryan Byrne/INPHO
Image: Ryan Byrne/INPHO
DUBLIN FOOTBALL LEGEND John O'Leary has urged Diarmuid Connolly to cut moments of 'petulance' from his game.
Connolly's black card against Kerry in yesterday's Allianz League final defeat was the latest moment of disciplinary woe for the Dublin superstar.
The St Vincent's man was also black-carded against Monaghan in the group stages of the League campaign, and suffered a similar fate on club duty against Palatine last November.
Connolly was also sent off against Donegal in last year's All-Ireland SFC quarter-final, and was red-carded in the 2015 semi-final draw with Mayo, before being cleared to play in the replay at the 11th hour by the independent Disputes Resolution Authority (DRA).
Renowned as a marked man, Connolly was also dismissed in the 2013 Dublin SFC final replay against Ballymun Kickhams, and he received a red card in Dublin's 2011 All-Ireland semi-final victory over Donegal.
Former Dublin goalkeeper O'Leary, speaking to the RTÉ GAA podcast, says that Connolly needs to improve his disciplinary record "to become a great player."
O'Leary said: "I'm not going to preach to him but he needs to become a great player by ensuring he doesn't fall into those traps that opposition set for you, a pull of a jersey, little niggle and a bit of a push and a shove.
"The really, really good players don't react to that. They react by becoming even better footballers and putting the ball over the bar and in the back of the net.
"Then, the fella that's been aggravating you feels even worse but he's risen to that niggle a couple of times, to his own personal cost and a couple of times to the team's cost.
"So he's got to grow more mature when it happens, and learn from it. He's still a young man but he's a lot of experience on the pitch and you'd like to think he'd have it out of his system by now. He has to lose that trait to become a really great player."
Former Dublin goalkeeper O'Leary acknowledged that Connolly (29) is often singled out for special attention from opposing teams.
But he added: "You put your heart on your sleeve and you put yourself out there for that exposure.
"Plenty of really good footballers have had to live with that, whether it was the 'Gooch' (Colm Cooper), Peter Canavan, Mikey Sheehy. Lots of players over lots of decades will be the target because they're that good. It's a statement in itself, that they feel he's such a danger.
"He just has to live with it and put up with it. He's done it really well many a time but a couple of times, the screen falls back and the shade drops and he reacts and gets caught.
"But he's a phenomenal footballer, no doubt."
And O'Leary believes that manager Jim Gavin has some big selection calls to make as Dublin prepare to defend their Leinster and All-Ireland titles.
He said: "I think he has. If you look at Dublin's (League) run, they've been almost beaten a couple of times.
"The bench didn't work as well as it has in the past, with the exception of Paul Mannion.
The impact he (Gavin) expected didn't happen. Come the championship, you're looking for who's going to get the key scores. Bernard Brogan has been quiet enough, Paul Flynn has been quiet enough, Diarmuid was going well until a bit of petulance got him sent off.
"That needs to be managed. Eric Lowndes played well, the backline is playing well, Philly McMahon (and) Darren Daly had a super game. Ciaran Reddin's come in from nowhere out of the U21s and had a really good first half in particular. So there are players coming in.
"He'll have to make calls around some of the fellas that have been there for a couple of years, without a doubt, but that's life. The juggernaut rolls on."
Source: RTĖ Sport/SoundCloud
The42 is on Instagram! Tap the button below on your phone to follow us!