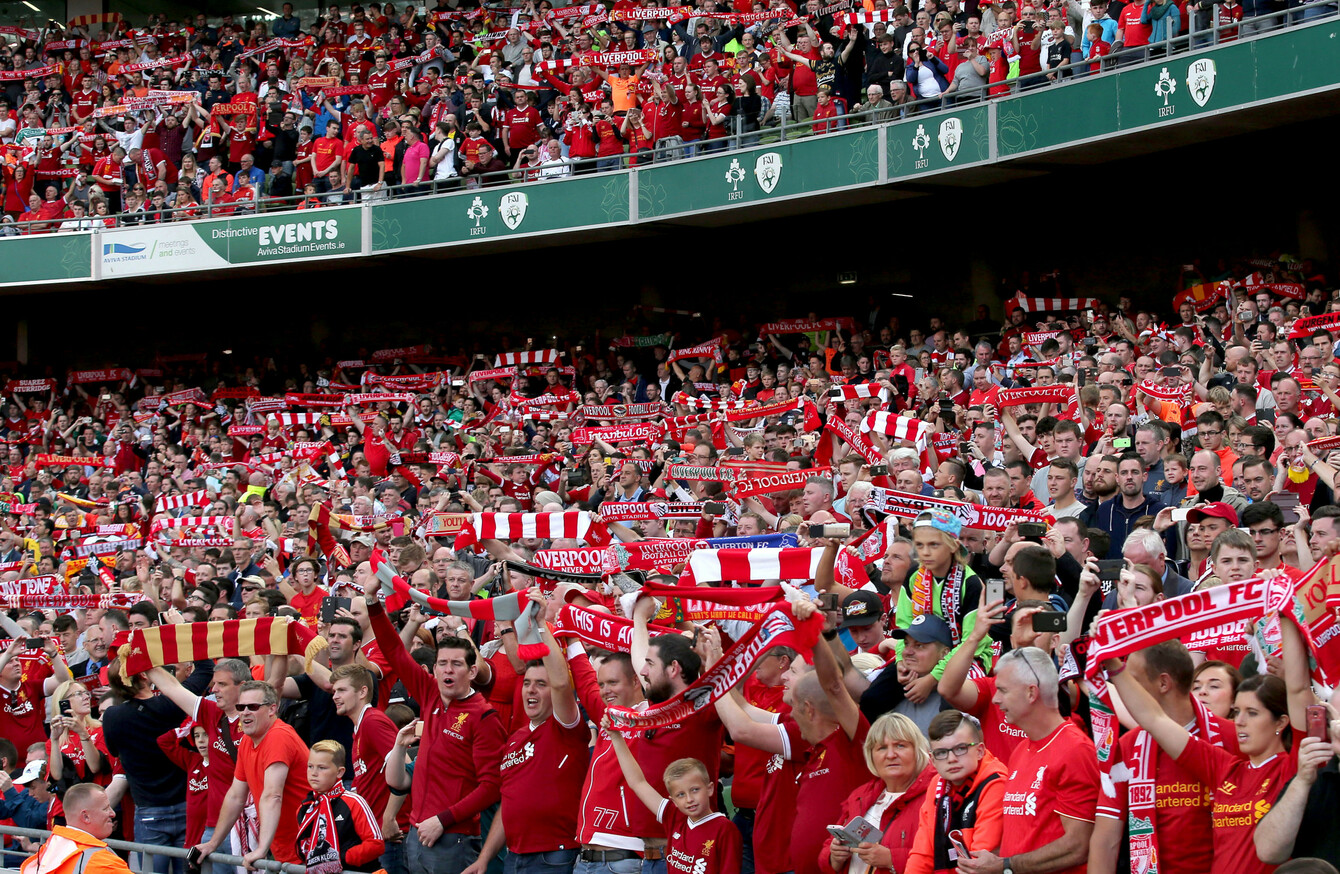 Liverpool fans packing out the Aviva Stadium last week.
Image: Donall Farmer/INPHO
Liverpool fans packing out the Aviva Stadium last week.
Image: Donall Farmer/INPHO
OVER FOUR DAYS last week, 97,000 people visited the Aviva Stadium to watch football.
It was a boost for the organisers of the International Champions Cup who had seen attendances for games in other regions, particularly in the US, leave many stadia half-empty.
As a result, we might see additional ICC games at the Aviva Stadium in future since the backdrop of an excited crowd is vital to a 'competition' to put pre-season games on television.
The Arsenal v Chelsea and Liverpool v Napoli games drew high attendances in Ireland for a number of reasons. The three English sides — particularly Liverpool — have strong support in Ireland and the games offered fans the opportunity to see their heroes on home soil.
While the pricing of the games was on the high side, it was far less than the cost of bringing a family to England for a similar experience.
There is a novelty in seeing stars of the game in a once-off friendly close to home. It's not a new concept and League of Ireland teams have a long history of using such games as fundraisers each year — although the impact seems less each year.
The matches at the Aviva are completely different to the football experience on offer every week in the League of Ireland. Anger at those who ignore the League of Ireland while attending Aviva friendlies is as useful as anger at those missing mass each week while planning to see the Pope – or at those flocking to The Rolling Stones and Ed Sheeran while local artists remain unheard.
In fact, the challenges Irish football and the music scene face are similar. There are advocates for both in the media but people largely put their hands in their pockets for the big draw from abroad with media largely dominated by foreign options with massive industries and marketing budgets.
The Aviva and 3 Arena have better facilities and are respectively more impressive than Whelan's/Dalymount, the Spirit Store/Oriel or The Roisin Dubh/Terryland. If the Rolling Stones roll into town and people have been listening to their albums for years, we don't chastise them for ignoring David Kitt, people want to enjoy themselves.
There will always be the people who declare – even if they've never seen a game – that our league is shit. Forget about them, let that nonsense wash off you simply because you know better.
Since those games I've heard people talking about how it was a great day out, how their kids loved it – that the games themselves weren't great but that they had wonderful time. That's where the lesson comes in.
You can't blame people for spending their money on an event they hope to enjoy, you can only hope to bring what we're selling to a level where we can create events people might enjoy.
Many ask the question 'Why aren't those attending Aviva friendlies in League of Ireland grounds?'. They like football – they're willing to fork out to see a game. But instead of criticising, let's try to understand it.
Firstly, there were many LOI fans in the Aviva for those games, either because they like one of the teams involved or because the novelty of the occasion attracted them. These people are already attending LOI games.
Then we have to recognise that there are huge areas of the country that do not have a League of Ireland team to support. Only 12 of the 26 counties in the country have a local LOI team. I grew up in Kerry and, from that county's perspective, loved the wrong type of football. The idea of heading to Limerick or Cork for a League of Ireland game would have seemed bizarre to me as a child, I was fed a diet of English football with occasional trips to see the national side play.
The point is that of the 97,000 who attended the Aviva matches, only a fraction of them are people who have a local LOI team whose games they do not attend. But those people you can work on.
When you struggle to compete, sometimes you have to go back the basics, look at what you do have and make it the best it can be. You can't make a silk purse out of a sow's ear, but you can certainly aim to have the best sow's ear in the country. We need to embrace what is unique and positive about our league and try to build crowds organically.
We can't compete with the Premier League, but we don't have to, we just have to focus on what's special about us. Facilities are a big part of it and upgrading facilities is a massive and costly undertaking, but the event is the thing. I've been to Semple Stadium in Thurles a good few times and, to be honest, while it has two big stands, it's not a modern or particularly comfortable stadium, but it has a history and atmosphere that hurling fans buy into so the faults are overlooked.
League of Ireland clubs all have their own stories, regardless of how long they've been around, but it's up to clubs – not the FAI – to make sure they're welcoming places. One of the things larger stadia lack is the personal touch, something as simple as the staff in the ticket desks and selling programmes being happy in their roles and smiling and chatting as they sell the tickets and merchandise.
It is so easy to accomplish and is proven in every industry to drive return business.
Away fans should be treated as guests, not as a hindrance. Keep the toilets clean, it's not rocket science. A few years ago, when working with Athlone, I did a quick match night survey with fans and found out that one of the biggest issues female supporters
had with their experience was the toilets and bringing kids to them.
The standard of football and the games themselves scored as the 6th most important factor to people bringing kids – cleanliness, food, parking, swearing/abuse towards the pitch and safety all scored higher than the game itself.
There's a huge amount of improvements that can be made with garden tools, a pot of paint and the willingness of volunteers. Clean up the weeds on your terraces/unused areas, freshen the exterior wall with a coat of paint. Get a simple uniform or hi-vis vest that identifies volunteers so fans know who to approach, put your hand out to shake someone else's, not to look for cash.
The murals at Dalymount, the family enclosure at Turner's Cross, the parking and access in Tallaght, the covered away stand in the Market's Field, the seaside location in Bray, and the welcome you get in Derry are all positives across a variety of clubs.
We can copy these from each other, implement and make our stadia more inviting so that on that day when a casual fan walks in and plants their backside in one of our seats, they'll enjoy themselves and want to come back.
There are no quick fixes, but there's no reason not to start work on it today.
The42 is on Instagram! Tap the button below on your phone to follow us!