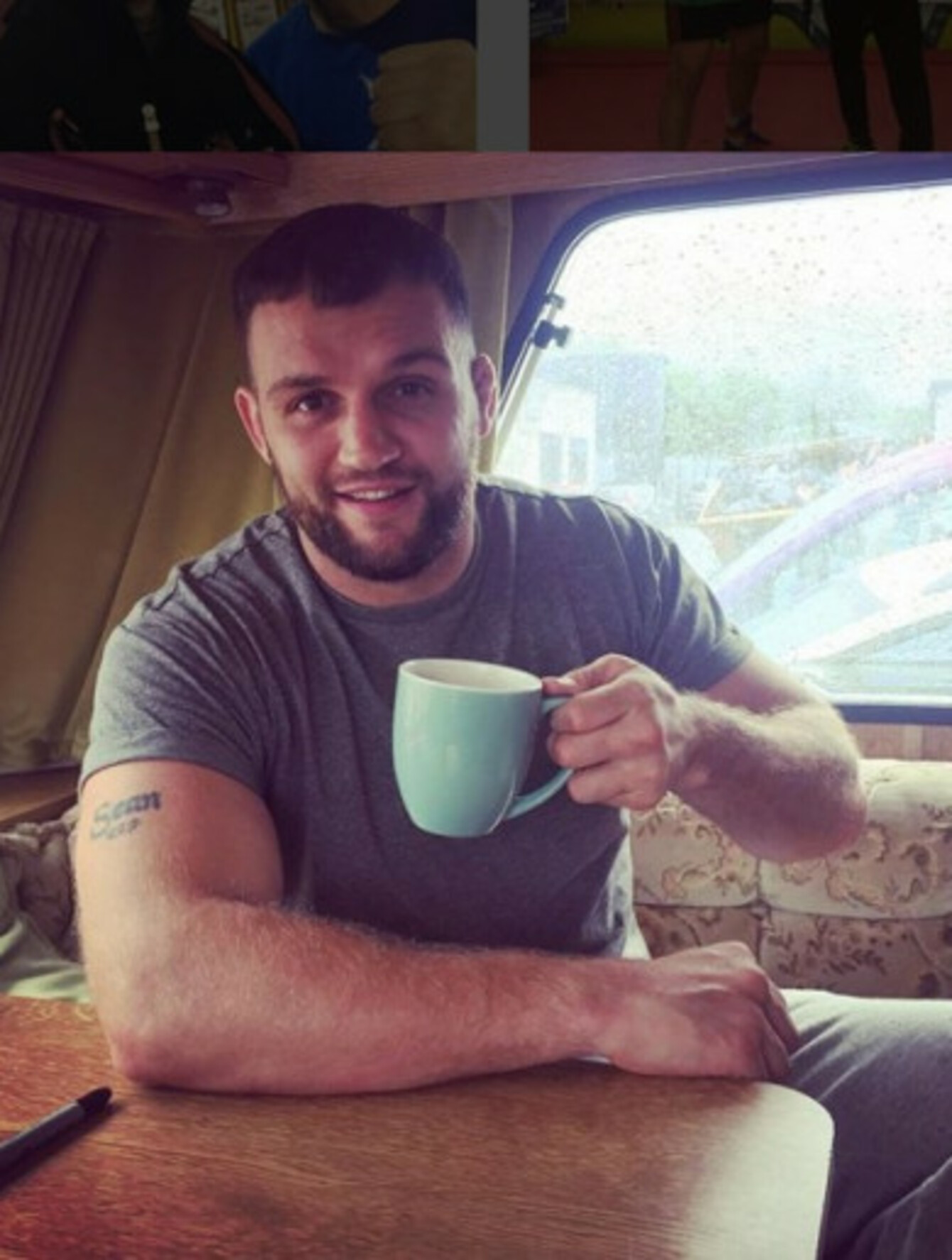 YOU CAN'T BEAT a bit of small talk to punctuate the social debacle that is waiting for an unhurried card payment machine to process a transaction and spit out a receipt.
"Your UFC interview – it's not with Conor McGregor, is it?" asks the branch manager – Junaid, if memory serves – at Carphone Warehouse in Liffey Valley Shopping Centre, Dublin.
"He's here a lot. He's a nice guy. He came in here to buy phones last year.
"He was trying to buy three phones: 'Gimme this one, gimme that one, and I'll have that one as well.'
"But I told him we can only do two phones per person. He said: 'No problem.'
"But he was trying to buy pay-as-you-go phones, so I told him: 'Why don't you switch to bill pay?'
"And he said: 'Look at me, man! Do I look like I need to be saving money?'
"I said: 'No, sir, but are you really walking into shops to top up your credit? It's not a look that really suits you.'
"And he said: 'My man, I like your style!' And he bought three bill-pay phones: two in his name – one for him, one for his girlfriend. And one in his mother's name, I believe.
"Lot of money!"
Madman
He's a gym-mate of 'The Notorious', but John Phillips isn't on a Conor McGregor budget. To be honest, neither of us are on even a Paul Kimmage budget: we meet in Starbucks, where people usually go to avoid verbal conversation, but where the UFC middleweight tends to kick back on his way home from boxing training over at Paschal Collins' Celtic Warrior Gym in Corduff – a regular staple in his big-fight prep. Collins – brother of the great Irish boxer Steve – will be in Phillips' corner alongside John Kavanagh for his Paddy's Day fight with Charles Byrd.
Phillips, 32, a boxer-turned-mixed martial artist whose propensity for first-round knockouts earned him his longstanding moniker 'The White Mike Tyson', has a fighter's handshake in that it's frightening to note how much he's holding back.
A former BAMMA world champion, he signed with the UFC in December 2016. Two-and-a-bit years on, he's in debt, he's yet to make his debut for the organisation, and he currently resides in a caravan outside John Kavanagh's Dublin home, some 100 kilometres and a full Irish Sea away from his fiancée back in Swansea.
At least two of those things are set to change in the next six days, and the self-proclaimed 'right crazy Welsh bastard who's up for a row with any fucker' beams as he takes the first sip of what's either a latte or a flat white. Venti, vidi, vici.
"I prefer to stay in the caravan because it almost reminds me of a Rocky film, you know?" he says.
"I could stay in a house – I could stay with one of the guys or I can stay in John [Kavanagh]'s house, but I'd have too many luxuries then. It'd almost get a bit too easy, and I might get a little bit soft.
I like the caravan because I've got to get annoyed about going to get water, I've got to get annoyed about sleeping on a little bed. And that adds to my training: I realise I'm sacrificing home comforts, I'm sacrificing being with my fiancée back home, I'm sacrificing being with my dogs. It just gives me that motivation: I'm looking at the guy on fight night, then, and I'm thinking, 'All right you fuck – you made me stay in a caravan for 20 weeks. I'm going to rip you in half.'
"And I'll tell you what: many people are going to read this and think, 'It's probably a nice caravan!'
"The caravan was free: that's how nice it is, if you can imagine. It's got no comforts. You can just about eat in it and it can just about hold some water. My caravan is a 1982. She's a belter. She's a belter.
"My cousin got it from a friend for free back in Wales. It just about made the trip over here," he laughs. "I don't think it's going to make it back!
"Hopefully I get a couple of KO bonuses and I'll treat myself to a newer model.
"As the great Welsh poet Dylan Thomas would say: 'I hold a beast, a little angel, and a madman in me.' And I think the madman is in the caravan. Don't come knocking!"
He's gone noseblind, the poor fella, meaning not too many friends come knocking on the belter's doors for a cuppa these days, but Phillips is at pains to stress his current environs, however humble, have actually seen him move up in the world.
"It could be worse, like. It's a lot better than my little van that I used to stay in outside SBG.
Living in the caravan, having previously lived in just an actual van, is like moving into a mansion: so much more room for activities. I can do yoga, I can cook, I've got a wardrobe for my clothes so I'm not living out of a bag. It's great.
"Listen, the van is great if you're spending the weekend down the countryside with your missus, but when you're in that van for three months? That'll fuck with your head. Oh, man, that'll fuck with you. It's too much – it's like being in jail."
More on that later.
It's been 18 months since John Phillips last earned a wage: a toxic combination of injury and issues with Visa applications have rendered his upcoming UFC debut one of the most delayed in the company's history.
The fact that he can even make it as far as next weekend, albeit barely, he attributes to his sponsors, Gavin Griffiths Recycling and Go Green Hydroponics – two Swansea-based businesses whom he politely asks be included in any written piece. He thanks them profusely and sincerely for keeping him and his dreams afloat throughout a fight career and tumultuous years that seemed hellbent on sinking him. He hopes to return the favour as far as humanly possible, though the UFC's reviled deal with Reebok dictates that his personal sponsors can't adorn his official fight gear this week.
It all seems fairly thankless: Phillips, who has been fighting competitively for more than half his life, will only now begin to reap substantial financial reward for his toil – but even that will be diluted to begin with.
And yet, were it not for a freak intervention in his youth, he might have been wholly worse off.
"I didn't ever want to do boxing or any combat sport," he recalls. "I lived with my dad in Penlan and then we moved to an area that was probably about a 20-minute drive away.
"I was about 13 or 14 at the time, and I had no friends there: I didn't know anyone, and I weren't a popular kid so I just wanted to hang around with anyone.
"I met a bunch of guys in my new school, and for some reason we decided one day that we were going to go into this car park to this old, derelict building that we thought was abandoned – it used to be a gymnastics centre. And we were going to smash the windows," he explains with a sarcastic tinge of teen excitement.
"So I'm all up for this. I'm grabbing rocks and I'm pelting windows.
"And a bunch of lads come out: the old Gwent ABC had moved into the old gymnastics centre, unbeknown to us – we would never had gone near it if we knew it was a boxing club – and suddenly we're trapped in the car park, nowhere to go.
"They weren't happy. You've got the two main trainers, Terry Grey and Paddy Simons – Paddy's actually an Irishman, from Derry. They wanted to batter us all, but they could see we were kids. But I think they realised if they were only to tell us off, we were going to continue being little shits.
"So they decided to teach us a little bit of discipline, some life lessons. Terry says: 'Right, come into the gym!' And they said that if we didn't go into the gym, hit the bags and do a session, they were going to ring the police, and all of our families would know what we'd been up to. So all of us quickly agreed that we better pop in.
"After a couple of rounds on the bags, the coaches say: 'Right, then, who's up for sparring?' And I didn't know what sparring was – I thought it was hitting the pads, or whatever – so I'm a little bit eager, I jump the gun and I go, 'Yeah, okay, I'll do some sparring.' My friends are like: 'Are you fuckin' mad? Do you know what sparring is?' And I'm like, 'No! Pads?'
"They explained I'd have to go in and fight with someone, and I'm thinking: 'Shit, I don't want to fight anyone.' But I finally had friends, you know? I thought: 'I've got to win – I've got to get in and prove myself as a tough guy!'" he explains wide-eyed.
I go in and spar this guy. I was 14 and he was 18, but he was about the same size of me. But he was British champion at the time. And he boxed my head off – he battered me. In the end, I was too scared to throw a punch at him, because any time I'd throw one, he'd land four on me. I could see everyone watching, and I felt like I was going to cry – not just from the embarrassment, but I was getting badly hurt.
"I didn't want to show my new friends that I was hurt; I didn't want to show the trainers I was hurt. So I thought, 'Right, when he hits me next, I can hit him.' Something in my head told me that if he could touch me, I could touch him.'
As soon as I felt him touch me with – well, I don't know what it was, but I assume it was a jab – I closed my eyes and threw my left hand. I remember – 'Boom!' – hitting him and thinking: 'Shit. He's going to batter me now. That was a good shot.' So I covered up, eyes still closed, and I just heard everyone gasp. And for what was only a second but seemed like an eternity, I'm thinking: 'Why isn't he hitting me? Why isn't he hitting me?' I opened my eyes and he was on the deck.
"I think I've probably tried that shot a hundred times in my life and only landed it once," he laughs.
"That was my first time in the gym. No, sorry – it was my second time."
His first laced up the leather six years prior: Phillips, an eight-year-old scallywag, was marched down to the local boxing club by his mother, who was frankly sick of his guff.
He took a hiding from his sharper gym-mates, and recalls bursting into tears before bursting out the doors and walking the considerable distance back to his mother's house. As far as the sport of boxing was concerned, he was one and done.
"I told my mum: 'I don't care what you do, I don't care what you say, I will never go boxing again,'" he says.
"But that second time in the gym when I was 14 changed my life. Sport – combat sport – gave me that attention that I was missing. I wasn't getting it from my mum or dad, I had no friends, so through sport I finally got that attention. And I soaked it in. It literally turned my life around.
"Paddy and Terry became like two other dads to me, or grandparents, even. When I went through some rough times, I could have gone to live with either of them. I didn't want to burden them, like, you know? But they always welcomed me. They're still at Gwent ABC today – they're like icons. I can't speak highly enough about them."
He continued to box under Grey and Simons, and by his late teens Phillips had accrued Welsh and British amateur titles in the ring as well as a reputation as a ferocious puncher, which precedes him still today.
His left hook was a hammer from hell with which he rained down upon adversaries who might have been more technically fluent; his propensity for controlled violence at odds with the sweet science in its unpaid form.
Only this thunderlust would eventually come at a cost to his boxing career.
"I wasn't selected for the Commonwealth Games even though I qualified fair and square," says Phillips.
"What happened was: you have to win the Welsh championships so many times to qualify for the box-offs. You get pre-selected for these box-offs, and if you win the box-offs, you go to the Commonwealths.
I boxed three guys in the box-offs. I knocked the three guys out. The last guy who I knocked out – they took him to the Commonwealths instead of me.
"I think he was a better technical boxer – a points boxer. My argument was: 'If someone is a better boxer than him over there [in Australia], he's knackered. If someone's a better boxer than me, I've only got to catch him once. There's still that danger.'
In fairness, he outboxed me for three rounds: it was computer scoring, so if I'd have dropped him, I'd only get one point. Look, he was up every round, I came back and, you know, finished the job. But that was nothing new for me: I'd come back to the corner and it's 3-5 in the opponent's favour; I'd come back a round later and it's 6-12; then, in the last round, I'd need a knockout.
"So I needed a knockout in round four anyway, and in the last round he dropped his hands and, 'Bang', I clocked him, knocked him out. But he went to the Commonwealths. My two gyms were actually trying to take the Welsh boxing association to court.
"His name is Hari Miles, the lad who I beat: he's a good friend of mine, now."
Miles, incidentally, recently fought and beat Danny Williams – a former conqueror of the original Tyson – in a bareknuckle fight in Cwmbran.
"I was pissed off with the boxing, obviously, then," Phillips continues, explaining how he parted company with his veteran trainers Grey and Simons when he outgrew them physically, his power becoming too hot to handle on the pads.
"I used to look up to Enzo Maccaranelli, the world champion boxer from Wales. I went to his gym and trained under his father, Mario, and Mario quickly became my icon – I could sit with him all day and listen to him.
Mario was a one-off. I remember being in the gym one night – just me and him – and some guy comes in, maybe in his 30s, and I can see him giving Mario a bit of stick. So I'm annoyed, now, and I'm going to go down and ruin this guy. I'm out of the ring, and I'm on my way down. Before I can get there, Mario has decked him. He's 75! He's seventy-fuckin'-five! Guy was a maniac, but the best man I've ever met in my life.
"I wasn't enjoying boxing, though. Back with the old scoring system, you'd be going to competitions and if your opponent opened up a 10-point gap, the fight was over, really. And I used to be thinking: 'This isn't realistic,' you know? 'These lads are just touching me on the gloves and getting points.' It was like fencing or karate. I remember often thinking: 'If we were gladiators, I'd fucking kill this guy.'
"I saw a fight DVD one day, and I didn't know what I was watching at the time but it was [UFC star] Wanderlei Silva. And I thought, 'Oh my God, this guy is a freak. I wouldn't mind having a go of this.'
"I had friends who told me it was a stupid idea, that no boxer could do MMA, and even though I thought, 'Ah, I dunno – I reckon I could give it a go', I kind of forgot about it. But then, out of the blue, Enzo [Maccarinelli] rings me up and says there are some cage fighters down in the gym looking for some sparring."
Despite initial trepidation due to Phillips' ignorance of mixed martial arts' ground game, Maccarinelli assured his gym-mate that this sparring would be boxing only. Phillips duly popped down to the gym for a tip around.
"I knocked everyone out," he says. "Their promoter, who was there, was doing a show in Swansea called House of Pain [Fight Night 5] – it was House of Pain Promotions – and he said, 'You've got to come and fight on the card.' And I was like, 'Nah, mate, I'm a boxer.' But he was persistent, so I said I'd call his bluff.
He said: 'I'll pay you anything to fight.' And I said: 'All right, I want a thousand pound.' He said: 'I'll give you a thousand pound to fight.' And I thought: 'Aw, for fuck's sake, why didn't I say five?'
"So I was in, but I had to ask about the rules. They told me I could do semi-pro or pro – the difference being in semi-pro, you can't hit the head on the floor. But I said: 'That's all I'll know how to do on the floor! I know literally nothing else about the floor, so put me in as a pro!'"
Phillips won his MMA debut by first-round knockout, but a sterner test was soon to follow in the shape of three-time British U21 champion 'Judo' Jim Wallhead, the defending House of Pain titleholder, of whose five pro wins four had arrived quick.
"Tough guy," says Phillips of Judo Jim. "Man versus boy. We knew nothing about each other, but as he's coming down [to the cage], apparently, someone pulled him aside and said: 'You're not going to beat this Phillips boy – he's the best boxer you'll ever fight.'
"So obviously he thinks, 'Well, I'm going to have to take him down.' Like, his name is Judo fucking Jim.
"So he takes me down easily – I didn't have a clue what I was doing. He gets the mount easily. And he starts elbowing me.
"I was a mess. The ref stopped it. And it should have been stopped at that point, really. I was way out of my depth. Boy versus man. I was young, dumb; had no manager, no trainer."
Phillips suffered a broken nose and had his face rearranged by Wallhead's elbow, but he departed that Swansea cage with more profound scars than those which manifested themselves physically.
For the first time since childhood, he'd been on the wrong end of a cruel one.
I was so ashamed. I wouldn't go to the hospital for stitches in case people would see. I lived with my dad at the time, and I came back and I just stayed in my room – I kid you not – I didn't leave my house for three or four months. My friends would ring and I wouldn't answer. I used to hear my dad answer the phone downstairs and say, 'Oh, he won't come out: he's upstairs sulking.' And they'd visit, and my dad would shout up: 'John, Jason's here!' And I'd go: 'Tell him fuck off!'
Despite having a job with his father, he refused even to to work. Having vegetated in his bedroom for some 12 weeks, though, he finally snapped out of his rut. And he was angry.
Before his fight with Wallhead, Phillips had told those closest to him that win, lose or draw, it would be his last outing in the cage, and that he would resume his pursuit of a boxing career soon afterwards.
Defeat, and particularly one he perceived to be so humiliating, took a spanner to those plans.
Realising he couldn't 'box off his back', Phillips walked into a class with Wales' first ever Brazilian jiu-jitsu black belt, Chris Rees. As in, he literally walked in – unannounced and, as is his wont, brazen-faced.
"I said: 'Chris, I want a jiu jitsu fight. I'll fight anyone. I'll fight them tomorrow.'
"And he said: 'Well, I've never met you before, and you seem like a maniac. You need to learn jiu jitsu.'
Phillips agreed to learn BJJ from the Welsh master, who volunteered to take to his corner for future MMA fights. But Rees' expertise lay in but one of those martial arts, not a mixture, and in any case he didn't have the time to assume the role of full-time trainer.
Without a specialised MMA coach, Phillips would never train specifically for an upcoming foe. He gauged his fight-fitness off the hill in Mount Pleasant, Swansea – "a killer of a hill" adjacent to the University of Wales Trinity Saint David: he reckoned if he could get up the hill, he could fight a man on the street. And if he could fight a man on the street, he could fight a man in the cage. The Patches O'Houlihan approach.
In the cage, he fought off instinct, and on the occasions when he was taken down by opponents, all he could do was utilise his tenuous grasp on the ground game – knowledge imparted by Rees – to hold on for dear life, "stay safe", and hope that either the ref would stand him and his opponent back up or he could somehow slither his way back to the sanctuary of stable footing.
"I had a fight with Chris Fields – and that was actually the first time I encountered John [Kavanagh]," he says. "Myself and Chris had a good back-and-forth first round, but I didn't know anything about the clinch, I didn't know anything about wrestling, and I knew very little on the floor.
In the second round, I broke my hand, and I went back to Chris Rees in my corner. I said: 'Chris, I've done my hand here.' And Chris said: 'What do you want me to do? Pull you out? I know you're not going to let me pull you out, so what are you moaning for?' And I said: 'Well something would be fucking nice, wouldn't it?'
"But I knew I'd have to try something different, because I couldn't throw my left hand or it would do further damage. And luckily, Chris [Fields] took me down.
"It was luck, really, but I thought: 'Hold on, I've got his arm in a triangle, here. I think it's on, anyway!' And I remembered what Chris [Rees] had taught me: when you've an arm in a triangle, you sit up – you don't sit back. I thought: 'Just squeeze'. And luckily enough I got the tap.
John Kavanagh came up to me afterwards and said, you know: 'If you ever want to come to Ireland for a bit of training, just get in touch.' And I blew him off. I didn't know he was", Phillips laughs, "so I was basically just like, 'Fuck off!'"
He fought a couple more times under Rees, but they shared a growing sense that they had reached their ceiling as a partnership. Phillips grew frustrated as he watched other local mixed martial artists quickly match his skill set despite having first entered the cage far more recently than he had. Away from MMA, meanwhile, he found himself "getting distracted: doing this, doing that."
Eventually, he and Rees decided that it might be better if he trained elsewhere, though Phillips still speaks glowingly of his former coach, whom he predicts will go on to achieve great things with his BJJ academy – the largest of its kind in Wales.
Following their split, however, 'The White Tyson' would draw another parallel with the former heavyweight boxing king after whom he was nicknamed.
"I fell out of love with the sport, I suppose," says Phillips. "And then I had a stint in jail."
Jail
Four years ago, Phillips was arrested for attempted murder, the sentence for which would have been 15 years.
It was a crime he did not commit, and one for which he was never convicted: per British law, he was released from provisional detention after six months when it became clear that no case could be made against him.
That half-year in custody, though, was spent in Swansea Prison due to the severity of the alleged offence.
"It was a load of crap," Phillips says. "I was found not guilty but I had to do six months on remand. It was a fucking shit situation.
"What happens is they can hold you on remand for six months, and obviously if you're found guilty before then, you're sentenced. And in that time, they're trying to put a case together, but at the end of that six months, if they have no case, they let you go."
His conspicuous discomfort in discussing the situation then gives way to a wry smile, which catches this writer off-guard.
"But I have some great memories from my time in jail."
Eh?
"I was in Swansea Jail, and I could see my house from jail."
That sounds even more torturous, if anything.
"No, because straight away, I knew everyone there. My two boxing trainers that I mentioned earlier used to be jail screws [prison officers], so people knew me as soon as I came in.
"You start in an induction wing, where you're locked up for 23 hours a day, and it teaches you how the jail works and all that. But as soon as I got there, the guy – kind of an assessor, who interviews you to see how much of a fucking idiot you are – was like, 'You're John Phillips!'
"And I'm like: 'Yeah.'
"'Big house on the corner, yeah?'
"And I'm like, 'Yeah…'
"But I'm getting a bit high and mighty – and a bit annoyed, to be honest – because he knows so much about me.
"He says: 'We'll bring you straight over to the 'D' wing – it's an open wing!' And I didn't have a clue what an open wing was, so I'm like: 'What are you trying to do, stitch me up or something?'
"And he's like: 'No, John. In an open wing, everyone has their cell open, everyone goes to work every day, but you can basically do what you want all day.'
"And I thought, 'Why is he doing this for me, like? This doesn't make sense.'
"Turns out the guy used to be my postman! But I didn't recognise him. That's how he knew me and my house.
I was in 'D4′ – the 'D4′ wing of the jail – but during the day, everyone would go out to work and I'd just be sitting out on the landing reading books, reading the paper, bored shitless.
"I came to realise that my friends were in other wings", Phillips says, "so I told the powers that be that I wanted to move wings. They said: 'You can't move to another wing, John', but I was like, 'Listen, just make it happen.' Straight away I was moved to 'A4′ – and the 'A' wing in Swansea is like a fucking zoo – they're crazy.
"I soon got back to 'D' wing," he laughs.
"There were two wardens, and one of them was called Stuart Phillips. One day I was writing letters and he knocked on my cell door – it was open of course – and asked if he could come in. I was like, 'I probably don't have much of a choice, do I?'
"I think he was a fan of kickboxing or MMA, and he comes in and says: 'Look at you!' He's got his hands out in front of my head, and he's like: 'You're a fucking animal – that's what you are! You're like a caged fucking tiger in here! I can't have it! You're probably going nuts, aren't you?'
"I'm looking at him thinking: 'No, you're fucking nuts.'
"But he told me I had to train, and that I could have a job in the gym. 'Nobody will stop you from going to the gym,' he said. 'Any time you want to go to the gym, you can go to the gym.' That was unbelievable.
And he sat down beside me and he said: 'What do you want to be, John? Do you want to be just another name in this shithole? Do you want to tell everyone, 'Oh, yeah, I'm a tough guy in jail' and have no one give a fuck about you? You can get out of here and do something with your life.' And at the time I was quite annoyed, to be honest. I thought: 'Get the fuck away from me.' But it sunk in. It really did. If I ever see the guy again, I'd like to give him a big thank you, because it made a lot of sense what he said, and it stayed with me.
The warden's warning was one of the few learnings he took from his time inside.
Somewhat ironically, it was while angrily storming out of the prison classroom he finally saw his fortunes change – albeit through a chance encounter which initially seemed as though it might see his prison stay extended.
"You go through education in jail," he says. "They pretty much force everyone to go through it – classes, basically. At the start I was adamant that I wasn't going, but after a while I got so bored I thought I'd check it out because all my mates were going to it.
"I went, anyway, and you're sitting in a classroom like a bunch of kids. We're sitting around a table, and I'm surrounded by junkies, lowlife scumbags. In some jails there are more drugs inside than there are on the streets outside.
"And all these fucking idiots are talking about which drugs they like, who they've robbed, how many times they've been in jail… And I'm looking at the woman who's supposed to be teaching us, and I'm like: 'Are we actually going to do anything today?'
"She says: 'Oh, you want to do something?'
"And I'm like: 'Yeah, well I haven't come over to listen to these useless fucking smackheads for the day.'
"She gave me some work to do, and I kid you not, it was like 'two plus two; spell cat…' And I just said: 'Nah, I can't do this, I'm going.'
"She said: 'You can't go!' But I said: 'I'm fucking going.'
But out of nowhere this screw then comes in – I've never seen him before in my life – but he says: 'PHILLIPS! Can I have a word with Phillips outside?' I'm thinking, 'Who the fuck is this guy?' And he takes me into this small, dark little room. I thought: 'What's going on here? Is this guy going to have a pop at me?'
"He says: 'Do you recognise me?' I said: 'No, should I?'
"He takes his glasses off, puts his face to my face and says: 'How about now?'
I'm wracking my brain thinking, 'Fuck! Have I hit someone he knows? Have I slept with his wife? I don't know what's going on.' But I know that this guy is going to have a pop in a second, and I know that when he moves, I'm having him – I'm going to fucking nail him. I'm less than a second away from hitting him.
"And then he says: 'You train my son in the boxing club!'"
Phillips chuckles and sighs aloud as he recalls the moment which might have altered his life for the worse, but instead improved his situation exponentially.
I told him: 'You idiot! I was going to hit you! How do you introduce yourself like that – in a jail – you fucking idiot?' We're having a laugh about it and he tells me I'm a madman, and I'm like, 'No, you're the fucking madman! I was about to go nuts!'
But this plucky screw wasn't merely touching base with an old acquaintance: he had a plan.
The long-closed 'C' wing at Swansea Prison was to be reopened, its 20-or-so cells to remain completely drug-free, and Phillips had been earmarked as the prisoner best suited to keep an eye on its prospective inhabitants from within its basement-level confines.
As Phillips recalls: "This fella told me: 'We want you to go over there, and you have on our wing who we want, and who we don't want, you tell them to go. You'll be segregated from the rest of the prison: when you go outside, it'll only be you guys. The doors will be open; you can cook down there, you've got snooker tables, and it's really laid back.'
"And that was great, because when my friends would come to visit me, we'd just go down to the 'C' wing. No worries. And if I saw someone in there that I didn't like, or if we'd found out he'd done something he shouldn't have, we'd tell him he was off 'C' wing.
"It was just a wing for me and my mates, basically. It didn't feel like jail. It was like having a training camp, or as if we were away on holiday.
It was only at night when you lay down, you'd think: 'Hang on, I'm in jail here, and I could be looking at 15 years.'
"And it's crazy, like. When you're released after six months it's: 'Ah, no harm done. We found out you're not guilty.' And I'm like: 'What do you mean? You've had me locked up in fucking jail for six months.' That's the equivalent of a year, because with a year you get a half-sentence. Six months on remand is the equivalent of getting a year sentence for no reason, with no conviction.
"And I knew I wasn't going to be found guilty, because it was a load of shit in the first place. But it was so annoying being in there because it meant losing my house and all that."
It was a blow softened somewhat by the special someone who was awaiting Phillips on the other side. There's a seldom-seen shyness to Phillips as he speaks of his now-fiancée, Kerrie – that is until he remembers the borderline farcical circumstances in which she learned of his imprisonment.
"Actually, the day my girlfriend was coming down to live with me – she lived in Bristol – was the day I went to jail. So that was a test for our relationship!" he says sternly.
"She had no idea – I didn't even know it was happening. I was supposed to go into the police station and give a statement. She rang me and she was on the way – she told me she was just coming over the Severn Bridge: 'I'm on the M4 – I won't be long.'
'Ah, okay,' I said. "I've got to go into the station and give a statement, so if my phone's off don't worry – I won't be long. I'll be in and out.' I go in to give a statement, and they tell me: 'We're remanding you. We're sending you to jail.' And I'm like: 'Well, fuck.' We'd been seeing each other for about a year, so we decided: 'Let's move down and make a proper go of it.' Suddenly I'm looking at 15 years.
"I rang her from jail," Phillips continues, "and I said: 'Look, this is the situation. I shouldn't be in here, I'm probably going to be in here for six months, but I could be in here for 15 years, so… You decide what you want to do, but just know there'll be no hard feelings,' and all that.
"She said: 'Whether it's six months or 15 years, I'll be here waiting.'
That was massive for me. I told her that as soon as I got out, I was going to take her to Paris and I was going to propose to her in Paris. She was like, 'Yeah, yeah', but I said: 'No, you've showed your true colours. You're a good person, and I want to be with you for the rest of my life.'
His voice softens again, but he's in for a penny, in for a pound at this stage.
"And as soon as I got out we flew to Paris – and it sounds really cheesy, but I wanted to have this story that I'd be able to tell our grandchildren or kids when I'm older that I proposed to their mum or their grandmother on top of the Eiffel Tower.
"It's a funny story, actually: I wanted to do it in a little bit of a funny way, so I bought a packet of Haribo. I'd already bought a real ring, and I'd packed it in my hand luggage on the way to Paris.
And every time we go through customs, they search me. I've got that face. So when we get to the airport I'm already thinking: 'Fuck, I'm gonna get searched.' Like clockwork, they start going through my bag and I think, 'Fuck – she's going to see the ring! I've got to kick off, here.' So I kick off with one of the customs officers: 'YOU'RE ALWAYS HARASSING ME AND SEARCHING ME! I DEMAND TO BE SEARCHED IN A PRIVATE ROOM!' I'm going mad, so they drag me into a private room – I'm still shouting. We get in and straight away I'm like, 'Mate, I'm so, so sorry: I've got an engagement ring in my bag!'
"The guy, in fairness to him, burst out laughing and said: 'Best of luck'.
"I got out and my girlfriend was furious, understandably, so I told her not to worry – that they'd never search me again and they were just being pricks," he laughs.
"But the fuckin' Haribo! She kept asking me if she could have some of the sweets on the plane. And I'm like, '…No.' She just wants one or two, and I keep telling her: 'No, I want to have them later.'
"We got to Paris, and we were only there for a couple of days, but the forecast was very bad – they were going to be shutting off the top of the Eiffel Tower for a while – so it meant I had to try and squeeze it all in on the day we arrived.
"We're in the queue for the Eiffel Tower and I open the little packet of sweets just to be ready. But I'm looking at the queue thinking: 'How am I going to make these sweets last?' She's like: 'Can I have a sweet?' And I'm like: 'Jesus, have an egg!'
We finally get up the top, right – loads of people around – and I've got the real ring in my hand, but I pull a sweet ring out of the packet, and I say: 'How about this, then?' Everyone runs over thinking I'm proposing, and then they see the sweet so they think it's a joke. But as they're about to go away, I'm like, 'Ah, maybe not', and I put the sweet back in the bag and pull out the real ring: 'What about this one?'
"I remember she didn't know what to say; she started crying. And when she reached out to take the ring – the real ring – she dropped it: 'bounce, bounce, bounce' – right to the edge!
"So she's still on probation now until we get married," he says, aware it'll likely earn him a bollocking should his fiancée ever read this interview. "No rush."
Back to the Future
Having pieced back together his personal life and made a life commitment to the woman who stuck by him at his lowest ebb, the Swansea-born knockout artist was reticent to return to fighting: he merely wanted, as he puts it, "what's called a normal life.'
His 'brother', Mike – no relation – advised that he'd be off the wall to pack it in, but as Phillips himself explains: "I didn't want it anymore. I'd lost that mojo: I didn't feel aggressive, I didn't feel angry, I didn't want to go through the hardship of training.
"Mike told me there was a competition coming up in Glasgow," he recalls. "Winner takes all – 10 grand. And I said: 'I don't give a fuck, Mike. I wouldn't give a fuck if it was a hundred grand – I'm not interested.'
"So he's nagging and nagging, but I wouldn't give in. I just felt what would be the point? If I'm going to fight in this competition – then what?"
I put it to Phillips that, given he had only weeks previously gotten engaged, perhaps the void he once filled through fighting was beginning to heal through different means; that he had managed to find fulfilment on the safe side of the cage.
"Are you saying my girlfriend has made me soft?!?" he replies as he reaches for his coffee, before unleashing the heartiest of laughs as he leans back into his chair.
"No, I think you're right. But there was still something missing. Everything was coming together life-wise, but I needed to do something. I was just in the house and I needed a hobby. And I dread the day I do quit MMA, because I'm going to need a fucking hobby – I'm going to have to take up golf or something.
"But at the time we're building a new house – myself and the girlfriend – and we've run out of money. We need to get the roof trusses on, get the roof on, and get the whole thing watertight so everything inside doesn't get wrecked.
"I've got no money but the roof trusses are coming in and the bill is 10 grand almost exactly. So I think: 'Right, I need 10 grand.' I ring Mike up and I go: 'What's the prize fund for that competition?' But I knew how much it was. I told him to sign me up. And after all his convincing, he actually said he thought it was too late for me to enter – that I needed more training.
"I ended up convincing him. I told him that I didn't fucking care – that I needed the money.
We went up and I had a fucking nightmare making weight, because I was so overweight. I actually ended up having one of those…colographies? Some medical term, anyway.
When asked if he's referring to a colon cleanse of some description he replies: "Whatever it was, I don't want to remember it. I think remembering it might mentally scar me for life."
We duly move on.
"Anyway, I won the tournament – knocked everyone out – and got myself the 10 grand. That's when John [Kavanagh] comes up to me again!
"I'd beaten one of his SBG guys [Charlie Ward] in the first round of the tournament – and I think if he'd beaten me, he would have won the tournament, and vice versa.
"And John says, 'Hey, you know, that offer still stands if you ever want to come to Dublin.' And again, I'm thinking: 'Fuck off'. I didn't say it to him, but I didn't know he was, and I didn't want to know who he was."
Phillips returned to Swansea to put a roof over his head and leave MMA in his rear-view, but he kept glancing at his wing mirrors.
Cognisant of his atypically downtrodden demeanour, his fiancée eventually persuaded him to suss out Kavanagh's headquarters in Dublin. 'Try it for a week,' she told him, 'and if you don't like it, never fight again.'
He obliged more so out of curiosity than anything else, but on his arrival in Walkinstown, immediately became besotted with the SBG setup as well as Kavanagh himself, who by then was renowned as having helped steer Conor McGregor to the pinnacle of the UFC's featherweight division.
It dawned on Phillips that were he even capable of taking his own MMA career to another level – and initially he wasn't certain – Kavanagh's south Dublin hub would afford him every opportunity to do so.
He wasn't long finding his feet, so to speak.
"Initially was staying with a woman in like a B&B" he says. "I told her I needed to go to this gym, and I asked her how far away the gym was from her house. She says: 'Ahhh, it's about a 15-minute walk.'
"I'm thinking: 'Perfect'. I take out my phone and turn on maps – bear in mind I was new here, so I didn't know what the Luas was or anything like that. I timed it. One and a half hours to walk to the gym.
"Then training. Then one and a half hours to walk back, then come back to SBG and train again. So I was walking six hours a day: my feet were in bits – there was blood, blisters…
"I called the woman and I said: 'Moira, you know that 15-minute walk to the gym?' 'Oh, yeah, John,' she said. I said: 'It's fucking an hour and a half away, Moira!'
'Ohhh, it doesn't seem like that far in the car!' she said to me.
"MOIRA…"
Moira, to her credit, offered Phillips a lend of her bicycle, but it was baby blue with a basket and had tassels of some sort on its handlebars, so the big Welshman opted instead to proceed on foot rather than roll into SBG resembling a benign edition of Billy the Puppet from Saw.
It wasn't long before he had 'The Talk' with John Kavanagh: What do you want from this?
The question rocked him in his well-worn boots, for he'd never truly cemented the answer in his own mind.
"Obviously, I had thought about the UFC and all that", says Phillips, "but I just didn't know what to say, and I didn't really know what I wanted, truth be told.
"John told me that if I trained hard I'd have a world title like that" – Phillips clicks his fingers – "with some big organisation. 'Within six months of training here', he told me, 'I guarantee you'll be signed by the UFC, I guarantee you'll make headlines in the UFC, and you'll become a UFC champion.' And I thought: 'This guy is nuts.'
It was actually here in Liffey Valley – I was going upstairs to get some food before a BAMMA title fight with a guy called Cheick Kone – when something finally clicked with me. It was like: 'Hold on… I'm a fucking beast! I'm going to fucking destroy this guy.'
"It was weird, because I had been excited for the fight, but Kone had been knocking everyone out [five straight wins inside the distance], and so I had been wondering…you know…'What if he beats me?'
It just became clear in my head, right here in this shopping centre: 'Hang on, John thinks I'm going to b– Yeah, I'm going to kill this guy!'"
As events transpired soon afterwards, it was just as well he'd had such an epiphany:
I blew my knee out on the Monday before the fight. I couldn't walk Monday or Tuesday. Wednesday, I was hobbling about. On the Thursday, BAMMA wanted to come to the gym to film me, and I was so paranoid about him [Kone] seeing me limp into the cage, I got into the cage and waited there all day until they came. I was already there when they arrived, and I just stayed with my back against the cage so I didn't have to bounce around. I did a little bit of boxing. It was probably the shittest fucking training video they'd ever seen. John was like: 'We're going to have to pull you. You can't fight.'
Phillips, however, convinced his trainer to wait until Friday before making a call on his headline scrap at BAMMA 24.
When Friday arrived, he found he could gingerly bounce on his toes, which to Phillips meant he had enough in the tank to land the thunderous blow required to take home the title.
The fight was on.
Minutes before he met Kone at centre-cage, however, BAMMA inspectors – unaware of the severity of his injury – entered Phillips' 3Arena dressing room and demanded that he remove the two single layers of strapping that conjoined at his knee, believing the surgical tape to be a danger to himself should his opponent somehow manage to grip it.
It will come as no great shock to learn that Phillips was unwilling to comply. BAMMA duly threatened to cancel the fight at the 11th hour.
"I said: 'I'll tell you what. You go out there and tell everyone the fight is off, because if I take this off my knee, I'm not fighting," he laughs.
"I knocked Kone out in 60 seconds, or whatever it was.
The fight was the easy part, as it turned out. Claiming the belt for which he fought proved more difficult.
"Every time I come over here to train, I'm always stopped by the customs at the ferry in Pembroke," Phillips says. "They'll ask: 'What are you doing in Ireland?' I tell them I'm going over to train, that I'm a fighter, that I'm going to be fighting for world titles soon. They wouldn't really believe me but that's what I fuckin' do, you know?
The lads working at customs say to me: 'Oh, when's the fight, when's the fight?' And I had it in my head that I can't go back to Wales on the boat and tell these customs guys that I've lost. I swear, man, I was thinking about this before the fight. It's crazy what sticks in your head.
"So when I won the fight, I got the belt. The organisers come to me and say: 'Right, John, we've got to have the belt back. We've only got one belt for all the weights.
I'm like: 'Are you fucking kidding me? I'm not giving the belt back. I want to take it to show the customs guys – and the people at home! Listen to me now,' I said, 'you seen what happened to that guy [Kone], and the same will happen to anyone who tries to take it off me! If you want to take it out of my wage, do, but it's more sentimental than money.
"And one of the organisers says: 'Right, we're going to get the [BAMMA] owner now. There's going to be trouble, John. We've got to have that belt back.'
"I said: 'I don't care who you fucking get.'
So the owner comes down, he says: 'What's the problem, here?' Your man goes: 'JOHN! HE WON'T GIVE THE BELT BACK!' And the owner looks around and goes: 'Well, there's no one here who can fucking take it off him, so let him keep it!'
"I wouldn't mind, but the next day, I'm driving down to Rosslare – I go Rosslare to Pembroke – and when I get there, there's no customs. And when I get off at the other side, in Wales, there's no customs there either! I was gutted, for fuck's sake."
The UFC
"The only way I can describe it is, if you can imagine packing up to go on holiday with your family, you get to the airport and your flight's cancelled," John Phillips says of his UFC career – a freakish sequence of cancelled debut fights – to date. "It's a little bit like that.
"You're relying on this money to live, you know? And to tell you the truth, I get so pissed off sometimes that yeah, I think: 'Do I really want this? Do I really need to be putting myself in debt for this?'
"But look, it's never going to be easy if you want to be successful. As much as it's pissed me off several times, you've got to fucking fight for it in order to get there."
Phillips, for whom injury and botched Visas have put paid to his own getting paid, offers to shed further light on the latter in particular: the headline has always been: 'Welsh UFC middleweight Phillips has debut cancelled due to Visa issues', but what exactly are these issues?
But first he recalls the logistics which haunted him even prior to his causing in a minor security incident at the U.S. Embassy in London.
"I signed first as a middleweight," he says. "'Congratulations, welcome to the UFC', you know the drill – but they told me they couldn't give me a fight for six months.
"I'm like: 'What? I can't wait six months! Give me a fight at light-heavyweight!'
"I get a fight at light-heavy, it's scheduled for Denver. I don't know anything about Denver, but John tells me it's like the highest place in the world, and it's a horrible fucking place to fight because of the altitude. So I've got to acclimatise.
"John says to me, 'We've got this guy who's going to let you sleep in an altitude tent at night.' But I was sleeping in my van at the time, and the tent wouldn't fit in my van. So then he gets this little tent that goes over my fucking head.
And I swear, man, I'm trying to put this thing together – you'd think it'd be easy – but I can't put it up. I ring the guy and tell him, and he says: 'They're pretty easy to put up, actually.' And I go: 'Well obviously they're not that fucking easy or I wouldn't be ringing you!'
"He talks me through putting this tent up, and I have to plug it into this machine. So I'm laying straight down" – Phillips provides a physical demonstration in his seat, rendering himself corpse-like in the middle of Starbucks – "and I can't move. As soon as you turn the machine on, the generator goes 'BRRRRRRRMMMMMMMPPPP'!
"In my fucking van, like! I can't sleep like this – I couldn't even if I wanted to. "John [Kavanagh]'s onto me every night: 'Are you sleeping in that tent?'
"'Yeah, yeah, I am' – even though every time he sees me it's in bits in the corner. Eventually I told him it's too loud, but in any case my Visa got cancelled, so the fight was off.
"I got a bit pissed off, so I decided to go home for a bit before coming back to get ready for the next fight. And while I'm home, I decide to take the dogs down to the beach – not an uncommon thing for me and my girlfriend; we're always down the beach with the dogs.
I'm walking along, I pick up a stick, I throw it into the sea, and I bust my knee. Popped it. I couldn't believe it. I'd been doing jiu jitsu, I'd been doing wrestling, and a walk on the beach was what wrecked me. I needed surgery, and I'm thinking: 'Maybe it's not to be for me.' It was like there were signs from a man upstairs saying: 'You're not supposed to fight anymore.'
A gutted Phillips eventually chose to cast his once-in-a-lifetime injury in a positive light: by his reckoning, through the extra strength and conditioning required to recover from such a career-stalling blow, he'd become a fitter, stronger fighter.
His UFC debut was rescheduled for California eight months later, but Phillips had immediate concerns given the Visa impediment which had put a kibosh on Denver the previous January.
"I thought: 'Shit, this isn't going to be good,'" he says. "I knew I had to train for the fight, but I also knew the likelihood was that I wouldn't be allowed to go.
"I knew I was setting myself up for a fall: I'd be training for a fight that wasn't going to happen, and I'd have to explain to everyone – again – that the reason it wasn't going to happen was because I couldn't get a Visa.
"And the annoying thing is I've been to America 10 times – literally – and now that I want to go to fight there and pay taxes there, there's a big problem.
"I wasn't convicted when I was in jail, so there's genuinely nothing on my record about it," he continues. "And my criminal record is so minor, and from so long ago, that it's no longer relevant: when I hand over my police certificate, it reads: 'No live trace.' And if you ask any police officer or immigration officer what 'no live trace' means, they'll explain to you that it means you've got a criminal record that's so minor, and from so long ago, that it's not relevant to Visa applications.
"When I went to apply the first time – it was in Dublin – I was in the queue, and everyone on the mic was so upbeat: 'Number three, please!' And I remember hearing the guy who called me, and I kid you not, as soon as I heard his voice – 'Next… Number five…' – I felt like turning around the person behind me and saying, 'You can have him.' As a matter of fact, I wish I did.
I get up to the counter, and he's a little Hitler of a guy. And you can hear everyone up there: 'I'm a drummer for U2′ – crazy stuff. And he asks me what I do. 'I fight for the UFC.'
"'U-F-What?' he says to me. 'Oh, eh, I fight for a professional fighting organisation. I need to get to America to fight over there. I've been to America before.' And he asked me why I came to the American embassy in Dublin instead of Wales, and I explained that there is no embassy in Wales – the nearest one to me would be London – and so on.
"He ends up failing me for 'having no home ties': Section 2.1.4 (B), or something. And I have home ties. I've got a mortgage, I've got a fiancée – who was pregnant at the time. I had home ties if he had just asked."
Once more, Phillips had to break the news to everyone that he had been denied entry to the States.
I told John [Kavanagh], who couldn't believe it, so we set up another meeting with the same embassy guy. John told me: 'Look, sometimes these Visa guys get a little bit funny, but they all love Conor' – as in McGregor – 'so mention Conor's name, you'll get the stamp, and you'll be straight through.' I didn't want to do that because I didn't even know Conor at the time, but I could feel the interview was going badly, so with some hesitation, I go: 'Ugh…I train with Conor McGregor.'
"'Conor who?' he goes.
"I'm like: 'Oh, come on, mate – you know who he is!' And he did, but he told me it made no difference to him – which was fair enough – but also that he had to reject me for the same reason as last time, and that I'd have to go to London.
And so off to London Phillips went, first to apply for a holiday Visa for a friend's stag-do in Las Vegas, and later for an appointment scheduled and paid for by the UFC whereby he would once more apply for a working Visa to fight in California.
Despite having been to Vegas a year prior as a tourist, his holiday Visa never came through: he missed his friend's stag-do despite having paid for flights and accommodation.
Still, he felt the working Visa would on this occasion prove easier to attain due to the UFC's involvement in the process: the powers that be might at least see for themselves that he was a paid employee of the organisation, who had booked the appointment especially.
Eh…
"Out of about 50 people there, I actually got interviewed by the same guy, which unbeknown to me at the time isn't supposed to happen: they're supposed to pass you onto someone else. He says to me: 'Ah, the fighter!' I said: 'Yes.' He said: 'You're back again!' And I said: 'Yes. I told you I was coming back. I need to fight in America.'
"He told me I seemed desperate to go to America, and I explained to him that of course I was: I needed to get paid like anybody else. He asked me all these questions about the fight game – the ins and outs of a duck's arse, basically – and eventually asked me where I'd be fighting.
"My mind drew a blank.
"I'm like: 'Ah, ehhh…emmm…' – I couldn't fucking think of California!
Failed. Section 2.1.4. (B) – again! And I said to him: 'Listen, mate, it's cost a lot for me to get over here, and I know what Section 2.1.4. (B) means! I do have home ties! Mortgage, business, fiancée, family!
"He's there: 'You've gotta go, mate.'
"I said to him: 'I don't mean to be rude, but you're making a mistake. I've been to America 10 times!'
"'You've got to go.'
And there's a guy on one shoulder saying to me: 'Stay calm, you're going to fuck it up for yourself.' And there's a voice on my other shoulder saying: 'Smash the window and grab hold of him.'
The sane voice won out to begin with, but when Phillips' request to speak to a superior was curtly rebuffed, the maniacal voice opposite had its say:
I said something along the lines of: 'Listen to me you little cunt! You're an arsehole, and you're lucky there's a pane of glass between us or I'd rip your fucking head off. Now go and get your manager you prick!'
He was duly marched out of the building by a pair of armed security guards, his attempt at an explanation – which may have included some pointing as well as the words 'that little fucking Hitler' – made in vain.
I come out and my friends are waiting for me outside, and they're like: 'How did it go?' And I'm like: 'How does it look like it fucking went? Look at these two fuckers next to me!' The UFC rang me up: 'How did the interview go, John?' I said: 'Well, to put it nicely, I got escorted out by two armed guards.'
"They said: 'Seriously?' And I'm like: 'No, yeah, seriously.' They put a state senator on it, and an attorney on it, and the state senator actually had to come off it when that lunatic shot all those poor people in Vegas."
Phillips has been back to the London embassy since, where he was recently informed that his specific case is "in administration" – deferred to some higher power – but this process may take six months or longer. Sparing no colour, he relays his opinion that the embassy might have informed him of this latest snag via email rather than have him return in person.
He remains hopeful of a transatlantic scrap later this year, but in the meantime will finally earn a paycheck via a long-awaited UFC curtain-raiser next Saturday. His opponent is 9-4 middleweight Charles Byrd, himself a UFC debutant. The venue? London, of course.
And it's only as the sky outside darkens and our conversation comes to a close on this very topic does Phillips evince any sort of verbal gun-shyness:
"I actually don't have too much to say about the fight because I don't want to jinx it," he explains tentatively. "It's not real until I fight. I'm always sceptical of that now."
You couldn't blame him, really.
"I'm ready now," he says. "I don't even have any UFC gear – I want some of that to finally be able to show I'm a UFC fighter.
"More importantly, as well, I'm just looking forward to getting paid. I'm going to chase the knockout bonus as well, obviously. If I get that, it'll all be worth waiting for.
I'm at peak fitness, I've hit peak motivation, and I'm adding to my game constantly with John in SBG. With my fitness, now, I believe I'd give anyone a run for their money. And I don't want to sound over-confident or arrogant, but I do believe that in the near future, I'll be a UFC champion. I'm 100% on that.
"I've fallen off the path a few times, but I'm fucking back on it now and I've got one thing in sight."
As he gets up to head back to his caravan, Phillips mentions how he hopes the Irish MMA public get behind him as they have done their own UFC breakouts.
His father recently revealed to him that his grandmother hailed from these parts. Phillips, excited to discover he had Irish blood in him, visited a 'find my ancestry'-type website in an attempt to find further Irish connections.
The 50-odd-euro sign-up fee soon vanquished his curiosity, if only temporarily.
He promises that if he picks up that UFC knockout bonus on Paddy's Day, we'll hear plenty more about Mrs. O'Brien and her descendants.