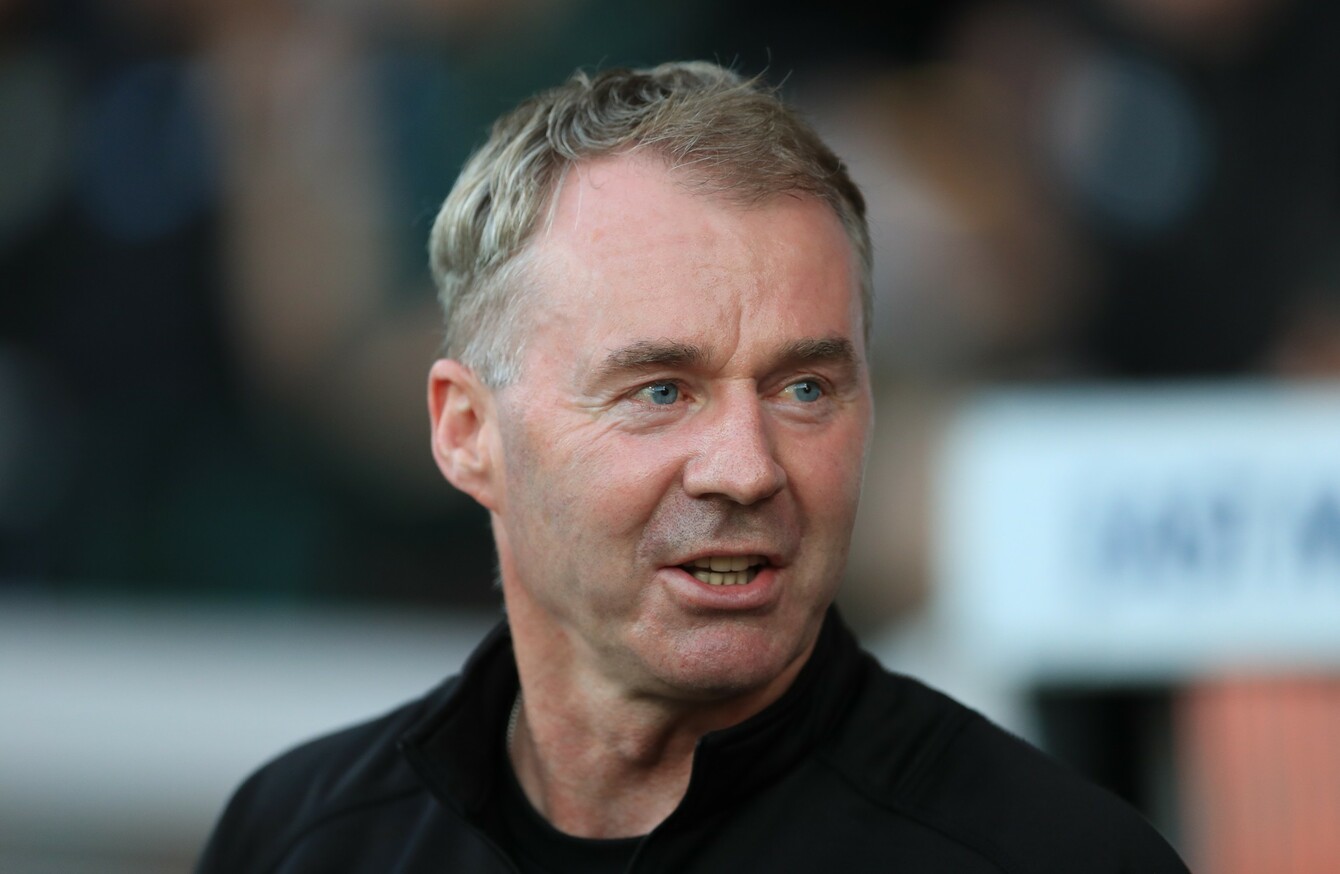 Sheridan: back at Oldham Athletic for a fifth time.
Image: EMPICS Sport
Sheridan: back at Oldham Athletic for a fifth time.
Image: EMPICS Sport
FORMER REPUBLIC OF Ireland international John Sheridan told a referee that "my kids aren't going to get any fucking Christmas presents because of fucking you" in a sensational sideline rant.
Sheridan was given a five-match touchline ban and fined £2,500 for the x-rated outburst which happened last month while he was still in charge of Notts County.
The 52-year-old was subsequently sacked by the League Two club after a run of nine straight defeats and has since returned to take charge of Oldham Athletic for a remarkable fifth time.
The FA's written decision on Sheridan's disciplinary hearing includes details from referee Eddie Ilderton who took charge of Notts County's 2-0 defeat at home to Wycombe Wanderers on 10 December.
Ilderton wrote: "In the 55th minute 4th Official Matthew Donohue informed me that Notts County manager John Sheridan should be removed from the technical area for his behaviour towards himself. I then asked Mr Sheridan to leave the technical area, and take a place in the stands.
Mr Sheridan then said to me 'You're a fucking disgrace, you're fucking useless, you've not fucking got anything right today, you should be fucking ashamed, you're fucking shit, my kids aren't going to get any fucking Christmas presents because of fucking you.' Mr Sheridan then took his place in the stands for the rest of the game".
Donohue, the fourth official, also alleged that he had been verbally abused and threatened by Sheridan.
He wrote: "In the 56th minute, after Wycombe Wanderers had scored their second goal, Notts County manager, John Sheridan and assistant manager, Mark Crossley left the technical [area] to complain to assistant referee, Anthony Moore.
"I approached them to tell them they needed to remain in their technical area. Mr Sheridan then shouted directly into my face, 'You're a fucking cunt. A cunt'.
I then called across referee Eddie Ilderton, who dismissed Mr Sheridan from the technical area. On leaving the technical area, Mr Sheridan approached me again, shouting directly at me, 'You really are a cunt. I'm gonna knock you out you cunt'.
Sheridan was charged with three breaches of FA Rule 3, which he admitted, and apologised unreservedly for his behaviour.
"The Regulatory Commission considered all of the evidence presented and ruled there o be a number of critical points," the three-man independent panel explained.
"It is accepted that Match Officials at all levels have a difficult role as do football managers. However, there is no place for the foul and abusive language as used in this case nor the aggressive threatening words as used.
"This is further aggravated by the duration of the incident and the fact that Mr Sheridan went out of his way to further abuse the Fourth Official with what can best be described as vulgar language.
"There is simply no justification for this behaviour.
"Due to the serious nature of the breaches the Regulatory Commission were minded to impose a higher sanction but credit was given on both suspension and financial penalties for admittance to the charge and the mitigation put forward by Mr Sheridan."
The42 is on Instagram! Tap the button below on your phone to follow us!