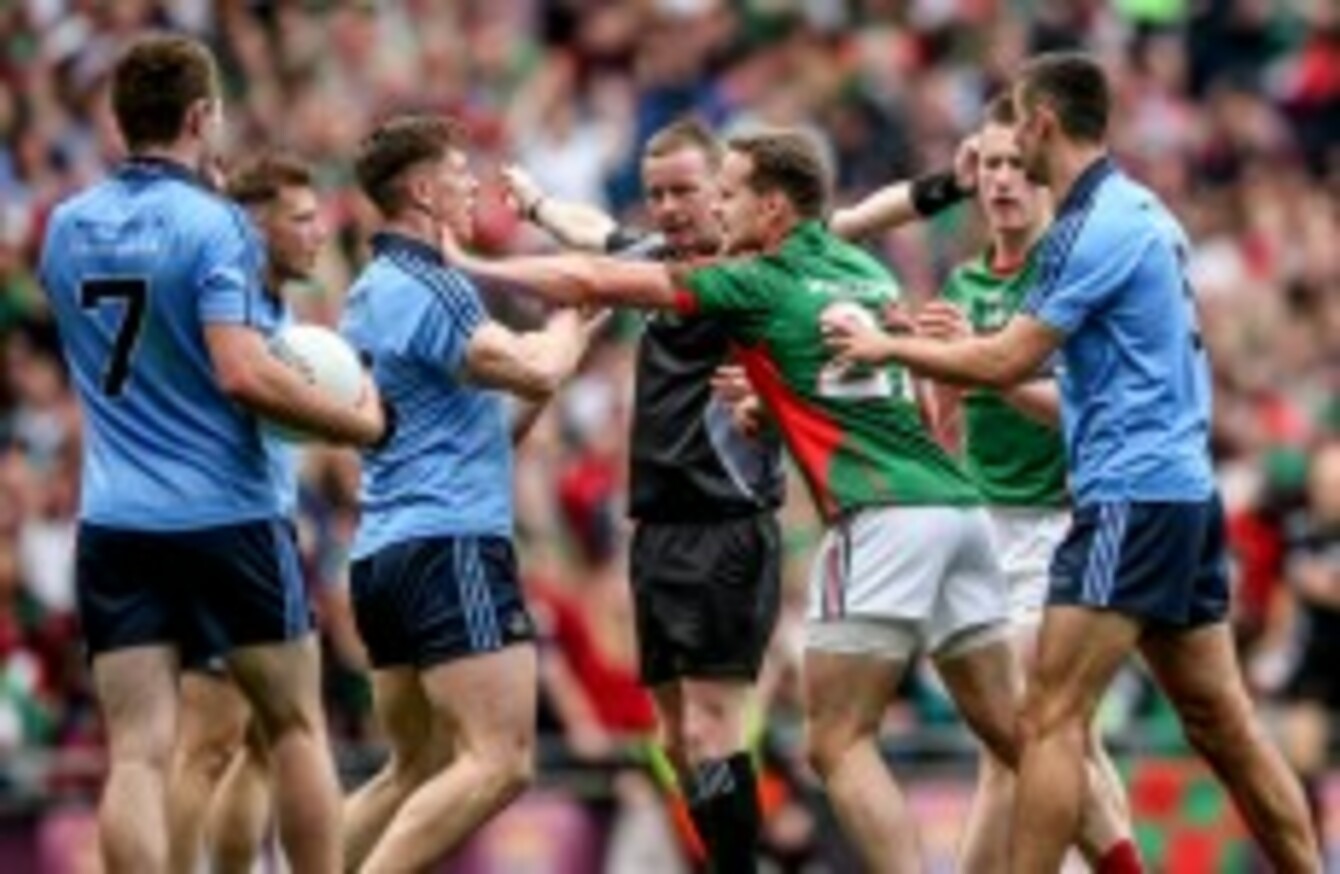 Our columnist has plenty of sympathy for Joe McQuillan.
Image: James Crombie/INPHO
Our columnist has plenty of sympathy for Joe McQuillan.
Image: James Crombie/INPHO
THAT REALLY WAS a game that had everything.
It's never nice to be talking about the referee after a game like today's because a full Croke Park can be an intimidating place for any official.
Joe McQuillan had a few big calls to make today and it looks like he got some of them wrong at least. The Dublin penalty for example, that looks as if the foul on Paul Flynn occurred just outside the box.
But he was going at such speed it was one of those decisions where some referees would have given a penalty, others would have whistled for a free. In a situation like that there's an awful lot to be said for being able to go up to the man sitting with a TV in front of him who can call up a replay in seconds.
There was such a high tempo to the game and a lot of hard-hitting from both teams — it was a very physical game — and, to be fair, there were a few incidents he did pick up on but there were a couple more he missed.
A couple of Dublin lads are very lucky they didn't get the line for straight reds. Philly McMahon appeared to throw the head in on Aidan O'Shea and Johnny Cooper came down very hard on Diarmuid O'Connor's leg.
I don't know if he meant it but it looked like he kept coming and hit O'Connor very hard.
Then there was the incident where Diarmuid Connolly was sent off but Lee Keegan only picked up a yellow card. It looked like Lee Keegan stopped him in his tracks and Connolly threw a punch but I thought the Mayo man came back with a follow up to say 'I'm not stepping back here.'
It's hard to know why there was a difference in card colour there but maybe television tonight will show it.
They're big calls and it would be very difficult for any referee. It was Joe McQuillan today but it will be some other referee next time. It's impossible for one man to pick up on everything.
You'd nearly wonder is two referees the way to go because there was just so much going on today? When the game is like that, you'd have to have sympathy for the man in charge, it's a very, very difficult job.
Bottle
Going into the game, those Mayo players would have been sick of hearing they don't have the steel or physicality to deal with a game like today but, from what I've seen this year, they have that bit extra about them.
They were very physical on and off the ball and turned Dublin over a number of times out of sheer physical presence and when you've two teams going like that you're going to get a tough, bruising encounter like the one we saw.
And when Mayo went seven points down with 10 minutes to play, I sure there were Mayo people saying 'oh, here they go again.' But they didn't and fair play to the Mayo players for the bottle they showed.
I'm sure there were a couple of the Dublin lads thinking 'we have this in the bag, we're after breaking them here' with ten minutes to go. There was one moment that stands out to me. Paul Flynn was flying down the Cusack Stand and there was a pop pass to Bernard Brogan on but he kicked it badly wide instead.
It was one of those shots that only had a one in five chance of going over but it's the kind of thing you try when you're six or seven points up. It really wasn't the right thing to do though.
At this level, if you drop the percentage work-rate by even 2-3% — if just one or two lads switch off and start thinking about the final — you're going to get punished and I think Dublin were today.
In the end though, the result probably was the fair one over the course of the 75 or so minutes, no team deserved to go home as losers with the display they put in.
Dublin's indiscipline
Coming out of the game, I heard a lot of Mayo people saying they relied too heavily on dead balls today but I think you have to realise that if Dublin players did not commit those fouls, Mayo may have gotten through for scores anyway.
But Cillian O'Connor made sure he punished them. He was just deadly accurate today. Every time Dublin gave away a free inside the 45 you felt he was going to punish them and he did.
He was kicking them off the ground and out of his hands and his penalty was really well struck too.
It may not have been the highest quality of football at times — there was a lot of good play in it having said that — but it was edge-of-the-seat, exciting and there are not too many atmospheres that will match the end of the game today.
Replay
The only thing with a replay is that they rarely live up to the drawn game, we've learned that over the years but we'll all buy into that over the next week.
That said, there's plenty of great storylines to look forward to. Aidan O'Shea was kept quiet today and I think we'll see much more from him on Saturday when there's probably a bit less pressure on him.
We already know what will happen after the All-Ireland final though. If one of these teams loses the final against Kerry we'll hear how they were tired after the replay and if they win we'll hear that they benefited from the extra game.
Either way, it is difficult to bounce back from a game like that in six days and the backroom teams will be in overdrive this week to get both teams ready.
At the moment though, I think it's too hard to call who'll emerge as winners but you'd imagine it would be a lot tougher for Mayo to recover from conceding 1-4 in the final ten minutes that it may be for Dublin.
Kildare
Just a quick word on the news that Jason Ryan stepped down as Kildare boss this week. I wasn't surprised when I heard because I think Jason only wanted to commit to one more year whereas the team is in transition and it was felt that maybe having the same man in place for three or four years would be the best course of action.
I think that makes a lot of sense and I feel there's a desire to get someone from inside the county on board as manager now to bring the young lads on — and there are some good players coming through.
The name on everyone's lips seems to be Glenn Ryan and I can see why because if you cut Glenn, he bleeds white and that might but be what Kildare needs now.