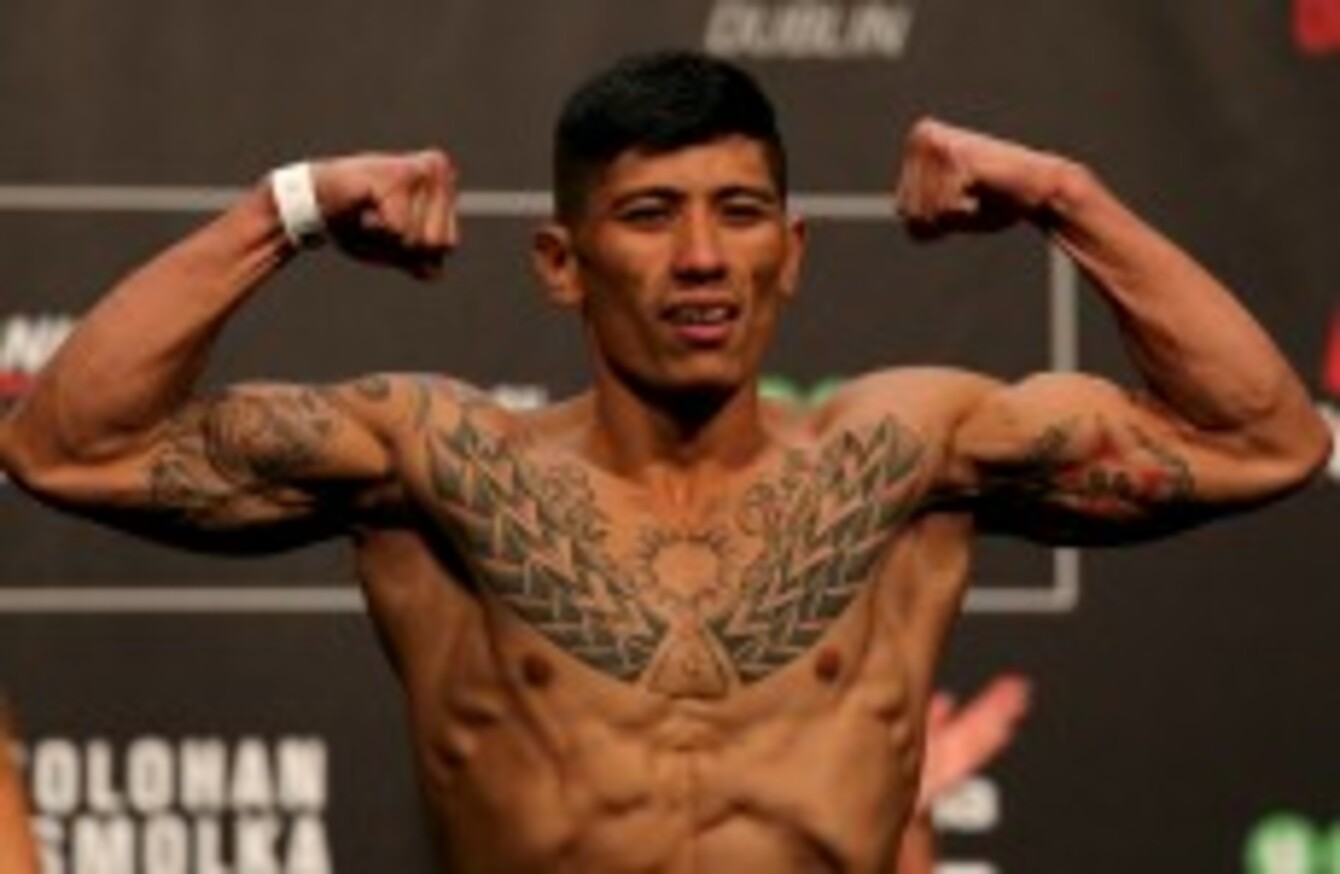 Jon Delos Reyes at yesterday's weigh-ins in Dublin.
Jon Delos Reyes at yesterday's weigh-ins in Dublin.
IF YOU'RE TUNING in to tonight's live airing of the UFC Fight Night 76 main card (9pm on Setanta Ireland and 3e), expect the broadcast to get off to an exciting start.
Even when he's involved in fights where his opponents are reluctant to engage, Neil Seery still manages to entertain.
However, tonight he'll face Jon Delos Reyes, a man who has vowed to stand toe-to-toe with the veteran Dubliner when they collide at the 3Arena.
Seery has been looking for an opponent to trade punches with in an old-fashioned slobberknocker. In Reyes, he has someone who seems happy to oblige.
"I think this has the potential to be Fight of the Night. It's two guys who are going to push forward. I think it's going to be fast-paced and explosive. I'm going to mix it up but I'm looking forward to striking with him. It's going to be a war," Reyes said.
The 28-year-old Guam native is aiming to secure back-to-back wins for the first time since he joined the UFC last year. Also on his agenda is impressing the Irish fans, who have recently come to be regarded as among the most passionate in the sport.
Reyes: "I want to earn the respect of the fans here too. I may not be from here but to get their applause, that's something I want to earn."
Seery has more than twice as much experience as his opponent as a professional, and while Reyes insists that he's happy to 'stand and bang' with the Irishman, he believes there are holes in his opponent's ability on the ground.
"Maybe his wrestling is a weakness," Reyes said. "But he's tough. He's a veteran and has so many fights under him. He'll come out hard in his hometown and he'll be fired up from all that energy. But I'm looking forward to feeding off that too."