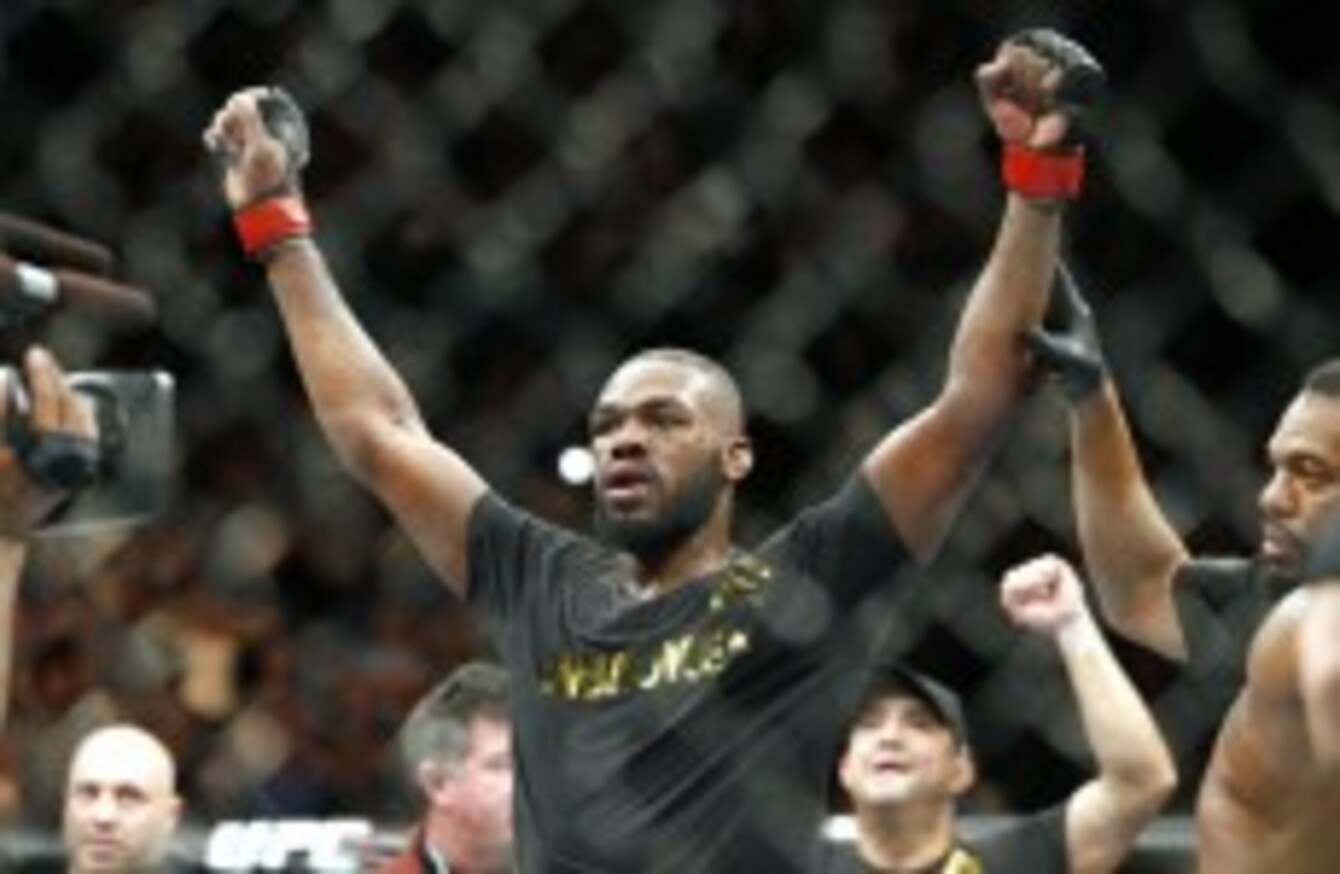 Image: AP/Press Association Images
Image: AP/Press Association Images
THE UFC HAS suspended its biggest star, Jon 'Bones' Jones, and stripped him of his light-heavyweight title following his arrest on hit-and-run charges.
Jones was suspended indefinitely, the organisation said, following a meeting with UFC President Dana White, CEO Lorenzo Fertitta and COO Lawrence Epstein on Tuesday.
The 27-year-old was due to defend his title against Anthony Johnson at UFC 187 in Las Vegas next month. Johnson will now fight Daniel Cormier for the vacant title in the main event on 23 May.
"Got a lot of soul searching to do," Jones tweeted. "Sorry to everyone I've let down."
Jones was arrested on Monday night following alleged involvement in a hit-and-run collision in which a pregnant woman suffered a fractured arm.
He appeared in a New Mexico court on Tuesday for his first appearance on a felony charge of leaving the scene of an accident involving personal injury, and was released on bail.
"UFC announced that it has suspended Jon Jones indefinitely and stripped him of the light heavyweight title as a result of violations of the organisation's Athlete Code of Conduct Policy," a statement read.
"Jones was recently arrested in Albuquerque, [New Mexico] on a felony charge of leaving the scene of an accident involving personal injury.
"As a result of the charge and other violations of the Athlete Code of Conduct Policy, the organisation believes it is best to allow Jones time to focus on his pending legal matters.
"UFC feels strongly that its athletes must uphold certain standards both in and out of the Octagon. While there is disappointment in the recent charges, the organisation remains supportive of Jones as he works through the legal process."
Cormier, who lost to Jones by unanimous decision at UFC 182 in January, said: "Make no mistake about it, this is a sad day for our sport.
"One of the best fighters of all time has found himself in trouble again. It sucks.
"Despite our differences, I truly wish the best for Jon and his family, and I know he can get through this," he continued in a statement provided to MMAFighting.com.
But in life, opportunity knocks, and it's up to you to answer the door. So as I've done time and again, I'm answering that door.
"I will be in Vegas on May 23 — you can count on me — I will win the belt, and then when Jon is ready to return, I will be happy to give him a shot at my belt."
Johnson tweeted: "Best of luck with everything bro. Regardless of everything you are still the greatest light heavyweight champion of all time!"