IT WOULD APPEAR that the possibility of Jonathan Sexton playing in France next season is very real.
Leo Huisman, the French rugby journalist that broke the 'Sexton expected at Racing Metro' story yesterday, spoke to TheScore.ie about the Top 14 club's attempts to sign up the Leinster out-half.
We caught up with Huisman, the Racing Metro correspondent for Mid Olympique, and got some more details on what is being reported as a salary offer in the region of €750,000 a year.
Have you received any official statement from Racing Metro?
Not officially for the moment. Jacky Lorenzetti doesn't talk about any recruitment and you know that there a law in France which prohibided to talk about it before the opening date of the market
How did Midi Olympique hear about the story?
I cannot tell you how we got the information. What can I say is, we know there was a meeting [Sunday] between Sexton, Lorenzetti the chairman, Laurent Travers and Laurent Labit the future coaches of Racing Metro. There was a first appointment [last] Monday.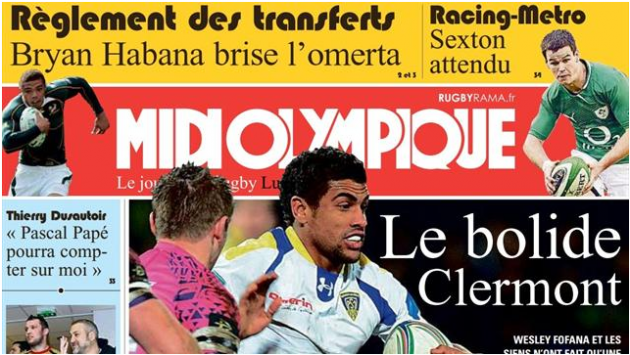 Monday's front cover of Midi Olympique.
Do you know the terms and money Sexton could expect from Racing?
It's too early, but Sexton is a star and to be sure he's coming Lorenzetti has to pay. He could do it.
Are Racing looking to replace Argentinean out-half Juan Martin Hernandez?
Not at all, Hernandez has still two years contract. But he's not here during the Four Nations [southern hemisphere Rugby Championship], and plays this year full-back more than fly-half.
How confident are you that Sexton will make the move?
I personally think it's 50/50.
Transfer 'omertà'
There is an agreement between clubs in France that summer signings will not be openly discussed until the transfer window opens.
South African winger Bryan Habana ignored this at the weekend when announcing his imminent move to Toulon on the website of his club, Stormers.
An IRFU spokesman said, "As with all contract speculation or rumour, we do not make any comment and this is the case on this occasion as well."
The Ireland squad for the Six Nations will be announced on Thursday and national coach Declan Kidney is sure to be quizzed on the potential move.