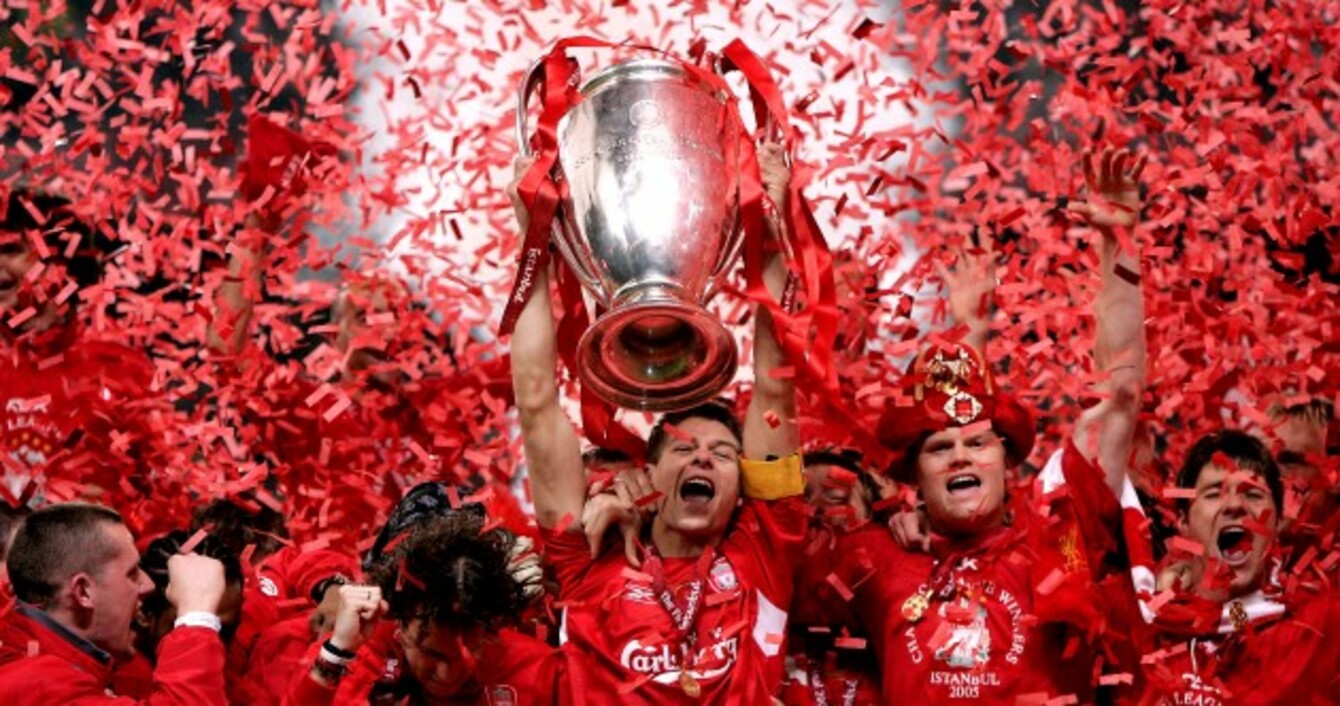 Liverpool captain Steven Gerrard lifts the UEFA Champions League trophy.
Liverpool captain Steven Gerrard lifts the UEFA Champions League trophy.
FOR MOST PEOPLE, Liverpool's 2005 Champions League win was a near-impossible feat realised, yet for Jonathan Wilson, there was an odd sense of inevitability about it.
As they found themselves 3-0 down at half-time against an impressive-looking Milan side, even the club's most ardent fans would surely have given up any hope of victory.
Yet Wilson felt that the comeback was on from the minute Steven Gerrard got the first goal back at the start of the second half.
Though it appeared a mere consolation in the circumstances, Wilson, in his new book The Anatomy of Liverpool — a work he co-authored with Scott Murray and which looks at the club's history through 10 key matches — writes:
"I turned to the Standard's Ian Chadband, who was sitting next to me, and one of us — I don't remember which, but the other was thinking it — said: 'They're going to win this.'"
He was correct, of course, as Liverpool drew 3-3 with Milan on the night, before beating them on penalties. What was it that made him so adamant that Rafa Benitez's were destined to produce this improbable result?
"I had my match report pretty much written at half time," Wilson tells TheScore.ie. "I happily wrote that 'Milan win easily,' 'Paolo Maldini, what an end to his career,' not imagining he'd go on for another four or five seasons. I had 50 or 100 words left to wrap up the second half and as soon as Gerrard scored, it was [press] control alt delete and start the whole thing again. I had this absolute certainty that something extraordinary was happening.
"I don't really know what it was. It was just something about the atmosphere, picking up on body language of players. The only other time I've had that was when Chelsea equalised against Bayern Munich in the 2012 Champions League final. Both [the journalist] Paddy Barclay and I said 'they're going to equalise'. Even when Bayern got the penalty, we knew they wouldn't score. There was something about the mood, something about the atmosphere. You could just sense that the [Chelsea] team was going to win.
"It is an odd thing, because I'm not superstitious at all, I don't believe in destiny. I don't think I expected it to happen as quickly as it did, but once Gerrard scored, there was a very strange inevitability about the whole thing."
And while what happened in Istanbul that night was surreal, it was not entirely inexplicable. Wilson, author of the influential history of football tactics, Inverting the Pyramid, believes the change in formation was key to Liverpool's eventual triumph.
In The Anatomy of Liverpool, he describes substitute Dietmar Hamann as the unsung hero of Liverpool's win. Hamann replaced the injured Steve Finnan — who spent most of the half-time break lambasting manager Rafa Benitez, while insisting he was fit — and immediately changed the game.
"He gave Liverpool that platform to get their full-backs forward and I don't think Milan were expecting it," Wilson explains.
(Liverpool players run to goalkeeper Jerzy Dudek to celebrate after AC Milan's Andriy Shevchenko misses his penalty – Phil Noble/PA Archive/Press Association Images)
Hamann was initially supposed to replace Djimi Traore, before it was discovered that Finnan was injured — one of several 'what ifs' that some fans still contemplate to this day. What if Sami Hypia had been rightly sent off and the referee hadn't seemingly taken sympathy on Liverpool because they were 3-0 down? What if Andriy Shevchenko's goal had not been contentiously ruled out for offside? What if Rafa Benitez hadn't remembered to wear his lucky underpants?
Wilson acknowledges that an element of good fortune played its part in Liverpool's victory, yet ultimately, he says the achievement was deserved.
"You can say Liverpool were lucky in some ways in the second half and that things fell for them, but when you watch the game back, they were pretty unlucky in the first half. I had this erroneous memory that they'd been battered in the first half, but that actually wasn't the case at all. They weren't on top, but they weren't that much poorer than Milan. I'd forgotten how late the two Crespo goals were — I thought they were about 25 and 35 minutes, but they were both the last six or seven minutes of the half. So I think at half time, Milan were a little bit fortunate to be 3-0 up. The luck did go both ways.
"They did reach the final again two years later and they did put in other good performances, so it's slightly freakish, but it was deserved in the sense of the strength of the comeback. You think of previous games, Juventus in particular, they were excellent in getting that goalless draw."
And though some may feel that a Liverpool side good enough to win the Champions League should have been regularly challenging for the Premier League, Wilson plays down the suggestion that they underachieved.
"They haven't had anything like the level of investment that Manchester City or Chelsea have had, so how can they compete? To have won anything of the magnitude of the Champions League is astonishing. They've won the odd cup, and it's horrible to say, but for a club with Liverpool's level of investment over the past few years, that is realistically what they can aim for.
"And what's happening at the moment is very interesting. In an era in which the big clubs are all bankrolled by oligarchs who don't really have financial concerns in a way that football clubs used to, Liverpool are one of a handful of clubs who do it differently. Okay, there is investment there, but they're not a City or a PSG  or a Monaco. It is a philosophy-based approach. They have a clear way of playing. They buy the players that fit the system rather than buying glamorous players and trying to work out a way to play, and I think it's only Liverpool and Dortmund — and maybe Napoli to an extent — who are doing things that way and having that level of success.
"This season, Liverpool's ambitions have probably changed. Before, they probably thought, we can get into the top four — that's great. And now, with all the big teams still to play at home apart from United, there really is a chance of a proper tilt at the title, which I can't believe Liverpool fans thought was possible at the start of the season."
(Luis Suarez has helped Liverpool exceed expectations this season — Peter Byrne/PA Wire/Press Association Images)
In addition to the aforementioned Champions League final, Wilson and Murray had to pick nine other games that helped definitively shape Liverpool's history — a process that was by no means straightforward.
"The problem was whittling it down to 10. We both came up with our lists and we went and had dinner and sat down and talked through them. Relatively quickly we got down to 15 or 16 key matches. We had set principles in mind — we wanted a wide spread of games, we had to have a game from the very early days, we had to have a game from Shankly's era and so on. You needed a game that summed up a period and also, games that were interesting to talk about. You could have a game that was a very simple 3-0 to win the title, but if there's no narrative around that match, it doesn't work. The game we debated the most [that didn't make the cut] was the 2-0 defeat to Arsenal to win the league, which summed up the post-Hillsborough era.
"Hillsborough itself we considered doing a chapter on, but we decided not to, purely because the issue is so big that it merits a book in itself. We wanted the book to be rooted in the football and also, the inquiry of the investigation is still ongoing and who knows what might turn up in the next few months.
"And I'm sure there will be even more excellent books on Hillsborough written after the inquiry. But we were looking for something to symbolise what happened after, so we decided that the 4-4 game against Everton — Kenny Dalglish's last as manager — worked better as a transition. Part of what happened against Arsenal in 1989 was part of the falling off the pedestal, but they did go on to win the title the following season, whereas 1991 was the start of the great falling off."
One of the pleasures in reading the book is the surprising tidbits that feature throughout — even for games such as the 2005 Champions League final, which many Liverpool fans might think they know inside out.
So for instance, one passage recalls how Rafa Benitez observed four lifts in the hotel he was staying in before the famous Milan game — he told himself that if the first one arrived first they would lose, if the second won came first, they would win, if the third arrived quickest, they would lose on penalties, and if the fourth one came first, they would win on penalties. Of course, the fourth one was quickest to arrive.
(Bill Shankly inspired Liverpool to unprecedented heights — Peter Robinson/EMPICS Sport)
Moreover, there are also some interesting revelations about Bill Shankly within the narrative, and the often negative reaction to the style he adopted.
"Something else that stood out that I hadn't known before was how controversial Shankly's tactics were in the 60s. He was a pioneer of patient, passing, possession-based football that Liverpool became famous for. If you read the match reports, the Daily Mirror in particular was very harsh on the 1965 FA Cup final against Leeds, when Liverpool won 2-1. The Monday edition carried both a match report and an opinion piece saying 'this is the end of football'. 'This method approach — nobody's going to want to go and watch this.'
"Peter Wilson, who was their big columnist at the time, said that 'if this is the way England are going to play at the World Cup, I want no part of it. I want to go back to wingers. I want to go back to attacking football.' But within four or five years, people had accepted that this is the right way to play. And this is effective, and it is watchable. It's just different to what we had before. That was something of a revelation to see quite how opposed people were to that style of football."
It was not the only false assumption in relation to Shankly's Liverpool, who as Wilson explains, were successful largely owing to two key characteristics of the manager.

"One is that he was utterly meticulous, which you get a real sense of in the David Peace book Red or Dead, which I know wasn't to a lot of people's tastes. But that sense of repetition — going over and over and over the same thing each time. To have that patience and work ethic and be able to instill that in others was an enormous plus. It sounds very mundane, but it was hugely important.
"At the same time, he had enormous charisma. He could make players believe that they could do anything. He could make the press believe anything. He could make fans believe anything. Those two things together — the real substance with this style, this expressiveness, it elevated the whole business of playing football into something beyond that.
"You wonder — and I'm not convinced by this at all — if Liverpool might have won even more had Paisley replaced Shankly earlier. Paisley was a better tactician, I think he was more ruthless. He was more prepared to drop players. But Shankly had to be there to start the revolution, because without his charisma, nothing would have got going. He made people believe Liverpool could be a great club and then had the mechanics to act out that image.
"The continuity [after Shankly left] was important. You have to remember that Paisley was intimately involved in the process of Liverpool, the club. Shankly was the figurehead. He was the person that went out and spoke to the press, he was the person who inspired people. But Paisley did a lot of the nitty gritty on the training ground. He was doing a lot of the work and not just the two of them, the whole backroom team worked well. And I think Shankly acknowledged that in his autobiography. Paisley, by himself, wouldn't have been able to do that.
(Liverpool fans hold up a banner that shows from left, former Liverpool managers Bill Shankly, Bob Paisley, Joe Fagan, Kenny Dalglish and Rafa Benitez — Tim Hales/AP/Press Association Images)
"The two, they're a fascinating pair. Shankly had this hard-man image. He loved his gangster films and there was a bit of Jimmy Cagney in the way he acted, but actually, at heart he was a great sentimentalist. Paisley was seen as being this cardigan-wearing avuncular figure, but actually, he had a real toughness, and knew that a job had to be done. So their public image was certainly misleading in terms of what their actual strengths were as managers. Graeme Souness said that however cuddly Paisley looked, he ruled Anfield with a rod of iron."
Wilson's book, which goes all the way back to the 1888/89 season and Liverpool's ignominious 8-0 loss to Aston Villa that cost them the league title, is a fitting tribute to a club, whom he acknowledges, have a special fan base.
He thus considers it unlikely that an owner such as Vincent Tan could ever get away with the controversial measures he has imposed at Cardiff, due to the Liverpool's rich history and highly passionate supporters.
"As a journalist, if you write a piece that either criticises Liverpool or praises Liverpool, or somehow touches a cord with Liverpool fans, you get way more reaction than with any other club. That's partly because there are a lot of Liverpool fans, but they also seem very vocal and they are able to mobilise, I think, better than anybody else."
And while Wilson would be forgiven if he took it easy for a while after completing the considerable task of recounting the history of Liverpool, the opposite seems to be the case. He is currently planning not one, but two more books.
"I'm writing a book at the moment about the history of Argentinian football going right back to the origins of sport in the 19th century forward to now. So an Argentinian World Cup victory would be a very nice final chapter, although it would mean I'd need to rush the book. Then I've got a contract to do an anatomy of Manchester United, so having done the great team of the 70s and 80s, I can now do the great team of the 20 years that followed."

YouTube credit: Sukhee64
Selected outtakes
On the reasons behind the golden age of football journalism:
"There's a whole number of things — one of them is technology — when we go to matches or press conferences or wherever, the fact that you can write your piece on a laptop and manipulate text very easily — you can write something down, you can rewrite it, all that makes it easier to write coherent copy than if you were scribbling notes and moaning to a copy-taker. You've got far more license to edit the piece, because the technology makes it easy to write good stuff. The general interest and money in the game means football journalism is seen as a viable job for talented, ambitious people who might have an interest in football and writing. It's now seen as a legitimate thing to turn your attention to. So I think the sort of people going into football journalism has changed. That's not to say that there weren't good writers in the past, but there's far more now.

"If you look beyond the publishing of newspapers or websites, there was a revolution in the early 90s — All Played Out, Fever Pitch and Football Against the Enemy, those three books came out in the space of three or four years. That changed the marketplace completely. Suddenly fans started buying books because good books were there for them to buy. And publishers realised that this was an enormous untapped market. I think they were always prepared to take a gamble on cricket books and now, for 20 years, they've taken a gamble on football books that's raised the level enormously. Football had a huge amount of catching up to do with other sports, but I think it has now done that."
On his highly-acclaimed book, Inverting the Pyramid, and whether it has influenced coaching:
"I know some managers have read it. Craig Levein has read it, and it's a set text in a Norwegian coaching course. People in football are reading it, which is hugely flattering and gratifying. I suspect the coaches have their own ideas, their own way of thinking from their experiences as players that are probably far more influential. But maybe it does trigger the odd thought or idea."
On whether this is the most sophisticated era ever for football tactics:
"I think it's been maturing for 150 years and I guess whether you think this is the best era or whether you prefer previous eras is down to personal taste and what sort of football you like. What is true is that, certainly in the Premier League, we see more different ways of playing than has ever been the case before. We're now used to seeing some teams press, some still play very direct football, there's a real mixture of different styles and approaches, and I find that fascinating. I guess it's the distinctions between different national styles have blurred a little bit. While there is still a recognisably British way of playing or Italian way of playing or Brazilian way of playing, those things are not as defined as they used to be.

"So the spread of ideas has increased quite radically over the last few years. Partly to do with foreign coaches and players moving in, partly to do with television and the internet and when ideas move around, you get new people thinking about new ideas and then more ideas come out.

"So I guess in that regard, it is the most sophisticated era for football tactics and the fascinating thing that's happening now is the use of statistics in football and that type of modelling. People are recognising the models in football are much more complex than what you need in baseball or cricket, for instance, where you have a similar action repeated over and over, so it's much more open to analysis. You have a bowler or pitcher who releases the ball and tries to hit it. That action is discreet, so you can analyse that much more easily than football, which is very fluid. So I think we are slowly starting to see truths emerge from statistical analysis, and I think they will only increase in the next 10 or 20 years, and that is a fascinating possibility."
On the debate over 4-4-2 vs 4-5-1:
"I don't think any coach should be so wedded to one formation that he would never change in any circumstance, especially national football, where you obviously can't buy players. You're very much dictated to by the players that you have. There are so many different versions of 4-4-2. You can play the version of 4-4-2 that Madrid played, where the two wide players are very narrow in the midfield and it's almost a 4-2-2-2. Or you can play, as England did at the Euros, with two banks of four and the two forwards way upfield as a defensive move.

"I thought it was utterly predictable that Tim Sherwood's Tottenham, in the game against Arsenal, would be far too open. But that's not to say that 4-4-2 would never work against Arsenal. You can play a more compact system and it could work. What's interesting is that in the last six months or so, we've seen a revival of 4-4-2. People have realised that playing two centre forwards can create defensive uncertainty, compared with one forward.

"In the 80s, [4-4-2] wasn't a problem, as people used it all the time. But in the last decade or so, defenders have got used to one centre back marking a centre forward, and the other covering behind. You've got that little bit of leeway. As the forwards are going past you, you've still got cover, but if you've got two centre forwards there, suddenly defenders are having to relearn that old art of defending two-on-two. So that is an interesting development.
On the 2014 World Cup:
"I think there's a pretty clear favourite four, which would be Brazil, Argentina, Spain and Germany. I think if anybody other than those four won it, it would be a surprise. We're not quite sure how Brazil will cope with the pressure of being at home. They won the Confederations Cup, but the World Cup is a whole different thing, especially if the protests carry on. I still think they have a defensive weakness behind the full backs. I thought they got away with that at times. When the quality is more concentrated, as it will be in the World Cup, they could [find it difficult].

"Spain, it's very difficult to know what their hunger will be. But I can understand it being difficult to motivate yourself for a qualifier or a friendly. Whereas maybe they can gear themselves up for the challenge of winning an utterly unprecedented fourth successive tournament. And you've got the decline of Xavi, how in decline will he be by then? And will he be able to find his previous form? So there are question marks over Spain.

"Germany, I think, are defensively suspect but brilliant going forward. Out of all the teams who finished top of their UEFA group, Germany had the worst defensive record. The fact that they let in so many against Sweden suggests they can be really vulnerable against a really good centre forward like Ibrahimovich.

"If I was having a bet, I'd probably put money on Argentina. They have a very solid defensive base. A pragmatic coach is probably what Argentina needed – they've such an array of attacking players, so the last thing they want is an attacking coach. They need to put the structure there and let the attacking players play. If Messi performs to ability, with Aguero backing him up and Higuain there as well, Mascherano gobbling things up at the back of midfield, I would probably just about favour Argentina."
'The Anatomy of Liverpool: A History in Ten Matches' by Jonathan Wilson and Scott Murray is published by Orion Books. More details here.
Jonathan Wilson will be speaking at the Sugar Club in Dublin this Sunday. Details of the event can be found here.