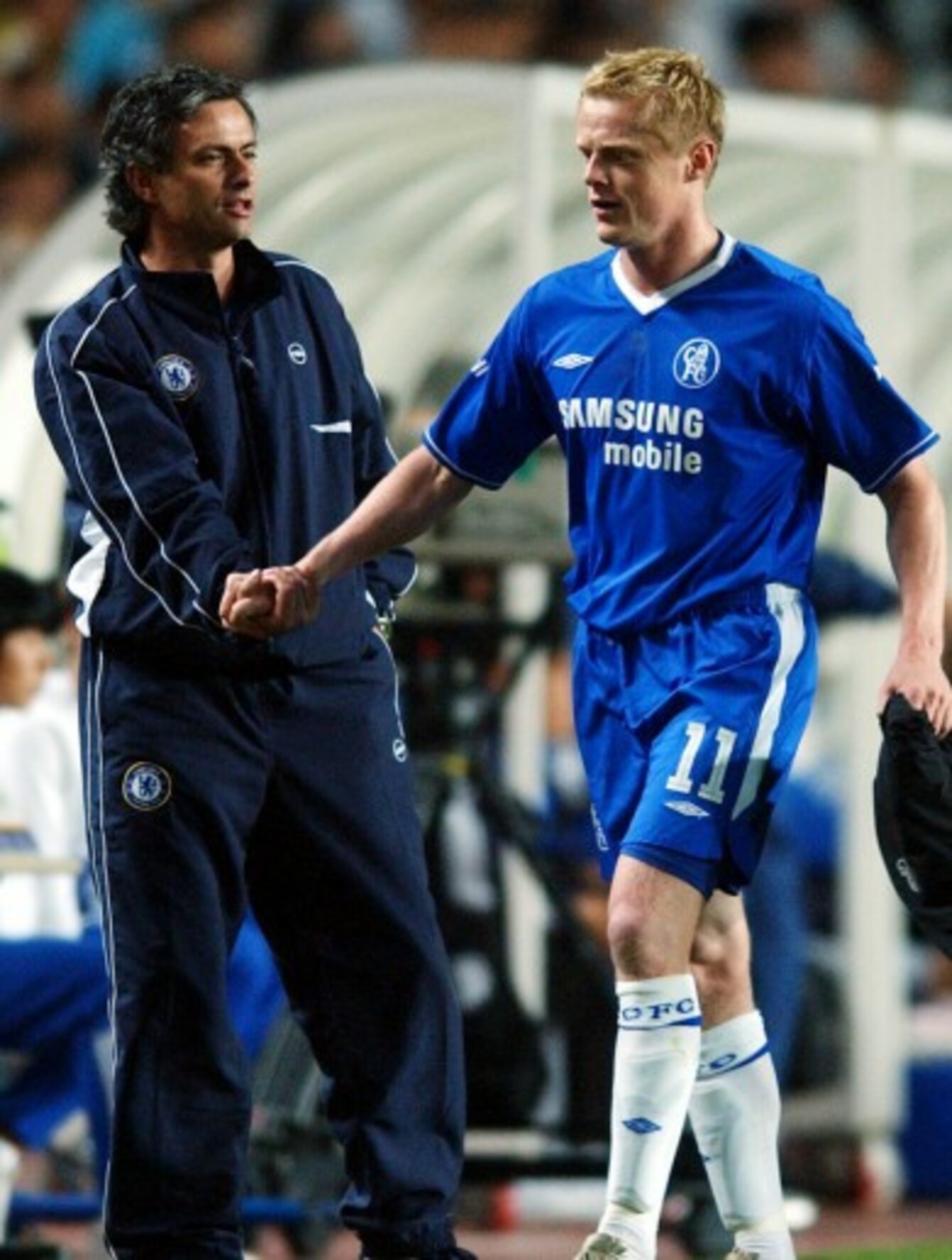 Mourinho oversaw arguably the most successful season of Duff's career.
Mourinho oversaw arguably the most successful season of Duff's career.
DAMIEN DUFF AND Jose Mourinho had a famously warm relationship during their time together at Chelsea and a new book sheds further light into the duo's rapport.
Jose Mourinho: Rise of the Translator by 21-year-old Irish author Ciaran Kelly tells the story of how Mourinho and the renowned Irish comic Mario Rosenstock once played a prank on the former Chelsea winger.
Rosenstock's impersonations of Mourinho had caught the attention of the Portuguese coach, who was so impressed by the accuracy of the Irish comic's portrayal that he invited him over in 2005 to give a performance to the entire team on the eve of Chelsea's vital Premier League game with Everton.
Duff was injured at the time and missed Rosenstock's appearance, but he still ultimately became the butt of the star's joke.
"It's a great story," Kelly tells TheScore.ie. "Rosenstock met with Mourinho and his staff after the performance and they were thinking 'what should we do?' Mourinho said: I'll give you Damien's number, give him a ring. So Rosenstock does his routine on [a confused] Duff, tells him I need you for the game against Everton tomorrow, and Damien said: 'I'm injured, I can't do it.'
"And he said: 'Alright, well I'm going to sell you to Walsall,' so Duff immediately copped it after that."
Kelly says the anecdote gives an insight into the easy-going relationship between the manager and the player, explaining: "There was a clear bond there. At the time Duff left, it was a new Chelsea coming in and ironically, it was a Chelsea that Mourinho was never able to fully buy into. I think of that 2006-2007 campaign. They won two cups. They didn't have a great league challenge. United ended up winning quite handsomely. And obviously then, he was gone by the following September. So Duff was a very valued team member, particularly in 2004-2005, when he really had a great season."
Rosenstock, meanwhile, has similarly positive memories of Mourinho, as Kelly explains.
"I talked to [Rosenstock] in August and obviously Mourinho had come back and the actual glee in his face, talking about it is quite funny. He wouldn't have done Mourinho much in his stand-up routines, whereas Roy Keane has obviously always been a key component.  But he can really push that home now because Keane's back. It's kind of similar with Mourinho in a way. The chapter in the book was a great comedic break.

"He was very honest about [his performance in front of the players]. Not many of the Chelsea squad spoke good English at the time. It was the flattest gig he ever did. His wife wasn't allowed into the gig. You get a really good insight into Mourinho's circle because he had never brought in someone from outside the Chelsea football club before. Yet he was happy on the eve of the game.
"Most people would have thought he was doing his tactical chalkboards, but here he was having a glass of wine with Rosenstock, getting him to do the Mick McCarthy impression,  telling him Roy Keane should be your next manager."
And far from purely being a bit of harmless light-hearted humour, Kelly explains how Mourinho's use of Rosenstock served to underline an important point to his squad.
"I said to Rosenstock: 'Don't you think that was typical Mourinho arrogance, the fact that he brought him in.' He's bringing in a guy who takes the piss out of him. But that would be the wrong way of looking at it according to Rosenstock. All these players would've been on £100,000 or £150,000 a week. But none of them had a song written about them in little old Ireland, did they?  No one had someone doing impressions of them.
"In a way it was an exercise in reducing tension with the team. It was February 2005, when they had a very tough game with Everton. It was also a way of showing that 'you guys might think you're some of the best players in the world, but you're not quite in my league yet. I have guys doing impressions of me, I've cracked Ireland.' So it was a fantastic little story."
Moreover, it was also a particularly memorable occasion for Rosenstock, whose career has since gone from strength to strength.
"I think everyone knew [Rosenstock] went over there but he really managed to detail how Mourinho was on Sky Sports News, while he was hungover at a hotel wedding in Stillorgan. Essentially, Mourinho came on the television and pointed at the television – Truman Show-style — and said I want him to come and do the song for me. And Rosenstock nearly spilled his pint."
Jose Mourinho: The Rise of the Translator is published by Bennion Kearny.  More details here.