JOSH WARRINGTON IS the new IBF World featherweight champion after he upset Wales' Lee Selby on a dream night at Elland Road.
Underdog Warrington fought out of his skin as he earned a split-decision victory contentious only for the fact that one judge awarded the bout to Selby, who was outfought and outboxed during his sixth world title defence.
Warrington is the first boxing world champion ever to hail from the city of Leeds.
Following the fight, Frank Warren cooled talk of a potential first defence versus Carl Frampton – Belfast's former champion who's set to fight at Windsor Park in August, and who hailed Warrington's performance as "outstanding".
The victorious Warrington told BT Sport that he'd be willing to cross the Irish Sea to throw down with 'The Jackal', but it seems clear that the pair will be pointed in separate directions for now.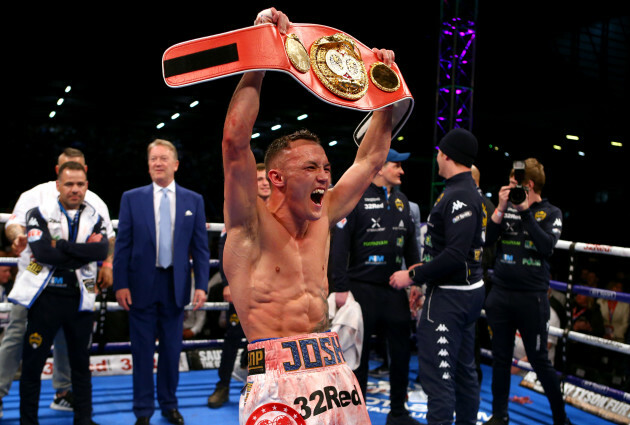 Dave Thompson Dave Thompson
Flanked by Leeds United legend and childhood hero Lucas Radebe, Warrington was played into the ring by Leeds rockers Kaiser Chiefs who performed 'I Predict A Riot' on site. It certainly evoked a raucousness in the already-boisterous 10,000-strong crowd, but it scarcely rocked Selby who emerged rapping along to Big L, ignoring chants of 'Who the fucking hell are you' which weren't long dying off.
It was the Welshman, though, who suffered a 'Big L' in Leeds – his first since 2009 – and it wasn't for the want of trying.
As first rounds go in this day and age, theirs was fairly furious: Warrington started the faster and caught Selby with a couple of cuffing outbursts – and one solid left hook – though again the Barry native wasn't all that fussed. Selby finished on the front foot and fired off a couple of testers, though Warrington had done more than enough to take the round.
Warrington picked up from his electric start in the second, however, catching Selby flush with some early fusillades. Mere moments after the bell, blood was pouring from Selby's left brow from an accidental clash of heads. The champion again took the sting out of Warrington's onslaught in the second half of another barnburning stanza – and finished with a stiff jab delivered to the Yorkshireman's gob – but retreated to his corner two rounds to the deficit.
Selby settled nicely in the third, however, jabbing his way back into the contest and producing the finer work as the fight found a more sane and sustainable pattern.
Four was similar: Warrington was difficult but hittable, and Selby was more than content to pot-shot his way into the ascendancy. Warrington fired two decent body shots and a left hook upstairs with less than a minute remaining, but Selby's legs had loosened a round prior, and clever footwork kept him out of harm's way for the most part.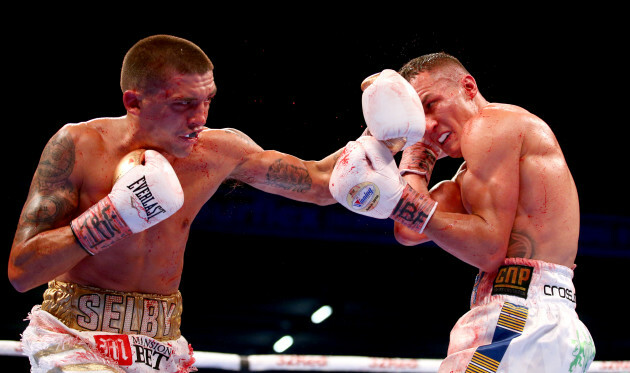 Dave Thompson Dave Thompson
Warrington came out swinging in the fifth and caught Selby with two thudding right hands, though he took an underhand left to the kisser in between. Through activity alone, he probably did enough to take the verse, and by most unofficial cards he would have entered the sixth with a two or three-point lead.
He extended it a round later. On fire, Warrington pummeled Selby to body and head. The action was interrupted by the referee due to Selby suffering a cut above his other eye – again ruled accidental – but upon its resumption the Leeds man attacked with an even greater fervour and found more bang for his buck than he had done previously.
Selby, at this point, looked a touch shellshocked: one such reason was that if the fight was stopped on cuts after four rounds, it would go to the judges' scorecards – upon which he surely trailed. Another was the sheer intensity of Warrington, who was fighting out of his skin.
The seventh, though, was more fruitful for the visitor: with blood streaming from each side of Selby's bonce, he shipped yet more punishment but dished it back with sufficient volume and accuracy to nick a round back.
It was glaring at this juncture that, while Selby hadn't necessarily been hurt by Warrington, he had been troubled on several occasions; Warrington, however, hadn't been remotely perturbed by anything Selby had detonated despite some of the Welshman's tidier work.
Dave Thompson Dave Thompson
Selby was busier in the eighth, though, and might have done enough to take it through activity alone. He started the ninth with a thumping right hand that again bounced off the hometown man, and followed it with a neatly-delivered uppercut. Warrington returned serve to Selby's solar plexus through gritted teeth – two fine shots – and for the rest of the verse, the fighters seemed to almost take turns tearing lumps out of each other.
Warrington probably claimed 9 with the stronger finish, and Selby seemed to acknowledge as much with a shake of his bloodied head at the bell.
The give-one-take-one pattern continued into the 10th as 'will' began to supersede gameplans, but again it was Warrington who likely shaded it with the heavier shots upstairs.
Cognisant that he was surely trailing heading into the championship rounds, Selby came out hot and landed a sharp right hand down the pipe. Warrington, unrelenting, fired back in spades. Try as Selby may, he simply couldn't deter the Leeds man nor the latter's vociferous support. Warrington delivered a superb right hand on the bell almost as if to rubber-stamp that point.
After what had been a spiteful build-up, the pair seemed uncomfortable touching gloves as they entered the final round: it took two attempts before any respect was shown. Warrington landed a three-punch combination upstairs and enjoyed the greater success as the clock ticked towards his prospective coronation, but Selby landed two thumping lefts in return.
It wasn't enough for the champion, though. The final bell sounded to a thunderous Elland Road roar, and Selby – his face a mess – was consigned to defeat.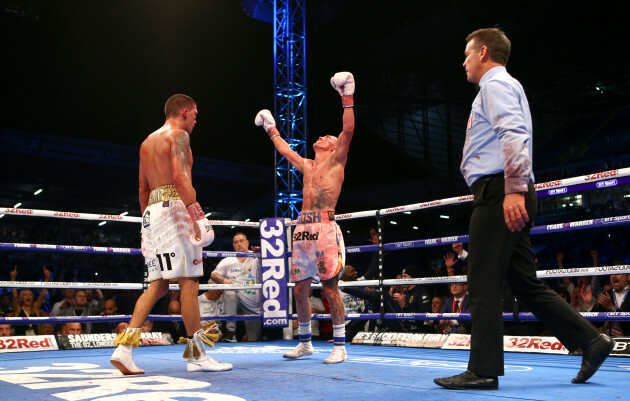 Dave Thompson Dave Thompson
The words 'split decision' drew wild jeers from the crowd, as did Alan Davis' inexplicable 115-113 verdict in favour of Selby.
Phil Edwards' 116-112 card for Warrington was about right, and though Frank Lombardi's 115-113 score was probably a touch close, it didn't matter a jot for it was followed by a phrase which sent Elland Road into raptures: "And the new!"