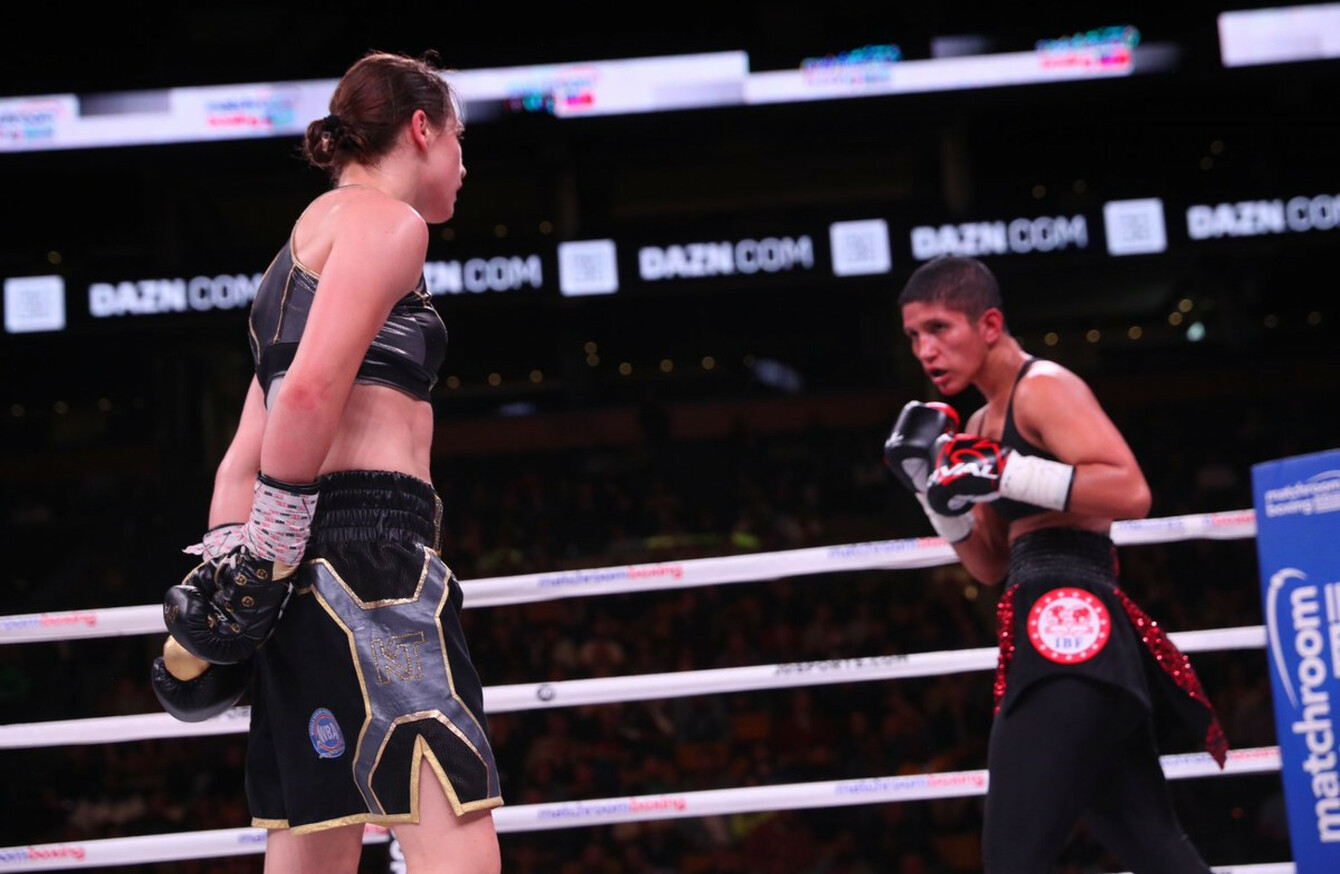 Taylor taunts opponent Cindy Serrano for not engaging in a one-sided contest
Image: Matchroom Boxing
Taylor taunts opponent Cindy Serrano for not engaging in a one-sided contest
Image: Matchroom Boxing
Gavan Casey reports from TD Garden, Boston
KATIE TAYLOR HAS retained her world titles with a lopsided unanimous decision victory over Cindy Serrano at Boston's TD Garden.
Taylor was awarded the fight by complete shutout — 100-90 across the board.
Cheered on by Conor McGregor at ringside, the 32-year-old Bray woman was at times dazzling but could only do so much to wow the Bostonian crowd as challenger Serrano — a world titlist at featherweight — spent all 10 rounds on the backfoot, scarcely getting off a shot in anger.
☘️ @TheNotoriousMMA congratulates @KatieTaylor after her win in Boston 👑👑 #TaylorSerrano pic.twitter.com/FbKJ1vrxcw

— Matchroom Boxing (@MatchroomBoxing) October 21, 2018
In fairness, Taylor didn't throw much herself in a nervy opener which quelled the atmosphere somewhat following her hero's reception from the 8,000 or so in attendance, many of whom joined in the rousing rendition of Amhrán na bhFiann by Ronan Tynan.
The champion found her range in the second, landing a thudding overhand right as Serrano dipped her head in defence and enjoying the better of a two-punch exchange moments later.
It was a tactical encounter early doors, though. This lack of action sparked loud boos from literally one man buried somewhere in the stands, but it was notable that he was audible at all.
Taylor duly upped the ante, firing with more regularity and fury in the middle rounds, drawing the first chorus of 'Ole Ole' from what amounted to her home support.
She rattled Serrano briefly with a sharp combination against the ropes before the bell sounded to end the fourth, although the Puerto Rican shook her head in dismissal.
A tidy left hook at the end of another flurry in round five drew Serrano's attention, all right, and Taylor continued to claw away at her retreating adversary in fits and spurts, targeting the right-hand side of Serrano's body as well as her head.
Taylor and team had expected Serrano to practice a couple of dark arts in the Boston ring, but instead she merely went further into her shell in the sixth as Taylor picked her off from range.
The Brooklyn resident was clearly feeling the heat but hanging in there, still blocking plenty and making it as difficult as possible for Taylor to string together combinations.
Taylor had probably clocked up serious mileage by round seven, and sick of chasing Serrano around the ring like clockwork — and doubtless cognisant, too, that each of them had a duty to their sport to entertain — she first put her hands behind her back and beckoned Serrano toward her to engage.
The Puerto Rican was hesitant, and incredibly Taylor seemed to give her what amounted to a free shot to the jaw — an opportunity which Serrano took only half-heartedly — before retreating to the ropes herself and taunting her challenger, who naturally found herself on the wrong end of things when she finally took the bait and engaged.
.@KatieTaylor drops her guard and waves Serrano on! #TaylorSerrano pic.twitter.com/IhqNWdGYNs

— Matchroom Boxing (@MatchroomBoxing) October 21, 2018
Taylor's antics had fans in raptures. At one point, with some 40 seconds left in the eighth, a man roared from the crowd: 'Leave her alone, Katie!'
And Taylor did seem to take her foot off the gas somewhat, utilising her jab and slowing the tempo ever so slightly. Guilty conscience, perhaps.
However, she pointedly went looking for the finish a round later, blasting Serrano with a sequence of right hands. At the end of the ninth, Serrano glanced towards the overhead screens as if to enquire as to how much more punishment she'd be spoonfed before collecting her cheque and going home.
The answer was two minutes' worth, although Taylor more or less coasted to the finish, blemishless and aware that a big December night was within reach if she could depart with her titles and without having her skin breached.
Serrano, by this point, seemed interested in neither. She took her medicine gamely but was so comprehensively outclassed that at times it was awkward to watch.
Future @KatieTaylor opponent? 🧐 @Serranosisters pic.twitter.com/7agITPkTB6

— Matchroom Boxing (@MatchroomBoxing) October 21, 2018
Truly, neither Taylor nor her team foresaw the fight playing out in such a one-sided fashion, but through no fault of the Irishwoman, this was no more a test than her third-round destruction of Kimberly Connor last time out.
In that sense, it probably didn't do much good for the greater cause of women's boxing despite its prominent slot on a major card, but it furthered Taylor's claim to being queen of them all.
Perhaps Cindy Serrano's sister, Amanda, the six-weight world champion who watched on from ringside, might have other ideas about that in 2019.
In the main event at Boston's 'Gahden', Rhode Island native Demetrius Andrada dropped Namibian contender Walter Kautondokwa on four occasions en route to a points victory which saw him claim the vacant WBO World middleweight strap.
Subscribe to our new podcast, Heineken Rugby Weekly on The42, here: