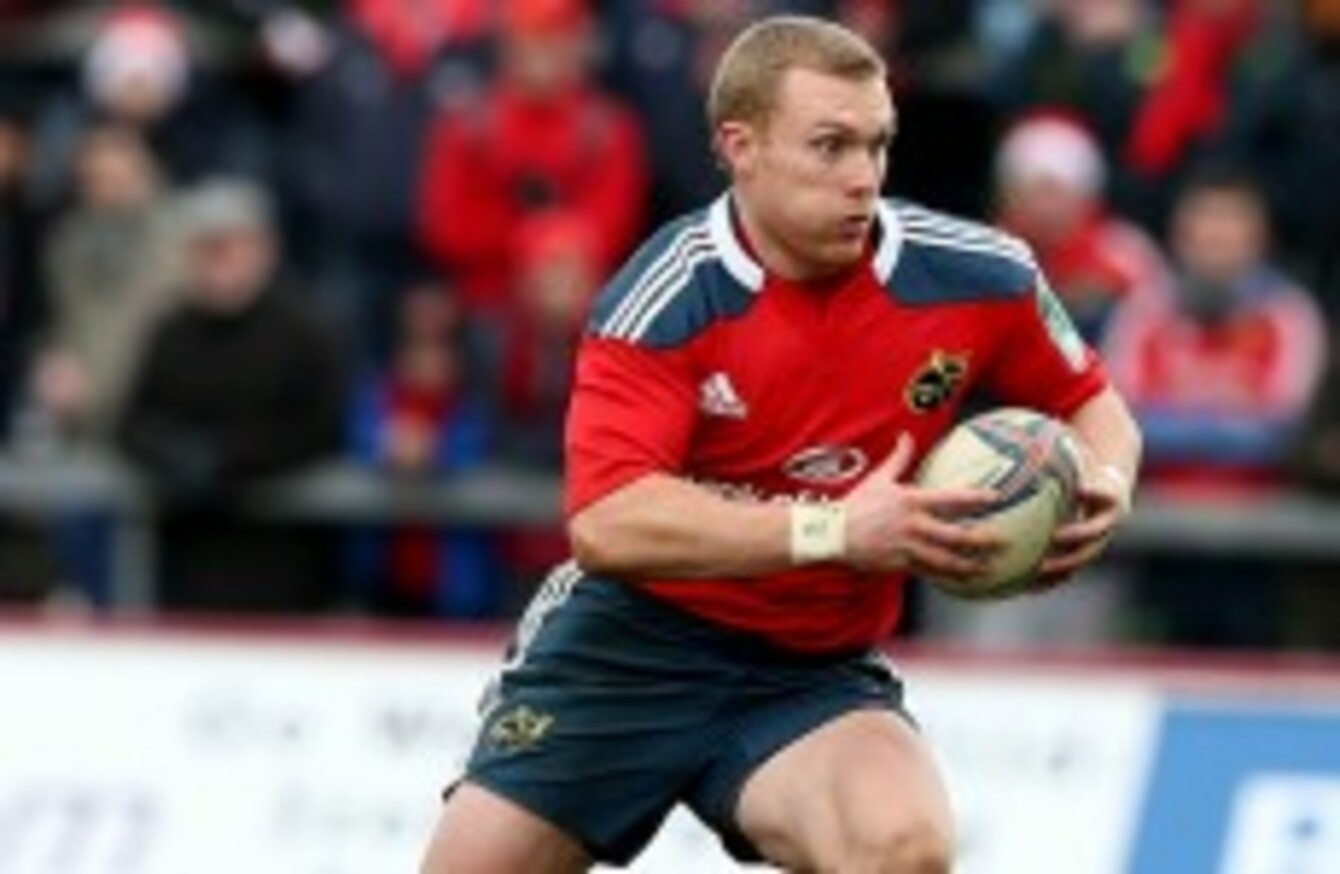 Earls is a lethal attacking player in space.
Image: ©INPHO/Dan Sheridan
Earls is a lethal attacking player in space.
Image: ©INPHO/Dan Sheridan
ANOTHER DAY, ANOTHER new IRFU contract for one of our high-profile internationals.
Keith Earls is the latest to have dedicated his mid-term future to remaining in Ireland, signing a two-year deal just as Paul O'Connell and Sean O'Brien did before him. In the case of the 26-year-old, there was less suspicion that he would consider a move abroad next season.
Rob Penney was understandably and unsurprisingly "delighted" at the confirmation that Earls will be staying with Munster until June 2016 at least. The former St. Nessan's student will be an integral part of the province's plans over the next two years, with his attacking skills so ideally suited to how the Kiwi wants his side to play.
Earls has made all but two of his 11 starts for Munster on the right wing this season. Both of his outings in the 13 shirt came against the Dragons, but those appearances were more of a stop-gap scenario than a hint to future plans. It now appears definite that all are in agreement that the ex-Thomond club man's skills are most suited to a spot on the wing.
Earls is an elusive attacking player, whose footwork, pace and balance make him hugely effective with space in front of and around him. Players of his flair and running ability are not too common and that is one of the reasons he was hugely hyped from a very young age. Playing Earls in the centre had just meant more clutter around him, a more impeding structure.
In those situations, the same strengths that make him such an effective winger, and attacking player in general, proved counter-productive. Earls' ability to cause such havoc with ball in hand can mean that carrying is very often his first option at 13. His peripheral vision is not quite at the level of someone like Brian O'Driscoll [there is little shame in that], meaning his ability to give the pass to a better-positioned player can let him down.
Penney has come to the same conclusion as everyone else this season; Earls is best utilised on the wing. The 39-times capped Ireland international has started all six Heineken Cup games there this season, proving very effective. Despite a knee injury forcing him off after just 24 minutes of last weekend's win over Edinburgh, the statistics back up the strong impression Earls made.
With 37 carries in the five-and-a-bit Pool 6 games, Earls made a total of 320 metres in attack, beating 13 defenders along the way and manufacturing five clean line-breaks. Three offloads added to his strong attacking contributions too. 8.64 metres per carry may not be record-setting but it is confirmation of the feeling that Earls was very effective on the right wing.
Earls has won 39 caps for Ireland since making his debut in 2008. ©INPHO/Colm O'Neill.
Defensively, the 2009 Lions tourist completed 35 tackles and missed 11. The latter figure does appear quite high, and it's another of the reasons there are doubts over Earls' ability to play in midfield. In fairness to the 26-year-old, several of those misses came when chasing kicks at high speed, so some leniency in judgement is required.
The game plan Penney uses at Munster is based around creating one-on-one and two-on-one situations for his players in wide channels. We saw plenty of that against Edinburgh last weekend, with Felix Jones and James Coughlan benefiting in particular. Earls' attacking skillset is hugely geared towards excelling in that system; this is a player who can beat defenders without going straight over the top of them.
With Casey Laulala set for a move to Racing Métro at the end of the season, there will be a hole in Munster's squad at outside centre. The temptation would be to suggest that Earls should move back inside yet again, but Penney will be better served by keeping his most lethal attacking player on the wing, taking advantage of turnovers and one-on-ones.
The fact that Munster have very little money with which to secure a replacement for Laulala is, of course, an issue but what the province need to search for now is a centre who excels at passing; a man who can get the ball into Earl's hands early and in space. Laulala has come close, but ultimately hasn't been able to regularly link his back three with the rest of the team.
In terms of Earls' future with Ireland, this two-year central contract is evidence of his continuing importance to the national squad. Again, his attacking capabilities look well suited to flourishing under Joe Schmidt as soon as he recovers from injury. At international level, even more so than those below it, tries are more and more frequently being scored in turnover situations.
That transition of possession is something Schmidt will be keen to focus on as a means to crossing the whitewash and a player such as Earls – with his pace, alertness and work-rate – could be integral to those rapid counter-attacks on first phase.
In his last three international games, all in the 11 shirt, the ex-Munster Schools Senior Cup winner averaged a 10.4 metre gain per carry. That includes the dour dogfight of a 13-13 draw with France in Dublin, with the weather restricting his impact.
Earls is one of the premier attacking players in Ireland and his attitude towards improving is beyond question. Finally settled on the wing, the thought of how good the 26-year-old can be by 2016 is an exciting one.