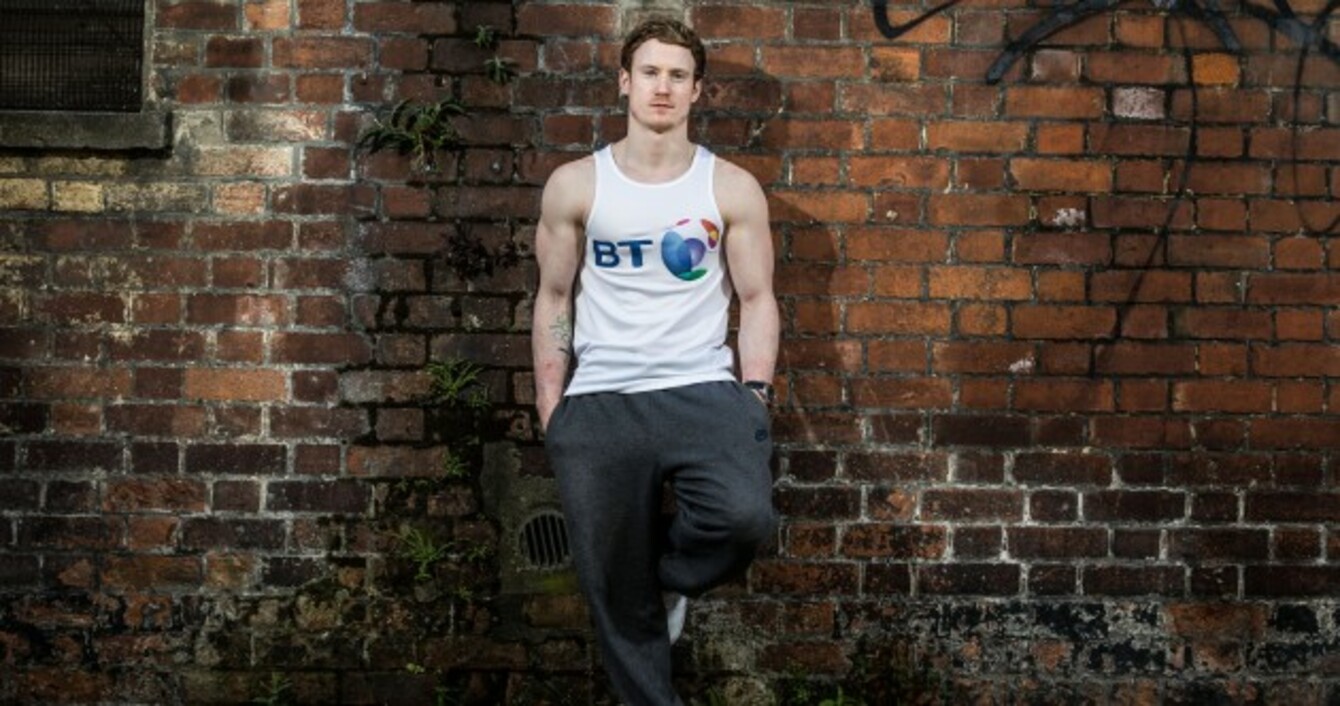 Irish gymnast Kieran Behan.
Image: Billy Stickland/INPHO
Irish gymnast Kieran Behan.
Image: Billy Stickland/INPHO
HE FIRST CAME to our attention at London 2012, but it's a much different Kieran Behan who will represent Ireland over the coming days at the inaugural European Games in Baku.
Olympic qualification for an Irish gymnast took everyone by surprise — himself included — so Behan was just glad to be involved in London. But the mindset has changed since then.
The 26-year-old isn't making any bold predictions about delivering medals in Azerbaijan next week, but he is confident. Behan has covered all bases in his preparation so he has no reason not to be. Starting with tomorrow's first qualification day, he's ready to show what he's capable of.
Physical strength is a minimum requirement for gymnasts but Behan's mental toughness is in equal measure. As a child, he was twice told that he may never walk again — due to a tumour in his leg and later a brain injury caused by falling off a high bar.
Behan has also had to cope with a series of knee injuries and just recently he took on a gang of seven attackers who tried to mug him – and left empty-handed — outside his London home. This is a man who's used to facing adversity. Competing with the elite of European gymnastics? Bring it on.
"The aim is to go out there, go clean in the qualifying rounds and make the finals," said Behan. "Whether it happens or not, that's just sport. We'll see how it goes.
"You can go to a competition being the best prepared you've ever been and you could end up having a bad day, or your preparation could be all over the place but you could have the competition of your life.
"But I feel very confident because of the way I've prepared and the amount of hours I've put into my training. I'm confident, I'm in a good place."
Confident enough to bring home a medal?
"Yeah. It's an interesting format, especially in the apparatus finals because normally it's the top eight who make the final. In Baku it's the top six, which means there's two less people in contention so there's a better chance of a medal.
"When you're in a final, especially in a sport like gymnastics, it's all about what happens on the day. It's not like sprinting or something else where you know what your maximum is. In gymnastics it comes down to how the routine goes on a given day."
Behan's build-up for Baku — and Rio 2016, should he qualify — has been far smoother than it was for London. Qualification for the 2012 Olympic Games came out of the blue, so he didn't have a chance to prepare adequately. That won't be the case if the opportunity presents itself again.
"London was obviously an incredible experience and it was a very proud moment for me to qualify and achieve the status of being an Olympian. But I've learnt a hell of a lot from looking at where I was as an athlete at that time," explained Behan.
"Because of all the injuries I've had in the past, it all happened very quickly. Basically, in the space of a year I went from returning to full fitness to qualifying for the Olympics. Now I'm having a full cycle. Yes, there have been injuries and bumps in the road along the way, but I've had a lot more time to really focus on were I needed to improve.
Be part
of the team
Access exclusive podcasts, interviews and analysis with a monthly or annual membership.
Become a Member
"The hardest thing has been balancing working and training, and I think I do that well now. I train 25-to-30 hours a week and then I also coach 25 hours a week. That's my day, that's my life. Eventually I want to coach Olympians, but at the moment it's all geared towards getting the best out of myself."
He trains to compete and coaches to pay the rent, but Behan isn't one to bemoan the lack of funding which prevents him from dedicating all of his time to being an athlete. Even when he crosses paths with his peers from Great Britain, there are no regrets.
Behan was born in London to Irish parents. He still lives there now and is often envious of the Team GB athletes who don't have to worry about holding down part-time jobs to keep a roof over their heads. The resources available to Behan are limited in comparison, but that still hasn't convinced him that choosing to compete for Ireland was a mistake.
"Obviously it would be ideal to be like other athletes and train as much as I am, but then also have medical facilities to tap into and have the same recovery time as everyone else. But I'm not in that position and I don't know any different. I train, I go to work and I pay the bills. That's what I know.
"I'm not fortunate enough to be in a situation where I can just train. Yeah, sometimes it's hard and sometimes I'm envious of other athletes but you've just got to get on with it. I still believe I can achieve success anyway, I'm in the best shape of my life so I'm obviously doing something right.
"Yeah, they (British athletes) do train full-time and they're working with physios, strength coaches, nutritionists and everything, but I always wanted to represent Ireland. My family is Irish, my dad wanted me to compete for Ireland and I always wanted to do that anyway. I'm a very, very proud Irishman.
"Obviously that's why some people go to other countries to train and to better themselves, but I still think I can get just as much out of my training. As much as you can have these other things that you can tap into, only I can control what I eat and how I train.
"You can have all those perfect scenarios around you but if you don't work hard enough or eat the correct things, those things around you don't matter. It's an individual process."
For now, Behan's perfect scenario is a positive showing in Baku which will justify the many hours he's invested in getting there. After that, it's Glasgow in October for the World Championships, which marks the beginning of his quest to qualify for Rio.
Big challenges lie ahead, but that's business as usual for Kieran Behan.
BT Ireland this week announced the renewal of their partnership with Irish Olympic gymnast Kieran Behan for a further two years as he continues on the road to Rio 2016. Starting tomorrow, Kieran competes in the 2015 European Games in Baku, which is available to view on BT Sport.