TODAY HE'LL BE in action in Goodison Park in Liverpool while playing for Everton against Hull.
And tomorrow afternoon his focus will be on MacCumhaill Park in Ballybofey while supporting his native Killybegs against Glenswilly.
It's a unique sporting weekend for Seamus Coleman but the Ireland international's interest in Sunday's county senior final is a recognition of his roots to his home in the fishing town on the Donegal coast.
David Conwell is a key defender in the Killybegs side and was a neighbour of Coleman's when the pair were growing up.
"Seamus only lived across the road from me", Conwell told TheScore.ie. "His brother Frances played underage with me all the way up in GAA.
"Seamus was three years younger than me and we played a wee bit of senior football together. He'd the same mentality as what you're seeing now with Everton and Ireland.
"He was full hearted, very committed and what you see is what you get. He played in the full back line but was dynamic enough to be in the half back line as well.
"I played more soccer with him for the local team St Catherine's. He was no different than most of the lads around here who all grew up in the housing estates. We played five a side soccer games and that's where you created your character."
YouTube: Jacksonsmediatv
Coleman was home a fortnight ago to cheer on Killybegs as they claimed a Donegal county semi-final win over Malin.
Then last Friday night, the people of Killybegs cheered Coleman on as he captained Ireland in their World Cup qualifier against Germany in Cologne.
"Without doubt it was a big thing for the town", says Conwell. "It meant a lot for the people that know him. It's not often you get to know someone who has that honour.
"As far as I know he's coming in to watch us tomorrow. He wouldn't want to miss it. I know he'd love to be out there with us because he's a great supporter of Killybegs."
Big Day
For the Killybegs players the focus is on attaining silverware. Three years ago they were left disappointed in the final against Naomh Conaill.
This year they have shown their resilience. Killybegs have amazingly lost all 15 of their Division 1 football league games in Donegal this year. But the championship has been a success story.
"It's a strange one alright", laughs Conwell. "The way we look at is that we get ourselves up more for championship games. We were also short players who were in the States for various league games this year.
"And we'd a lot of guys who were playing soccer at the start of the year as well. Killybegs breed championship players and our boys have stood up this year when it matters.
"The build up for the game is within the people in the town. We're a wee bit more laid back. Hopefully we've learnt a lesson from 2010.
"We got swamped by hype then but we're focused now. We're playing a very good team in Glenswilly who have an exceptional player in Michael Murphy. But I'm a confident player and I'm really looking forward to it."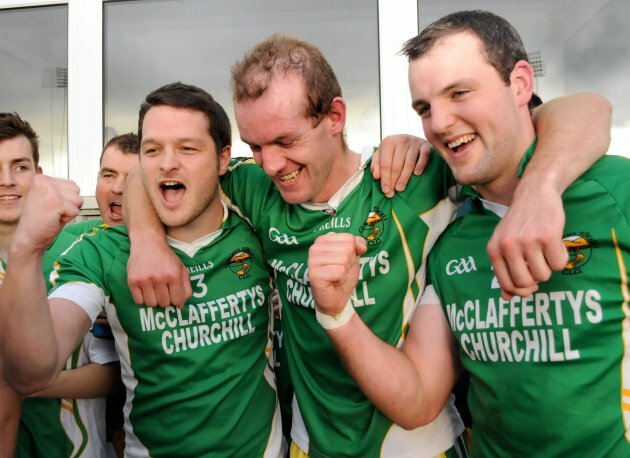 Michael Murphy celebrates Glenswilly's county final win in 2011.
Pic: INPHO/Kieran Murray