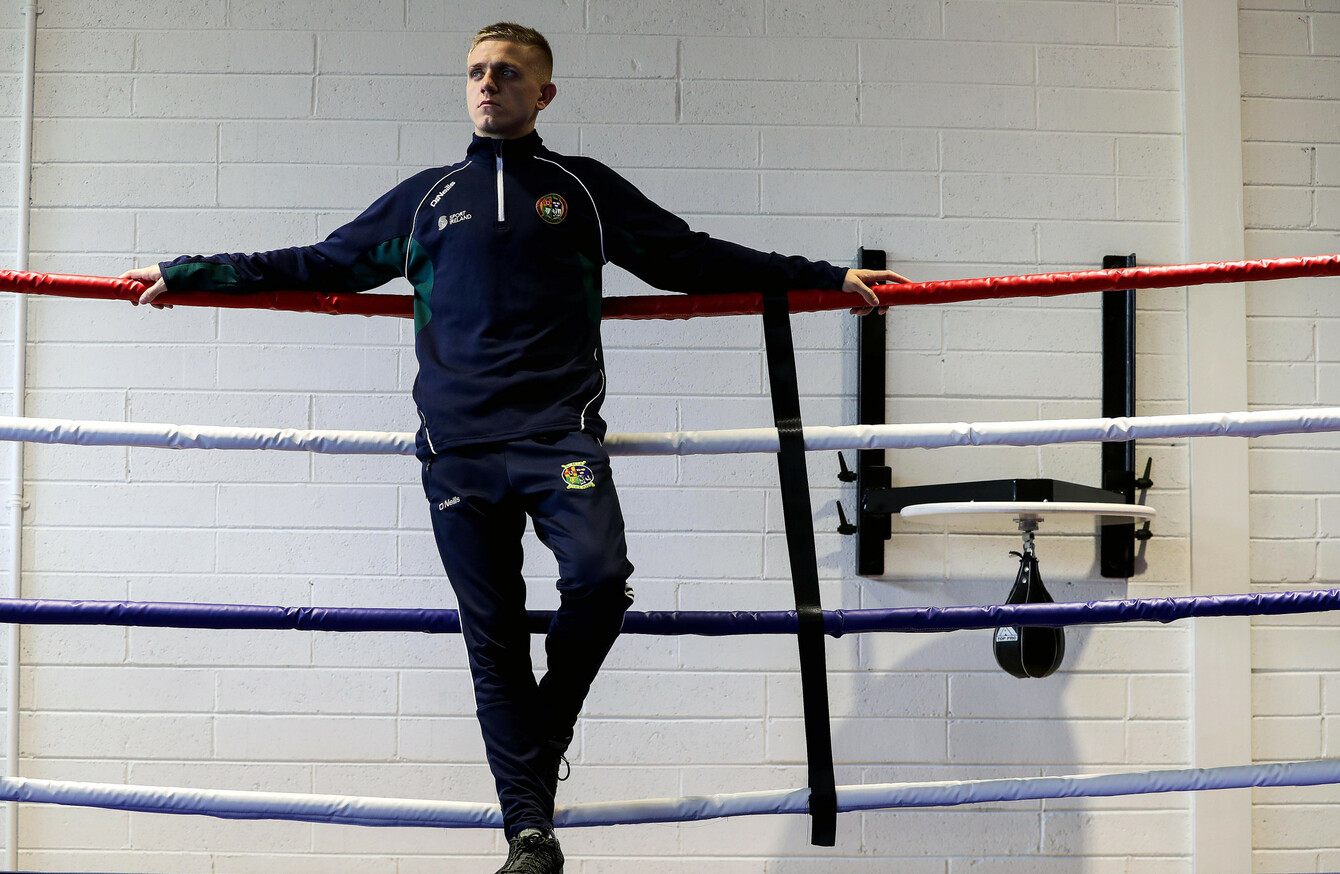 Image: Tommy Dickson/INPHO
Image: Tommy Dickson/INPHO
BOXING IS A sport of fine margins.
Near misses can define careers or, worse still, prevent them. Its nearly men are typically forgotten, their stories lost to the ether. Fittingly, for all its toils, traumas and tempestuousness, its participants' paths are often determined by the ticking of a box by a total stranger, whose motives are not always transparent.
Had Antrim bantamweight Kurt Walker been born in 1991 as opposed to 1994, it conceivably could have been him, and not Michael Conlan, who was recruited to transcend his craft in the States. Conversely, the recent European bronze medalist might never have laced up a pair of gloves at all; growing up in Lisburn, he practiced Taijutsu between the ages of seven and 10, and only when that gym shut its doors in 2002 did a young Walker take the extra couple of paces towards his local boxing facility.
"That was the start of it," he says.
"I was just running about like a header, like. My mum wanted me to do something but I don't think she was too fond of the boxing at the start. Maybe it grew her on a little bit, but she still doesn't watch me fight to this day. Although she supports me all right, like."
Japanese martial arts' loss would soon transpire to be Irish boxing's gain. By 2013, Walker had a European Youth silver medal, as well as World Youth bronze, perched atop his mantlepiece, and was heralded as one of the island's most prodigious pugilistic prospects. True stardom, however, would have to wait.
15 minutes up the road, a young switch-hitter from west Belfast was being draped in similar low-hanging metals but up at Senior level, and had already been earmarked as one of Ireland's predominant Olympic medal hopes for Rio. Walker, then, was forced to play the long game as his pal Michael Conlan went nuclear during the intervening three years.
The latter's recent ascent to professional stardom, however, punched a hole in the glass ceiling beneath which Walker had remained patient, sharpening his tools. The latter laid waste to it last month, taking European bronze home from Kharkiv and, in doing so, qualifying for Augusts' World Championships in Hamburg where he'll now be perceived as a legitimate threat to the throne.
"Michael and I are very good friends," he says. "I knew this moment – my moment – had to come sometime, it was only a matter of time, you know?
I won loads of medals at Youth, but to be honest with you, everyone keeps saying, 'Youth medals don't count'. So I had to get my hands on that Senior medal. And I knew this was my time to do it, too, because if it wasn't this time it was never, I think, to be honest with you.
"Now, I don't think I would have gone pro of I hadn't medalled at the Europeans – I would have tried and tried to win medals as an amateur. But the Europeans are only ever two years, so I would have been 24 by the next one, you know what I mean? Getting a bit older, like. You want to start winning your medals at 21 or 22 and kick on from there."
Remarkably, even allowing for his self-assigned sell-by date, Walker's focus scarcely wavered.
The 10-time Irish champion watched on as teammates, some perceivably less gifted, excelled at major international tournaments, but for the most part sustained the required dedication to be front-of-queue on the conveyor belt.
"I knew what Michael's plan was for a long time, and I knew it was going to work out for him. He was hoping to win Olympic gold and then turn pro; there was no chance of him going pro before the Olympics because he would have lost a lot of his value. So I knew I had no choice but to wait it out.
"But it never really got difficult to motivate myself because I knew Mick was always the best, like. He's three or four years older than me, so I knew I was going to have my own generation coming up behind him, and I knew I was going to be a star in it. I was always certain that I'd eventually have my time.
"It just feels good that everyone knows my name now, and everyone knows I'm not just a number two. Now I'm one of the boys who's going to go and win medals, hopefully, over the next couple of years. Someone for the team to look toward to win medals – that's the kind of fighter I want to be for this team."
Given the sudden if long-predicted nature of his own rise, the 22-year-old Walker maintains his European rivals dropped their hands when viewing him through the prism of prospective opponents.
He was, after all, 'the other guy' to most, two Irish Senior titles and past bouts notwithstanding. And so with the dominant Conlan having quite literally effed off after Rio, the threats posed by the two-time Olympian's supposed understudy would have sounded fewer alarms.
Rival nations will now be on red alert in Hamburg next month.
I've sparred a lot of countries the last couple of years and I've always done well, so I think they've always known of me. But I just don't think they worried about me because they've always had to worry about Mick.
"So, say with me in the Europeans, I reckon they maybe underestimated me a wee bit, to be honest with you. But whenever I get going, I'm hard to beat.
"I'm glad if that was the case, actually, because I knew I was going to medal. Like, I said before I went that I was going to medal. And I've never said that before.
"I was just that sure; in the camp beforehand, in the Ukraine, I was giving people batings all around me, and it was easy for me. I knew I was going to do it, and I've never had that confidence before. I don't know where it came from, I just suddenly had it in my head."
Imbued by that newfound conviction, the Lisburn native's performances in Kharkiv were nothing short of sensational.
Having cruised past Georgia's Severiane Childaze in his opener, Walker's perceived scalp of Azerbaijan's Tayfur Aliyev, the world number two, was a watershed moment of sorts. Two years ago in Baku, the then-20-year-old had entered the European Games as one of the best fighters in the field, but was drawn against the best, Bakhtovar Nazirov or Russia, and fell at the first hurdle.
Walker avenged that defeat to the eventual gold medallist during a round robin in Dublin earlier this year, but it was difficult not to suspect the Antrim man had fallen foul of the draw once more in Kharkiv, having been pitted against the formidable Aliyev shy of the medal rounds.
On this occasion, however, he turned the competition on its head, emerging with a stunning 4-1 split decision win despite coming under heavy fire and suffering the reopening of a cut atop his right brow.
A buoyant Walker then edged Raffaele Di Serio – the Italian who had knocked him out of the European under-22s as recently as February – in the quarter-finals, thus guaranteeing Ireland's 50th ever European boxing medal as well as qualification for the World Championships.
Even in defeat to home favourite Mykola Butsenko at the semi-final stage, the young Ulsterman put in a more than decent showing, controlling proceedings for large spells before falling to a harsh unanimous decision.
"That's what helped me beat the Italian, because my confidence was through the roof [from beating Aliyev]," Walker recalls.
I knew I was going to do it, to be honest with you. The way he [Aliyev] came in, he came in showboating thinking he was the man, and when the result was being called out he had the hands up. But I knew 100%. I won it 4-1 and was absolutely delighted.
"I could have won gold. You saw with the Ukrainian [Butsenko], a lot of people said I could have beat him, should have beat him, but it's hard to get the decision over there. Every judge gave every round against me, and that definitely didn't happen, but that's just the way it goes.
"I fought him three years ago, he beat me on a split. I wasn't great back then, and then sparring here I believe I got the better of him. He's very good – very good at what he does, but once you know what he does you can beat him."
Walker is humble, certainly, but speaks with a perpetual air of incredulity, as if perplexed that only now are his talents being recognised – perhaps even by himself.
But after flattering to deceive in previous continental tournaments, last month made up for both lost time and missed opportunities. It was a precursor for the meteoric rise which now seems destined to follow, and one which Walker maintains has already begun.
Everybody's worrying about me now, because they don't like fighting me. I'll be all over the place and they can't catch me and I can do that for three rounds every fight. People will have to change their style to fight me from now on, and that's a good thing.
"Everyone knows me now. Even in training camps here, they were having a nightmare with me because they just couldn't catch me. I know what I need to do now. I know what works and what doesn't, what annoys people and what makes them lose their gameplans.
"I'm taking that with me to the Worlds – I'm 100% confident. Look, make no mistake about it, I know the Worlds is very hard; seeing the way everyone qualifies, it means you never have an easy fight. But I'm extremely confident that I can go over and do the business, because a few of the boys are my age, too, and I've beaten them before. And then there are a few boys that have beaten me, but they've been very, very close fights.
"Like, the one that dropped Mick in the World final last time [Uzbekistan's Murodjon Akhmadaliev], he beat me on a split decision and I thought I had won the fight, like. That was six months before he fought Mick in the final – the guy is a World silver medalist.
"He's a hard puncher. The way he hits you, he kind of hits you around the side of the ear, they're all fairly big shots. But me and Zaur [Antia] watched the fight back, and we both thought I won the fight. That was six months before he fought Mick, so he was in his prime, and I wasn't at much – he was my first opponent in ages. So that just shows that I'm right up there. I know I am, now.
"I feel that I can definitely, definitely get a medal and even push on for the gold."
European success also secures Walker with further funding in 2017, which he believes crucial to his development ahead of the Tokyo Olympics in 2020.
As is so often the case in a sport where the line between success and failure is so slim, and often down to the kneejerk perception of others, victory over Italy's Di Serio last month might ultimately prove the difference between attaining star status and plummeting into puglistic purgatory.
"All that's in my head is to just keep winning medals," he says. "If I keep winning medals now, I'll be set for Tokyo, and that's all that I'm focusing on. It's all about working towards Tokyo and putting on as many good performances as I can, and as few bad ones as I can – hopefully none.
[European bronze] guarantees me funding so I can just train next year and work as a boxer. If I didn't win that medal I don't know what I would have done – I wouldn't have been at the Worlds, probably, and there's no major tournaments on next year.
"Sometimes [funding] is in your head, sometimes it's not, you just have to blink it out and just believe that everything will be all right, and it has. That's the way I was training for the Europeans, just believing that it would work out, and it did.
"I'm glad I can push on now and improve all next year. I feel confident now going to the Worlds. There's no pressure, there's no stress. Going there [Kharkiv] there was a lot of stress because I knew I needed to win the medal to qualify for the Worlds. Now I can concentrate on my boxing."
He'll do so for the most part at Sport Ireland's state of the art boxing facility in Abbotstown, and under new High Performance Director Bernard Dunne, of whom he speaks glowingly.
Walker's European bronze, along with that of Brendan Irvine as well as Joe Ward's historic third gold, emphatically kicked off a new era which, until June, had been incorrectly tarred by the tumultuous ending to the last.
"It definitely feels like a clean slate, like a new start," Walker says of Dunne's High Performance reign.
"It feels weird, actually, but it's a good thing. Back in the old setup and in the Stadium it was the same thing year on year, and you were just melting. Now you're in a new setup with a new team, new people brought in. Everything is changed.
"It's a young team and everyone is ready to go. There's a great atmosphere. It's all coming together, I believe."
But as Walker sees it, Irish amateur boxing should never have been written off to the extent with which it was following a disastrous Rio 2016 campaign. He's borderline insulted by it, in fact.
I don't know what any other sports do, but sure we finished fourth in the Europeans. I don't think Ireland finishes fourth in Europe in many other sports, do they? I don't really see it happening. Boxing is still Ireland's most successful sport, and that's a fact.
"But the belief still needs to be there, and I think a few people lost that belief after the Olympics. But it'll soon come back. It'll not take long for that, I guarantee it.
"One bad year. You can't tell me…I mean, a few things didn't go our way, and boxing is written off over here, everyone is up in arms. But we'll come back stronger. I'll prove them wrong, anybody who does doubt it.
"But there are still plenty of people who believe that Rio was just something that happened. It's in the past now, and this team is about what comes next. And we're already off to a good start."
That they are, though for Walker – along with countless others within Irish boxing circles and beyond – the Irish media's coverage of last month's Europeans, and in particular Joe Ward, left much to be desired.
It's a topic which Ward himself touched upon when speaking with The42 recently, but Walker,as is his wont, is far less diplomatic than the Moate mountain while attempting to make sense as to why he and his teammates' exploits in Ukraine didn't garner more attention back home.
"I didn't really care about me not getting any credit, because I'm not a three-time European champion. But with Joe, and his third European title, it was forgotten about in two days! There wasn't much about it. No one in any other sport in Ireland has ever done that, I don't think. Definitely not. It's unbelievable that there wasn't more reaction to it.
Joe Ward will break records before Tokyo that I don't think will ever be replicated in Irish sport. That's what I think. He'll break records, like.
"I don't know what it is, why the media wouldn't give good coverage to that achievement; I reckon it's just because the rest of the sports are all money sports, you need money to be in them, they're posher than boxing. Whereas anyone can do boxing. I don't know, maybe that's it. That's what I think, like. It's just a different background of people – people from all over the place, all types of people. Boxing's not as exclusive.
"Also, most boxers are a bit nuts, too. And people don't like others who speak out and say what they want. Most boxers are respectful, but it's just the way some of them go on, people misconstrue it as arrogance. But they're not arrogant. I don't know, they're just backing themselves. You have to have confidence in this sport."
Walker has never been short on confidence, but in Kharkiv he earned a tangible means of justifying it. With that, he graduated from heir apparent to begin blazing a trail of his own, all the while rendering moot plenty of column inches from the past 12 months.
"I want to be the next Kurt Walker," he says.
I don't want to be anyone else. I obviously want to do things that Mick's done, but I don't want to be compared to anyone. I'd love to win the medals that he's won, but I just want people to know me for me, and the way I box, and what way I went about things. That's more or less what I want.
Should he repeat his European feat at the World Championships, or perhaps even surpass it, he'll have carved a considerable legacy of his own within the space of three months, and with three years to go until a prospective coronation in the Far East.
Tokyo seems a long time away, but as it just so happens, Kurt Walker is pretty good at playing the long game.
The42 is on Instagram! Tap the button below on your phone to follow us!