AFTER MAKING HIS last competitive appearance for England in the semi-final of the 2003 World Cup, Kyran Bracken sidestepped the lethargy and confusion that plagues newly-retired athletes and segued effortlessly – glided, even – into life as a public speaker, restauranteur, coach and purveyor of ice-based entertainment.
He may have reached his broadest audience as the winner of 2007′s Dancing on Ice, but it's Bracken's decade as an international scrum-half that continues to define his worldview.
The Score met the 37-year-old in the bar of Dublin's Shelbourne Hotel and found him a willing sparring partner on everything from Stuart Lancaster's recent appointment to the Irish culture of interfering at the breakdown.

I've been dying to ask this…

Let me guess – ice skating?
No, your name. Where did the k-y come from? It's not the most Irish spelling. [Bracken's the son of an Irish women's hockey international]
Oh, I think it's Scottish. It was a question mark at my baptism, but I don't know where they got it. I think it originated in Scotland. I've only met one person with the same spelling.
Embarrassingly enough, I met a few people who, after seeing me play against the All Blacks [in 1993],  named their kids after me; the same spelling. Sorry to the kids.
I even met one guy who had done that and tattooed the name on his arm… England beat the All Blacks, he liked the name and his kid was born that week. He got this massive tattoo right down his arm. It was a bit weird.
You're keeping up with developments in the England set-up, I take it. Do you have a view on Stuart Lancaster's appointment?
I think it would have been tough to have someone else come in after the success of the Six Nations, but I have reservations. Stuart Lancaster's going to need support. They had the right combination with Farrell. Sometimes a team is bigger than an individual.
Would England have had the same success if Andy Farrell and Graham Rowntree weren't there? (skeptically) I don't know…
There's talk of an approach for Farrell being made some time over the coming days.
Well unfortunately, rugby football unions don't usually act very well in these situations, do they? In fact, I've heard – well, the statement from Saracens was – that they've yet to hear anything, which seems extremely odd.
To broker a deal in a day? That's seems bit disappointing to me.
I think Stuart Lancaster has his head screwed on, says the right things to the press; the player's like him. The test will come when the chips are down against one of the top-three teams in the world. Clive (Woodward) had a lot of setbacks and losses and didn't have a great record as a coach before he got the job. Arguably, Stuart's in a similar position now.
[caption id="attachment_402023" align="alignnone" width="630" caption="Bracken slips a tackle during the 2002 Six Nations. "]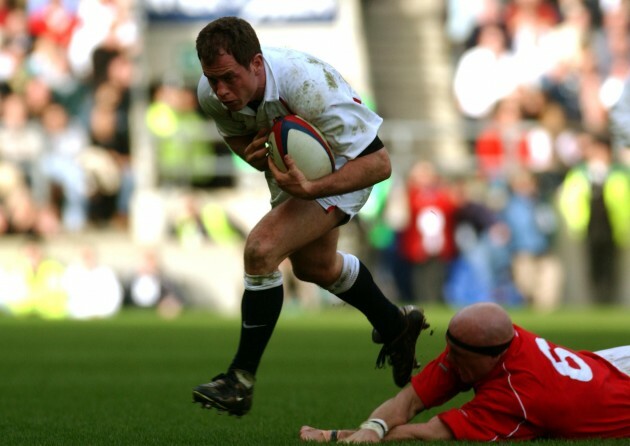 [/caption]
I spoke to Ben Kay last year, a few weeks before the World Cup, and he was really positive about Martin Johnson and England's World Cup prospects. How did a situation that looked so encouraging go that badly wrong?
The thing with Martin Johnson is this: I think he would have made a great manager – I mean, he won the Six Nations! He was brilliant leader on the rugby pitch – but the kids they have today make the squad a very different animal from what it was when we were playing. They're straight out of school and into the squad; rugby's their first job. I trained as a solicitor; I had professional experience before becoming a rugby player.
I think they were all behind Martin Johnson, but there were one or two who really let the side down. There was the Tindall scenario – getting drunk and being in a pub throwing midgets – and that incident with the lady in the hotel, which was ridiculous. I just think that, by the end of the tournament, with story after story coming out, morale must have been so low.
I think Lancaster would rather England lost than people fail to respect the shirt again. It's a belief he's managed to transfer to the players, and I'm not sure it's something people understood under Martin Johnson.
It's too early for definitive answers, but were you pleased by what you saw from England during the Six Nations?
I was surprised with some of the selections and wasn't that impressed with the games against Scotland and Italy, but suddenly, they started to play really well in the last three games…
That's very complimentary of you.
Well, you were destroyed because of the scrum…
England did so well when I was around – playing Ireland, Scotland, Wales, whomever – because we beat you up front. They say forwards decide who wins and backs by how much; well, we were always going to run over your pack. We had giants.
That changed after 2003. You had these young guys come in – the Borthwicks and the like – and the culture changed. Suddenly, you had parity at the scrum – in fact, we were often not quite as good. Once you had that, England really struggled.
Now they've got a good lineout, a good set piece, I think their results will improve. That's the problem Ireland has at the moment. Probably the most important position on the pitch at the moment is tighthead prop and your provinces have non-nationals playing there at the moment. I know you want to compete in Europe, but it's scary.
You're currently a mentor to Ben Youngs and Danny Care; what kind of values or skills are you looking to encourage in them. I mean, what makes a top-tier scrum-half?
The main thing we work on is improving their skill bases. I was always a big fan of players like Rob Howley, who had a massive skill base. I'd compare Youngs and Care to a player like Joost van der Westhuizen or Pienaar at Ulster, who can play just about anywhere.
Most of the instinctive stuff they do anyway – you can't coach that – but what you can coach is their kicking and passing under pressure. And both of them need to do that better. They're great rugby footballers, a threat, but when you come up against a side like Ireland, who're intent on interfering with you at the breakdown…
We'd never do that.
Yeah, right! You guys would be offside all day long.
… [continues] they need to be able to cope with the pressure. That's where the issue lies at the moment; English scrum-halves can't do that.
So, how did you go about imposing yourself at international level. What was the dynamic like between you and your partners at half-back?
It's funny, myself and Dawson had Jonny Wilkinson outside us a lot, and Jonny relied an awful lot on people inside and outside him.
I've heard that, yet he's always portrayed as a leader on the field.
Sometimes, public perception is very different from reality. You have to understand the people he had talking to him – like Will Greenwood, a brilliant thinker with great timing, great understanding – coaxing him through the games. He also had Dawson – one of the biggest mouths in rugby.
He was brilliant, of course, but when it came to controlling games, he probably wasn't as strong as people thought.
Kyran Bracken was speaking in his capacity as a brand ambassador for Viviscal Hair Loss Concealing Fibres