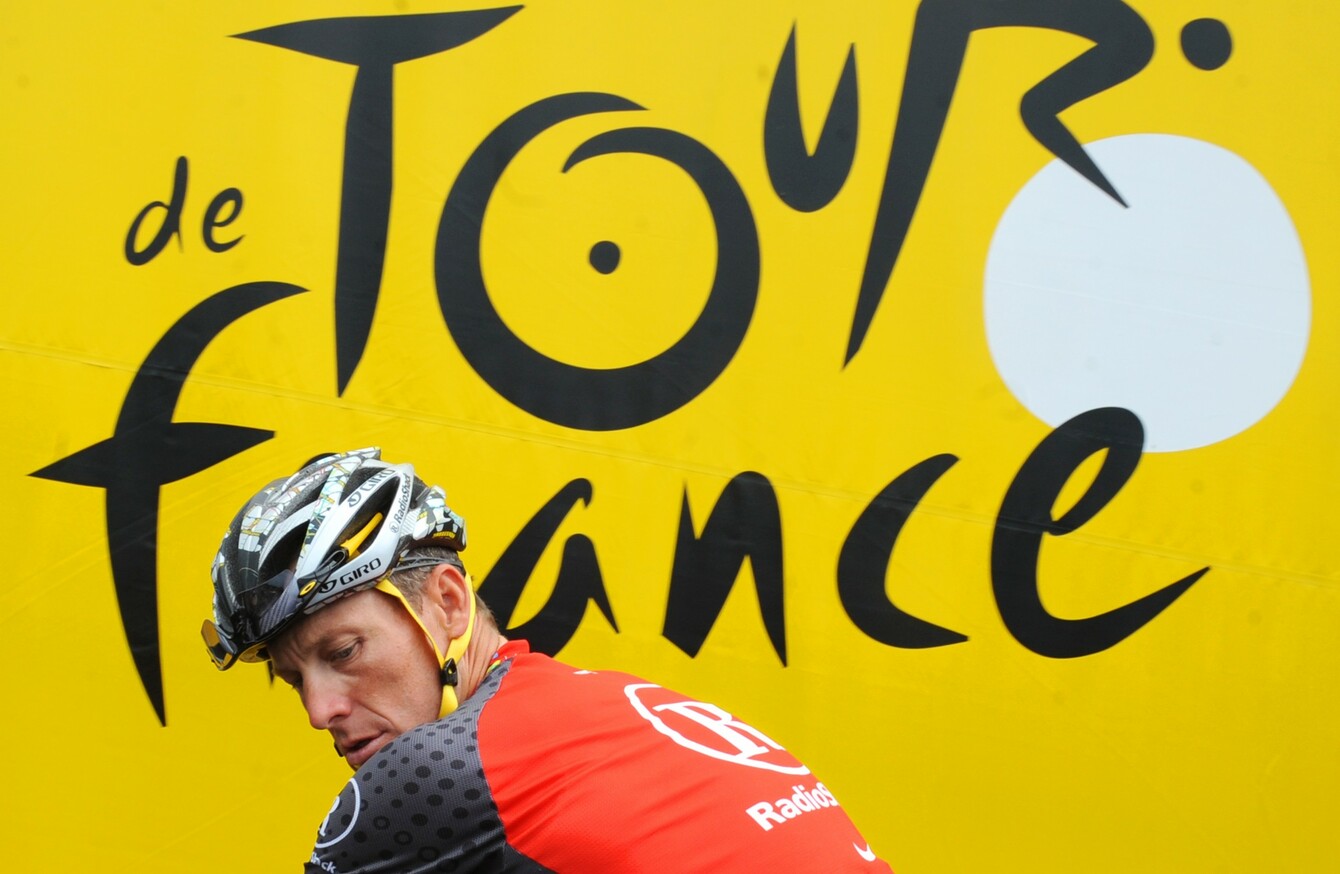 Lance Armstrong competing at the Tour de France in 2010
Image: PASCAL PAVANI
Lance Armstrong competing at the Tour de France in 2010
Image: PASCAL PAVANI
A YEAR ON from the launch of his interview-style podcast 'The Forward,' Lance Armstrong has announced he'll be discussing the upcoming Tour de France on a new daily podcast.
The 45-year-old, who was striped of his seven Tour de France titles after his doping scandal came to a head in 2013, has avoided speaking about professional cycling since he received his lifetime ban.
That'll change from 1 July, when Armstrong's new podcast 'Stages' will feature his thoughts on the Tour and he hopes to have it online within an hour of the finish of each stage during the three weeks.
"It's tough to call it live, almost impossible, but it'll be a short, concise recap show of the day," Armstrong told Yahoo's Dylan Stableford in a lengthy interview yesterday.
"The last four years I really haven't followed much cycling, and literally to this day I don't follow a ton. But last year, I found myself watching more of the Tour. And so the idea behind the Forward was that it was a forward discussion. It wasn't a cycling discussion.
"It wasn't to talk about the past, rehashing things that have already been extensively published. But any time I touch on cycling, whether it was the podcast with all my old teammates or any kind of cycling discussion, the reaction is pretty overwhelming. And so, I thought, 'What if the fans, the Tour fans, what if they had another option for a recap show?'
"I don't love the NBC coverage. I think there's a lot that can be improved there. So I decided to go for it this summer and we'll see, well, most importantly we'll see if I'm good at it or if I suck at it. And then secondly we'll see how it's received."
Armstrong went on to criticise NBC, who he claims have made a concerted effort to whitewash his legacy.
"I mean it's pretty well known that my name is not allowed to be mentioned. Period. That's a fact. Which, whatever. That seems a little odd but that's the position NBC Sports has taken."
Earlier this year, Armstrong said 'The Forward' was "a gentle step out" into the public eye after his admission of performance-enhancing drug use during his cycling career.
The weekly podcast has featured a while range of interviewees, including Brett Favre, Rickie Fowler, Bo Jackson, Malcolm Gladwell, Rahm Emanuel and Gary Vaynerchuk.
The Texas native is the defendant in an upcoming $100 million federal lawsuit by the U.S. Postal Service.