IS YOUR LEAGUE of Ireland ticket value for money?
It's a question that's going to be answered differently depending on how invested the respondent is in the League itself.
But as a starting point, let's put the quality argument to one side: the SSE Airtricity League is the highest level of football you can watch on this island. That there is a world of football out there, of a higher standard and available on TV is not hugely relevant.
Irish clubs are not really in competition with the Premier League. Those who travel to the UK to watch the English team they support are typically on a rare trip, costing hundreds. Day tripping to English, Scottish or European games has a negligible impact on attendances at home.
A few weeks ago I asked the question on Twitter and got a mixed response; roughly three-quarters of replies indicated people felt their LoI ticket was good value though a significant number believe that the Premier Division simply isn't worth the €15 that all clubs charge as a minimum.
The average football fan doesn't spend a lot of time travelling back and forth to the UK, so what do they base their opinion on if it's not other football?
League of Ireland clubs need to understand who the competition on a Friday or Saturday night really is. You're not really competing against other sports, you're competing against the pub, a nice meal or a trip to the cinema. Football is being weighed against other forms of entertainment that can distract and entertain, and it's not just the base price that affects people, but the overall cost of the night, especially when you want to bring your kids.
Ryan Byrne / INPHO Ryan Byrne / INPHO / INPHO
It's worth noting that there is a minimum entry price for an adult ticket that's laid down by the FAI. Section 11 of the 2016 participation agreement states that "the minimum charge for admission to all matches under the jurisdiction of the [National League Executive] Committee shall be determined at the beginning of each season" – it's currently €15 for an adult ticket.
Clubs will use the participation rule to claim they are limited in what they can do, but that's not entirely true. The participation agreement permits clubs to offer group or family tickets on a promotional basis, which don't conform to minimum charges. So clubs can be creative and can run promotions, though the League Director has to approve them.
There are common themes accompanying the arguments, many around comfort and infrastructure. That's difficult to tackle for some clubs but other gripes can be remedied with a bit of thought and ingenuity – clubs need to pay attention to feedback of this nature.
Top of the list was the cost of bringing a family to matches. While most clubs offer reductions for young kids and students; it's very inconsistent once the kids reach their teenage years. Some clubs don't offer a student ticket, so a night out at a league of Ireland match can quickly add up.
I've seen clubs in the past rail against the concept of family tickets or student tickets because they fear that these tickets create a system that can be abused. There's truth in that.
In my time around the league I've seen two adults purchase a family ticket because it was cheaper than two adult tickets. I've seen grown men trying to access grounds with kids' tickets, taking advantage of the fact that the stewards would scan tickets without paying much attention. I've seen people plague sponsors for their unused complimentary tickets. I've even seen a supporter ask a player for his unused complimentary stand tickets and then swap both for a terrace ticket just so he could get in free.
But you can't set a club or a process up based on the handful of people who might take advantage of the system.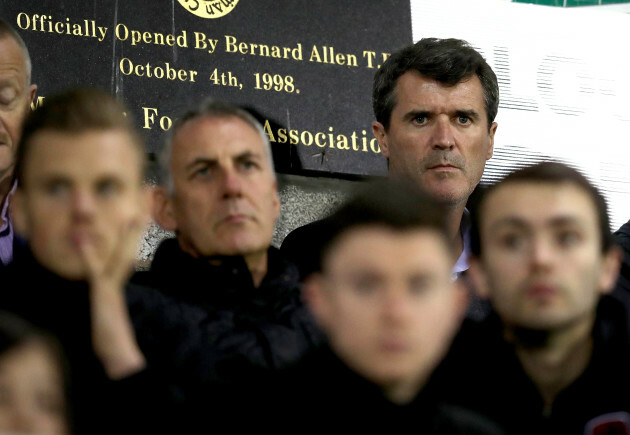 Ryan Byrne / INPHO Roy Keane soaking up the atmosphere at Turner's cross last weekend. Ryan Byrne / INPHO / INPHO
Personally, I feel that €15 for a night's football is great value for money, but then were I to make a list of ways I could spend an evening, attending a match would be top of the list anyway.
For those people for whom football is just one of a number of options, clubs need to get creative with packages and deals.
Football has a huge advantage over other modes of entertainment — e.g. the cinema — in that it's truly a way to spend a Friday night that can be built to appeal to any age. Grandparents and grandkids will find more in common watching a football match than they might with their individual choices of film.
Football drives conversation, brings out opinion, it doesn't have to be enjoyed in silence, it's hugely interactive.
Family deals and group details are a fantastic way to allow existing fans to introduce new fans to Irish football. I don't doubt that if we can get new fans in the gates, with a bit of creativity, we can retain them.
The42 is on Snapchat! Tap the button below on your phone to add!