LEIGH HALFPENNY IS is relishing the thought of a battle in the skies with Australian airplane Israel Folau.
Folau makes his Wallabies debut in tomorrow's first Test against the Lions, continuing his meteoric rise since switching codes to rugby union just seven months ago.
The full back, 24, has taken Super Rugby by storm since signing for the Waratahs in December but coach Robbie Deans has moved him to the wing in a bid to muzzle George North in Brisbane.
At 6'5″, Folau's aerial prowess is one of his main strengths and the man who will be under the majority of those dropping balls for the Lions knows it's a battle he has to win — even if he is seven inches shorter.
"Of course every time he puts that ball in the air the challenge is going to be put out there as to who collects it," Halfpenny said yesterday.
"It is going to be massive, the aerial battle. It is an area we have been working on very hard throughout the week and hopefully we can come out on top on Saturday."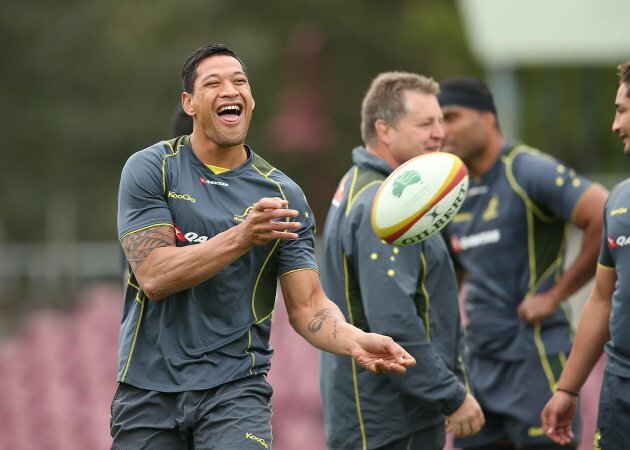 Folau jokes about during Wallabies training in Brisbane yesterday (©INPHO/Billy Stickland)
Though he has three tries to his name, it is Halfpenny's boot which has earned him most praise so far on the tour, slotting a remarkable 22 of his 23 kicks.
With little to choose between the sides tomorrow — the bookmakers make it a three-point game in the Lions' favour — the pressure is on the Welsh wizard to take every possible point on offer.
And if it all boils down to one late kick to get the tourists off to a winning start in the series, Halfpenny will be ready.
"The hard work that has gone in throughout the years and years since I was a kid practicing, it's all for moments like that.
"But saying that, every kick in an international match is crucial because you don't know how games are won and lost in international rugby, by fine margins, and more often than not in big games kicks are the deciding outcome.
He added: "In a game you get asked at the end how many you've kicked, and I don't know how many I've kicked until I get told because you're so focused on the next kick.
"Once you've kicked one, that's gone and you're focusing on the next kick, and that's the one that counts. Whether you've missed or put over the one before, the next one is the most important one to be concentrating on."