LEINSTER NAMED A strong starting XV and, according to one player, were in 'Heineken Cup mode'.
We hoped he meant the mode that has delivered three cup wins in four years rather than this season's imperfect vintage.
As always, we'd love to hear your thoughts on the games. E-mail patrick@thescore.ie, tweet @thescore_ie, post a message to our Facebook wall, or leave a comment below.
Edinburgh 16-31 Leinster
Murrayfield, you cavernous beauty. 5,000 fans at a push [certainly not a squeeze] are at the home of Edinburgh to watch this mid-table clash. The vagaries of the table mean Leinster could reach second by the end of the weekend.
Here are your two teams and their eager replacements:
Leinster: R Kearney; F Carr, B O'Driscoll, G D'Arcy; L Fitzgerald; J Sexton, E Reddan; C Healy, S Cronin, M Ross; L Cullen (c), D Toner; K McLaughlin, S O'Brien; J Heaslip.

Replacements: A Dundon, H van der Merwe, M Bent, T Denton, S Jennings, I Boss, I Madigan, Andrew Conway.

Edinburgh: G Tonks; D Fife, M Scott, B Atiga, T Visser; P Francis, G Laidlaw (c); A Jacobsen, A Titterrell, W Nel; G Gilchrist, S Cox; S McInally, D Basilaia, D Denton.

Replacements: S Lawrie, R Hislop, G Cross, P Parker, N Talei, R Rees, J King, S Visser.
Here is what happened the last time these two sides met:
YouTube credit: LeinsterrugbyTV
Jonny Sexton kicks off and Edinburgh claim, ruck and clear to Kearney.
Early knock on for this this man [pictured] and Edinburgh get the scrum. Re-set and Healy is penalised for binding.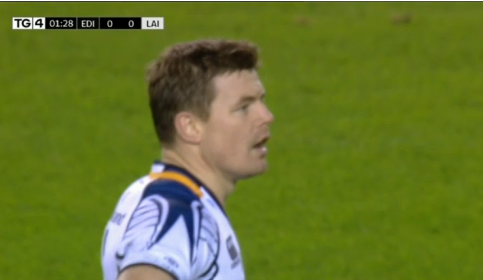 Lovely steal from O'Brien to scupper a Scottish attack. He charges forward and Edinburgh are forced into conceding the lineout. It is sloppy from Cronin but Leinster claim and break. Fionn Carr takes on a Kearney pass on the right wing burns Tim Visser up the wing and chips on. Scott mops up and Edinburgh are able to kick clear.
Ruan Pienaar has put Ulster 6-3 up at Ravenhill. Sean Farrell is following all the action for you there.
Cronin is blown for a lineout throw that is far from straight but Healy gets the better of Nel in the next scrum and Sexton's penalty puts the visitors right up where it matters. McLaughlin claims and Leinster, with the advantage, maul. Scott breaks the defensive line to stop Kearney going over for the try but we are called back for the penalty. Heaslip calls 'scrum'. Leinster going for tries [a tactic for next week perhaps?]
Might be optimistic this one, or a kickfest, but which one of Leinster's returning backs do you think will score first?

Kearney and Carr, and the Carr chip, all combine and a score is close. The touch judge then harshly calls back play as he deemed it went out on the full. Sir, it did not.
PEN: Laidlaw '17 Edinburgh 3-0 Leinster
McLaughlin is penalised at the scrum and Greig Laidlaw slots over from 30 metres out.
Brian O'Driscoll gets a 'welcome back' bear paw in the throat from Scottish prop Allan Jacobsen. Sexton with the penalty kick but Jaconbsen is lucky not to visit the bin of sin.
Edinburgh 3-3 Leinster (Sexton pen '20)
Relatively simple – 25 metres out and just to the left of the posts. Sexton aims for a batch of empty seats and guides it over.
Sexton profits from his own, excellent break as he picks the ball up off the turf and breaks 20 metres upfield. David Denton won't release him after a tackle and gives away a penalty, which Sexton misses right and wide. The outhalf then kicks out of hand for the corner but it has too much juice and flies out on the full. Scrum on halfway to Edinburgh.
Gordon D'Arcy is showing some bite to his running and has made three line-breaks so far. Reddan and Carr combine up the right but find themselves outnumbered and are soon ball-less.

We had a hold-up there as Cox got his forearm strapped. Edinburgh start off by comfortably retaining possession on their scrum. A minute before the break almost saw the game's first try as Fitzgerald blocked down a clearance attempt but O'Driscoll was called out of play after some crafty possum-play by Carr.
Another good Leinster break as Fitzgerald and Sexton combine up the middle. They are playing well in patches but don't fancy going through the phases to wear Edinburgh down.
PENALTY TRY! Denton is penalised for coming in from around the back of a Leinster maul to take O'Brien down. We are seeing a lot of penalty tries in the last three weeks and the trend continues. Denton is also yellow carded. Sexton chips over from in front of the posts and it is Edinburgh 3-10 Leinster after 36 minutes.
TRY! Gordon D'Arcy is over out right as he takes on a Cian Healy pass and ghosts by Laidlaw in the lefthand corner. Sexton lines up the conversion and it creeps over. Edinburgh 3-17 Leinster after 38 minutes. Denton looks on, forlorn.
O'Brien errs as he bundles in illegally to an Edinburgh ruck. A Laidlaw penalty makes it Edinburgh 6-17 Leinster at the break. The whistle indeed goes for HALF-TIME
Gordon D'Arcy's try is his first of the season, first in 23 games and first since this midwinter's afternoon in 2011: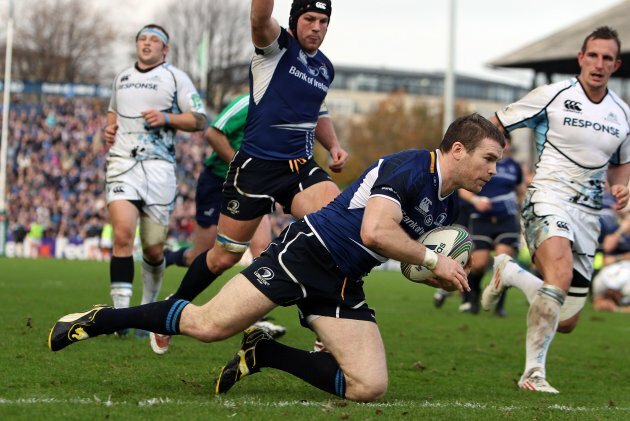 The Wexford man scores against Glasgow in the Heineken Cup. (©INPHO/Dan Sheridan)
Very similar to Connacht v Munster on 22 December when a yellow card [to Jason Harris-Wright] and a penalty try swung the game in the visitors favour. The Munster men scored 13 points in the 10-minute spell that Harris-Wright spent ruminating on his punishment. Leinster are 14-3 up during Denton's yellow and there are three minutes left on the naughty step.
As the second-half kicks off Leinster have the ball but Reddan opts to hoof clear. Glasgow Warriors are battering Treviso 27-0 but Ospreys, the champs, are only 9-8 up on Zebre.
Ulster lead Scarlets 26-3 after second-half tries from Diack and Williams.
Here comes Denton. Damage done but Edinburgh just need the next score.
Kearney knocks on, under little pressure, and has an angry hack at the bobbling ball. No harm done as Healy outfoxes Nel at the scrum. Sexton kicks for touch and Toner leaps majestically to claim the Cronin lineout. Healy is then denied a try as Heaslip is adjudged to have obstructed Denton.
Stall in play as big, fast, Dutch Tim Visser is dazed after a hefty fall. He receives treatment and is assisted off the field before wandering straight down the tunnel.
Piers Francis makes things interesting with a nicely taken drop goal. The New Zealander spots the Leinster defence ambling towards him and arrows over a DG with Cullen throwing up two lazy arms. Edinburgh 9-17 Leinster after 51 minutes.
Sean Cox – a lock – claims the restart, breaks Toner's tackle and grubber kicks into the Leinster 22. Handy stuff there. Leinster claim the lineout though a break free through Kearney.
Ulster have got their bonus point thanks to a penalty try at Ravenhill. Leinster are halfway there but not looking that dangerous. Jennings is on for McLaughlin but the returning Leinster backs stay on the field. 25 minutes to go. Very annoying how these substitutions hold up just about every pro game.
TRY! Jennings makes the break and does the damage. Sexton passes to him and he streaks through a ragged Edinburgh defence and gives a return pass to the outhalf, who touches down unopposed. Another beautiful conversion makes it Edinburgh 9-24 Leinster after 58 minutes.
Fife is a donkey's nostril away from a try for Edinburgh – he is free on the right wing but the ball bounces out and away from his desperate grasp. Job done it seems, after that scare as Healy and Kearney come off for va der Merwe and Conway. 18 minutes to play.

TG4 doing wonders for the mother-tongue.
Madigan is on now for Fitzgerald and Edinburgh sense an opening. They are really sticking it to Leinster now. Hands in the ruck is the call and Jamie Heaslip is shown the yellow card. Laidlaw kicks to get the attacking lineout but Lawrie throws too long. Glorious chance squandered.
BONUS POINT TRY! Sean O'Brien then makes a fantastic 50-metre break after evading two tacklers. He runs it up to the Scottish 22 then presents attacking ball. Six phases before Carr has a go. Another four phases and the ball finds its way to Madigan, from Cullen. He dives over to the left of the posts. Sexton adds the extras and, after 68 minutes, it is Edinburgh 9-31 Leinster
Many of you will not be surprised to hear that Brian O'Driscoll – a glutton for rugby and punishment – is still on the pitch. Dundon and Boss are the latest replacements, for Cronin and D'Arcy, but the Ireland captain [unless Kidney sticks with Heaslip] is still on the pitch and leading attacks.
TRY! Willem Nel has scored the try of the match! The bulky South African prop steps inside Shane Jennings, who aimed a weird backhand sway at Nel's rear, powered past Conway and took Reddan over the line with him. Laidlaw gets the conversion and it is Edinburgh 16-31 Leinster with three minutes to play.
Edinburgh finish with their tails up but strong Leinster defence wins them a penalty and Madigan clears. "Come on," yells an Edinburgh forward, "let's win this f**king lineout." He does not get his wish as Jennings takes a streaky Dundon throw. Sexton hits it into the stands and that is FULL-TIME
Leinster are back in the top four and have overtaken Scarlets, who were comprehensively beaten by Ulster just 30 minutes ago. They are level on points with Ospreys too but Glasgow, by virtue of a 41-7 win over Treviso, remain a point to the good and are now second.
D'Arcy looked sharp for Leinster, as did Sean O'Brien and Cian Healy. 62 minutes for Kearney and 63 for Luke Fitzgerald.
The biggest boost, however, was the sight of Brian O'Driscoll turning and churning around the pitch for the full 80. The matter should be cleared up in the next couple of weeks but, presuming both men stay fit, who should captain Ireland for the Six Nations?

That's your lot. Sean O'Brien, for the record, got the sponsor's award for man of the match. I won't argue with that. The Tullow Tank is starting to motor again.