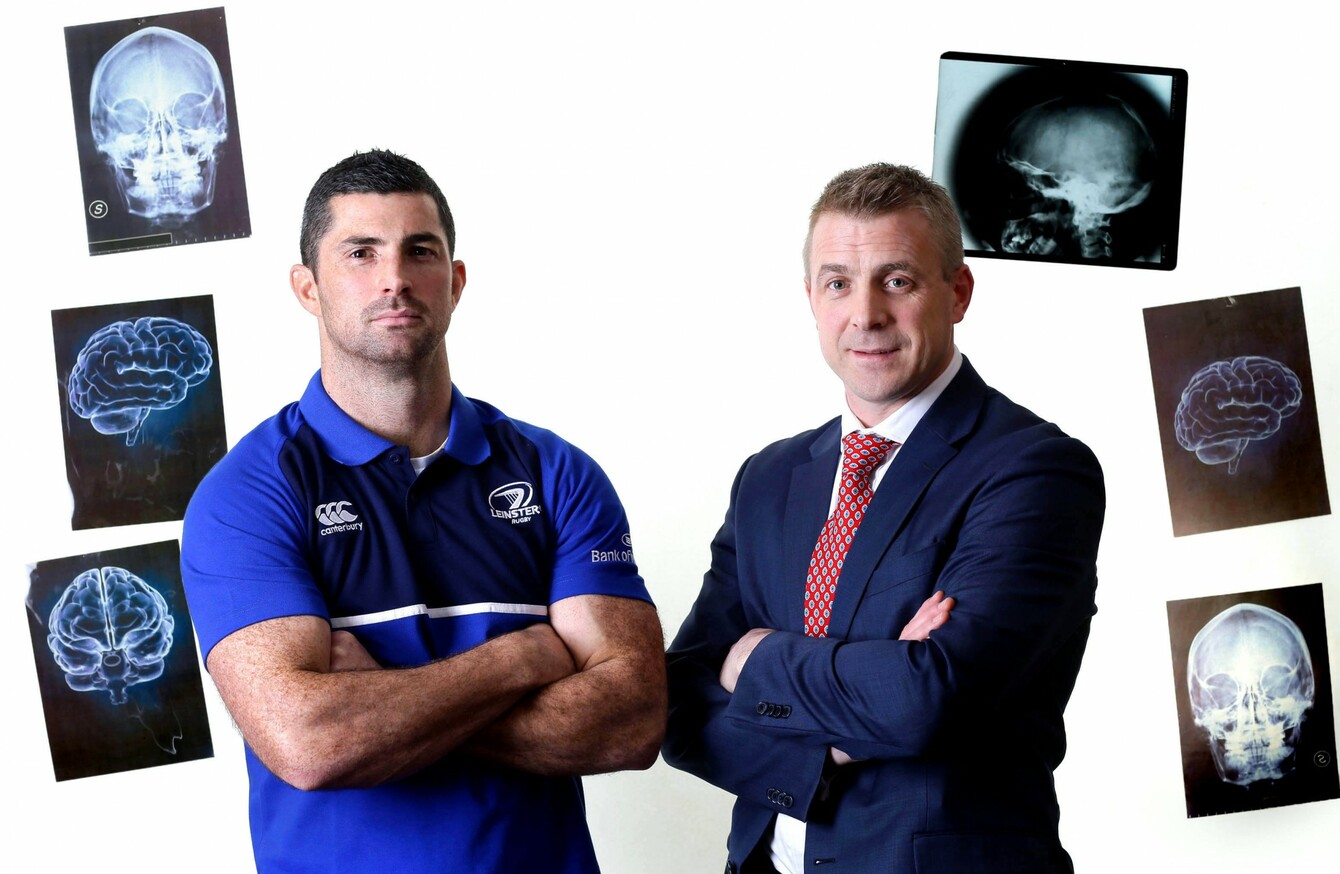 Kearney and D.O. O'Connor, Deputy Managing Director, Laya Healthcare at today's launch.
Image: Marc O'Sullivan
Kearney and D.O. O'Connor, Deputy Managing Director, Laya Healthcare at today's launch.
Image: Marc O'Sullivan
OVER ONE THOUSAND amateur rugby players in Leinster will be screened as part of a new concussion management programme launched today.
The initiative will be rolled out across clubs around the province from next month and is being funded by insurance company Laya Healthcare as part of their Health and Wellness partnership with Leinster Rugby.
The screenings will be available to players over the age of 16 free of charge and the testing carried out as part of the programme has been widely used and endorsed by sporting organisations around the world.
Speaking at today's launch in Dublin, Rob Kearney urged coaches, players and parents to avail of the programme and emphasised the importance of education and awareness.
"There has been a lot of talk around the issue of concussion recently and it is something that is taken very seriously within the sport," Kearney said.
"While the incidence of reported concussion is on the up, much of this can be put down to the general increase in awareness around the problem, which is a good thing in my view.
"Education is key to helping prevent long-term effects of concussion and being able to recognise the symptoms of suspected concussion is hugely important.
"Players, coaches and parents need to understand that if there is any doubt, players should rest and not take any unnecessary risks.
"This programme is a significant initiative for the amateur game. As professional players, we have access to the best medical support but it's fantastic that rugby players at amateur level will now have access to free screenings and follow-up screenings if needed.
"I would urge coaches across the province to make sure they have booked their team in for a screening."
The baseline screening comprises of a computerised process which takes 30 minutes to complete. During the test, the player will be asked to perform easy commands which will assess their memory and reaction times.
The individual data will be privately recorded and if that player suffers a suspected concussion within a year of taking the baseline screening, they will undergo a follow-up assessment for a post-injury evaluation.
This will help determine the extent of the injury and identify prolonged concussive symptoms, as well as alleviating player or parental concerns in relation to rest and recovery following concussive episodes.
The programme is currently only free of charge for clubs in Leinster (because it is a Leinster Rugby initiative) but clubs outside the province can avail of a 20% discount.
Registration is available online here.
The42 is on Snapchat! Tap the button below on your phone to add!