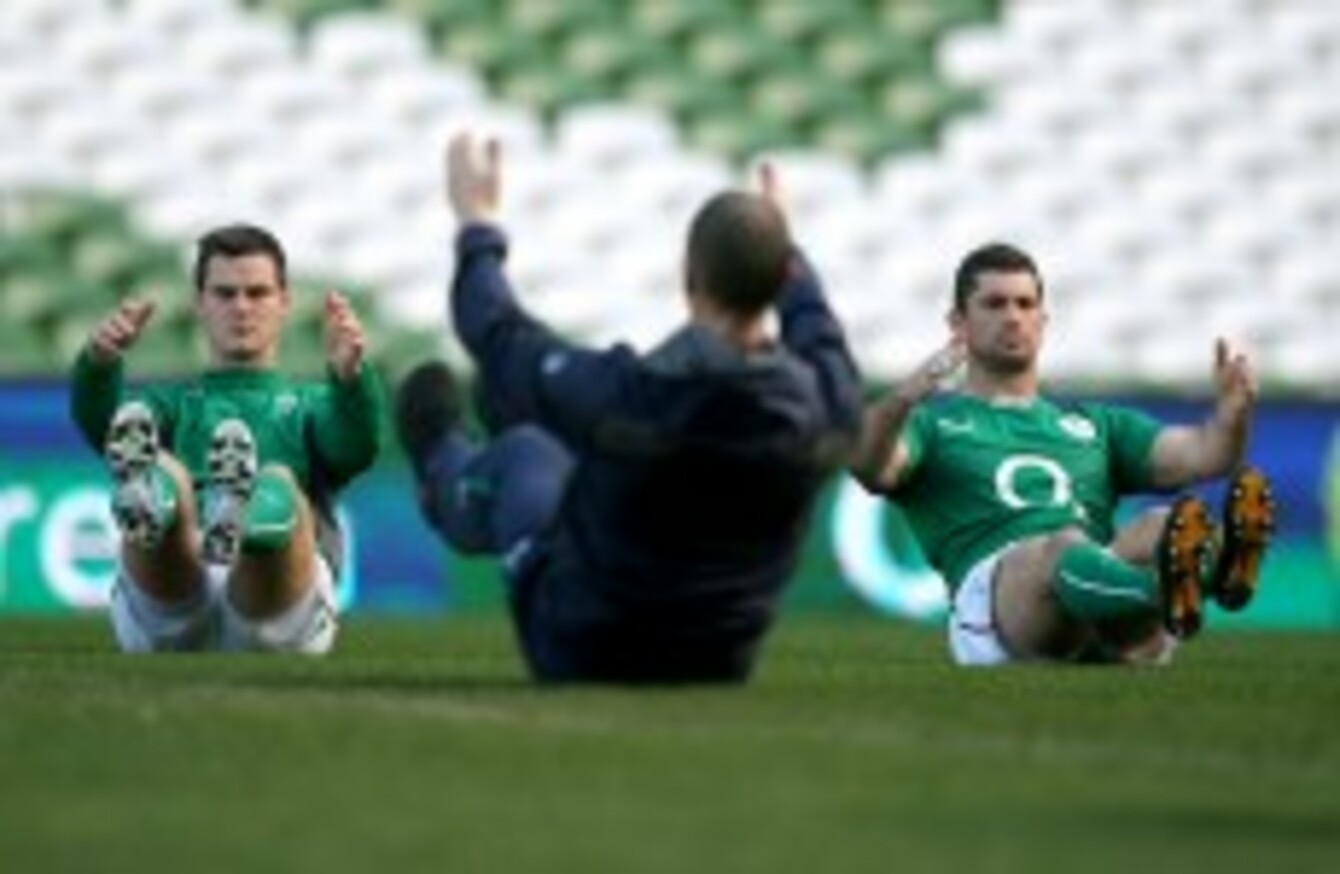 Rob Kearney and Jonny Sexton warm up at the Aviva Stadium today.
Image: ©INPHO/Dan Sheridan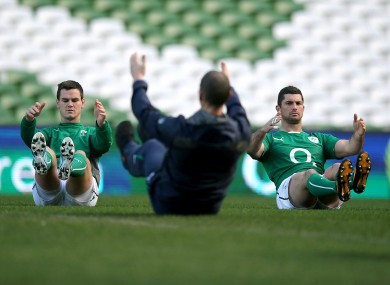 Rob Kearney and Jonny Sexton warm up at the Aviva Stadium today.
Image: ©INPHO/Dan Sheridan
IRELAND DEFENCE COACH Les Kiss is confident that the watching public will see a greatly improved performance without the rugby ball when the hosts face up to New Zealand on Lansdowne Road tomorrow.
Kiss looks like a man who may have earned a few extra grey hairs after watching his defence open up time and again in last week's home defeat to Australia.
Monday morning made for some painful viewing and honest exchanges as Kiss, Joe Schmidt and the players carried out the Test match post mortem.
Tomorrow, with only good news issued on the fitness of Rob Kearney, Brian O'Driscoll and Jonathan Sexton after this morning's captain's run, Kiss says Ireland will 'front up' and show some of the line speed they were lacking against the Wallabies.
"Will it be a perfect performance?" Kiss asks himself, "I don't think so, but we need to really challenge ourselves to front up to this and act on our belief. 18 months ago we faced them in Christchurch and we went to a place that we were very unlucky not to get the money.
Fire
"We know we can go to that place if we need to – we need to front up to the challenge.
"I think the key for us is to really act on that belief. Not just say it, go out there and do what we said we'd do and do it with a real intensity and fire in our hearts and bellies that make it happen for us."
Though the Australian mentioned Christchurch – where Ireland narrowly lost to the All Blacks last June – he insisted that the squad had 'parked' their history with New Zealand and were looking to continue their progress with the tactical and technical processes that come with a new regime.
"We hope we can really get our head around a couple of key things we need to do this week to make sure  we can make a difference.
"The truth is a lot of it does come down to the attitude in defence. Believe you me, we talk about it each week and we go out there and act on it. This is the big team to do it against – we're up for it."
The key, says the defence coach, is that the 15 men selected for tomorrow's Test against World Champions trust in the changes that he and Schmidt have tried to put in place since June with a view to putting the side in top gear for the Six Nations kick-off in February.
"We're seeing the green shoots of progress internally, we have to believe that and trust that. This is our last opportunity in this window to to put ourselves under the [right amount of] pressure. Hopefully we see some gains.
"If we get enough things right we can win it."