THE FACT HE was dressed as some sort of androgynous matador-cum-flamenco dancer accentuated his trip but when the drunk Spanish fan fell, he fell hard.
Just like his team.
The steep, cobbled streets of Salvador are hard to negotiate at the best of times but they become treacherous when it's raining heavily and you've had a few cervezas too many after your beloved national team have taken the mother and father of all spankings.
All around the grounded Spaniard were delirious Dutch fans, seemingly gliding over the surface of the sheer Place Quincas Berra D'Agua like Arjen Robben on rollerskates. It was that sort of night for the Dutch, who took over the Old Town centre in the wake of their side's incredible 5-1 tonking of the World Champions.
Nothing can make up for losing a World Cup final but last night's display at Arena Fonte Nova will go a long way to salving the Netherlands' pain of four years ago in Johannesburg.
Arjen Robben's miss notwithstanding, it is hard to make a case for the Oranje deserving to win that bad-tempered match at Soccer City, but last night they were undoubtedly the better team.
However, this time it was Spain's turn to rue a poor miss and had David Silva shot low and hard instead of trying to chip the ball over Jasper Cillessen, we might not now be contemplating the end of an era.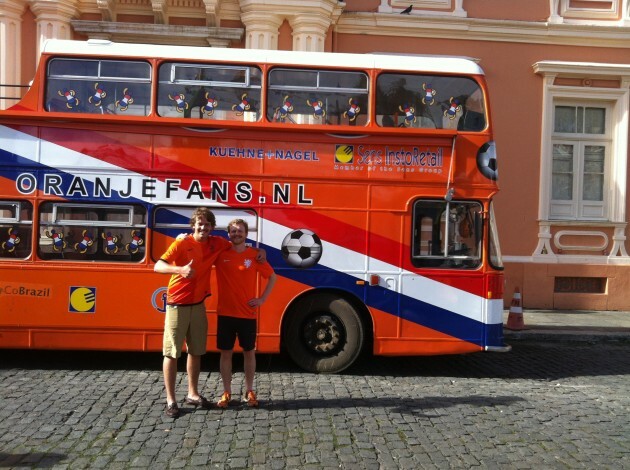 ADELLE HUGHES The Oranje's double decker bus is headed for Porto Alegre. ADELLE HUGHES
The Dutch defended the resulting corner and two minutes later equalised through a Robin Van Persie diving header so spectacular that many of the 48,173 in attendance had to check the replay on the big screens before they could believe their eyes.
Stranded in no man's land, Iker Casillas has to take part of the blame for that goal — as he must for two others (even if he was impeded by Van Persie for Stefan De Vrij's close range effort) — but it was Gerard Pique, dawdling four yards behind his partner Sergio Ramos, who was playing the Manchester United man onside.
At 27, Pique is younger than many of the players central to Spain's success since 2008 but he seems to be slowing at a similar rate to Xavi Hernandez, Casillas and Fernando Torres.
The one Spanish phrase I learned last night was "muy despacio" as myself and one crestfallen fan discussed how very, very slow Arjen Robben made Ramos look in the foot chase that led to his second goal, the Netherlands' fifth.
The argument has been made that the inclusion of Diego Costa makes Spain more direct and while there were more through balls from distance (as opposed to long balls) yesterday than Vicente Del Bosque's team are known for, theirs was still a game of possession, the "tiki-taka" by which Xavi said they would "win or die".
Last night they died a death of a thousand brutal cuts. After taking the lead through a Xabi Alonso penalty, questionably awarded after Costa conned the referee with a judiciously-placed trailing leg, Spain reverted to type. They instantly dropped back and ceded swathes of territory and allowed the Dutch more time on the ball.
ADELLE HUGHES The streets of Salvador were oranje last night. ADELLE HUGHES
But their defence is no longer a cliff on which opposing offences crash and Louis Van Gaal's hard-working team were turning over possession high up the pitch and looking to send Robben and Van Persie away at a moment's notice.
Spain need to either sit deeper or add some speed to the centre of their defence in the form of Sergio Martinez, but either way anything less than a victory against a Chile team that will test that defence in Rio de Janeiro on Wednesday and they are contemplating, at best, a second round meeting with Brazil.
For the Dutch, the big orange bus now rumbles on to Porto Alegre, quite literally. The focal point for the Netherlands' cartoonishly colourful and rowdy fans last night was a double decker bus, which was leaving the party early to set forth on the mammoth 3,000-kilometre trip to the southern city where Spain play Australia on Wednesday.
The Oranje have taken to the fast lane while the reigning champions are left on their backside in the rain facing either a swift descent or a slow, difficult climb back to the top.