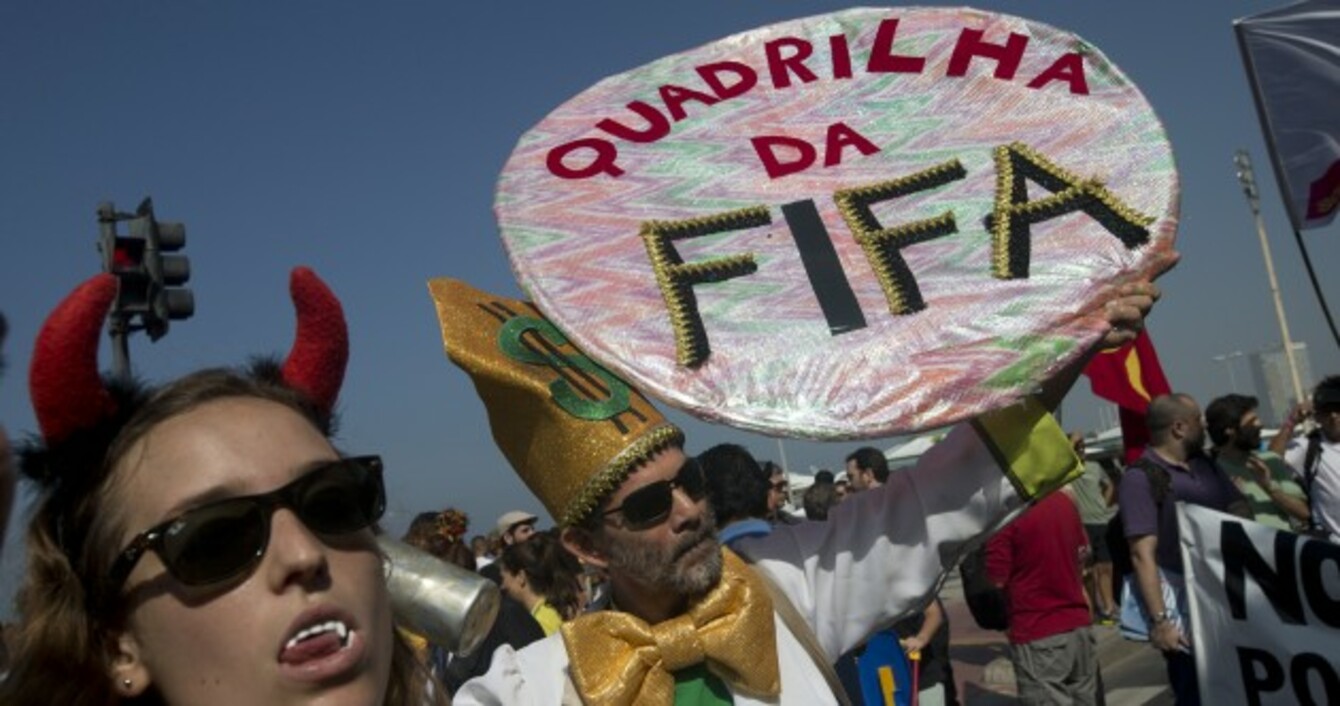 'FIFA gang' reads one protester's sign.
Image: AP/Press Association Images
'FIFA gang' reads one protester's sign.
Image: AP/Press Association Images
Mikey Stafford reports from Rio de Janeiro.
THE LOSS OF Neymar has chipped away at the Brazilian psyche and their national sense of confidence, which had previously seemed to be coated in Kevlar.
Rumours abound that the 22-year-old will be able to play in the final should Brazil prevail over Germany tomorrow. It seems, when you're grasping at straws, a fractured vertebrae can be overcome within a week if you are injected with enough painkillers.
Many fans simply don't think Brazil can win without the Barcelona attacker and are happy to grasp at straws.
Then there is the appeal lodged against Thiago Silva's booking against Colombia, which has ruled him out of the semi-final. There is certainly a case to be made for disciplinary records to be wiped after the group stage so that a player does not miss such an important game because of two bookings in five games, but that is not Brazil's defence here.
In fact, it is hard to discern what their case is. Silva was booked for cynically and stupidly blocking Colombia goalkeeper David Ospina from taking a quick kick from his hands. It was as clear a yellow card as Xabi Alonso's against Bayern Munich in the Champions League semi-final — and the appeal against his suspension was rejected by UEFA.
As yellow cards are rarely, if ever, overturned, Brazil's appeal is either an act of desperation or an example of FIFA's put-upon hosts rolling the dice.
There is no doubt FIFA owes a debt to Brazil, but Silva's freedom is not the payment they should be seeking.
Yesterday morning on Copacabana beach, Rio de Paz (Rio for Peace) staged their latest eye-catching protest against the World Cup organisers. Twelve mannequins in Brazil jerseys were blindfolded and placed standing in the sand outside the Copacabana Palace Hotel, where FIFA's top brass have been staying for the duration of the tournament.
Together with a sign saying, "People are not blind" the protest wants to highlight once more the astonishing amount of public money spent on hosting the World Cup — €2.7 billion on stadiums alone.
According to Forbes magazine FIFA, between TV revenue, marketing and merchandise, are expected to pull in revenue in the region of €3.75 billion from the World Cup. Their profit margins will be boosted after they negotiated a series of tax breaks that will cost the Brazilian government approximately €183 million.
Be part
of the team
Access exclusive podcasts, interviews and analysis with a monthly or annual membership.
Become a Member
You wonder how many of the FIFA executive would even have noticed the protest outside their five-star, beach-front hotel. Judging by the motorcade that passed us on Rua Barata Ribeiro in the early evening, it seems several of the top brass had been out for the day.
We were making our way to the metro station in the company of a Brazilian man and his young daughter, who offered to show us where we were headed after he saw us chatting with a policeman.
He was telling us about his trip to Belfast in the nineties, when he took in a Linfield-Glentoran derby on Boxing Day. A fight broke out, of course, but he said he was used to such things occurring at the Maracana back then and he was not too perturbed.
He had been to Argentina's Group F win over Bosnia at the famous stadium, redeveloped at a cost of €330 million, and was hoping he might be able to secure a ticket for the final — whether Brazil qualified or not.
Here was a proper football fan, a veteran of a Belfast "Big Two" Derby and regular visitor to the Maracana. A man who was contemplating spending a considerable amount of money on a final ticket, but he prefers to watch Brazil's games on the street with his friends than go to the stadium.
Prices had ruled the traditional football fans — the regulars at the Maracana for club matches — out of attending World Cup games. "You look at the crowd and you would swear Brazil is a white country," he said.
Then we heard the sirens and he picked up his daughter and told us FIFA were on their way. Sure enough four police motorbike outriders soon screamed down the street, ignoring the pedestrian crossing where scores of people were preparing to cross, followed by a 4×4 and two shiny, black, luxury Hyundais (no doubt president Sepp Blatter and Co wished Mercedes or BMW had outbid FIFA's official car supplier from Korea).
As the convoy passed our companion started to boo loudly and others on the street joined in, "F*** FIFA!" shouted others, reading from the script spray-painted on walls all over the country.
The people certainly are not blind and the anger at the cost of this World Cup is felt strongly, even in the most affluent parts of Rio de Janeiro.
The people are not ignorant to the debt FIFA owes their country, but the expunging of a suspension for a player, even their captain, is not what is required.