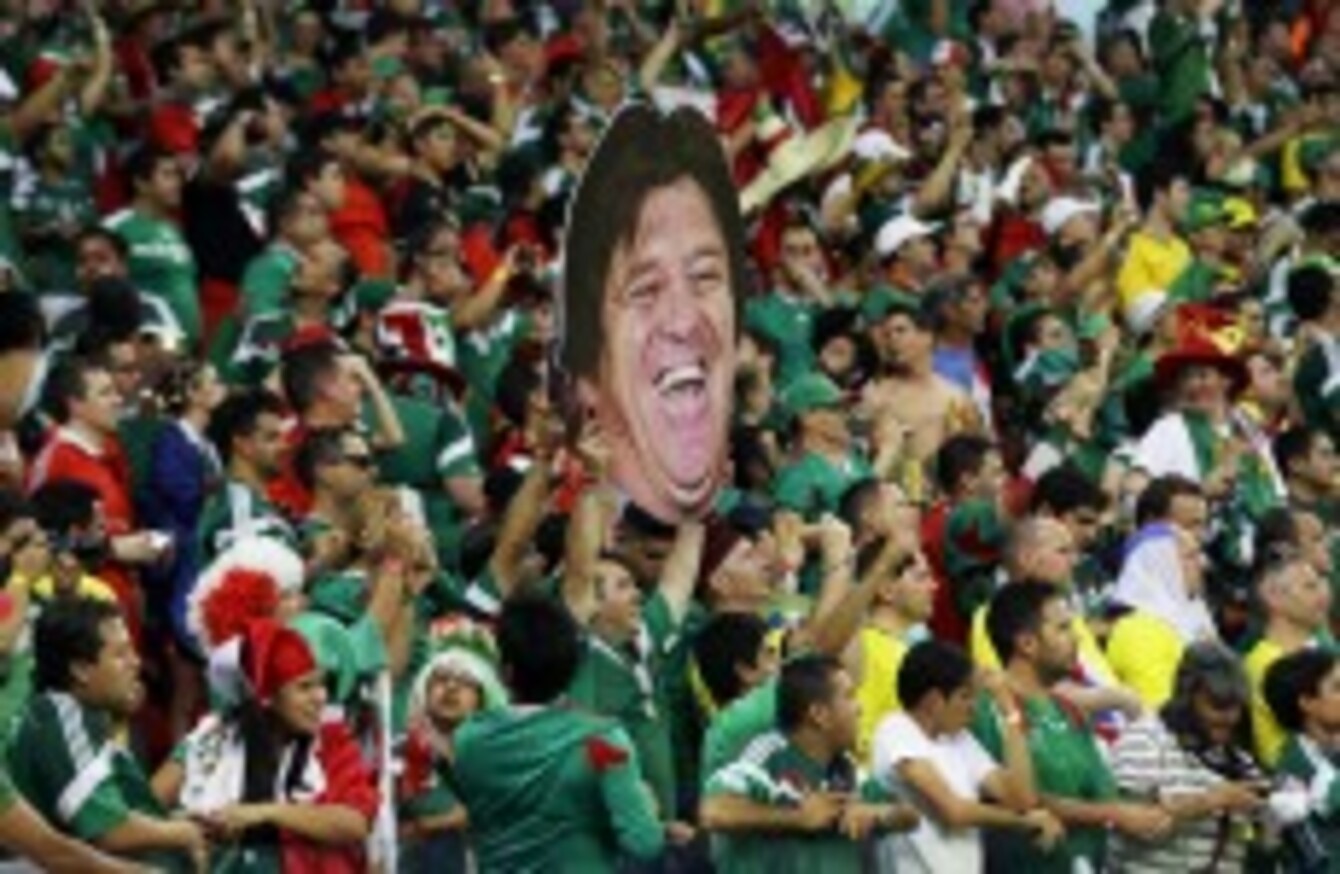 Mexico fans in full spirits with a poster of manager Miguel Herrera's head at the Arena Pernambuco in Recife last night.
Image: Ricardo Mazalan
Mexico fans in full spirits with a poster of manager Miguel Herrera's head at the Arena Pernambuco in Recife last night.
Image: Ricardo Mazalan
Mikey Stafford reports for TheScore.ie from Recife
THE CITY OF Recife was built on land reclaimed from the sea by Dutch settlers in the 17th century and became the capital of the short-lived but mind-bogglingly profitable colony of Nieuw Holland.
The state of Pernambuco, rich with coffee and Brazilwood, was always coveted by European settlers and, as the port on the most easterly point of this giant country, Recife expanded to meet the needs of the Dutch.
A one-way system of trade, it was fair to say the harbour saw plenty of roll on and very little roll off as the Europeans exploited Brazil's natural resources for all they worth.
After approximately 30 years, the Portuguese got fed up of another European superpower running around their sweetshop and, with the help of the Brazilians — who did not like how the Dutch West India Company repressed Catholics — they drove the Netherlands out of Brazil.
Fast forward 350 years and the Europeans are back in Brazil hunting for fame and fortune. Some have clearly lost their knack for empire building. The sun used never set on the British Empire but Roy Hodgson's England stumbled around in the dark for a week and will be allowed set sail back to Blighty once the kids get a run-out against Costa Rica this afternoon.
Portugal returned to the land that was the jewel in the crown of their empire, where the language spoken is a reminder of the influence they once wielded in this huge country. With their prince Cristiano Ronaldo apparently in a weakened state their position looks weak heading into their final match with Ghana on Thursday.
Russia and Spain have had a torrid time too, leaving the European charge to Germany, France, Italy and, of course, the Netherlands. Where once they were reclaiming land now they are looking to reclaim a spot in the final and perhaps go one step further than four years ago.
Louis Van Gaal's men have sailed through to the second round, scoring 10 goals as they won all three matches in a group that many predicted would be the death of them.
The incoming Manchester United manager has — barring a wobble against Australia — shored up his defence with three centre-halfs, his midfield three are combative and adventurous and his front two have scored six goals between them.
As a reward for topping Group B they can now avoid Brazil until a potential final in less than three weeks' and three knockout games' time. But last night in Recife, the city they built out of the Atlantic Ocean, did we see the greatest threat to a new Oranje Empire?
Mexico ended the hopes of another European invader with a devastating second half display against Croatia. Three goals in 10 minutes from captain Rafael Marquez, Andres Guardado and Javier Hernandez secured the passage of "El Tri" and until Ivan Perisic scored a late equaliser and Fernandinho grabbed Brazil's fourth against Cameroon, the hosts were in danger of being knocked off their perch as Group A winners.
Mexico are the first team I have seen twice at this World Cup and there is always the danger you will attach yourself to the team you see most often. Especially if they are winning. Like a football Stockholm Syndrome, fuelled by familiarity and bland post-match quotes.
vine.co/v/MtKineUBEum
I'll see Germany for a second time on Thursday when they take on the United States here in Recife, but I can't see Die National Mannschaft charming me like Mexico have done.
In Toni Kroos and Mesut Özil they have midfielders as creative as Hector Herrera but they don't careen around the pitch with the same bustling energy. Manuel Neuer is arguably the best goalkeeper at the World Cup but his eyes don't smile like those of Guillermo Ochoa, the Mexico goalkeeper who won over the world with his Brazil-denying escapades in Fortaleza.
Thomas Müller scores more goals but do Germany supporters adore him like the terrifically bonkers Mexico fans adore substitute striker Hernandez? The Manchester United man left the stadium with a deflated football in his hands last night. A memento from his glorious 30 minutes on the pitch.
No one is pretending the goalscoring Marquez is as stylish a defender as the goalscoring Mats Hummels but he is effective. Mario Mandzukic will have the bruises to prove that this morning.
Joachim Löw's sideline antics are limited to unpleasant handshakes but Miguel Herrera is a big ball of energy in his technical area — cajoling his players, screaming at the officials and rugby tackling his goalscorers to the ground for a bear hug should they come near him.
As well as the Mexicans are treating this embedded journalist, I have not been brainwashed into thinking they are a better team than Germany, or the Netherlands. The Dutch must be favourites to win on Sunday in Fortaleza but expect the Central Americans to provide them with their sternest test yet.
Oribe Peralta and Giovani Dos Santos may not be as free-scoring as Robin van Persie and Arjen Robben but Mexico's five-man defence has conceded only one goal thus far, compared to the Netherlands' three.
The middle of the field looks like a level playing field with Wesley Sneijder, Nigel de Jong and Jonathan de Guzman coming up against Herrera and Guardado, although Mexico will miss the suspended Jose Vazquez.
The Netherlands will be favourites to progress but unlike the old port of Recife, don't expect it to be one-way traffic.