THERE'S NOTHING QUITE like the feel of a proper big city on the day of a proper big final.
And, to be fair, such events often offer you experiences that you wouldn't usually otherwise come across in your feel.
Being honest, I probably wasn't too pushed about ever visiting Kiev as a holiday destination. There are, for example, many more places I'd pick to go first.
But, having now spent two days here, I must say I really like it and would advise anyone to go. Even aside from the match, there's a great vibe and so much to see.
(A slight caveat to all of this: in getting from Warsaw to Kiev I had to spend eight hours in Minsk airport waiting for news of a dreadfully delayed flight that wasn't forthcoming. What's more, since we didn't have a transit visa, we weren't allowed outside a 100sq metre area of the airport. You know those films where people are actually in limbo but don't realise it? I'm surprised one hasn't been set in Minsk departure lounge. As such, it's probably no surprise that Kiev feels heavenly in comparison.)
But, as well as cities you mightn't have usually seen, such trips also offer you musicians you mightn't have usually seen.
Last night, the centre of Kiev came to an absolute standstill as the mile-long fan zone hosted a dual concert by Elton John and Queen, which was just moments from my apartment.
I will say this: for a country which supposedly has an exceptionally low tolerance for homosexuality, it was an incredible turnout. The streets were jammed.
It all fell into the whole friendly vibe of the city.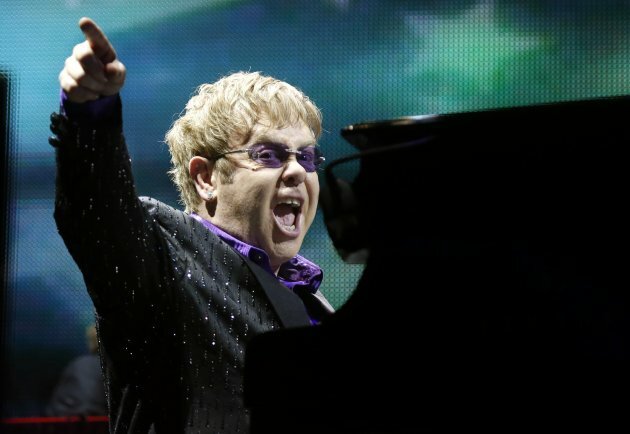 (Elton John performs at a Fan Zone in Kiev)
Having spent so much unwanted time in Minsk, meanwhile, I can testify that Kiev certainly doesn't feel as 'severe' as some reports made out.
There is an openness about the people. Many are still offended and shocked by the 'Panorama' report – a programme they hadn't even heard of until that sensationalist report on violence was aired.
While some security personnel have been heavy-handed with people that are excessively intoxicated, it's been mostly very serene.
On a gorgeous sunny day, there was a hugely relaxed atmosphere as Spanish and Italian fans – the latter proving somewhat outnumbered – mixed freely.

There are, it must be said, a huge number of Germans – possibly more than Italians. They were hugely confident about getting here; too confident as it turned out.
One of the conditions of the job, of course, is that I had to pull myself away from all that.
As I type, I'm inside the massive Kiev media centre, which is an Olympic sports hall that has been converted and is actually a fair bit away from the hugely impressive stadium, despite being in the same complex.
There was a lot of grumbling among some hacks yesterday as they had to make the lengthy 15-minute walk to a press conference room inside the stadium that, pretty poorly, didn't have wifi.
Now, a few hours before kick-off, it's starting to fill up again.
I've already seen a hero of this final from 1992, John Jensen, shimmy around. He's not quite as in shape as he was in 1992.
There is still some way to go to kick off though.
That is another aspect of Kiev. It's two hours ahead, meaning the match will start at 9.45.
If it goes to extra-time and penalties, we could well end up here until 2am or 3am.
Just as well the bars are open 24 hours: another enjoyable element of a great city.