KEVIN HEFFERNAN HATED a fuss and Liam Hayes has no doubts that he would have disliked the idea of Heffo: A Brilliant Mind — the new biography of the legendary Dublin player and manager out this week. In fact, Heffernan told him so in person.
Hayes visited Heffernan in 2011 to tell him about his plans — less than two years before his death at the age of 83 — even though the former Dublin boss had twice already rejected Hayes' offer to write his autobiography.
However, Hayes had only recently undergone four months of chemotherapy and radiotherapy, having been diagnosed with a high grade form of non-Hodgkins lymphoma in 2010. Consequently, the former Meath player became more determined than ever to write at length about Heffernan's life and times.
"There was not enough written about him," Hayes says. "There's been three autobiographies by Mick O'Dwyer, his nemesis. And there was never one book on Heffo. So when I got ill, there was a couple of things I wanted to do and I stubbornly decided that I wanted to do a biography of Kevin Heffernan. I went to him and got his reluctant blessing.

"He didn't want me to do it. But I told them I was doing it and he wished me well with it.  It was about two and a half years in the making. I think it's a good book and it introduces people to him as a boy and as a young man before the legend even appeared."
Hayes and Heffernan had crossed paths many times before, and even though the Dublin legend seemed in ill health on this last occasion, he was more than happy to chat at length to his longtime friend.
"I was surprised by how fragile he looked," Hayes recalls. "He had a cane and his face was sunken. But there was a smile on his face and even though there was 30 or 40 years between us, we were like two old war veterans. I was coming off my illness. I'm not sure if he was in the early stages of his illness or not. But we had a lot to talk about.
"We talked about a lot of old games, a lot of old footballers. I wanted to know a lot of key questions –I think he knew I was asking them for the book. He answered, even though he wasn't co-operating for the book. We chatted for the guts of two hours. I said to him 'you do know [your players] feared you more than anything else' and he said 'no, I don't think they feared me'. So it was that sort of good, friendly conversation. But of course, half of them were terrified of him and the other half respected him and also feared him."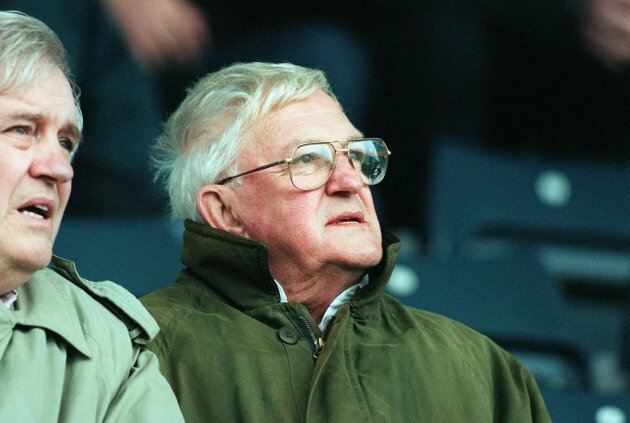 (Heffernan watches a game between Dublin and Kerry in 1999 — INPHO/Billy Stickland)
Heffernan's fearsome reputation, however, didn't come naturally to him. Hayes describes him as a "Colm Cooper-type" — a creative player who compensated for his lack of physicality with a superior level of skill and game intelligence.
However, for all his qualities, Heffernan sometimes struggled in a sport that was "brutally tough… beyond our imagination". As Hayes notes, it was an era in which "there was less cynical fouling, but more taking someone's head off with a punch".
"When I played against Dublin or Kerry, I had no idea what I was about to experience," he says. "They were twice as tough as any other team, twice as hard. And [Heffernan] built a defence, his full-back line with great footballers, but they would take your life. You wouldn't understand until you played against them.
"One ex-player I spoke to said that Heffo was a little bit cowardly. I didn't put that in the book because I didn't believe that, but he wasn't a naturally tough player. He could fight his corner when he had to, but he wasn't a tough player.

"Heffo survived the 50s and 60s as a player, even though he was a slim enough skillful type. I think in any era and any sport, you always have the genius who stands out. They're just faster and smarter than most other people. They have to be protected and normally they are, so they don't put themselves in positions where they're going to necessarily come into harm's way.
"I just don't think he was a natural fighter. I don't think it was in his nature to be in physical confrontations all the time. And I think that made him the man he was."
Heffernan's own shortcomings as a player would deeply impact upon his style of management. Indeed, it would not be a stretch to suggest he favoured players who were unlike him.
This philosophy stemmed from a career in which, despite enjoying much success particularly at club level with Vincents (a team in which, Hayes notes, all bar three players were teetotallers), he felt he had underachieved. In fact, Hayes even considered calling the book 'A Long War Lost,' owing to the number of times his Dublin side felt short at the final hurdle against Kerry.
And while he is reluctant to make any definitive statements, the former Meath player feels there were two pivotal occasions in particular that came to influence his thought process as a coach.
"This is where I've got to be careful as a biographer. You've got to come to conclusions about someone's character. I could be wrong, but it was my conclusion as his biographer that Kevin was overpowered by the occasion in the 1955 All-Ireland final. He was also sick and never forgave himself for not performing against Louth in the 1957 Leinster final.
"There were big occasions in his life as a footballer where I think he felt that he was mentally weak. I think because he recognised that in himself — this is me playing amateur psychologist — I think he looked for it in players as a manager. I think, in certain situations, he thought — that guy could bend, or that guy could bend.
"Heffo had waited all his life for just one All-Ireland and I think he took away big lessons from his career. I think the biggest lesson of all was never carry any prisoners, never carry any weaklings, never carry any cowards, never leave a stone unturned. As a manager he had the highest standards because of the lessons he learned and the defeats he suffered as a player."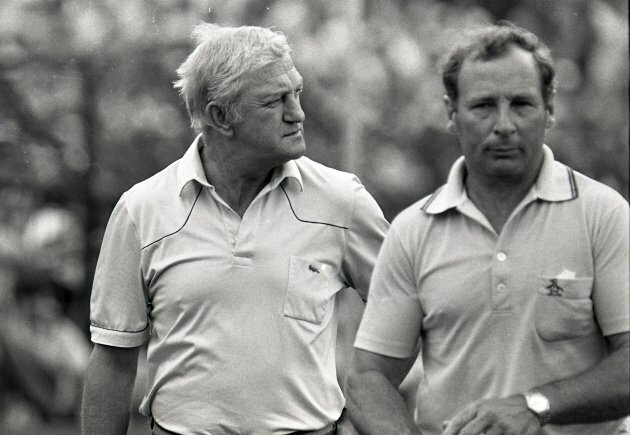 (Kevin Heffernan pictured during the 1983 All-Ireland semi-final – INPHO/Billy Stickland)
Indeed, Hayes himself was one victim of Heffernan's ruthless criteria when he managed him as part of an Irish team taking on Australia in an International Rules match. And to his credit, Hayes admits that the manager was spot on in this instance.
"As a footballer, I was very powerful and skillful. But I acknowledged that in big matches, the pressure would get to me and could stop me in my tracks. And I would second guess myself a lot. I think Heffo — and it's why I call it A Brilliant Mind — read me correctly as a footballer. He didn't especially like me as a footballer, because he felt that I could bend and he was probably right in that. There were occasions when I didn't bend, but he didn't want that on any occasion.
"On a personal level, we were friendly, I always liked him and I think he liked me. But as a footballer, I think he saw the flaw in me and in many other footballers, and I think it came from his own experience as a player. He was a seriously good amateur psychologist. You'd know by the look — he would sum people up very quickly. He would reach decisions on people rightly or wrongly very quickly, but he was good at it."
This complex relationship, this dichotomy always seemed to exist between Hayes and Heffernan, and indeed many others who observed the former Dublin manager, both at close quarters and from a distance.
"Even though he was somebody that was the enemy, he was somebody that you looked up to and respected and feared, and you would have loved to experience him as a manager.
"I was born in Carlow and rared in Meath, but when I was a young teenager watching the great Dublin-Kerry battles, we were always shouting for Kerry. We always wanted Dublin to be beaten, so it's always been 31 counties against Dublin. And while a lot of people want to see Dublin beaten, everybody acknowledges their core strength and everybody admires Dublin.

"I'm just one of hundreds of footballers around the country who would have loved to play for Kevin Heffernan. They would have given their right arm to wear the blue jersey in front of Hill 16.  They have a special place in Gaelic Football that nobody else can ever take from them."
Hayes adds that Heffernan was not only a great man manager, but one who helped revolutionise GAA from a tactical viewpoint. A deep thinker on the game, on the evenings when Heffernan and his teammates weren't training, they would go on long walks up the hill of Howth and ardently discuss the sport.
"It was him and St Vincents [who changed the sport]," Hayes explains. "It wasn't just him alone. Kevin Heffernan has got most of the praise and acknowledgements for reinventing it and rightly so. But he had helpers. For instance, in the great Vincents team of the 40s, 50s  and 60s, Ollie Freeney was a centre forward who'd go out of position — he'd go left, he'd go right, he'd go deep –and that was unheard of. Freeney was the first Tony Hanahoe. When Hanahoe played for Dublin in the 70s, he would always open up the middle by moving out of position. He was only doing what Freeney had done 20 years earlier.
"There was a lot of people in St Vincents who thought you could learn from other sports. Heffo played basketball as a young man. He understood basketball, he understood movement. He also followed Don Revie as a footballer in England playing centre forward for Manchester City and he understood how he was breaking the rules. So once you see people in other sports breaking the rules, you say 'why can't I break the rules?'. A lot of people don't ask that question, but Heffo asked that question many times — he was a rule breaker, which is what made him so brilliant."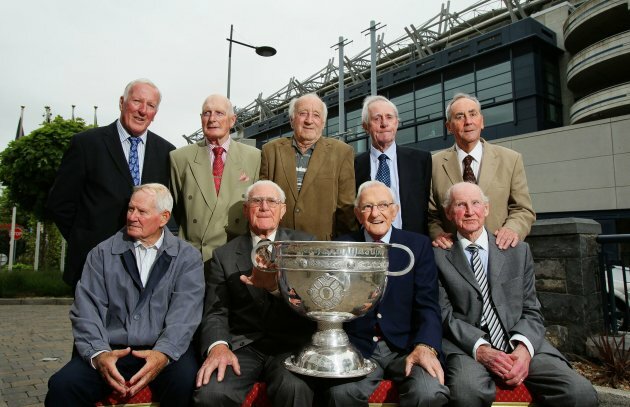 (The Dublin Football Team of 1953 pictured in 2012: back row — left/right: Mick Moylan, Jim Crowley, Jim Lavin, Cathal O'Leary, Paddy O Flaherty , front row — Des Ferguson, Norman Allen, Kevin Heffernan, Cyril Freaney)
Hayes also believes that the current Dublin team — who he refers to as "the best group of young footballers since Mick O'Dwyer brought Kerry through in 75″ — have aspects in common with Heffernan's philosophy.
"There were two basic principles he believed in as a manager," he says. "One was to mesmerise the opposition with good attacking ploys — he would love this present Dublin team, the way they run with the ball, he would love the movement. What he wouldn't love so much about this Dublin All-Ireland team would be their defensive frailty. Heffo believed in building walls in your defence that were impenetrable and he believed in defenders putting the fear of God into opposing forwards. And Dublin did neither this year.
"They won an All-Ireland with no walls in their defence, so he would have felt dubious about that, but he would have loved their attacking and their flair and their sense of adventure, because he reinvented Gaelic football and brought a sense of adventure to it in the 50s. He was the first to do it by leaving his corner forward position and wandering all over the field. And mostly when he did, opposing defenders wouldn't go with him, so he'd be running around the field on his own most times.
"Pat O'Neill has a great line in the book — and it comes from something he said earlier in his life. He said that when he feared the opposing player, he always played badly and when the opposing player feared him, he always played well. You put a fear in the opposition player, you've got a hold on him — and that was Heffo's mantra."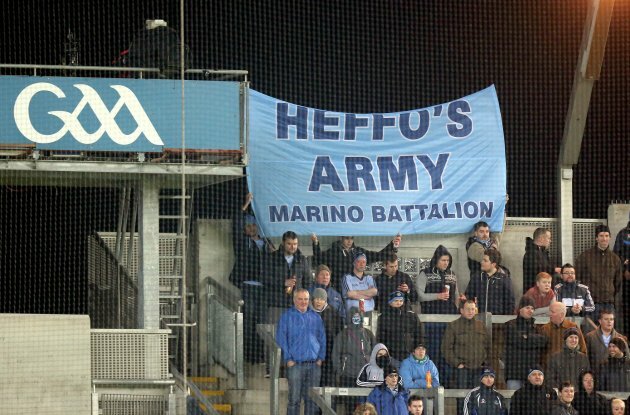 (Fans pay tribute to Kevin Heffernan following his death earlier this year – INPHO/Ryan Byrne)
Yet while Heffernan may have ultimately acquired a level of ruthlessness in his management style, it never translated into his personality. He would remain as shy and self-effacing as ever throughout his life, and Hayes feels that despite his ostensible reluctance, the Dublin legend would be secretly satisfied with the prospect of his legacy being committed to print.
"Heffo was a very private man by and large, and didn't want publicity. He would have never co-operated with any biographer. But human nature being what it is, especially if you're near the end of your days, I think most people are quietly satisfied for their life to be put in print and to be remembered, because it's a nice thing for future generations of Dublin football fans and for future generations of your own family and friends.
"To have your own life story done and done properly — there's got to be a part of you that wants that to happen. I like to think that a little bit of Kevin Heffernan was happy to be remembered. But again, that's my assumption as his biographer. I have no doubt if he was sitting here, he would say 'no' with a snarl and a smile on his face."
Heffo: A Brilliant Mind by Liam Hayes is out now. More details can be found here.