Liveblog
Result
Limerick 2-23 Galway 2-19
*********************************
Evening all and welcome along to Semple Stadium as we gear up for the second of this year's Bord Gáis Energy All-Ireland U21 hurling semi-finals.
It sees Munster champions Limerick taking on a Galway side making their seasonal bow at this level. Limerick are chasing a second final place in three years, while Galway are hoping to claim the county's third All-Ireland hurling final spot in 2017.
Throw-in is 6pm.
Here's the Limerick team named to start, one change from the Munster decider success as Barry Murphy replaces Mike Mackey in attack.
Limerick
1. Eoghan McNamara (Doon)
2. Seán Finn (Bruff)
3. Darragh Fanning (Pallasgreen)
4. Dan Joy (Kilmallock)
5. Ronan Lynch (Na Piarsaigh)
6. Kyle Hayes (Kildimo-Pallaskenry)
7. Thomas Grimes (Na Piarsaigh)
8. Colin Ryan (Pallasgreen)
9. Robbie Hanley (Kilmallock)
10. Aaron Gillane (Patrickswell)
11. Barry Murphy (Doon)
12. Cian Lynch (Patrickswell)
13. Peter Casey (Na Piarsaigh)
14. Tom Morrissey (Ahane (Captain)
15. Barry Nash (South Liberties)
Four senior panelists in Galway's team. Conor Whelan is an established figure with Jack Grealish, Sean Loftus and Thomas Monaghan the other senior men in this U21 line-up.
Galway
1. Darragh Gilligan (Craughwell)
2. Declan Cronin (Cappataggle – joint captain)
3. Conor Cosgrove (Ardrahan)
4. Ian Fox (Sarsfields)
5. Jack Grealish (Gort)
6. Joe Mooney (Loughrea)
7. Sean Loftus (Turloughmore)
8. Kevin McHugo (Tommie Larkins)
9. Dan Nevin (Cappataggle)
10. Brian Concannon (Killimordaly)
11. Sean Linnane (Turloughmore)
12. Thomas Monaghan (Craughwell)
13. Conor Whelan (Kinvara)
14. Cian Burke (Athenry)
15. Jack Coyne (Castlegar)
Wicklow's John Keenan is the referee for this game.
The winners of this game will face Kilkenny in the final, hugely comprehensive victors over Derry in the first game. That was a complete mismatch, here's how it unfolded: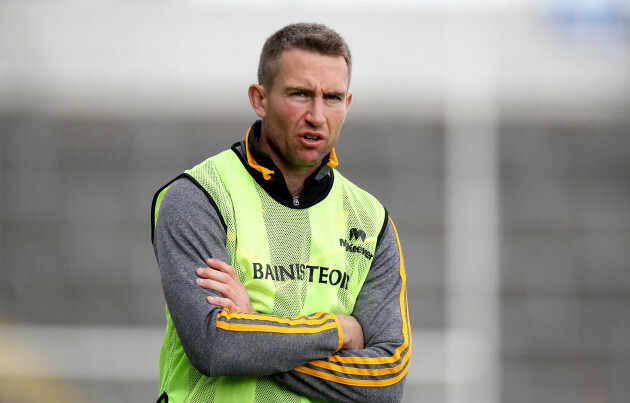 Kilkenny manager Eddie Brennan Source: Ryan Byrne/INPHO
Here are Limerick's subs this evening:
Subs
16. Cian Hedderman (Ballybrown)
17. Paudie Ahern (Killeedy)
18. Conor Boylan (Na Piarsaigh)
19. Andrew La Touche Cosgrave (Monaleen)
20. Seamus Flanagan (Feohanagh)
21. Lorcan Lyons (Monaleen)
22. Mike Mackey (Adare)
23. Conor McSweeney (South Liberties)
24. Jack O Grady (Knockainey)
And here are Galway's subs:
Subs
16. Eanna Murphy (Tommie Larkins)
17. Ciarán O'Connor (Kilnadeema-Leitrim)
18. Gearóid Loughnane (Loughrea)
19. Fintan Burke (St Thomas)
20. Evan Niland (Clarinbridge)
21. Ronan Elwood (Liam Mellowes)
22. Conor Gardiner (Tommie Larkins)
23. Caelom Mulry (Abbeyknockmoy)
24. Stephen Roche (Kilnadeema-Leitrim)
Moments away from throw-in here, who's your tip to advance to meet Kilkenny in the decider?
First wide registered by Galway's Conor Whelan after he hit a high, looping shot.
Galway 0-1 Limerick 0-0
Fine point by Brian Concannon to get Galway off the mark.
Another Whelan wide, this time from a free after Sean Linnane was fouled. All Galway so far.
Galway 0-2 Limerick 0-0
Thomas Monaghan snaps over a lovely point for Galway's second.
Four wides already for Galway, Limerick yet to score.
Galway 0-2 Limerick 0-1
A vital score to settle Limerick with Peter Casey contributing the point.
Limerick 0-2 Galway 0-2
And another for Casey. Super strike from the sideline after he gathered Ronan Lynch's delivery.
Galway 0-3 Limerick 0-2
Marvellous point by Kevin McHugo puts Galway back in front.
Limerick 1-2 Galway 0-3
But Limerick counter for the first goal of the game! Captain Tom Morrissey with the initial low shot from the right that is batted away by goalkeeper Darragh Gilligan and it's Peter Casey who is on hand to scramble home the rebound. 1-2 for him now.
Limerick 1-3 Galway 0-3
Barry Murphy edges Limerick three clear.
Limerick 1-4 Galway 0-4
Another brilliant point from distance by a Galway midfielder, this time it's Dan Nevin who raises the white flag. Limerick reply through Barry Nash after excellent build-up play from Peter Casey.
Limerick 1-4 Galway 0-5
Second point of the day for Thomas Monaghan for Galway.
Limerick 1-4 Galway 0-6
One point game now thanks to a point from Galway's Sean Linnane.
Two wides in the space of a minute from Limerick's Peter Casey. He's causing plenty problems for the Galway defence.
Limerick 1-5 Galway 0-6
Aaron Gillane converts a free after Barry Murphy was fouled for Limerick.
Limerick 1-5 Galway 0-7
Just a single point between them once more after Brian Concannon notches his second point of the game for Galway.
Sub: Change at the back for Galway as Ciarán O'Connor comes in for Ian Fox.
Limerick 1-6 Galway 0-7
Gillane fires over another free for Limerick.
Limerick 1-7 Galway 0-9
Great improvisation by Tom Morrissey to get his handpass away and wing-back Thomas Grimes surges into space to point for Limerick. Galway respond through a close-range Jack Coyne point and then Monaghan scores from distance for his third of the game so far.
Limerick 1-8 Galway 0-9
Blistering goalbound drive by Barry Nash sees Darragh Gilligan produce a superb reaction save for Galway. Gillane points the resultant '65.
Limerick 1-8 Galway 0-10
First point of the day for senior forward Conor Whelan for Galway.
Galway 0-11 Limerick 1-8
And now it's all square as Galway's Dan Nevin bangs over a long-range free.
Limerick 1-9 Galway 0-11
Great work by Cian Lynch and after he offloads, Barry Nash makes the space to shoot over a point.
Limerick 1-9 Galway 0-12
Whelan points a free for Galway.
Half-Time: Limerick 1-9 Galway 0-12
6,524 is the attendance at this game.
Second-half action about to start.
Limerick 1-10 Galway 0-13
Good work by Limerick's forwards almost creates a goal but Gillane smashes a shot over the bar on the turn after being set up by Cian Lynch and Barry Nash. Brian Concannon then brings Galway level.
Limerick 1-11 Galway 0-13
Gillane has started this second half brightly. He takes on the Galway defence and after his goalbound shot is deflected wide, he converts the resultant '65.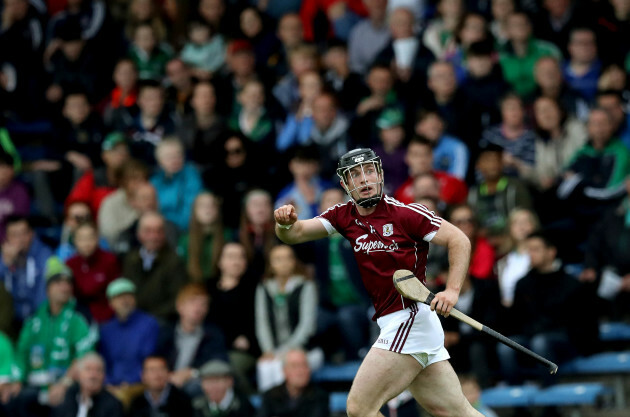 Galway's Sean Linnane. Source: Ryan Byrne/INPHO
Limerick 2-13 Galway 0-14
Lot of action to report on there! First Galway draw level, Sean Loftus driving over a point after a clever short free by Dan Nevin. Then Limerick hit the net after Barry Nash's shot spills loose near the goal for Barry Murphy to bundle the ball over the line. Limerick follow up on that with two quick points from those players, Nash scoring first and then Murphy raising a white flag.
Limerick 2-13 Galway 1-14
Galway are back in it! Whelan surges towards goal and his shot is saved, substitute Evan Niland – just in for Sean Linnane – sees his rebound blocked before finally Jack Coyne whips the loose ball to the net.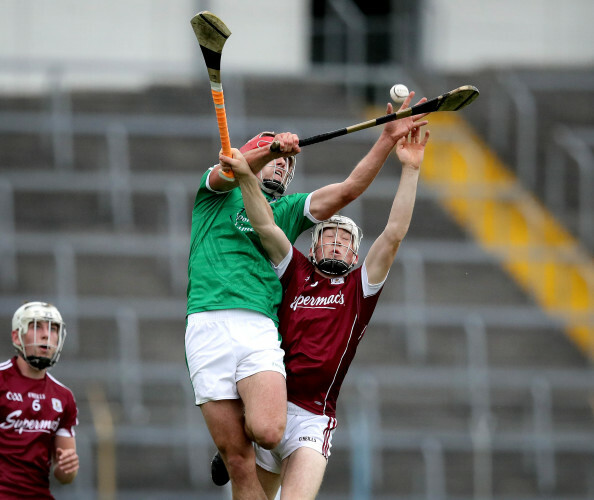 Source: Ryan Byrne/INPHO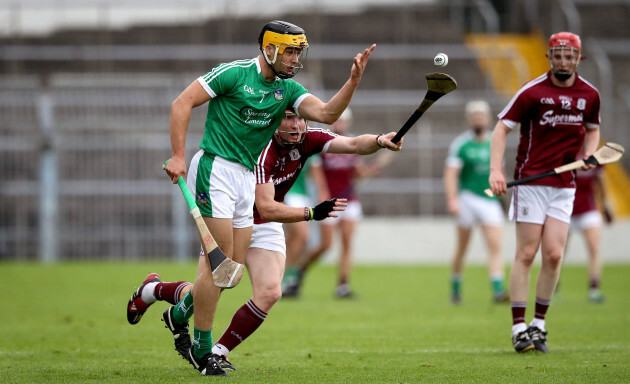 Limerick 2-13 Galway 1-15
Now the gap is down to one, Conor Whelan splitting the posts.
Galway 1-16 Limerick 2-13
Now Galway draw level courtesy of a point from defender Jack Grealish.
Limerick 2-14 Galway 1-16
Gillane puts Limerick back in front with a pointed free.
Subs: Limerick bring in Conor Boylan and Andrew La Touche Cosgrave for Colin Ryan and Tom Morrissey.
Limerick 2-14 Galway 1-17
Fourth point of the evening for Thomas Monaghan brings Galway level once more.
Limerick 2-15 Galway 1-17
Cian Lynch pushes Limerick back ahead again.
Goal for Galway by Conor Whelan!
Galway 2-17 Limerick 2-16
Galway's senior star pounces on a loose handpass by the Limerick defence and surges towards goal before firing a shot to the net. Limerick sub Andrew La Touche Cosgrave replies with a point.
Galway 2-17 Limerick 2-17
Level again thanks to Kyle Hayes of Limerick.
Limerick 2-18 Galway 2-17
And Limerick go in front thanks to another sub, Conor Boylan pointing on this occasion.
Subs: Galway bring in Fintan Burke for Joseph Mooney. Limerick replace Sean Finn with Jack O'Grady.
Galway 2-18 Limerick 2-18
Brilliant from Galway's Brian Concannon to engineer the levelling point.
Are we going to have a winner or is extra-time on the cards?
Limerick 2-19 Galway 2-18
Galway don't clear their lines and Barry Nash points for Limerick.
Free in to Galway, Evan Niland is fouled.
Sub: Galway bring in Gearoid Loughnane for the injured Jack Coyne.
Galway 2-19 Limerick 2-19
It's tight but Niland's shot is judged to have gone over from the free.
Sub: Ronan Elwood in for Galway for Kevin McHugo.
Limerick 2-21 Galway 2-19
Great Gillane point for Limerick after a strong run and then Grimes adds another.
Sub: Limerick bring in Seamus Flanagan for Barry Murphy.
Limerick 2-22 Galway 2-19
Super Robbie Hanley point for Limerick.
Five minutes of injury time to be played.
Long range free from Ronan Lynch goes wide for Limerick.
Conor Boylan with another Limerick wide.
And Peter Casey off target for Limerick. They're missing chances to kill off this game.
Sub: Mike Mackey in for Limerick for Barry Nash.
Gillane points a free for Limerick!
Full-Time: Limerick 2-23 Galway 2-19
So it'll be Limerick against Kilkenny in this year's Bord Gáis Energy All-Ireland U21 hurling final, a repeat of the minor decider from 2014.
Thanks for joining us for this evening's coverage.
Contribute to this story: