FORMER LEINSTER HOOKER Gavin Hickie takes us through his tactical analysis of Ireland's 22-10 victory over the USA in New Plymouth this morning.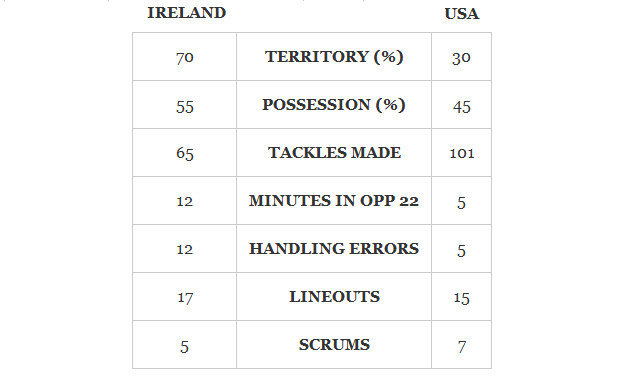 There were an average of 31 lineouts per game in the Rugby World Cup 2007. This game, played in a wet New Plymouth, produced 32 lineouts.
As expected, Ireland dominated the US Eagles in the set piece plays. However, the outcomes or the resulting plays from the Irish scrums and lineouts were not up to the standard required to make a real impact at the World Cup and there is plenty of work to do within the Irish camp.
Of the 17 lineouts Ireland won, they kicked away possession three times, mauled four times, won three penalties, scored one try and alarmingly turned the ball over six times — one of which resulted in an intercept try at the final whistle for USA's Paul Emerick.
Ireland's lineout functioned very well. O'Connell called smart lineout calls and Rory Best delivered with aplomb.
Best stood out among the Irish forwards and capped off a fine performance with a try. The Irish hooker controlled the ball at the back of the Irish maul and displayed great composure and patience to wait for the right time to sneak over in the corner.
Ireland's maul from their lineouts proved to be their most effective weapon on the night. Perhaps Ireland could have used this tactic more often?
Nowhere was Ireland's technical dominance over a relatively "inexperienced" team more evident than in the scrums.
The technical skills required for the position of prop are often understated. To become a master of scrummaging one must endure some steep learning curves. USA's tighthead prop Shawn Pittman had one of these days as Ireland's Tom Court was rampant in the scrums.
Yet again, Ireland failed to convert their dominance in the scrums into points on the board.
Ireland only had five scrums throughout the game. Of the five, they won three penalties, conceded one penalty and lost one scrum to USA.
Executing effective set piece plays as this level requires years of studying and training. It is during set pieces plays that the more "inexperienced" teams will be exposed due to their lack of experience.
Ireland had complete control over the Eagles during the set pieces and may be disappointed that this dominance could not translate into a more controlled overall performance.
Ireland will be happy to have got through a hugely physical encounter with a win. Although one more try would have earned Ireland a bonus point, coach Declan Kidney will not be too worried. It remains to be seen how important bonus points may yet prove to be.
Ireland's World Cup campaign has kicked off with a win. It may not have been pretty but it was a win nonetheless.
The Irish pack can take great confidence from the fact that their scrums and lineouts are functioning effectively. A big improvement in their overall play will be needed against Australia, particularly in the outcomes of their set pieces.
Gavin Hickie, the Lineout Coach, is a former professional rugby player for Leinster, London Irish, Worcester, Leicester Tigers & Ireland 7s.
For more analysis, visit LineoutCoach.com or follow Gavin on Twitter at @lineoutcoach.