KURTLEY BEALE AND James O'Connor combined to squander 14 points [five kicks at goal] in last Saturday's 23-21 loss to the Lions. Rugby players, however, are made of stern stuff and the duo felt they were entitled to a late-night snack at Burger King.
The Wallabies backs had just spent the night watching their Melbourne Rebels side lose 35-0 to the Lions and had both attended a post-match function with their clubmates. Following the function, Beale and O'Connor stopped off at Hungry Jack's — the Australian Burger King franchise — for some nibbles.
They were accosted by an English rugby supporter, over in Australia to follow the Lions, and happily posed for a picture whilst waiting for their food. The pictures duly surfaced in this morning's Daily Mail.
The Mail ran with the story along with a response from a Wallabies spokesperson. The official response read, "There has been a full and thorough investigation of the information. The two players were out last night, but they were not drinking – 10 witnesses we have spoken to corroborated that.
The players went to the Rebels vs. Lions game with their team-mates and after the game they went back to a function at a club, with other Rebels guys. Lions players were there as well. After leaving, they stopped off to pick up some food on the way home and had pictures taken with some fans.
"Both players are adamant that they didn't drink and we have checked that out thoroughly. James O'Connor was driving. They have not broken any team protocols. Today is a day off for the squad and there were no commitments until late afternoon."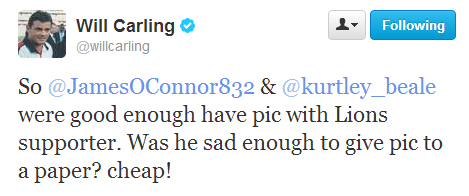 Former England and Lions centre Will Carling was not impressed with the fan pic surfacing.
Beale was suspended earlier in the season for indiscretions relating to late-night drinking and a fight in South Africa with Rebels teammate Cooper Vuna.
Speaking before the First Test against the Lions, Beale commented, "There were some tough times there I had to get through." He added:
They were very difficult, obviously there were some issues I had to sort out … with the support of my close friends and family, and my teammates, I got through it. I had to draw a line in the sand. I felt like I've done that now and I'm just very grateful to have the opportunity to be back as part of this (Wallabies) group."
Beale and O'Connor are both expected to be named in the Australian team to play the Lions in the Second Test this Saturday.