BRIAN O'DRISCOLL'S EVENING in Brisbane began with him shaking his head, twice, as James O'Connor lined up two early penalties that he conceded. O'Connor missed them left and wide.
His last duty of the game was to watch Leigh Halfpenny run the ball dead, seconds after he was forced to stand and watch Kurtley Beale line up a last-minute penalty. Beale missed, left and wide, with a slip thrown in for good measure.
Speaking to Sky Sports after the Lions 23-21 victory over the Wallabies, O'Driscoll said, "Hearts in the mouth at the end, obviously, and we probably should have lost it with those to [Beale] penalties. I felt that we didn't deserve to and were two points better than that side.
"We didn't get much luck in the game. Deflected kicks and kicks that went askew seemed to go their way. We got our luck at the end."
The early concession of two penalties at the breakdown, by Kiwi referee Chris Pollock, had the Irish centre cursing. It did not stop him from putting in the hard work at the breakdown, chasing down kicks and connecting with the 11 tackles he attempted [a team high]. "There's been some frustration with [the penalties]," O'Driscoll admitted.
Certainly, I felt I was on the right side of the laws with it. He thought otherwise and penalised me twice. Thankfully, James O'Connor missed those two early on but that's something we've got to work on and our interpretation of [the breakdown]. We'll see if we can get better for next week."
O'Driscoll remarked that it was fantastic to have Alex Cuthbert and George North as huge scoring threats and Aussie evaders out wide but stressed the importance of the rest of the backline running the right lines to make space out wide. O'Driscoll, cannily, ran a dummy line straight into O'Connor to make room for Cuthbert's crucial second try. The Television Match Official scrutinised it but the try stood after the Welsh winger bust through four gold jerseys.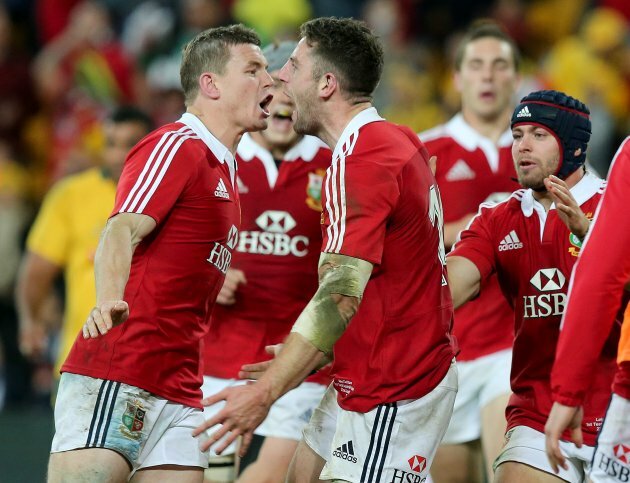 O'Driscoll celebrates with Cuthbert. (©INPHO/Dan Sheridan)
O'Driscoll and Jonny Sexton stepped up when it was needed in the closing stages and the centre revealed that the tactic was simple – play the game, as much as possible, in the Australian half. The Lions defence, he argued, was fairly in control despite the blows of Israel Folau's double dot-down.
Points scoring chances and setpieces in the Aussie 22 were squandered, he added, which made the challenge nigh on impossible as the clock ticked down to red and dead. Beale's slip proved costly, however, and O'Driscoll had his first Lions Test win in 12 years.
He declared, "Personal doesn't count for anything. I spoke to the lads and I've been in this situation before." The hard work, he added, begins now.