PAUL O'CONNELL WILL play not further part in the 2013 Tour but he was on the sidelines today as the Lions looked to swat off the Melbourne Rebels' victory pretensions.
As always, we'd love to hear your thoughts on the game. E-mail patrick@thescore.ie, tweet @thescore_ie, post a message to our Facebook wall, or leave a comment below.
You may need to refresh the page for YouTube videos and other elements to display correctly.
Lions 35-0 Melbourne Rebels
Good morning y'all and welcome to game eight of the Lions 2013 Tour. The fearsome opponents in the Green & Gold corner today are the Melbourne Rebels. We'll get you started with some team news and then check in with our man Brian O'Driscoll.
Lions XV to face Melbourne Rebels: Rob Kearney; Sean Maitland, Manusamoa Tuilagi, Brad Barritt, Simon Zebo; Owen Farrell, Conor Murray; Ryan Grant, Richard Hibbard, Dan Cole; Richie Gray, Ian Evans; Dan Lydiate (c), Sean O'Brien, Toby Faletau.

Replacements: Rory Best, Tom Court, Matt Stevens, Ian Evans, Tom Croft, Ben Youngs, Billy Twelvetrees, Stuart Hogg.
Melbourne Rebels: Jonathan Woodward; Tom English, Mitch Inman, Rory Sidey, Mitchell Lachlan; Bryce Hegarty, Luke Burgess; Nic Henderson, Ged Robinson, Laurie Weeks; Cadeym Neville, Hugh Pyle; Jarrod Saffy, Scott Fuglistaller, Gareth Delve (c).

Replacements: Pat Leafa, Cruze An-Nau, Paul Alo-Emile, Luke Jones, Jordy Reid, Nic Stirzaker, Angus Roberts, Cooper Vuna.
Your friend and mine, Brian O'Driscoll features again on HSBC's Lions Weekly. Here are the great man's thoughts on the First Test victory and keeping the foot to the floor to secure a series win:
YouTube credit: HSBC
As is our lovely tradition now on the tour, let's get those first Lions try-scorer predictions in.
No-one called George North against the Wallabies at the weekend. Our first prediction, in the comments section below, is for Simon Zebo to cross the whitewash first.
Ok, quick poll to get the juices flowing. Which starting Irish Lion has the best chance of playing himself into the Test picture for Saturday's game with Australia?

Hooker Rory Best is on the bench too. And this man: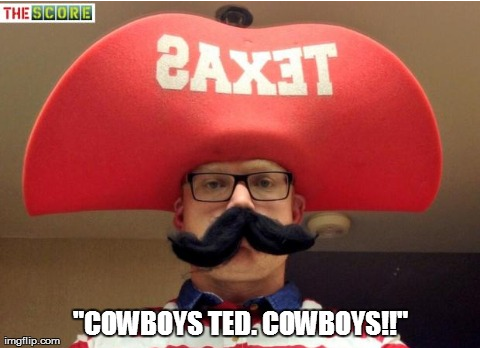 The latest Lion: Tom Court of Ulster and Ireland.
KICK-OFF
Super early drive from the Lions and the Rebels are forced to hoof clear from behind their goalline. First scrum, Hibbard finds Evans.
I'll go with Sean Maitland as my guess/prediction for first Lions try-scorer. Lions were close to an early score there but Farrell missed the charging Evans in support with numbers out wide right.
Super Lions lineout finds O'Brien at the very back, he pops down to Murray and the find Tuilagi and the bomb. He, however holds on, and Rebels get the penalty. I can't see he Lions going for the darts to the back of the lineout at the weekend.
The LIons scrum tramples the home pack and we have a penalty inside their 22. Farrell finds the line near their 10m line. Hibbard to Evans again buut Murray has to go to his backline as the maul is going nowhere. Eight minutes gone.
O'Brien knocks on as Hibbard's pass is too high. Rebels get a scrum in their 22 and will need to get the ball in and out quickly if the last scrum is anything to go by.
They just about survive and Inman picks a pass off the blades of grass before Woodward pumps the ball 60 metres up the left touchline. Lineoutr ball secured by the Lions and Kearney takes it into contact up the left.
Tuilagi does what he does best – busts two tackles to make space. Farrell finds Barritt and the big man knocks a nice grubber through by there is a covering defender and Maitland is denied. 5m scrum Lions.
TRY! Lions 7-0 Melbourne Rebels (Murray '15)
Scrum nearly gets over but Faletau is held up. Murray has to act quick as the ball squirts backward. He snaps it up, spins and snipes over the line. Farrell's touchline conversion is over. 17 minutes gone after those extras are added.
O'Brien has Zebo outside him but botches a pass attempt. Advantage Lions anyway and Farrell hits the line. Gray takes the lineout cleanly but then spills forward after touchdown. Penalty conceded on the Rebels 22 after their scrum creaks. Farrell goes for the line rather than three points. Ball is secured but Cole can't claim a Murray pass and another try goes a-begging.
Well played Ian O'Gorman.
Sean O'Brien is penalised for being offside at the breakdown [and facing the wrong way]. The Irishman guilty of trying too hard at the moment, trying to force matters. Woodward lines up a simple enough 32m penalty but it goes right and wide. Poor effort. What do these rested Rebels make of it?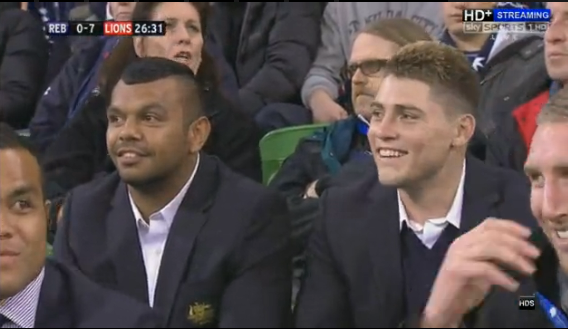 Beale and O'Connor.
TRY! Lions 14-0 Melbourne Rebels (Maitland '28)
Ohhh! Manu Tuilagi with a superb, powerful break up the left. Beats three Rebels. Maitland in support, finds Faletau but he slips with the tryline in sight. Murray on hand to keep the move going. He finds Zebo, who unselfishly puts Maitland in. He slides over and Farrell converts.
Farrell with a quick-tap penalty. He finds Zebo, who scythes up the left flank. One-two pass with Farrell and O'Brien is in support but the ref calls it back [American Pie style] for a forward pass.
Sky Sports confirm that Paul O'Connell will stay with the team for the remainder of the tour. Nice show of solidarity from the big man. His family are over in Australia with him already so he is not seeking to avoid the dirty domestic work at least!
Twelvetrees is on for Barritt and showing what a hefty tackler he is.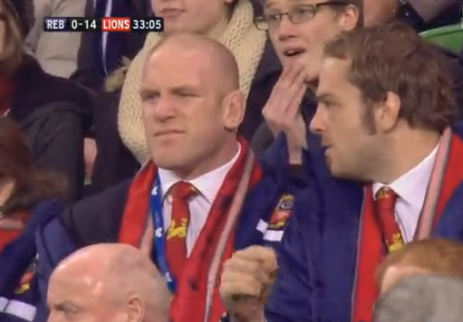 14-0 after 33 minutes but Paulie wants MORE.
Huge tackle from O'Brien on second-row Pyle. He may have felt it more than his opponent. The scrum-cap is off as O'Brien shakes his head. No time to linger though as he has to get back to defend the Lions line. Rebels heaving into red jerseys and they'll hit the line rather than taking three points after Zebo was offside. 5m linenout coming up.
Evans steals the lineout and Murray box-kicks up the line. Chance lost. One minute left in the half.
Eek, Sean O'Brien tries to run the ball out of his 22 and butter-fingers forward. Poor half from the Tullow Tank.
Barritt out of the blood bin and back on for 12×3′s
HALF-TIME
Manu Tuilagi has been a stand-out performer for the Lions. (©INPHO/Dan Sheridan)
For anyone close to a TV or radio [or... stream] out there, what did you make of all that?
KICK-OFF
Faletau claims the restart and Murray sends a kick into the night sky in Melbourne.
Murray with some fine work at the breakdown after a big tackle by Hibbard. Play stopped though as Sean O'Brien is in a heap on the ground.
O'Brien is going to be OK after he gets some on-field treatment. Tough mudda'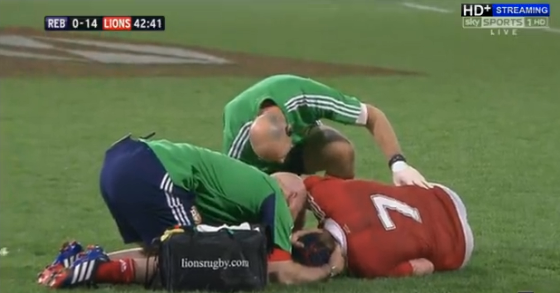 Great Rebels defence holds up a Lions maul. This is turning into a slogfest. Forwards greedily hogging the ball at the moment but Gatland will be happy with the softening up work. Expect the bench to, once again, make the difference.
Tackle leaders after 44 minutes: Lydiate 13, Gray 10. Dan Lydiate loves a tackle.
Murray with an awful throw that is behind Farrell. The Englishman puts the brakes on, snatches it and keeps the move going. Lions go back, right to left and Maitland butchers another scoring chance as he throws forward and out of play with the tryline yards away and O'Brien unmarked on the tramline.
TRY! Lions 21-0 Melbourne Rebels (O'Brien '50)
A couple of lineouts squandered in the Rebels 22 in the last few minutes. This time, Hibbard finds Faletau. Maul set up, Lydiate finds O'Brien spinning around the back. He crashes over. Farrell with the conversion. His last action as he is replaced by fullback Hogg.
That's more like it Seanie!
Lock Luke Jones bursts 40 metres upfield after Lydiate spilled forward. The captain hares back to make up for his error before Kearney hooves clear. Here comes Tom Court for his LIONS DEBUT. 56 minutes gone.
Well, well. O'Brien comes off early and Lydiate is left out on the pitch. Could this be the signal that the Carlow native will be on the bench this weekend? Rory Best is also on the pitch.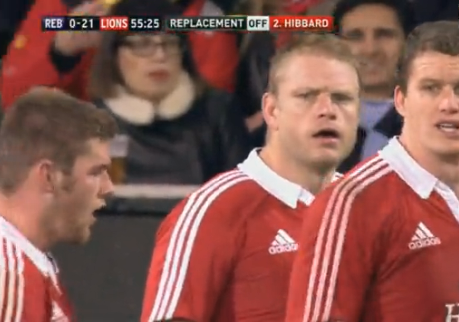 Tom Court on debut for the Lions.
Cooper Vuna adding a bit of spark to the Rebels attack. Lions dirt-trackers will be eager to keep the home side at '0′ to make up for their humbling by the Brumbies last Tuesday.Kearney is coming off for the Lions [looks stiff]. Twelvetrees is now outhalf and Hogg switches back to fullback.
TRY: Lions 28-0 Melbourne Rebels (Penalty Try '62)
Rory Best has thrown two lineouts and they have both been caught. He is close to a try but flanker Jordy Reid comes in from the side to concede a penalty try. Reid gets a yellow card as Hogg slots over the extras.
Tom Court has given away two penalties since his arrival on the pitch. The prop is doing his best to save Warren Gatland a selection headache. The excitement over Sean O'Brien's early withdrawal dies down with Lydiate being called ashore five minutes later. On-field captaincy falls to Best. Tipuric – the forgotten man – earns a penalty at the next Rebels ruck.
Rory Best – 3 from 3 at the lineout. He tries to bundle over at the back of the maul but Neville locks him in a death grip. Stevens has a pop as the Lions camp on the home side's line. Stirzaker lifts the crowd with a stunning break up the right and the ball is semi-legally stolen back.
Rebels with a training ground move and a Garryowen from the Lions 22 right under the posts. Zebo claims superbly and sets Tuilagi away with a wonderful pass. This man was born to be a Lion. Maitland takes the pass from Tuilagi and runs it as far as he can before his grubber skittles out of play. Eight minutes to go.
TRY: Lions 35-0 Melbourne Rebels (Youngs '72)
Tom Croft with a big leap and grab at the back of the lineout [Best, again!]. Croft drops for Youngs, who drops the shoulder, snipes inside and races in from 22 metres out to dive over. Hogg with another simple conversion and it sails over.
Mike Phillips is lucky he is so untouchable in the Test line-up as Murray and Youngs have both pressed good claims to start on Saturday.
Richie Gray stretches the legs and beats a couple of Rebels before play finds its way to the right flank. Three minutes to play and Court is having some fun at scrum-time. Two Ulstermen in the Lions front row. The put-ins from scrumhalves these days are never straight and never penalised.
Last penalty for the Reels. Wodward chips and gathers over the Lions midfield. Home side looking for a score of any kind. Time into the red now…
Woodward is held up and driven out.
FULL-TIME
What did you make of all that?
Thanks for your company this morning and early afternoon. Stay with us for post-match comments, reactions and opinions.