We had minute-by-minute updates as Manchester United travelled to Basel in search of a point, as well as live score updates from the rest of this evening's Champions League games.
As always, we'd like you to get in touch with your thoughts and comments on the action.
E-mail niall @thescore.ie, tweet us @thescore_ie, post on our Facebook wall or leave a comment below.
You may need to refresh the page for some elements (YouTube videos etc) to display properly.
Results
Manchester City 2-0 Bayern Munich
Villarreal 0-2 Napoli
Inter Milan 1-2 CSKA Moscow
Lille 0-0 Trabzonspor
Basel 2-1 Manchester United
Benfica 1-0 Otelul Galati
Ajax 0-3 Real Madrid
Dinamo Zagreb 1-7 Lyon
Are we all sitting comfortably? Alright then, let's go.
Welcome to our live minute-by-minute coverage of Basel v Manchester United as the Premier League champions go to Switzerland in search of a point which would see them through to the knockout stages. As Adrian Chiles has just informed us, "the task is difficult but the maths is simple."
Strap in — it could be a very interesting evening.
We'll also have live score updates from all of the evening's other game, including the match at Eastlands where Manchester City know that nothing less than a win against Bayern Munich will keep them in the tournament — and even that might not be enough.
Team news is coming up.
Basel: Sommer, Steinhofer, Abraham, Dragovic, Park, Shaqiri, Cabral, Granit Xhaka, Fabian Frei, Alexander Frei, Streller. Subs: Colomba, Chipperfield, Stocker, Kusunga, Kovac, Zoua, Pak.
Manchester United: De Gea, Smalling, Vidic, Ferdinand, Evra, Park, Giggs, Jones, Young, Nani, Rooney. Subs: Lindegaard, Evans, Welbeck, Fletcher, Valencia, Macheda, Gibson.
And here are the teams from Eastlands where the flu-stricken Mario Gomez and Thomas Muller both start on the bench for Bayern. City's own Mario — Mr Balotelli — is also on the bench.
Manchester City: Hart, Savic, Kompany, Lescott, Clichy, Barry, Nasri, Y Toure, Silva, Aguero, Dzeko. Subs: Pantilimon, Zabaleta, K.Toure, Milner, A.Johnson, De Jong, Balotelli.
Bayern Munich: Butt, Rafinha, Boateng, Badstuber, Contento, Pranjic, Alaba, Gustavo, Tymoshchuk; Petersen, Olic. Subs: Neuer, Van Buyten, Lahm, Ribery, Usami, Muller, Gomez.
It's absolutely bouncing in the St. Jakob-Park — "literally bouncing" as Jamie might say — because the soaked fans are trying to jump some heat into themselves in the stands.
So how will United approach this one? Remember, if they lose, they're out.
A nice piece of trivia for you before we start. Our man in the middle tonight is Bjorn Kuipers, who was also the referee for Ireland's Euro 2012 play-off victory in Dublin last month.
We're off and running in Switzerland.
United have absolutely poured forward in these opening three or four minutes. On ITV beforehand, pundit-extraordinaire Roy Keane said that Fergie would want to control the midfield from the off, and they're doing just that. Park has the first chance of the evening but it loops over the bar.
Basel have never beaten United, but they're no mugs and they can certainly string a few passes together going forward as they showed in Manchester. David de Gea is called into action for the first time. He rather flaps at a cross but it's cleared away.
GOAL! Basel 1-0 Manchester United (Streller, 9′) Uh oh. For all of United's early dominance, it's Basel who strike first. David de Gea tries to hack Shaqiri's low cross away with his feet but it only goes about 12 yards to Streller who fires it past the helpless goalkeeper. An awful start for United, but how will they respond?
GOAL! Benfica 1-0 Otelul Galati (Cardozo, 7′)
GOAL! Real Madrid 1-0 Ajax (Callejon, 14′)
A small point to note regarding the Basel goal. As the ball came into the box from Shaqiri, Chris Smalling was flat out on the ground after catching himself on Nemanja Vidic's elbow. Some suggestions that our referee might have stopped play immediately for the head injury but he chose not to. Three seconds later, United were one down.
Unsurprisingly, the early goal for Basel has turned the game on its head. The hosts haven't quite abandoned all hope of getting a second but they've become a lot more disciplined in getting men behind the ball, forcing United to work that little bit harder if they want to break them down.
Over in Manchester, City have the ball in the net courtesy of a floating David Silva but it's ruled out for a foul on the keeper by Lescott. My man in Eastlands tells me it was touch-and-go at best.
Basel have a huge amount of bodies behind the ball every time United venture forward. Nani goes on a driving run towards the Basel area, linking nicely with Rooney and Young, but Fabian Frei is able to get a foot on Young's eventual cross and hook it clear.
Oooooh, that's a bad miss by Wayne Rooney and a huge let-off for Basel. After some wonderful hold-up play by Rooney himself, Nani plays a nice little tempter across the face of Sommer's goal. It finds its way to Rooney unmarked four yards out but he doesn't quite have time to set himself and slices it back in the same direction where Park is unable to prod it home.
Just the three goals to share between our eight games as we pass the half-hour mark. As things stand, both City and United are going out — but they both only need a single goal to change that.
Nani is by far the most lively of United's players at the moment. He does brilliantly to slip in between Park Joo Hoo and Dragovic as they try to muscle him off the ball but there's nobody there to meet his cross.
Much better by United. They've really come into this game in last five or six minutes. Giggs unlocks the Basel defence with a lovely through ball to Rooney but Sommer gets his body behind the ball to stop the striker's effort.
GOAL! Manchester City 1-0 Bayern Munich (Silva, 36′) Well, that certainly changes the complexion of Group A. Silva fires a beautiful left-footer past Jorg-Butt from the edge of the area and Eastlands goes absolutely ballistic. It's still 0-0 between Napoli and Villarreal in Spain which means — as things stand — City would go through.
GOAL! Dinamo Zagreb 1-0 Lyon (Kovacic, 40′)
GOAL! Ajax 0-2 Real Madrid (Higuain, 41′)
Worrying times for Manchester United fans. Nemanja Vidic has gone down in a heap and looks to have twisted his knee. That could be a nasty one. Jonny Evans comes on in his place.
Thirty seconds to go until the break here in Switzerland and Basel look to have weathered that period of heavy United pressure. Basel's defending was becoming more and more desperate, but they've held out and should go into the break a goal up.
GOAL! Dinamo Zagreb 1-1 Lyon (Gomis, 45′)
HALF TIME: Basel 1-0 Manchester United
And it's half time in our other seven games as well. It's all on a knife-edge, but the two halves of Manchester will have very different scenarios to ponder over their half-time cuppa.
Speaking of half-time cuppa, I think I'll have one myself. Back in five.
Here's the Basel goal for those of you who missed it.
Before we get started again, here's how it all stands.
Group A

Group C

We're off and running again in Switzerland. Forty-five minutes for Manchester United to score and save their European season.
GOAL! Dinamo Zagreb 1-3 Lyon (Gonalons, 47′; Gomis, 48′)
GOAL! Internazionale 0-1 CSKA Moscow (Doumbia, 50′)
Rooney comes within a hair's breadth of drawing United level. Giggs's ball sets him racing free down the left and he cuts back inside before curling one just wide of Sommer's far post.
GOAL! Dinamo Zagreb 1-4 Lyon (Gomis, 52′)
GOAL! Internazionale 1-1 CSKA Moscow (Cambiasso, 51′)
GOAL! Manchester City 2-0 Bayern Munich (Toure, 52′) ncredible scenes at Eastlands as Yaya puts City 2-0 up at home to Bayern. Dzeko plays a lovely weighted pass into the Ivorian's path and he pokes it past the onrushing Jorg-Butt. A goal for Napoli in Spain would still send City out but they're certainly putting themselves in with a fighting chance.
I know there's plenty going on in both Switzerland and Manchester to keep our interest, but how about Group D. Before this evening, Lyon needed to beat Dinamo and hope that Ajax lost against Real Madrid — while somehow making up seven goals of goal difference between them. I never really gave them a prayer to be honest, but they're three up and Ajax are two down. They couldn't, could they?
Time to trot out the obligatory "is it going to be United's night" cliché. Basel have just been let off the hook in a major way as Steinhofer — their own right back — crashes one off his own crossbar from six yards out. He was trying to put the ball behind, obviously, but that was nearly a disaster.
GOAL! Dinamo Zagreb 1-5 Lyon (Lisandro, 64′)
GOAL! Villarreal 0-1 Napoli (Inler, 65′) Manchester City fans, look away now. Gokhan Inler has made the breakthrough for Napoli in Spain. As things stand, City could win by seven and they still wouldn't go through. A goal for Villarreal though, now that would change everything…
GOAL! Dinamo Zagreb 1-6 Lyon (Gomis, 70′) Unbecredible stuff in Zagreb (it's a word, don't take it away from me). Gomis has got his fourth of the night and Lyon now lead by five — FIVE! They've now eaten up all of Ajax's seven-goal advantage and — as things stand — they will go through at Ajax's expense. Ridiculous.
My oh my. It's getting very difficult to keep up with all of this.
GOAL! Dinamo Zagreb 1-7 Lyon (Briand, 75′)
GOAL! Villarreal 0-2 Napoli (Hamsik, 76′) That, unfortunately for City, looks like that. Napoli have a foot-and-a-half in the knockout stages thanks to Marek Hamsik. Villarreal need to score twice in the last 15 minutes to keep City in the Champions League.
Now that Groups A and D appear to have been wrapped up, United once again have my undivided attention. There's ten minutes left in Switzerland and as they press in search of the goal, Basel are looking menacing on the counter.
Macheda will have to do better than that. Rooney plays the ball into the box for him but his touch is heavy and the ball bobbles out for a Basel goal-kick.
GOAL! Basel 2-0 Manchester United (Frei, 84′) That is a massive, massive goal in the context of Manchester United's season — and it's come at the wrong end. As United pour forward, Basel break. Shaqiri's cross is intended for the goalscorer Streller but he misses it, Smalling fails to deal with it and Alex Frei pops up at the back post to bundle it home. United now need two. Surely not?
GOAL! Internazionale 1-2 CSKA Moscow (Berezutsky, 86′)
GOAL! Basel 2-1 Manchester United (Jones, 89′) This is happening, kids. Don't go anywhere. Three minutes of added time to play.
It's Phil Jones with the goal. There's a huge goalmouth scramble and somehow Jones reacts quickest to head the ball over the line. This is how close it was.
Sixty seconds to play in Switzerland. Hail Mary time for United.
Basel running down the clock at every opportunity. Thirty seconds…
FULL TIME: Basel 2-1 Manchester United
It's all over in Switzerland. Basel are into the last 16. Manchester United are out.
GOAL! Ajax 0-3 Real Madrid (Callejon, 90+2′)
So that's it. Full time in all of our games. Give me half a second to catch my breath and I'll tell you what it all means.
Very quickly, Napoli's 2-0 win away to Villarreal sends them through to the knockouts. In Group B, CSKA Moscow somehow managed to upset the odds, winning away to Inter Milan with a goal four minutes from time — enough to see them leapfrog both Lille and Trabzonspor into Group B's second spot. Basel join Benfica from Group C while in Group D, Lyon were responsible for the story of the night, scoring seven to go through at Ajax's expense.
Wow.
So it's the Europa League for Manchester United and Manchester City after Christmas. Safe to say, the lads over in TV3 are suitably happy with that development.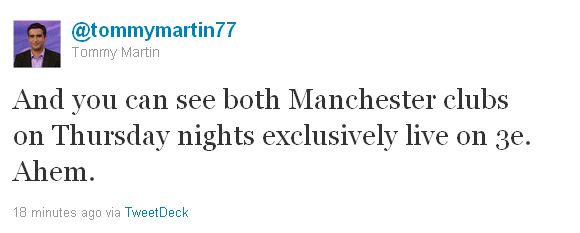 "They'll be struggling tonight. It's a bad night for Manchester United," says Roy Keane on UTV. It certainly is. Expect the red-tops to go to town on the puns tomorrow. This is one of the better ones I've seen so far.
Of course, everything has to be put into perspective. United have been rather uninspiring in the Champions League this season; the home and away games against Galati were their only wins. City too can point to a few bad losses, but none will hurt more than the 2-1 defeat away to Napoli a fortnight ago. What might have been…
So as the strains of ABBA's "The Winner Takes It All" rings out around Basel, we must leave it there for this evening. There will still be two Premier League representatives in the last 16, but the Manchester clubs will have to make do with Europe's second-tier tournament for this season. As Miguel Delaney tweets, it's the first time since 1999-2000 that England won't have three representatives in the knockouts.
What absolute madness. Thanks for sitting through it with me.