Liveblog
Hello, and welcome to tonight's liveblog.
As always, we'd love to hear your thoughts on the game. E-mail paul@the42.ie, tweet @the42_ie, post a message to our Facebook wall, or leave a comment below.
You may need to refresh the page for YouTube videos and other elements to display correctly.
Here are the teams for this evening's match:
Italy: Buffon; Barzagli, Bonucci, Chiellini; Candreva, Parolo, De Rossi, Giaccherini, Darmian; Pellè, Eder.
Belgium: Courtois; Ciman, Alderweireld, Vermaelen, Vertonghen; Witsel, Nainggolan, Fellaini; De Bruyne, Hazard; Lukaku.
Flag
Belgium attack early on.
Barzagli has to clear Lukaku's dangerous cross into the box.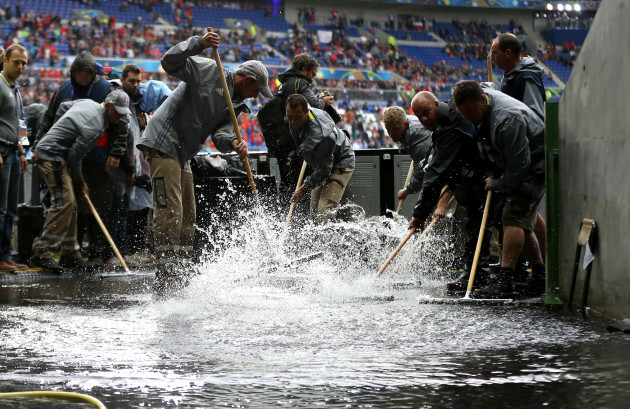 Water is swept away from the tunnel after a heavy downpour before kick off between Belgium and Italy at the Stade de Lyon. Source: Nick Potts
Eder has just been given a stern talking to for a high late challenge on Vermaelen.
That looked painful.
Nainggolan's powerful shot from the edge of the box forces Courtois to parry the ball away.
Belgium have a slight upperhand in these opening stages.
Fellaini's new hair is, erm, interesting.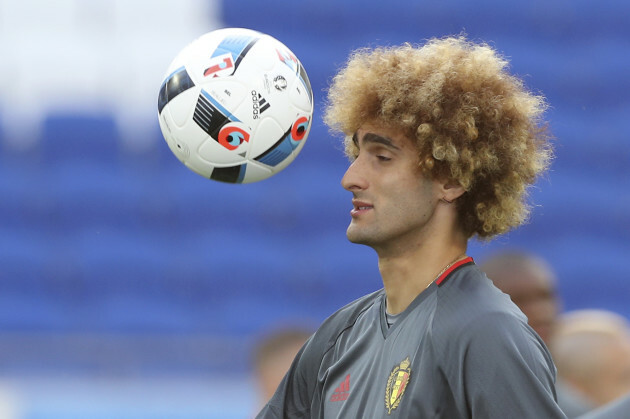 Source: Antonio Calanni
It's been a lively enough opening, but neither side has created a clear-cut chance yet.
Belgium's star-studded attack has failed to make an impact so far.
Nainggolan's cross narrowly fails to find Lukaku.
As expected, the highly experienced Italian defence is proving very difficult for Belgium to break down.
Decent effort from Nainggolan, as he shoots just wide.
The Roma midfielder, who has been linked with Chelsea (who Italy boss Antonio Conte is set to take charge of after the Euros), has been heavily involved in the game early on.
Belgium are slowly growing more dominant.
They've certainly had much more possession so far, though the Italians seem relatively comfortable at the back.
Pelle's shot from distance goes narrowly wide though Courtois looked like he had it covered.
Darmian provided the assist there, and the Man United man has looked lively down the left so far.
ITALY 1-0 BELGIUM (GIACCHERINI 32)
Out of nothing, Italy take the lead.
With Alderweireld caught badly out of position, Giaccherini latches on to a through ball, taking one touch before finishing consummately.
Italy haven't threatened much but were clinical when they needed to be there.
Good effort from Candreva, forcing Courtois to tip over his powerful attempt
Seconds later, Parolo beats Fellaini in the air, and the ball falls to Pelle, who heads wide with the goal at his mercy.
All of a sudden, Italy are looking like the far superior side. The opening goal has really given Antonio Conte's men a boost.
Witsel drags a pot shot wide, much to Buffon's relief.
Better from Belgium!
Here's a look at the superbly taken opening goal.
https://vine.co/v/iLDrVQpJKFl
The ball falls to De Bruyne just inside the box from Fellaini's clever pass, but Giaccherini blocks his attempted shot on goal.
The Italy defence has lived up to its high reputation so far.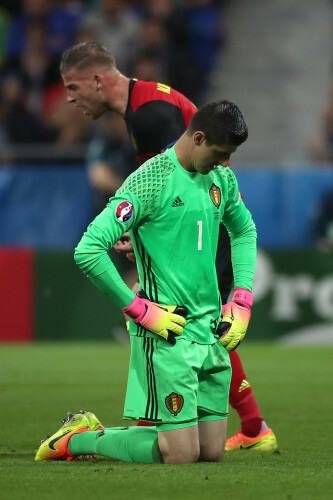 Belgium goalkeeper Thibault Courtois looks dejected after conceding his side's first goal. Source: Nick Potts
Belgium counter-attack at speed, but Hazard's cross into the box is easily cleared.
The Belgians have been pretty underwhelming in the final third so far.
HALF-TIME: ITALY 1-0 BELGIUM
So half-time and Italy probably deserve the lead on the balance of play.
The Azzurri have looked extremely good at the back and Giaccherini took his goal superbly.
Antonio Conte's side had a good spell after the opener and could easily have added another goal or two before half-time.
Meanwhile, Belgium — despite having plenty of possession — have failed to develop much rhythm in their attack, with stars such as Lukaku, De Bruyne and Hazard second best against a resolute Italian backline.
The second half has begun…
Parolo gets in behind the Belgian defence but Vertonghen recovers well to clear.
Italy are starting the second half on the front foot.
De Bruyne has been poor so far. The Man City man has just played the ball straight to an Italian shirt, abruptly ending a Belgian attack.
Down the other end, Vertonghen makes an excellent last-ditch challenge to deny Candreva an attempt on goal.
Meanwhile, Belgian then break, but Lukaku chips wide when one-on-one with Buffon. Pelle then forces a good save from Courtois.
This game has become very open all of a sudden.
Barzagli gets to the ball just before Fellaini to clear for Italy.
Belgium are playing in a more direct fashion in the second half, and look more threatening as a result.
Substitution for Belgium as Mertens replaces Nainggolan.
Looks like Fellaini will drop deeper as a result of that change.
Cynical from Chiellini, who drags back Hazard to stop him from breaking.
The Juve defender is deservedly booked as a result.
Hazard bursts through, but again his final ball is disappointing, as he fails to thread through Lukaku.
It's beginning to look like a hopeless cause for Belgium, who have been increasingly frustrated by this brilliant Italian defence.
Big call from Marc Wilmots.
Lukaku is replaced by Origi, as Belgium go in desperate search of an equaliser.
More very cynical play, as Eder is booked for effectively rugby tackling Mertens as he speeds away on the counter-attack.
It's the striker's last act of the game, as he's replaced by Immobile.
Moments later, Bonucci is booked for taking out Origi — Italy haven't been reluctant to engage in the dark arts this evening.
De Rossi is then replaced by Thiago Motta.
Mertens shot is deflected wide.
Belgium continue to dominate possession and territory, but still don't really look like scoring.
The Lukaku one-on-one chance aside, that's Belgium's best chance.
Lovely cross from De Bruyne, but Origi fails to hit the target with a header from close range.
Vertonghen gives the ball away allowing Immobile to carry the ball forward at pace on the counter-attack.
The attacker then forces a good save from Courtois with his powerful strike on the edge of the box.
Mertens gets to the by-line, but his cross eludes Origi.
Moments later, a dangerous cross somehow misses both Fellaini and Origi.
This looks like it's not going to be Belgium's night as three minutes of injury time is announced.
ITALY 2-0 BELGIUM (PELLE 90)
Italy counter attack and Candreva cleverly pulls the ball back to pick out Pelle, who volleys home.
Game over.
FULL-TIME: ITALY 2-0 BELGIUM
So that's that.
Belgium will rue missed chances by Lukaku and Origi, but Italy probably deserved their victory on the balance of play.
The Italians defended immensely through, with Bonucci especially effective at the back, while they showed the clinical edge in attack that their opponents patently lacked.
Antonio Conte's side are now in pole position to advance, while Belgium will now be even more desperate to beat Ireland on Saturday.
That's all from me for now.
Thanks for reading and commenting, and we'll have more reaction to follow.
Contribute to this story: