Follow us shot-by-shot for the entire day three of The Open Championship. We'll be live blogging our way right through today and also over tomorrow until the final shot is hit on Sunday evening.
Send us your thoughts and comments on today's action. E-mail  neil.andrew.cullen@gmail.com, tweet us@thescore_ie, find us on Facebook, or leave a comment below.
Check out the Open leaderboard here.

Welcome to our coverage of day three of The Open Championship at Royal St. Georges. We welcome and encourage you comments and interaction. The overnight leaders were Lucas Glove and Darren Clarke on four under par. Only seven shots seperate the entire field and with the weather forecast showing strong wind and rain, anything can happen over the course of the morning and afternoon. We'll be keeping a watchful eye on the main players over the course of the day as well as on the chasing pack.
A few of the early starters are out on the course already and it looks as though there are a lot of bogeys to be had out there. Par is a good score today.
The par-four fourth hole is proving difficult for the early starters. There haven't been a lot of pars, in fact, there's been a few double-bogeys there already. The par-five seventh, on the other hand, has already yielded an eagle. It's playing down wind so it may provide one of the few birdie chances today.
Peter Alliss tells us that he'd much rather be in the commentary box than out on the course on a day like today. I'd have to agree with that.
BBC commentator Andrew Cotter gives us the exact details of that fourth hole on twitter.
The importance of the caddie is not to be underestimated today. The caddies will be earning their keep making sure everything stays dry – grips, gloves, bags, balls, even sandwiches.
There's one man under par for his round at the moment. That's Gary Woodland. Birdies are in short supply but he's had two of them, coming on the fifth and the seventh. That puts him into a tie for 32nd spot at the moment, but if he somehow stay on that score, he'll be a lot higher by the end of the day.
We're told to expect 15-20mm of rain between mid-day and four o'clock. Add that to the wind and you get the idea of what to expect from today's play.
Pars are gold dust today.
This weather is making some of the best players in the world look a little amateurish. The rain is coming in sideways and the wind is wreaking havoc. It's not just the ball that's being effected, but wind is blowing the players off their swings as well. Trevor Immelman has just shown us how it can be done on the par-three third. He hooked his tee-shot way left but played a pitch shot into two feet and tapped in. The short game will be key today.
G-Mac's been on the twitter from the comfort of his couch.
Gary Woodland makes another par on the tenth, but while he was putting for birdie, he turned his cap around so that the peak was behind his head. His cap is obviously so wet that it's dripping from the peak over his ball when he's standing over his putts.
Gary Woodland is generally recognised as the biggest hitter in championship golf. Bigger than Bubba Watson, bigger than Dustin Johnson. You name him, he's not as long as Gary Woodland. It's been the short game that has made his score so far, but it's a lot easier when you're about 30 yards further down the fairway than the majority of the field.
Tom Watson has just birdied the seventh and is now the second man in the field who's under par. He's alongside Gary Woodland on one over for the tournament. Neither player has droppped a shot today. Can they keep that up for the full 18?
Gary Woodland has dropped one at the 12th, and not before time. He's back to two over, but has still made up significant ground on the rest of the field.
Incredible par save from Tom Watson on the eighth as he rolls in a 20-footer. His experience playing links golf is standing him in good stead.
The young guns are on the first tee. Rory McIlroy and Rickie Fowler are playing with each other again today and will certainly one of the groups in the spotlight. They're both wearing giant warm gloves on their hands as they wait to be called, a sign that as well as being wet and windy, it's also cold.
Rickie finds the fairway, but Rory is in the deep rough on the left.
Tom Watson, meanwhile, completes his front nine. Eight pars and a birdie. You may not see a better front nine than that for the rest of the afternoon.
Australian Matthew Millar was the first man out on the course today. He played on his own with a marker for company. The end result was a 10-over-par 80 which leaves him on 13 over for the tournament. At the start of the day, only seven shots separated the entire field, so were that still to be the case at the end of the day, the leading score would be six over. Just saying….
Bogey for Rors at the first. Par for Fowler. That makes Fowler the highest placed player out on the course at this point.
Here's a telling observation from Dan Jenkins of Golf Digest on twitter.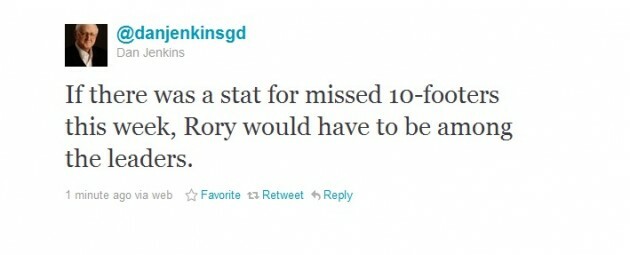 Gary Woodland's momentum has come to an abrupt halt. He's just had a triple-bogey eight on the 14th. Nobody is safe out there.
Rory McIlroy missed a 10-footer on the first, but he's just made one for par on the second. A bogey, bogey start is certainly not what he would have wanted so that par save will give him a lift.
His playing partner Rickie Fowler misses his 10-footer for par and joins Rory on one over.
We're told that this weather isn't going to clear until about four o'clock and even then it's only a maybe. It could be a case, though, that those chasing will have the worst of the weather while those leading have it a little calmer.
Rory finds touble again on the par-three third. He's been hitting everything to the left so far. Looks like he might need to hole another big putt to save par.
Rickie plays a lovely shot into the heart of the green but faces a sizeable birdie putt.
Big groans from the crowd as Tom Watson misses a two-footer for his par on the 11th. That's his first drop shot of the day.
Gregory Havret has just made a 10 on the 14th. I'm not entirely sure how that happened, but it's comforting to know that even the pros do it sometimes.
Another dropped shot from Rory. He misses his 15-footer for par. It can't be overstated how important pars are today. Birdies will feel like eagles.
The stroke average on the par-five 14th today is 6.67, according to Ken Brown on the Beeb. That means even a bogey on the hole is better than average. Incredible.
Tom Watson drops another. At this stage, it's anyone's guess what the leading score today is going to be. A lot of people saying par would be a good round. Par would be a stunning round.
Two par for Rory and Rickie. Fowler is actually going about his business very nicely. The Americans are often criticised for not being able to play in poor conditions, but this guy has all the shots. He is being creative and using his imagination and it has served him well so far.
Rory McIlroy has driven it 375 yards down the fifth fairway, that's just eight yards short of the green. He plays a nice pitch into about five feet and both himself and Fowler have chances for their first birdies of the day.
Fowler makes it from 10 feet. He's back to level par. Rory lets his one slide to the right and that's a golden opportunity missed.
Miguel Angel Jimenez is going through his warm-up routine, complete with cigar in his mouth. The commentary team politely says that "athletes come in all shapes and sizes." He doesn't seem too phased by the weather.
Gary Woodland, who we were following early on, has finished his round. He's seven over for the tournament, having played his back-nine today in six over.
Phil Mickelson and Tom Lewis are underway. Phil is wearing two golf gloves. Both men start the day on one under par. How long can they stay in red figures?
Jeff Overton is not the leading man on the course. He started his day on one under and has parred the first. YE Yang is just a shot behind on par, having bogeyed the first and birdied the second.
Pars for both Lewis and Mickelson at the first. Mickelson kept both gloves on for putting. Just another 17 of those and they'll be happy.
Rory gets one back with a birdie on the seventh. He needed that. That puts him at one over in a tie for 23rd.
We're getting ever closer to the leaders' tee-time. I wonder how they're feeling about facing into those conditions. Most of those who have teed off in the last hour or so have avoided running up anything too big and are bunching themselves in and around par or one over.
Anders Hansen has just completed the first with a par to stay at two under.
Bogey at number eight for Rory. He had some trouble with the rough on the left, and was lucky to even find his ball at one point. He's slipping a little behind the chasing pack and will need to have a good back nine if he's to have a chance tomorrow.
Tom Lewis drops his first shot of the day and Phil Mickelson does the same. Both men move back to par.
Those on two and three under are just hitting the course in their bid to navigate the ball around without too much harm.
Rickie Fowler has played the best front nine of the day. There's no question about that. His second shot into the ninth kicks off a bank on the left hand side and rolls down to about four feet. If he holes that, he'll be the only man in red figures for the day.
His playing partner Rory overshoots the green and he'll need to get up-and-down for a par once again.
Unfortunate miss from Rickie Fowler, he clearly misread it, but it's still a par and if he keeps going as he has done he'll move well up the leaderboard.
Rory plays a delightful chip to three feet and rolls it in for par.
Jimenez is also going for the two-gloved approach. He puts it in the fairway down the first. His playing partner Thomas Bjorn is also away nicely.
Tom Watson finishes with a bogey, but it's been an excellent round of 72 from the 61 year old. It leaves him four over for the tournament which is tied for 35th, but he'll be happy to be in the clubhouse with that score watching the rest of the field come back to him.
The bookmakers' favourite Martin Kaymer is underway alongside Chad Campbell whose low ball flight will be an advantage on a day like today.
And the leaders are off. We're now very much in the thick of today's play. This is very much a matter of who can make the fewest mistakes. That man so far has been Rickie Fowler, who has shot up the leaderboard by just staying at par.
Tom Watson has just spoken to the BBC. His advice: "The main thing is don't get into too much trouble." By the looks of what's going on out there, that's a lot easier said than done.
Thomas Bjorn has had a birdie. He rolls in a nice 20-footer on the second and he is now back into the lead.
Birdie for Darren Clarke! That's the first birdie of the day on the first hole and he'll be dlighted with that. That gets him to five under, a very significant move. His playing partner Lucas Glover opens up with a bogey.
All the groups are now out on the course and have completed the first hole. Here's how the leaderboard is looking.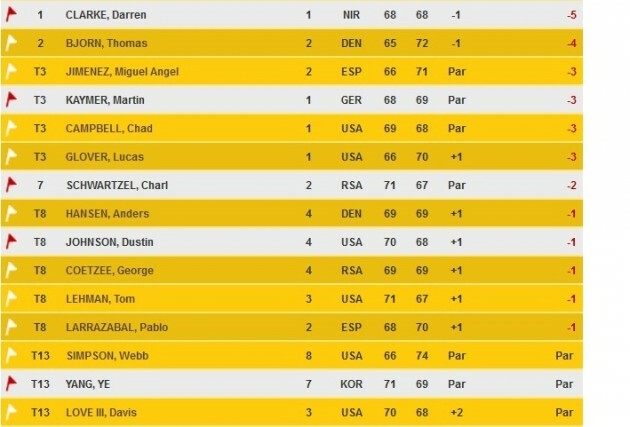 Darren Clarke has played a stunning approach into the second hole. From the fairway, he hits a short iron to about five feet and will have a great chance to move to six under.
Some of you will be wondering about the progress of Phil Mickelson. He started the day on one under but has made three bogeys in his first six holes.
Darren Clarke misses his short putt, but pars are still very valuable. He still holds the lead on his own at five under.
The guys on the back nine are finding it harder and harder to keep their gear dry, but the good news is that the rain does seem to have eased off slightly. We were told earlier that things would begin to ease at around four o'clock, so things seem to be going to forecast.
Level par is now in the top 10 but the conditions really are beginning to ease. The rain has stopped fully. That said, bogeys are still being made, but we will see far more birdie chances over the next while.
Darren Clarke gets a lucky break on the par-three third. His ball is drifting right, but it gets a kick off a hill and kicks down to about 15 feet from the hole. His playing partner Lucas Glover is struggling a little. He's already had a bogey and has missed the green in a bad spot here.
Rickie Fowler gets himself back to par with a nice birdie at the 13th. He is now tied for eighth. He wasn't even in the top 20 at the start of the day, so you see the value of remaining at par.
Jimenez and Bjorn both bogey the fourth as Clarke taps in for par at the third. Clarke now has a two shot lead.
On the back nine, Rory McIlroy has just hit his tee shot out of bounds on the 14th. That's a big blow for Rory. He was on two over, but will now drift further away from the leaders and with it his chances of winning this year's Open drift away as well.
Another stunning approach from Darren Clarke on the fourth. He's three feet away in two and will have a chance to put some daylight between himself and the rest of the field. He'll be three ahead it he makes that one.
Rory has ended up with a double bogey on the 14th. He's now four over par.
Darren Clarke misses his short birdie attempt on the fourth. That's two good chances he's now missed, which has to be a little frustrating.
Right on four o'clock, there's some blue beginning to break through in the sky. There's still a little wind, but nothing compared to what we saw this morning. Those who aren't too far into their rounds can consider themselves very very luck to have avoided the carnage we saw earlier today.
Dustin Johnson birdies number seven to get him to three under and in a tie for second place.
Rickie Fowler has birdied the 15th and is now one under for the tournament. I can't stress enough how well this guy has played today. He has braved the conditions with immense maturity and has shown a huge variety of shots and skills to put the ball in the right places.
The longer we go on here, the more birdie chances we are seeing. Chad Campbell has just made one to get back to two under.
Meanwhile, Darren Clarke has just missed a short par putt on the fifth. His stroke is looking a little suspect over some of these putts and he'll need to sort that pretty soon if he wants to keep his lead.
Rickie Fowler has made yet another birdie. This is honestly one of the greatest rounds of golf I've ever seen. He's now tied fourth at two under par and only two off the lead.
Anders Hansen has just had an eagle two on the ninth. He held his second shot with a short iron and having picked his ball out of the hole he throws it into the crowd in celebration. He had been struggling a little, but that gets him to two under.
Thomas Bjorn has just birdied to get back to three under while Dustin Johnson has just made a bogey. There's a lot of movement at the top of the leaderboard at the moment.
Phil Mickelson is not out of it yet. He had a couple of bogeys early on, but has just birdied the 11th to get back to one over.
Tournament leader Darren Clarke is in the fairway at the par-five seventh and will be looking to attack the green in two.
Martin Kaymer isn't having a great day. He has found himself in some awkward positions and is back to one under. He shot two consecutive roudns in the 60s, but is going to have to turn things around on the back nine if he's to continue that trend.
George Coetzee is on two under par playing with Dustin Johnson and he's just played a lovely approach into number 10 and has a short putt for birdie.
Kaymer, meanwhile, bogeys the par-five seventh and is really conceding one to the field on that hole.
Take a bow Rickie Fowler. 68 shots for the Californian. Nothing short of a stunning round of golf. He's put himself right into contention for tomorrow and will relax this afternoon as those around him on the leaderboard continue to do battle. He's currently tied for fifth, but could well be higher than that come the end of the day.
Coetzee misses from close range while Dustin Johnson pours his in for birdie on 10.
Darren Clarke make a comfortable birdie on the seventh to take the lead by two at five under.
George Coetzee drops one on the par-three 11th. He's back to one under.
Here's Ricky Fowler's take on his round from his interview with the BBC.
"I was able to hit some good shots and was finally able to make some putts today."
"The game feels good right now. However many shots back I am, I love links golf and the game feels good so I'll be in position to have a chance late tomorrow."
I like his chances.
Sergio Garcia is just in. He finishes on four over par which is more than respectable today.
Meanwhile, Darren Clarke drops one at the eighth but still leads on four under.
Dustin Johnson has just rolled in his fourth birdie of the day on the 12th from long range and joins Darren Clarke on four under.
Four birdies in 12 holes was unfathomable this morning in the conditions. The guys out there now are very fortunate.
Two nice approaches from Clarke and Glover into the nineth.
Clarke's birdie attempt is just shy, while Glover's runs just past the left of the cup. Two pars.
Davis Love III has just birdied the 11th and has a great chance for another on 12 to get to three under. His approach flirts with the flag and spins back to about 4 feet in front of the hole.
The putt slides just by and he stays on two under, but he's right in contention. Putting has been his weakness over the last few years, but if he can hole a few, his game is more than good enough.
As all the players have passed through nine holes, it's time to check in on the leaderboard.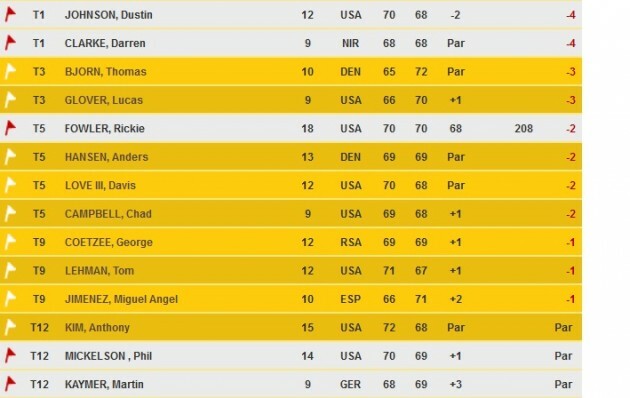 Martin Kaymer has lost another shot on the 11th. It really hasn't been a good day for the German. He was right in contention but it now back at one over. He needs to stop the rot if he wants to be in with a chance tomorrow.
Dustin Johnson has made birdie at the par-five 14th. He was just in front of the green in two and pitched up to about three feet to tap in for birdie. It's holes like that where his distance is a real advantage. He's now tied with Clarke on four under.
A good chance missed by Thomas Bjorn. A four-footer for birdie on 13 moves just to the left and wide. He remains one behind.
Darren Clarke takes the lead on five under par. He rolls in a 12-footer on the twelvth to move one ahead of Dustin Johnson. That's a big putt for Darren.
Dustin Johnson joins Clarke on five under with a birdie on the 15th. 15 is a very difficult hole so that's a huge birdie. They're now two ahead of the rest.
Anthony Kim has just posted the second best round of the day so far, a level par 70. He's on level par for the tournament which as this moment is a tie for tenth.
There's out of bounds down the right hand side of the 14th hole, but Clarke and Glover have safely avoided it from the tee.
The players are entering the closing stages of their rounds and will be looking to consolidate, if not improve, on their positions. The last thing anyone wants it's a double-bogey or worse, so it's a tough point in there round where the players have to weigh up the risks against the rewards.
Big test for Dustin Johnson on the 17th. He's in a deep, deep bunker on the right hand side of the green. He'll need to draw on all his skills here if he wants to remain in a share for the lead.
Martin Kaymer has turned the corner in a big way. He's just had three birdies in a row and is back at two under. That's a massive run for the German. It looked as if he might be drifting out of contention but he is now back in it in a big way.
Dustin Johnson gets out of the bunker okay but doesn't follow up with the par putt. That means Darren Clarke is the outright leader once again on five under.
Clarke and Glover both find the fairway on 15 after flirting with a few bunkers.
Up ahead of them, Kaymer has hit another loose one and will need to get up-and-down for his par.
Anders Hansen has had a horror finish. A double-bogey on the 18th. That means he is in the clubhouse on par. The only man in the clubhouse on better than par is still Rickie Fowler. That two-under round is looking better and better.
Thomas Bjorn is having to call on his chipping skills around the green and they are serving him very well. He hits another gorgeous chip from the side of the 16th and should tap in for par to keep him at -3.
On the same hole, Jimenez is robbed of a birdie as his putt stays on the lip of the hole.
Clarke has another chance on the 15th. His second shot comes down off the bank on the left of the green and he'll have a 10-footer for birdie.
Dustin Johnson closes out with a par on the 18th and posts four under. That's now the clubhouse lead. A very good roud for the American, but he had very little of the bad conditions which was obviously a big advantage.
Darren Clarke misses his chance on 15 and stays one ahead of Johnson.
Thomas Bjorn misses a four-footer for par on the 17th. It was a bit of a sliding righ-to-left putt in fairness. He does drop down to two under after that.
Clarke and Glover par the 16th and have just two left to play. Two safe pars. They'll be happy enough with that.
I've very much enjoyed the day, particularly watching Rickie Fowler, but Adrian is going to see you home this evening. Enjoy his company for the last couple of holes.
After bumpy approaches, it's pars for Clarke and Glover after two excellent third shots knocked dead on 17.
At 18, Jimenez taps in for a birdie-free 72, -1 for the tournament -while crowd favourite Bjorn follows suit for 71, -2 for the tournament.
I'm concentrating on the GAA over here, but from the Guardian: "Clarke's approach is straight at the flag, 20 feet short. Very nice. Glover give himself one last chance of a first birdie, setting his 4-iron out well right and drawing it in, pin high, leaving himself a 20-footer of his own."
We'll keep you posted.
Darren Clarke ends his round – and he's the leader by one stroke from Dustin Johnson. He's one-under 69.
Well done, big man.
So that's your lot, join me bright and early for the final round before Neil takes over down the back nine. Thanks for your company – and keep the comments coming.