Liveblog
Good afternoon all. The St Patrick's weekend is upon us and it's Gold Cup Friday. What more could you ask for, eh?
Here's how today is looking:
1.30 JCB Triumph Hurdle 2m 1f

2.00 Vincent O'Brien County Handicap Hurdle 2m 1f

2.40 Albert Bartlett Novices' Hurdle 3m

3.20 Betfred Cheltenham Gold Cup Steeple Chase 3m 2 1/2f

4.00 Christie's Foxhunter Steeple Chase 3m 2 1/2f

4.40 Martin Pipe Conditional Jockeys' Handicap Hurdle 2m 4 1/2f

5.15 Johnny Henderson Grand Annual Steeple Chase 2m 1/2f
We've got a good 25 minutes until they get underway at Prestbury Park so why not have a read of our man Mark Hobb's thoughts in Mark Your Card.
It's all about Long Run v Kauto Star in the Gold Cup. Nicky Henderson's defending champion won by seven lengths in last year's race while 12-year-old Kauto Star has recovered from a fall during a schooling session to put up the main challenge according to the bookies.
The likes of Synchronised, Weird Al, and Burton Port will also be looking to be in the mix.
The jockeys are out for the first so we're not far away from the JCB Triumph Hurdle Grade 1 2m 1f.
It currently stands:
The Score 26

The Journal 22
The Journal have gone for Sadlers Risk a@ 7/1 while we have decided to back Balder Succes. who is 8/1. The favourite is Baby Mix (6/1), while Ruby is on Paul Nicholls-trained Pearl Swan (13/2), Paul Carberry rides Shadow Catcher (10/1) and Barry Geraghty will battle it out on Asaid @33/1.
On a side note, Geragthy is the subject of our Follow Friday.
And they're off. Who's your money on?
Hold on, they've been called back because on an over-eaged Grumeti and Robert Thornton.
It's Saddlers Risk from Darroun and West Brit and… Balder Succes is gone!
Countrywide Flame wins the JCB Triumph Hurdle Grade 1 2m 1f
Result:
1. Countrywide Flame 33/1
2. Hisaabaat 20/1
3. Grumeti 5/1 fav
4. Dodging Bullets 20/1
Great start for jockey Dougie Costello and trainer John Quinn, who claim victory with a 33/1 shot.
"He's not very big but he's tough, jumps and is quick" – Costello
"I don't think he's ever run a bad race" – Quinn
This is how the good folk at Betfair summed up the first race of the day:
Winner: Countrywide Flame
Betfair Starting Price: 46
Antepost High of Winner: 100
Notable In-Running Highs and Lows: Winner traded at a high of 140 (with £1 traded at 1000). Dodging Bullets was backed at a low of 1.25, Grumeti at 1.62, Baby Run at evens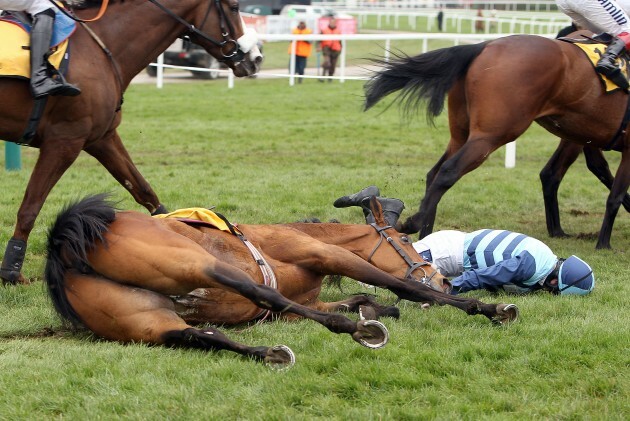 Ruby takes a fall with Pearl Swan. Credit: Tony Marshall/EMPICS Sport
Next up is the Vincent O'Brien County Handicap Hurdle Grade 3 2m1f.
The favourite Citizenship @5/1, followed by Olofi @8/1 and Raya Star @9/1.
Everton manager David Moyes owns Dessert Cry @25/1 if any of you Toffees fancy a flutter.
The Score have bottled it and gone for the Jessica Harrington-trained favourite, while The Journal feverishly study the form… then decided for Raya Star.
We're all set to go then get brought back after the second false start of the day.
They're away now. The Bull Hayes setting the early pace.
Dee Ee Williams out in front with Ubi Ace in second with three to jump…
Alderwood wins the Vincent O'Brien County Handicap Hurdle Grade 3 2m1f
AP McCoy has had a few placed-efforts this week but comes home on Alderwood after holding off Edgardo Sol and Sailors Warn. Third winner for the week for JP McManus and Tom Mullins gets one to add to the three his brother Willie has at this festival.
Result:
1. Alderwood 20/1
2. Edgardo Sol 25/1
3. Sailors Warn 16/1
4. Plan A 20/1
Winner: Alderwood
Betfair Starting Price: 30
Antepost High of Winner: 75
Notable In-Running Highs and Lows: Sailors Warn traded at a low of 1.7 and Edgardo Sol at 1.89. Alderwood backed at 55 on the day.
Long Run's jockey Sam Waley-Cohen on Channel Four: "It's very hard to compare a horse year-on-year but he's in at least as good condition as this time last year. We come here on the back of a win and are really pleased.
There will be plenty of pace. We will need to find our own space and get a bit of rhythm. If he can run like he did last year he will take a lot of beating."
The day's third race is the Albert Bartlett Novices´ Hurdle Grade 1 3m and it's less than ten minutes away.
As you may have noticed neither The Score nor The Journal are yet to get off the mark today so the scores remain 26-22. We fancy Sea of Thunder @10/1 in this, while The Journal like the look of Ruby Walsh and Boston Bob, who is @5/4 favourite. 20 runners in this 3-mile.
No problems with the start of this one and we're off…
Tom Scudamore on Big Occasion the early leader with Brindisi Breeze close behind. Boston Bob going quietly at the moment.
Brindisi Breeze wins the Albert Bartlett Novices´ Hurdle Grade 1 3m
Result:
1. Brindisi Breeze  7/1
2. Boston Bob 6/5
3. Grand Vision  25/1
Winner: Brindisi Breeze
Betfair Starting Price: 9
Antepost High of Winner: 85
Notable In-Running Highs and Lows: Boston Bob backed at a low of 1.33 in a tight finish.
Next up is the one everyone's been waiting for. We've a bit of time to spare until 3.20 so why not relive last year's race.
I'm off but leave you in the safe hands of Sean for the Gold Cup and the rest of today's action.
Right, here comes the big one. All the talk is about the big two, the young pretender Long Run and the old Master, Kauto Star.
Do bet with your head or your heart? There's merit to both, particularly when Kauto is looking back to his best and has already managed to beat Long Run twice this year.
Can these two be beaten?
Outside of them there is a lot of chatter around Synchronised (7/1), Weird Al (8/1).
The joint third favourite, Burton Port (7/1), is sent out under Barry Geraghty on Nicky Henderson.
He beat Long Run when they last met.
Further on down the field of 14 we have, a personal fancy of mine, What A Friend (18/1) and Midnight Chase (12/1).
We don't think anybody else has a chance.
What say you?
The Journal and the Score are going head to head like the main favourites.
The Journal are the in-form tipsters and go for the auld favourite Kauto Star.
The Score badly need to get the scoreboard moving – Long Run it is.
Under three minutes to go; squeaky bum time.
Ted Walsh thinks Kauto can do it, he's just come back into 3/1 from 4/1.
Long Run, let's do this.
They are off!
Midnight Chase leads, What A Friend is down.
Kauto Star losing ground.
Kauto Star has been ridden off the track by Ruby Walsh!!
He couldn't get going.
With eight to jump Midnight Chase still leads, Long Run looks very comfortable in fourth.
Four to go, Synchronised still in touch. Long Run making his move, Midnight Chase drifting back.
Synchronised wins the Gold Cup
Gold Cup result: 1st Synchronised (8/1). 2nd: The Giant Bolster (66/1). 3rd: Long Run (15/8).
Few could begrudge, AP McCoy this winner, his second of the day.
His interview with Channel Four poured all the praise towards trainer, Jonjo O'Neill:
"Ah, he gave me a Grand National and a Gold Cup. I love the man, he deserves to have much more horses."
Nobody wants the credit, Jonjo too is more than magnanimous in victory. First, pointing the finger back at McCoy:
"He gave him a fantastic ride."

"If there's one thing (Synchronised) will do, he'll keep going. The trouble was always getting him through he first mile."
O'Neill won the 1986 Gold Cup as a jockey on Dawn Run, but this was a whole different level of satisfaction for the Corkman.
"This has been a team effort" he beamed, "everyone's been involved."
And here comes the good news, some soothsaying punter online wisely got some money on Synchronised on an antepost price of 999/1. Easy money.
Winner: Synchronised

Betfair Starting Price: 10.34

Antepost High of Winner: 1000 (£31 matched)

Notable In-Running Highs and Lows: Synchronised backed at 25 in the run, The Giant Bolster traded at 1.36  and Long Run at 1.5.
We'll find you a better picture later on, but here is the final glimpse you might get of Kauto Star with a jockey in full racing silks.
The other riders were just warming up when Walsh showed signals that the 12-year-old simply had no more to give, and he took him off to the side of the fence and way back to the parade ring where the Cheltenham crowd greeted him with applause despite the disappointment.
Sam Waley-Cohen, jockey of Long Run said "There's no hard luck story here."
"He ran his race, so we're disappointed not to win, but not disappointed in the horse."
Waley-Cohen had seen some worrying signs that Long Run would not have the burst of energy needed to win out, but still held out some hope.
"Landing over the last I thought maybe his stamina will see him over, but it just didn't."
We will, of course return to the Gold Cup later, but for now we turn our attention to the Foxhunters' Chase.
Amateur jockeys here so even less clues to picking a winner.
The favourite is Chapoturgeon (9/2)  followed closely by Donald McCain's Cloudy Lane (11/2).
Dermot Weld has entered the 9/1 shot Merchant Royal, while Willie Mullins has Boxer George (16/1).
Can Ireland put back to back wins together?
The Journal go for Salsify (7/1) as they bid to overtake us on a late manoeuvre.
We like Cloudy Lane. This is neck and neck.
And they're (after a long delay and a false start) off.
Picaroon leads the way, Roulez Cool and Just Amazing have unseated.
Loose horses could be a problem here.
Picaroon has a big lead now with 10 to jump. 14/15 lengths.
The chasing pack have closed in, Coudy Lane making ground.
The last fence will not be jumped.
Salsify wins the Foxhunters Chase.
Foxhunters Chase result: 1st Salsify. 2nd Chapoturgeon. 3rd Oscar Delta.
Another win for Ireland? It's another win for Cork as Roger Sweeney takes the plaudits on that one.
The Journal's relentless chase has finally borne fruit. Another four points there mean that the tipster mini-league now looks like:
The Journal: 28

The Score: 27
Time to roll the sleeves up.
Winner: Salsify

Betfair Starting Price: 11.24

Antepost High of Winner: 55

Notable In-Running Highs and Lows: Chapoturgeon traded at 1.37, Oscar Delta at evens
With two races to go in out Cheltenham liveblog The Journal could wrap up the title with a win on Gormanstown Cuckoo (33/1).
We need a result here to put some pressure on and like the look of Nicky Henderson's Open Hearted (12/1). Jeremiah McGrath is in the saddle.
Favourite for this race is Donald McCain's Bourne (9/2).
Henderson's other horses here are Oscar Nominee (10/1) and Molotof (11/1).
This is a big field though, with 24 runners so anything could happen.
David Pipe is desperate to win the race named for his father and his strongest contender is Street Entertainer (6/1).
They are off.
Changing Times led, but has been pulled up. Arab league now leads from Tornado Bob.
Bourne is third.
At A Glance wins the Martin Pipe hurdle.
Martin Pipe hurdle result: 1st Attaglance (20/1). 2nd Toner D'oudaries (8/1). 3rd Oscar Nominee (10/1). 4th Make A Track (12/1).
Here comes the last race, the Grand Annual Handicap Chase.
The Score need a win and AP McCoy is the man to deliver it atop Kid Cassidy, Nicky Henderson's 7/2 favourite.
The Journal still have faith in Ruby Walsh and Paul Nicholls on Toubab (12/1).
Slieveardagh is another educated guess at 10/1.
Barry Geraghty is on another Henderson horse, but is not greatly fancied on Tanks For That (11/1)
A win there would be a nice way to round off a brilliant week.
Here we go, they're moving towards the starting line now to bring the curtain down.
Kid Cassidby is abck amongst the field.
Tanks For That is well placed behind the leader, Kumbeshwar.
Belvano wins the last race of the day.
Grand Annual Handicap Chase result: 1st Bellvano. 2nd Tanks For That. 3rd Kumbeshar.
Well that's the end of it.
The Journal, behind all week, chased down our big lead built up on Wednesday and take the inter-office tipster championship.
The Journal: 28

The Score: 27
Ouch.
That's it from me, thanks for joining in again on what has been another thrilling week of racing at the Cheltenham festival.
I hope you picked a lot more winners than we did.
Racing aside, this weekend of sport is going to be another massive one and just because it's Paddy's Day doesn't mean we'll be slowing down any. So be sure to come back to thescore.ie for up to the minute news and coverage.
For now though, good luck.
Contribute to this story: