IT'S THE FINAL of the country's premier cup competition at Lansdowne Road.
As always, we'd love you to get in contact, so send us your thoughts by emailing ben@thescore.ie, via Twitter@thescore_ie, find us on Facebook, or leave a comment below.
You may need to refresh to see videos and images.
Result: Derry City 3-2 St Patrick's Athletic (aet)
Welcome along! We're at Aviva Stadium where the rain has stopped just in time for the meeting of Derry City and St Patrick's Athletic in the Ford FAI Cup final. The long-suffering Saints fans are praying this is their year after waiting a half century since their last win in the competition. Declan Devine's Candystripes, who are also bidding to clinch their first silverware of the season, stand in their way.
These sides met six years ago in the last game at the old Lansdowne Road. That day produced an incredible 120 minutes of football as Derry edged out Pat's 4-3 after extra-time.
Watch highlights of that game here:
This promo video, made by St Pat's, has just been shown on the big screen at the Aviva, which is beginning to fill up nicely. Around 20,000 expected to show up this afternoon.
Teams are on their way out of the tunnel, so here are the starting line-ups:
Derry City: Doherty, McCaffrey, Molloy, Greacen, S McEleney, Deery (c), McDaid, P McEleney, S McLaughlin, Madden, McNamee. Subs: Ferry, Higgins, Patterson, McBride, Farren, Brolly, Bonner.
St Patrick's Athletic: Clarke, O'Brien, Kenna, Browne, Bermingham, Chambers, Carroll, Forrester, Kelly, Fagan, O'Connor. Subs: Murphy, Price, Flynn, Russell, Coombes, Faherty, Flood.
Referee Neil Doyle blows his whistle and Pat's, waring navy and blue, get the game underway. Derry in their home kit of red and white stripes.
Pat's win the first free-kick of the game but Jake Carroll's quick take runs loose. The Dubliners win a throw in the corner and it's full-back Ian Bermingham to take. He plays to Carroll and they keep possession but a floated cross is easy for Ger Doherty.
Bermingham strides forward and, finding a yard of space, decides to have a pop from 17 yards. It's from a difficult angle and he fails to hit the target.
We've also had a bit of feistyness and Doyle has spoken to Derry skipper Kevin Deery, who told me last week that he's determined not to let this game pass him by.
As expected, a high tempo opening minutes.
Sean O'Connor has begun wide on the right for Pat's but comes centrally to collect a pass and attempt a delicate through-ball for Christy Fagan, but the striker is ruled offside.
Derry keen to prevent Pats' passing game from flowing and talented youngster Barry McNamee is working tirelessly to put the opposing defenders under pressure at every opportunity.
The first real chance and it has fallen to the Saints. Jake Kelly ghosts by Simon Madden and plays a pass inside to Chris Forrester. The teenager, takes a touch and lets fly from 20 yards. Forrester is one of several game winners on the pitch and Sunderland boss Martin O'Neill is believed to be here to watch him today.
McDaid makes a smart run into the left channel and is picked out by McNamee. When he whips a cross into the danger zone, there isn't a Derry player present to take advantage. Then Sean O'Connor shows skill to go by McCaffrey but puts in a poor cross before Patrick McEleney has a wayward striker down the other end.
Gardai have been taking flares off fans in the last few moments…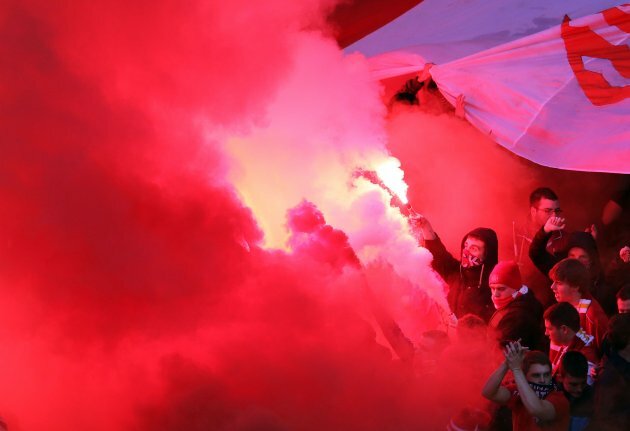 Credit: NPHO/Cathal Noonan
Jake Carroll's game is over just 24 minutes in. The 21-year-old is clearly in some discomfort and is replaced by John Russell.
Smart ball from Forrester who completes the one-two with Fagan before a defender clears up.
Derry concede a corner after dwelling on the ball but O'Connor's delivery is headed away by Barry Molloy.
Ger O'Brien with an inswinging free-kick from the left. It sails over the crowd of bodies and into the safe hands of Doherty.
Derry win a free-kick and McCaffrey fires up the line for McNamee. He cuts back and the ball finds its way to Patrick McEleney, whose shot goes high and wide.
Madden is muscled off the ball and a move involving Chambers and Fagan results in Kelly heading just over from O'Connor's left-footed cross.
Forrester then shows good feet but scuffs his shot across goal.
Pat's have had the better of the chances so far but the Candystripes weren't far away just now. Brendan Clarke's punch from a cross is not convincing and Madden lofts the ball back in, where McDaid tries the spectacular but sees his overhead sail too high.
Deery shots well over as the rin begins to trickle down with two minutes until half-time.
Half-time: Derry City 0-0 St Patrick's Athletic
A former Pat's and Ireland legend is in the house. Credit: INPHO/Donall Farmer
Liam Buckley has made a change – Vinny Faherty is on in place of Kelly. Derry unchanged. In other news, the rain has stopped!
Former Saints star Keith Fahey, now with Birmingham City, has been tweeted he he's having trouble with the RTE player. No mention of it but presumably he's following the game on this liveblog.
Yellow card for Kevin Deery, meanwhile, who pushes over Chambers in front of Mr Doyle. Seconds later, he clashes heads with Bermingham and picks up a gash on his forehead. Receiving attention now.
Greacen heads a long ball clear and O'Connor opts to take it first time. He catches the volley cleanly but it's a little ambitious and Doherty isn't troubled.
McCaffrey has fouled Forrester 25 yards out from goal.
GOAL! Derry City 0-1 St Patrick's Athletic (Sean O'Connor)
Hats off to Sean O'Connor. The Saints winger steps up and curls the free-kick over the Derry wall into into the far corner.
GOAL! Derry City 1-1 St Patrick's Athletic (Stewart Greacen)
They weren't ahead for very long. A McNamee corner is inviting and Scottish defender Greacen rises highest to power home.
Having taken the lead, Pat's are looking a bit shell-shocked and need to regroup as Derry have got on top in the last few minutes.
Declan Devine brings on Rory Patterson in place of the injured Patrick McEleney.
The game is becoming a lot more open and Patterson is in the thick of the action already. He takes a pass from McNamee and strikes low… but Barry Murphy saves.
Molloy is booked for bringing down Forrester.
Forrester is chopped down again and it's a couple of yards out from where O'Connor scored. O'Brien tries with the left this time, however, and forces Doherty to push it out for a corner.
GOAL! Derry City 2-1 St Patrick's Athletic (Rory Patterson)
Oh dear, Brendan Clarke makes a mess after getting a back-pass from Kenna and brings down McLaughlin. Patterson is cool as you like with the spot-kick.
Forrester inches away from bringing his side back level with a glancing header.
Ruaidhri Higgins on for McNamee, who gets a hero's reception from the travelling Derry fans as he walks off. O'Connor goes down far too easily in the box then McLaughlin comes close to wrapping the game up but is blocked.
Time running out for Pat's. Three from four of the last FAI Cup finals have gone to extra-time and penalties though, so it may not be over just yet.
Fagan manages to get a touch inside the area but it's a little heavy and the ball gets ahead of him.
GOAL! Derry City 2-2 St Patrick's Athletic (Christy Fagan)
Incredible. A Derry defender nearly catches Doherty out with a backward header from O'Brien's cross. The ball is recycled and Fagan scrambles the ball over the line, meaning we're level again.
Three minutes of added time…
Full-time: Derry City 2-2 St Patrick's Athletic
Don't go anywhere, we're going to have another 30 minutes here.
Here we go again. Will be interesting to see how fittest affects the two sides.
O'Connor gets the ball back after his initial corner and his ball curls just past the far post. The same player is then fouled and O'Brien plays Fagan but balloons the cross when the gets the ball back.
Ger O'Brien, who has been exceleent today, bombs on again but seems to have hurt himself. Ryan McBride will be introduced in place of goalscorer Greacen for Derry.
Pat's attack with intent and Fagan competes with Doherty for Forrester's cross but the Derry stopper wins out. Two to go before half-time of extra-time.
GOAL! Derry City 3-2 St Patrick's Athletic (Rory Patterson)
Derry gift possession to the opposition but O'Connor can't convert a cross on target from close range. Down the other end and Patterson nips in to take a poor clearing header and goes past Clarke to score his second of the day. Advantage Derry.
Quick switch around and we're back underway. 15 minutes for Pat's to salvage something or it will be at least 52 years of hurt. Can they pull something out of the bag?
Pat Flynn has replaced Ger O'Brien.
O'Connor with another good ball from a free-kick and Faherty gets a nod on but if flicks off a Derry player and out behind the goal. The resulting corner takes a couple of touches and flies yards over.
Ger Doherty is in no hurry to take the goal-kick as whistle ring around the stadium.
McDaid goes by Chambers and a tired tackle earns the Dubliner a yellow. Just under ten to play now.
Derry under the cosh here but they're hanging on… just.
Comical dive from O'Connor and he rightly picks up a yellow card for it. The winger flicks the ball on and goes down without even the slightest of touches.
Derry break from a Pat's corner and it's two on one. McDaid is through but plays Madden, who has foolishly strayed offside before putting the ball in the net. McDaid should really have scored himself.
There are four players on the ground right now. Three minutes of added time to play. Nail-biting.
Full-time: Derry City 3-2 St Patrick's Athletic (aet)
Last chance for Pat's and everyone including Clarke is up. But it's cleared.
So the curse of the cup continues for Pat's. You have to feel for them but they were the architects of their own downfall with some bad mistakes for Derry's goals.
Rory Patterson is the hero after coming off the bench and striking twice for the Foylesiders. Another incredible game and well worth the €10 entrance fee (€5 for kids) for the 16,117 who showed up today.
That's my lot, I'm off for a much-needed cuppa.