The Group of Death has already produced one shock today, can Cristiano Ronaldo and co upset the Germans in Lviv?
As always, we'd love your thoughts on today's football. Leave a comment below, email ben@thescore.ie or tweet us @thescore_ie.
Germany 1-0 Portugal
Right, let's do this.
Oddly, the team regarded as most likely to finish rock bottom of Group C are currently top after Denmark pulled off a 1-0 win over Holland earlier today. Germany, who are 7/2 on Betfair to win the tournament outright, take on Portugal with real aspirations of going all the way.
Less than 15 minutes before we get going.
Team news? Glad you asked.
Germany: Neuer, Boateng, Hummels, Badstuber, Lahm, Khedira, Schweinsteiger, Muller, Ozil, Podolski, Gomez. Subs: Wiese, Gundogan, Schmelzer, Howedes, Schurrle, Klose, Bender, Mertesacker, Kroos, Gotze, Reus, Zieler.
Portugal: Patricio, Pereira, Alves, Pepe, Coentrao, Meireles, Veloso, Moutinho, Nani, Postiga, Ronaldo. Subs: Eduardo, Custodio, Almeida, Quaresma, Oliveira, Costa, Rolando, Micael, Varela, Lopes, Viana, Beto.
Jogi Loew, who has the youngest squad at the finals with an average age of 24 goes with a central defensive partnership of Mats Hummels and Holger Badstuber while Sami Khedira and influential Bastian Schweinsteiger are in midfield and Thomas Muller, Mesut Ozil and Lukas Podolski will feed Mario Gomez.
The name that jumps out on the Portugal line-up is one Cristiano Ronaldo. He is by far their biggest star and the player Paulo Bento will be looking to for goals. Former Manchester United winger will play on the opposite flank and one-time Spurs striker Helder Postiga is up front with Chelsea's Raul Meireles, Joao Moutinho and Miguel Veloso doing the donkey work in midfield.
Captains are shaking hands so just about ready to go.
Early signal of content from Germany. Jerome Boetang, formerly of Manchester City but now with Bayern Munich, crosses from the right for Mario Gomez to head towards goal but Rui Patricio saves.
Meanwhile, Portugal win a corner, which is delayed as pieces of crumpled up paper begin to rain down on Veloso. It's eventually hit up comes to nothing. Lively start though.
Arsenal's new man Lukas Podolski has had a shot on target, which Patricio keeps out with a routine stop and Mesut Ozil attempts to dance his way past a couple of challenges in the box but is eventually stopped in his tracks.
First yellow card of the night goes to Postiga, meanwhile, whose trailing leg catches Manuel Neuer when he chases down a back-pass.
It's taken 18 minutes but Cristiano Ronaldo has just carved out a decent opportunity. A couple of step-overs takes him by Boateng then he fizzes a ball across the face of Neuer's goal, where it is put out for the corner.
When the set-piece is swung in Bruno Alves is unmarked but misjudges the flight of the ball and the chances goes begging.
Ball is in the back of Portugal's net but played had been stopped for a foul on Sami Khedira after good build-up play from the Germany. Podolski looking to hit this one…
The wall does its job, though.
That's wasteful of Podolski, who pulls away inside the box and is picked out but skies his shot.
Fairly scrappy from both sides, who haven't quite got going yet. As I write, Khedira's attempt from distance is far too high.
Thomas Muller crosses to back post, and when the ball is returned to him, drags it wide. Next up in the wayward shooting competition is Moutinho. The less said about it, the better.
Holger Badstuber catches Nani on the heels but the Manchester United winger runs a couple of yards before going over. The defender goes into Stephane Lannoy's book and Nani will now get booed for his every touch.
The Portuguese players are up in arms after Pepe's strike crashes off the bar and bounces on the line. Upon watching a replay, it's clear that the whole ball hasn't crossed… good call by the referee's assistant.
HALF-TIME: Germany 0-0 Portugal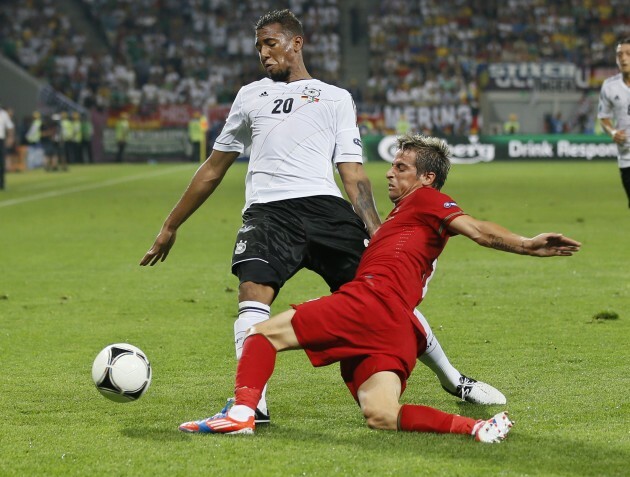 Fabio Coentrao of Portugal tackles Jerome Boateng. Credit: Frank Augstein/AP/Press Association Images
Lionel Messi may be thousands of miles away, but he still can't help stealing the Cristiano Ronaldo's thunder. The world's best player has scored two goals in three minutes for Argentina in their friendly with Brazil.
Here's the second:
YouTube credit: 101greatgoalsFan
Bright from Germany directly after the restart who take a couple of strikes on goal and earn a corner for their hard work.
Nani then skips by Lahm down the other end and sees Hummels head his cross cleared for a corner, which Neuer punches away.
Dortmund defedner Hummels is again needed to cut out a ball into the box, this time from Ronaldo after he had picked up a pass in the corner, ran at Boateng and looked to find Postiga.
Ozil is the man most likely to create something for Germany at the moment. The Real Madrid schemer is driving into the opposing half and threading balls through to his team-mates. One such pass give Podolski the space to cross for Gomez, but he can't quite direct his header goalbound.
The TV director has been kind enough to let us know that Jose Mourinho, who has five of his Real Madrid players on the field, is in attendance supporting his national team tonight.
Moutinho plays in Ronaldo and just as he pulls the trigger, Boateng gets his body across to make a vital challenge.
20-year-old Benfica striker is on in place of Postiga, who hasn't had much joy tonight. The youngster has got 20 minutes to impress and possibly stake a claim for their next fixture.
GOAL! Germany 1-0 Portugal (Mario Gomez)
Super header from the Bayern Munich hitman, who shows how lethal he can be in front of goal. Fine leap, hangs in the air and powers past Patricio to put the Germans in front.
Job done for Gomez, who makes way for Miroslav Klsoe. Raul Meireles is also withdrawn, with Silvestre Varela of Porto coming on in his place.
Portugal inevitably piling on the pressure in these final minutes and what looked like a Nani cross has just caught Neuer off-guard and clipped the crossbar. Five minutes remain.
Loew opts to take off Ozil, who has done well, for Toni Kroos.
My word, Portugal won't get a better opportunity to score than that and it's the new man Varela. His shot is tame and straight at Neuer, who did admittedly make himself big.
3 minutes of added time to be played.
That's got to be it for Portugal. Ronaldo pulls back for Nani but Badstuber manages to block the strike with his body. Bruno Alves heads the resulting corner over and takes out Schweinsteiger out in the process.
FULL-TIME: Germany 1-0 Portugal
That's my lot then. Absolutely massive day tomorrow so I'm off get an early night in and dream about Ireland's 3-0 win over Croatia. Make sure to check out TheScore.ie in the morning for all the pre-match build-up ahead of the country's bow at Euro 2012. Take it handy!
"Enjoy a risk free €20 bet plus up to €1,000 cashback"