A very good evening.
We're just doing our stretches and hitting some tackle bags in preparation for Ireland's U20 World Championship opener against France in Perpignan.
If you're keen to get watching the game yourself (kick-off 8pm), eir Sport 1 has the goods. WorldRugby.org also carries a feed, but has a few geo-blocking restrictions (including here).
As we watch Ireland's Pool C rivals South Africa and Georgia close out a 33-27 win for the Baby Boks, here's a look at the teams for tonight.
France have some stellar names in their back-line with Romain Ntamack and Clement Laporte, they also have form and the odds on their side after a convincing win over Ireland during the Six Nations.
Leinster's Caelan Doris captains Ireland, with Ulster prospect Joe Dunleavy promising grunt from blindside and Ross Byrne's kid brother Harry pulling the strings at out-half.
FRANCE U-20: Clement Laporte (SU Agen); Lucas Tauzin (Stade Toulousain), Pierre-Louis Barassi (Lyon OU), Adrien Seguret (Lyon OU), Maxime Marty (Stade Toulousain); Romain Ntamack (Stade Toulousain), Arthur Coville (Stade Francais) (capt); Hassane Kolingar (Racing 92), Maxime Lamothe (Union Bordeaux Bègles), Daniel Brennan (Stade Toulousain), Thomas Lavault (Stade Rochelais), Killian Geraci (FC Grenoble), Sacha Zegueur (US Oyonnax), Cameron Woki (Union Bordeaux-Bègles), Charlie Francoz (Stade Francais).
Replacements: Guillaume Marchand (Stade Toulousain), Jean-Baptiste Gros (RC Toulon), Demba Bamba (CA Brive Corrèze), Pierre-Henri Azagoh (RC Massy Essonne), Jordan Joseph (RC Massy Essonne), Jules Gimbert (Union Bordeaux-Bègles), Louis Carbonel (RC Toulon), Matthis Lebel (Stade Toulousain).
IRELAND U-20: Michael Silvester (Dublin University/Leinster); Tom Roche (Lansdowne/Leinster), Tommy O'Brien (UCD/Leinster), Peter Sylvester (UCC/Munster), Dan Hurley (Young Munster/Munster); Harry Byrne (UCD/Leinster), Hugh O'Sullivan (Clontarf/Leinster); James French (UCC/Munster), Diarmuid Barron (Garryowen/Munster), Jack Aungier (St. Mary's College/Leinster), Matthew Dalton (Malone/Ulster), Jack Dunne (Dublin University/Leinster), Joe Dunleavy (Malone/Ulster), Matthew Agnew (Ballymena/Ulster), Caelan Doris (St. Mary's College/Leinster) (capt).
Replacements: Dan Sheehan (Dublin University/Leinster), Jordan Duggan (Naas/Leinster), Joe Byrne (Dublin University/Leinster), Charlie Ryan (UCD/Leinster), Aaron Hall (Ballynahinch/Ulster), Jonny Stewart (Queen's University/Ulster), Conor Dean (St. Mary's College/Leinster), Sean O'Brien (Clontarf/Leinster).
Referee: Karl Dickson (England)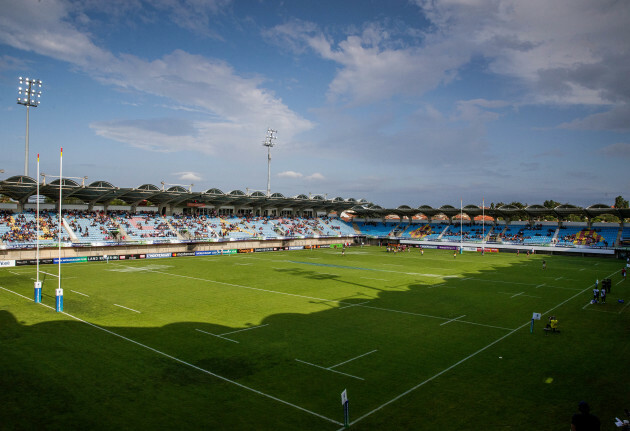 Ryan Byrne / INPHO Ryan Byrne / INPHO / INPHO
Apologies, eir Sport 2 will carry this one. Australia v Wales (oddly) takes top billing on eir Sport 1.
KICK-OFF: Harry Byrne gets the campaign off and running, kicking long into the French 22.
There has been two late changes to Ireland's line-ups: Jordan Duggan starts in place of James French. Bryan O'Connor comes in among the replacements. Cormac Daly also enters the 23, replacing Charlie Ryan among the replacements.
TRY! France 5 Ireland 0 (Marty '5)
Harry Byrne charged down and the pressure is piled on Ireland. The boys in green immediately concede a penalty, but it barely halts the progress of Les Bleus as the zip the pill left and find Maxime Marty on the overlap.
Ntamack strikes a crisp conversion attempt, but it stays straight and goes left f the uprights.
8 mins: Hugh O'Sullivan does well to milk a penalty out of Daniel Brennan (another who comes from great rugby stock of course).
He pops the ball against the prop and the 'lazy runner' penalty will give Byrne a chance to put Ireland on the board.
From the left, Byrne's penalty goes all the way across the face of the posts. France exit well and the big boot of Ntamack takes the game back to halfway.
Understandably enough, Jordan Duggan has struggled to hit the pace of the game. He's penalised for not rolling away and the referee scolds him for it being his third indiscretion.
14 mins: Another penalty comes against Ireland, this time for a high tackle. Romain Ntamack's effort looks good, but the flags stay down again.
PENALTY! France 5 Ireland 3 (Byrne '18)
The Baby Bleus are penalised for offside after a knock on and Harry Byrne splits the posts on his second attempt.
Superb forward drive from Ireland. Their control of the ball has been a big positive.
Joe Dunleavy forces away over the try-line after multiple phases, but we're with the TMO.
TRY! France 5 Ireland 10 (Dunleavy)
Ireland's pack got the job done, taking on France's big bodies and Dunleavy gets the score thanks to a timely leach from Doris.
Byrne slots the conversion and Ireland lead by five.
Shock on the cards?
France's response to conceding gives more cause for Irish optimism, the restart is fluffed and it's scrum green back on halfway.
Dan Hurley has taken a bad knock after that last phase of French defence. Tries to step out of a tackle and is caught by the tackler.
Sean O'Brien (the back) is in the game and with 28 minutes played, Ireland already have three new injury worries to an already depleted squad.
Scare for Ireland as Marty shows off that electric pace again. He looks to be in the corner, but the TMO has chalked it off as the last-ditch tackle just forced him out of play in time.
Laporte threatening to run riot, he makes another break but just can't make the pass stick.
Emotional rollercoaster here for Ireland. Tom Roche picks off an intercept and takes it to the house… but it's called back by the referee.
Instead of putting up a double figure lead, Ireland see Jack Aungier head to the sin-bin for a high tackle.
Can't argue with the call, have to be so careful with high tackles these days and that was a swinging arm above the shoulder of Ntamack.
Agnew is sacrificed as a temporary replacement as Bryan O'Connor comes in to keep scrums competitive.
38 mins: Entering the final minutes before the interval. What a boost it would be for Ireland's 14 men to take a lead to the changing rooms.
TRY! France 5 Ireland 15 (O'Sullivan '40)
They do better than that, powerful maul D sets Ireland on the attack before the break and they rumble through the phases in the French 22.
The big boys do the work again and leave space for Hugh O'Sullivan to snipe over.
HALF-TIME: France 5 Ireland 17
Byrne lands the conversion and Ireland, 17-point underdogs before kick-off, lead the error-addled hosts by 12.
Here comes the second half then. France have the class and pedigree to roar back, but Ireland have played super smart controlled rugby thus far.
Hold on tight.
And here they come.
TRY! France 12 Ireland 17 (Coville '44)
Coville powers out of tackling reach after a terrific offload from Thomas Levault. The conversions good too and the gap is down to five.
Oh no.
TRY! France 19 Ireland 17 (Ntamack '47)
France light the blue touchpaper and Ireland, despite being back to the full 15, struggle to put a firm hand on an irresistible attack.
Tauzin makes the initial break down field and, with Ireland's defence in tatters, Ntamack kicks into the in-goal area and wins the race to touch down.
TRY! France 24 Ireland 17 (Marty '50)
Clement Laporte's pace is absolutely terrifying!
The fullback blasts through the line and gobbles up 25 metres before you can blink. He barely breaks stride then as he whips the ball left just before he is tackled. The pass finds Marty who is more than happy to run in his second.
That's 21 without reply in the 12 minutes of this half.
France 26 Ireland 17
Tommy O'Brien was close to snagging an intercept there. An unusually quiet game for the centre in a fractured, forward-led contest.
France have eased off the pedal here after that three-try flurry. A run of replacements has taken a bit of shape off the game too.
62 mins Caelan Doris with an exemplary breakdown penalty win. Tackled, released, jackaled and got the reward to put Ireland on the edge of the French 22.
A word on that terrific number 20 bumping Irish tacklers off left and right… he's only bloody 17!
67 mins: France's scrum turns the screw and Ntamack points for the posts to kick Ireland's deficit to double figures… but he's cut it right of the uprights.
Nice invention from Byrne on a penalty advantage, trusts his left boot to hook up a ball for Sean O'Brien to contest, unfortunately the replacement is just unable to clamp a firm grip on it and it's a knock on.
TRY! France 26 Ireland 22 (Byrne '72)
Credit Ireland, they're finishing strong here, from the line-out they set the forwards on the gainline again and eventually make space for Byrne to scamper in and over.
He races back to convert his own try and, suddenly, Ireland are within a score of winning this.
Seven minutes to get it.
France 26 Ireland 24
Les Bleus force the penalty for holding on when Ireland attempt to mount their final assault.
Ntamack draws on his big boot and pins Ireland all the way back on their five metre line.
France force the penalty at the maul now. They go to the corner again, but it's lost.
Stewart clears his lines from behind his own TL. No escape.
Jonny Stewart grubbers his next clearance up the line and hares away in chase.
Chance to mount pressure now in the last minute, but a big blue pack comes up and robs the ball back and France only have to clear to touch.
FULL-TIME: France 26 Ireland 24
A great effort from Ireland, hit by a double injury blow before kick-off, to push the hosts to the pin of their collar.
Les Bleus showed their class with a three-try frenzy early in the second half to make light work of the 12-point lead Ireland had worked so hard to build.
Exclusive Six
Nations Analysis
Get Murray Kinsella's exclusive analysis of Ireland's Six Nations campaign this spring
Become a Member