Bangladesh 205 (49.2 overs) def. Ireland  178 (45 overs)
Comment below, email sport@thescore.ie, Facebook or tweet.
3.49pm That's our lot. Thanks for joining us. The cricket liveblog will be back for the big one – Ireland vs. England – on 2 March. See you then.
3.46pm A great start from the Irish bowlers allowed us to dream, but ultimately, the lads were simply out-fielded by Bangladesh.
Man of the Match? Has to be Shafiul Islam, who took four Irish wickets for just 21 runs to seal the deal for the home side.
The people of Mirpur will be very, very happy this evening.
3.42pm WICKET! Bangladesh win by 27 runs.
That, my friends, is that. Boyd Rankin is the last to go, and it's that man Shafiul Islam again, his ball to Rankin caught by Junaid. It was always going to be a big ask for Rankin and Dockrell to hold it together for ten overs at the end, and the partnership ultimately goes for 16.
3.37pm Outstanding fielding from Bangladesh. Some brilliant stops in that last over limited Ireland to two singles.
3.35pm Dockrell and Rankin are 12/1 to pull this out of the bag. Roughly speaking, that translates to a 7% chance. Which is more of a chance than I currently give the duo.
3.33pm Can Ireland's bowling heroes eke out 33 runs between them? That's what we need here from the last 42 balls.
3.29pm WICKET! A rather rotund lady has just shown up in Mirpur and it  looks like she'll be treating us to a song in the very near future. Johnston is gone lbw, a spurious appeal from Ireland confirming that the umpire got it right. The fate of Ireland lies in the hands of George Dockrell and Boyd Rankin.
The crowd is so noisy I can hardly hear myself think, and I'm over the other side of the world.
3.27pm Ireland need 35 from 48 balls to win.
3.22pm There's a reassuring stat if ever there was one. After 40.4 overs, Bangladesh were on 168-7. After the same amount of balls, Ireland find themselves on 168-8. It's that close.
Dockrell comes in for the departed Botha, and any hopes which Ireland have now rest on himself and Trent Johnston.
Believe.
3.19 WICKET! Any dreams which I might have had of a Johnston-Botha partnership driving Ireland to victory have just been shattered. Shaiful Islam strikes again, bowling Botha who is gone for a total of 22. Ireland now 168-8 and it will take a minor miracle to salvage this one.
3.18pm Hello Trent Johnston, how are you? A four off the first ball for the new man. That'll do nicely.
3.16pm WICKET! John Mooney is gone for a duck after eight balls, bowled by Islam. Ireland's run rate at the moment is 4.15, marginally ahead of the 4.00 rate they need to win. But will the tail end of the Irish order be able to hang on for the final ten overs?
3.06pm Another big lbw appeal goes upstairs … and I think Botha has gotten away with that one. The umpire on the field ruled him not out, but the replay showed that the ball probably would have clipped the leg stump. They leave decision in the umpire's hands and Botha stays. Big shout, as Botha hit a four on the ball before that. I reckon he thinks that he can single-handedly win this one.
2.59pm WICKET! It was going well(ish) for a few minutes there, but Kevin O'Brien's dismissal might just signal the end of the road for Ireland.
He sent Islam's ball out to deep square leg, but Shuvo was sitting underneath it all the way. Ireland still need 55 but the batting order is getting thinner and thinner. John Mooney is in now alongside Botha. 151-6, 55 runs away from victory.
2.56pm It looks like this one is going to go right to the wire. Ireland have only managed 3 runs in each of their last two overs. My sums tell me that they need to be averaging 4. Tense.
2.51pm Bangladesh have to gone to the TV umpire for an lbw appeal … but Kevin O'Brien is safe. A huge call. The ball pitched in line and the impact was in line, but it was just heading down the leg side and O'Brien survives for the moment.
2.47pm The dot balls are coming thick and fast as Bangladesh show that they won't just roll over. Still, Ireland manage four off the over. If they can keep the run-rate up, it'll be enough for the win. 144-5 after 34 overs
2.41pm A great over from the Botha-O'Brien partnership who've just knocked up three 4s between them. There's a pair of singles in there as well, taking Ireland to 140-5 with 17 overs remaining. There's life in the old dog yet.
2.37pm A lot of good Irish names have been dismissed, but there's no need to panic yet. Kevin O'Brien and Andre Botha are at bat. For as long as they stay there, 80 runs from 110(ish) balls remains an achievable target.
Believe.
2.32pm What happened? Everything was going so well when I left shortly before one o'clock … I don't understand.
Oh well. Now that Adrian "The Jinx" Russell has been tagged out, maybe Ireland's fortunes will turn around. They haven't been great so far, but there's still a lot of cricket to be played. Hopefully.
2.30pm Okay, I don't know much about cricket; but I know I'm out. Niall is in for the last few overs.

2.23pm OUT! Niall O'Brien goes back for 38 after some unbeliveable fielding. He goes for the sweep shot and gets underneath it, hits it in the air towards deep midwicket, where Iqbal sprints in to catch. Stunning stuff but more bad news for the Irish.
How are we feeling out there?
2.13pm WICKET! A very lazy shot from Andrew White, according to Beefy, ends his involvement.
"It was a poor shot from White, he was stuck in the crease as he tried to play this one, it was a fuller length delivery, pitches outside off and turns in, sneaks between the bat and pad, crashes into the offstump and Bangladesh have struck just at the right moment."
1.57pm Comedy actor Stephen Mangan tweets: "Bangladesh v Ireland, Cricket World Cup, Sky Sports right now. Huge rivalry between these two, going back to the Bangla-Irela War of 1978."
That's not right is it? Hey Dan? Dan! Dan!…..Dan! DAN!
1.51pm WICKET! Ed Joyce is gone, most of you will be sorry to hear.
Ashraful strikes with his first delivery of his new spell. Here's the science bit: "It was tossed up and on the off, Joyce tries to work it on the onside, closes the face of the bat a little early, gets a leading edge back to Ashraful and he pouches the simple catch." 
1.43pm This nifty Sky Sports graphic shows that Ireland are slightly behind Bangladesh in run rate, but they were flying first thing this morning. No need for panic just yet.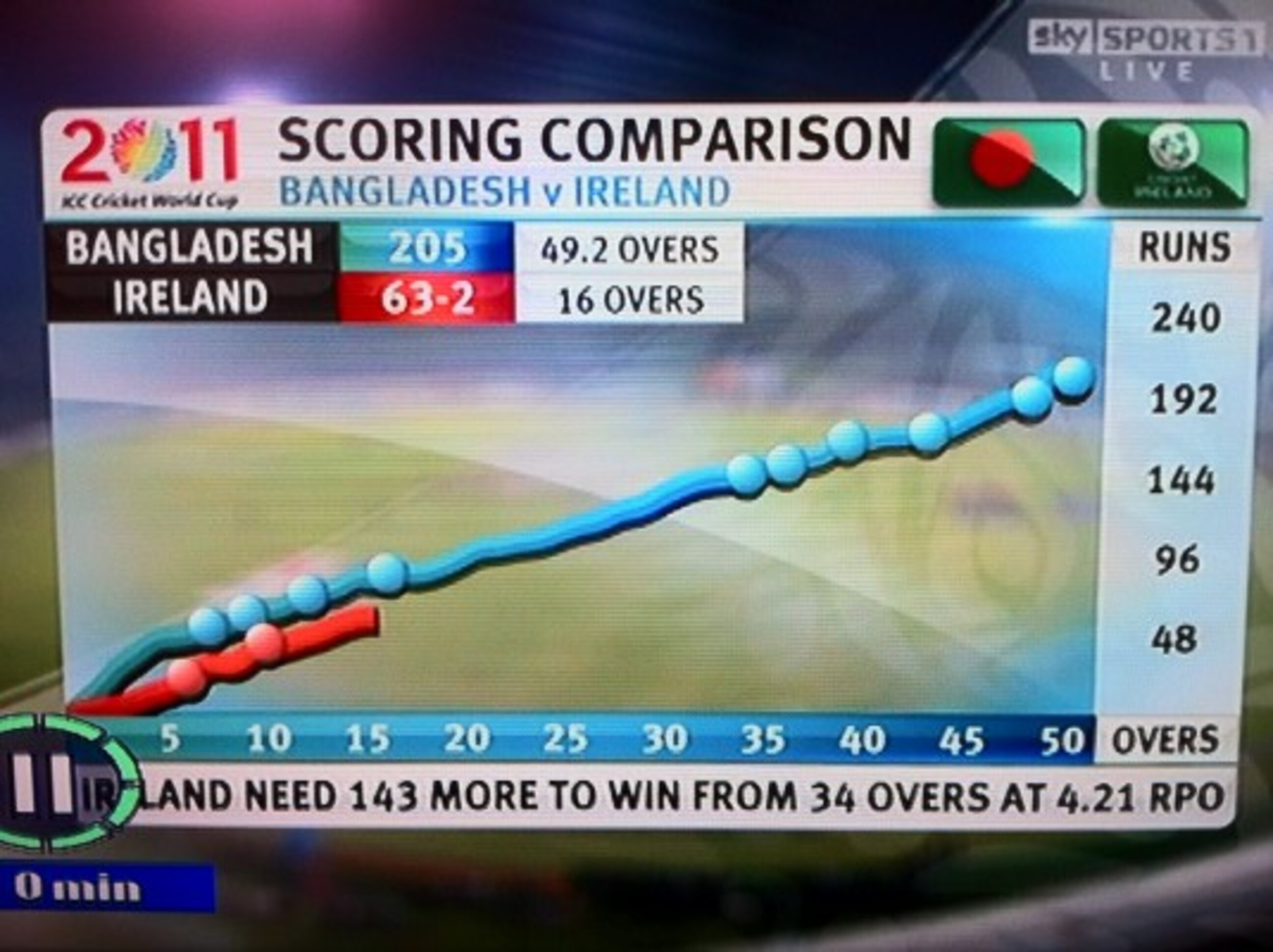 1.3opm It's steady as she goes at the moment.

1.21pm Reality seems to be biting a little. Laurence Booth of TopSpin renown tweets: Ireland 36-2 chasing 206. Glad my imaginary money stayed in my pocket…"
1.17pm WICKET! Razzak to Porterfield and it's caught by by Hasan! Soft dismissal. Game on, Ger.
1.10pm It's another ad break. While we're at it, check out Niall Kelly's excellent Magnificent Seven column. It's on sporting debuts this week after Melo's wonderful bow at the Garden this week.

1.05pm WICKET! Razzak strikes as Mushfiqur Rahim stumps Stirling smartly. It was tossed up and Stirling came on the frontfoot to drive, it hit his pads on the full and rolled back. Ireland have to keep their nerve now.
1.01pm Sub in East London texts the BBC: "Our hopes of progressing to the knockouts lie now on us skittling the Irish boys. I've been giving it large to my Irish colleagues at work and they as much about cricket as I do about the joys of Riverdance! Cmon you Tigers don't do this to me."
Today is hard enough for our disenfranchised migrants, surely.
12.58pm Reader David Elkin has been in contact, as you should too: "This could be a very nervous innings for Ireland fans. Logically, a good pitch, the run rate at four an over and a below average score from Bangladesh should mean Ireland can do it. My eternal pessimist won't allow me to believe it. Rowdy local fans and a decent attack from Bangladesh are certainly factors. Their spinners are dangerous. But Ireland have a very good chance. Luckily it's on Sky. And I'm happy enough with that for now."
12.54pm I spent the break listening to Dominic Cork's praise of Ireland on Sky Sports. I can't find one YouTube clip of the England great appearing on Dancing on Ice.
Is this a conspiracy? The world must know.

12.50pm Right, as they used to say in Smash Hits… I'm back, back, back. I'm concerned about the clash of colours like others:
12.45 Alright, we're ready to go. William Porterfield and Paul Stirling are first up to bat. Let's hope they can make a little bit of headway during the first ten overs.
Adrian will be along shortly to keep you updated as Ireland chase down their target. Laters.
12.02 WICKET! Stick a fork in it, this one is done. Dockerell is perfectly positioned at short fine leg, and Islam can only guide Johnston's delivery into his hands. Bangladesh finish on 205 all out (49.2 overs), setting Ireland a very reachable target of 206 for the win.
I'm off for a cup of coffee. We'll back for the start of Ireland's innings shortly. While we're waiting, we'd love to hear your thoughts on the Irish performance so far. Leave a comment below, e-mail us at sport@thescore.ie, or tweet us @thescore_ie.
See you soon.
11.53am WICKET! Razzak is bowled by Johnston and Bangladesh are on their last legs. 196-9 after 48 overs.
11.45am Ooh. For a second I thought that Bangladesh might not even hang on till the end of the innings. There was a big lbw shout after Rankin's ball hit Razzak's pads. The umpire ruled it out but, after the batsman appealed, it was shown to be hitting just outside the line. It was close though.
11.43am Ireland's economy with the ball continues as the Bangladesh innings winds towards its conclusion. They're on 186-8 with just over 20 balls remaining.
11.26am WICKET! Botha bowls Shafiul Islam lbw. The TV umpire takes a long hard look just to be sure, but it would have hit leg stump and the finger is raised eventually. 170-8 (42.3 overs)
11.20am Andre Botha is back in the game, but if Bangladesh thought that their task was going to get any easier, they were sorely mistaken. He gives up just two singles in that over as Bangladesh move to 169-7 (41 overs).
11.16am This morning's other game has come to a close. Australia have won by seven wickets with 96 balls to spare. They've scored 207-3 (34 overs) against New Zealand's 206 all out (45.1 overs).
11.09am WICKET! As Freddie Mercury would say, another one bites the dust. Hasan headed off in search of a single, but Andrew White was ready and waiting, running him out at the bowler's end. That's 38 for Hasan, and Bangladesh are now 159-7.
11.04am It has to be said, the Irish bowlers are playing a blinder here. Dot, Dot, Dot, Single, Single, Single for Bangladesh in their 37th over. Boyd Rankin is not giving runs away cheaply. 156-6, 37 overs played.
10.59am WICKET! The wickets are starting to come thick and fast now as Ireland move through the tail of the Bangladesh order. Ashraful tried a big sweep, but White was perfectly positioned at short fine leg to make the catch. Another great delivery from Dockerell. 151-6 after 35.2 overs. Come on Ireland!
10.47am WICKET! Rahim goes for 36, bowled by Dockerell and caught by White. 147-5, lovely stuff.
10.45am Kevin O'Brien has an LBW shout, but the umpire is having none of it. To be fair, the replay suggests that the ball was probably drifting just wide of the stumps when it connected with Rahim's pads. 146-4 after 33 overs.
10.39am Morning all! A lovely stat has just flashed up on the screen, informing me that it is now 60 balls since Bangladesh have hit a boundary.
They immediately hit a four. The commentator's curse appears to be alive and well. They're now 140-4 after 31 overs.
1o.32am Ireland are playing well now. The crowd are well fed up.
I'm heading for a mid-morning Danish pastry splurge. Niall will take over, so you don't miss a wicket.
10.14am From BBC Sport's Pranav Soneji: "We've reached the half-way point in Bangladesh's innings, which has almost come to a standstill at 111-4. In just under 19 overs, the Tigers have scored just 60 runs. Brilliant resilience from Ireland after suffering the full effects of a Tamim assault in the first five overs, like standing inches a\way from an aeroplane propeller in full flow. Meanwhile, the ball has become so discoloured with thick, black, Bangladeshi mud that the umpires have authorised a ball change some nine overs before the mandatory switch."
9.58am Bangladesh hit back with four. Botha to Hasan, pitched up, Hasan drives it through the covers for a boundary and that brings the crowd on their feet .
9.42am Wicket! Bangladesh loses its fourth, Shakib dismissed, 86 for 4 after 15.1 overs. Great stuff from the Irish. Bumble mentions the 'lack stuff' yet again.
9.40am Reader David Elkin has been in contact with a problem that's affecting a lot of you: "In an impulsive move, and being suitably impressed with Craig Doyle in the ad, I've chosen to have UPC installed as my TV provider, with Sky Sports of course added on.
"The problem this morning is that the Ireland Bangladesh game has not been deemed important enough to show on the regular Sky Sports channels, but is on the red button. This doesn't help your average UPC customer, as there is no red button available. It has Australia vs New Zealand on now, with Australia absolutely cruising to victory.
"As for the game, Bangladesh on home soil have to be favourites. The pitch sounds (I'm in no position to say the pitch looks) like an absolute dream for batsmen. I'd worry about Ireland chasing a massive target. Not because of a lack of talent amongst our batsmen, more our propensity to crumble under pressure."
9.27am The Sky Sports presenters think 'they'll be going mad on the streets back in Ireland'. Bumble says he's getting homesick for the blackstuff.
'They'll be running over to their pubs for a drink after that wicket' the world is told.
We're happy lads, but the country is a little distracted today.

9.25am Massive wicket for the Irish!Tamin Iqbal is gone. The crowd are stunned.
That sentence didn't make any sense to you? Read our guide to the tournament. Still lost? Here's our dummies guide to the game of cricket.
9.18am This just might be the first full cricket match I ever watch by the way. So let me know your thoughts and opinions. Contact sport@thescore.ie, Facebook or tweet.
Some of the country's top sports people have been in contact:
9.14am It's much better now from the Irish at the Shere Bangla National Stadium in Mirpur, India.
BBC Sport's Pranav Soneji  says: "After heaping bagfuls of praise on the Bangladeshis following their cheetah-like start, Ireland strike courtesy of a sensational stumping from wicketkeeper Niall O'Brien, who whips off the bails as Imrul Kayes overbalances attempting to play a leg-side delivery from qualified electrician John Mooney. It's called a wide too – not that Ireland care as Junaid Siddque joins big-hitting Tamim at 53-1 in the seventh over."
9am Ireland's Cricket World Cup Cup is up and running this morning.
It's been an ominously good start from the co-hosts. Bangladesh opted to bat after winning the toss and they immediately took 10 off the over with two boundaries.
Tamin 'Boom Boom' Iqbal scored all ten runs. Trent Johnston was next in to bowl and he seems to be finding his groove now however. They need to put the brakes on in front of a packed, partizan crowd.
We'll keep you updated throughout the morning.