Liveblog
Ze Germans are in town and we're going minute-by-minute for Ireland's second game of the World Cup 2014 qualifying campaign.
As always, we'd love to hear from you, so send us your thoughts and comments on all the action.
E-mail us at ben@thescore.ie, tweet us @thescore_ie, post to our Facebook wall or leave a comment below.
Ireland 1-6 Germany
Welcome along! We've got 20 minutes to go before Ireland kick-off their first home qualifier of the current campaign but Lansdowne Road is already filling nicely.
If you hadn't heard, three-time world champions and heavyweights of international football Germany are in town. The FAI announced earlier today that it will be the first sell-out of the Aviva Stadium era so it's set to be a cracker.
Now all we need is a result…
Hit by a string of injuries, Giovanni Trapattoni announced his team yesterday. His German counterpart Joachim Loew has opted to keep his cards close to his chest but his starting XI has been handed to us.
Ireland: Westwood, Coleman, O'Shea (c), O'Dea, Ward, McCarthy, McGeady, Andrews, Fahey, Cox, Walters. Subs: Forde, McShane, Long, Meyler, Kelly, Wilson, Clark, Keogh, Brady, Clifford, Randolph.
Germany: Neuer, Schmelzer, Khedira, Schweinsteiger (c), Ozil, Muller, Badstuber, Mertesacker, Boateng, Reus, Klose. Subs: Zieler, Ter-Stegen, Howedes, Westermann, Schurrle, Podolski, Kroos.
This banner is hanging above the singing section of the South Stand. A nice touch by YouBoysInGreen to pay tribute to James Nolan, the young Irish fan who lost his life in Poland during Euro 2012.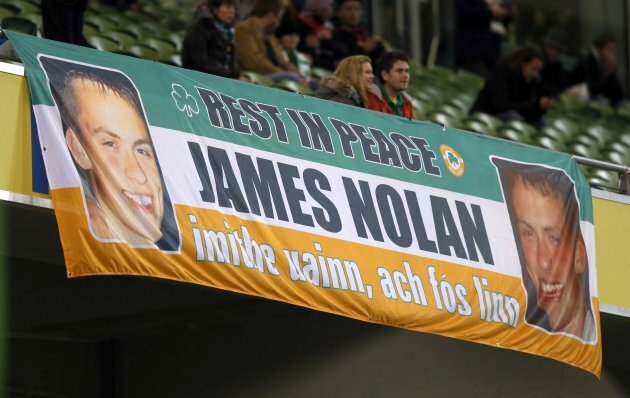 We're not being given much of a chance by most quarters, but a look at Ireland's recent record against Germany might give you a hint of optimism.
In the past five meetings, it reads: one win, three draws and one defeat.
Relive those games here. While you're at it read our preview of the game and three key battles.
Players lined up on the pitch now so we're not far from getting underway.
Anthems done and dusted, let's get going. Ireland will pack the midfield and attempt to stop the likes of Ozil, Muller, Reus and Schweinsteiger playing. Jon Walters, who gets the nod ahead of Shane Long, is tasked with leading the line on his own.
A minute's applause for James Nolan and we're off. Ireland, wearing their new green kit, playing into the German fans. Walters wins an early free-kick, which is whipped in by Aiden McGeady but is cleared behind for a corner.
Stephen Ward looks to put the ball into the danger area from wide but his delivery is deflected behind. Italian referee Nicola Rizzoli gives a goal-kick.
Keiren Westwood lumps a ball down-field, which falls at the feet of Keith Andrews. The Bolton Wanderers midfielder, back in the team after his three-match suspension, has a pop but fails to hit the target.
Walters sets off on a diagonal run and is played in. His cut-back is poor, however, and Arsenal's Per Mertesacker snuffs out the danger. It's been a promising start, though.
Germany win their first corner of the game through Thomas Muller but it comes to nothing.
Walters makes another similar run after Ireland turn a German attack on its head but the pass is delayed and he strays offside.
As expected, Trapattoni has lined his side up with Coleman, O'Shea, O'Dea and Ward across the back, Cox (left), McGeady, (right) on the wings, McCarthy, Andrews and Fahey as a three-man midfield, with the Stoke City striker up top.
Germany have gone with Boateng, Mertesacker, Badstuber and Schmelzer, Reus and Muller on the flanks (Reus was initially right but they've since swapped), Khedira and Schweinsteiger controlling the middle of the park, and Ozil backing up Klose in attack.
Reus, who has changed wings again, crosses for Muller but the Bayern Munich man heads well over.
It's early days but Walters is looking a worthy outlet for the home side. His job is to put the opposing backline under pressure with his physicality… and he's doing exactly that.  Former Man City defender Jerome Boateng gets a pass back to his keeper but only just.
Germany have a short spell of controlled possession with Reus, Ozil and Klose involved but are unable to muster up a chance. They are beginning to show their class, however.
In the other Group C games, Sweden have come from behind to win 2-1 after conceding first to the Faroe Islands, while Kazakhstan have held Austria to a scoreless draw at home.
Read more here.
Seamus Coleman, starting his first competitve senior game tonight, makes a darting run through the middle of the park before picking out Walters, who in turn controls the ball excellently. He finds Cox in a more central role but the Nottingham Forest man allows play to break down.
Big shout for a German penalty there. After some neat work from Coleman to sell his mark a dummy, Ireland skipper John O'Shea gets himself in a spot of bother and pulls down Reus, who has robbed him of possession. The referee hands the Borussia Dortmund winger a yellow card.
GOAL! Ireland 0-1 Germany (Marco Reus)
Minutes after being harshly booked, the 23-year-old German player of the Year puts them ahead. Bastian Schweinsteiger clips the ball into the box and full-back Marcel Schmelzer chests down but doesn't have it fully under control. The ball falls loose and Reus, who has made a run late, shoots first time – finding the back of the net via the underside of the crossbar.
A little cruel on Ireland, who have done fairly well in the opening half hour but it does make up for the penalty decision.
GOAL! Ireland 0-2 Germany (Marco Reus)
The visitors have doubled their lead and it's that man Reus again. Boateng plays a pass across Ireland's box and Reus has all the time in the world to pick his spot in the bottom corner of Westwood's net with Coleman nowhere to be seen.
Was touted as one of the danger men before the game and he's certainly delivered so far.
Half-time: Ireland 0-2 Germany
After a decent start, Ireland fall asleep for a 10-minute spell and are severely punished. According to RTE, the visitors had a whopping 98% of the possession between the first and second goal. If they continue in this manner, it could well finish four or five nil. Trap needs to change it but whether he does is another question.
Looks like Herr Loew is making a change. Toni Kroos, of Bayern Munich, is entering the fray in place of Real Madrid's Sami Khedira. Ireland field the same XI for the second half.
First yellow card of the night goes to Darren O'Dea. From the resulting corner, Germany nearly create an opening but the ball goes out for a corner, which Klose heads a couple of yards off-target.
A great passage of play and Ireland aren't far away from getting their first of the night. Cox is put in on the left and drills the ball to the front post but Andrews has not been on the same wavelength. From the next passage of play, Walters heads at Neuer.
The home fans then give their biggest cheer of the first 51 minutes as Shane Long is introduced in place of Keith Fahey. The Tipperay native lines up alonside Walters as they go to 4-4-2.
GOAL! Ireland 0-3 Germany (Mesut Ozil)
Oh dear. O'Dea comes through the back of Klose and Mr Rizzoli rightly points to the spot this time. The Real Madrid midfielder tucks it away to Westwood's left.
GOAL! Ireland 0-4 Germany (Miroslav Klose)
This is fast turning into a rout. Klose is slipped in down the inside right and wide of Westwood before scoring from an acute angle.
GOAL! Ireland 0-5 Germany (Toni Kroos)
Blow it up now, please. A high ball into the box is headed as far as the 18-yard line and substitute Kroos blasts home a left-foot volley superbly. The switch in formation certainly hasn't helped matters.
Reus has done his job and is applauded off, with Arsenal's Lukas Podolski taking his place. He's been a class act tonight.
Ireland make their second substitution and it's Andy Keogh on for Aiden McGeady. We can hope for little more than damage limitation at this stage, you feel.
Klose, just three goals off Gerd Muller's record now, has been withdrawn for Andre Schurrle.
Andrews has had another wayward shot and Long, clearly frustrated with the fact that he's barely got a kick since his introduction, catches Kroos late and picks up a yellow.
Boateng tries from distance but it is watched all the way by Westwood. There's a steady flow of Irish fans heading for the exit with 10 minutes left on the clock now.
GOAL! Ireland 0-6 Ireland (Toni Kroos)
Another cracking hit by Kroos from the edge of the box and he's just ensured Ireland will suffer their biggest ever competitive defeat at home.
It matters little, but Robbie Brady is on for Simon Cox.
Two minutes of added time left and Germany continue to push forward.
GOAL! Ireland 1-6 Germany (Andy Keogh)
Full-time: Ireland 1-6 Germany
Brilliant! Ireland break through Brady, who plays a one-two with Walters then finds Andy Keogh inside. His shot is pushed out for a corner by Neuer but when the cross comes in, the Millwall attacker head past the German stopper and the stadium erupts.
That's the last of the action on an embarrassing night for Irish football.
Let the inevitable debate about whether it's time for Trap to leave begin. After that showing, I'm pretty I know what most fans would say.
Thanks as always for the company… apologies if you sat through the whole thing.
Contribute to this story: