We were live from high in the stands at the Aviva Stadium as Scotland are in town for Ireland's penultimate Six Nations showdown. Get in contact with your thoughts/feelings/corrections in the usual way. Find us on Facebook, tweet @thescore_ie or just shout in the comment section below.
Full-time: Ireland 32 Scotland 14
So let's do this. Ireland and Scotland's rugby stars are going through the motions in front of me as we're less than 30 minutes from kick at Lansdowne Rd.
The conditions, as they say, are perfect for a game of rugby football. Brian O'Driscoll and Jerry Flannery are suited and booted on the sideline as they're interviewed by Off The Ball's Mark Horgan for the big screen. The seats throughout the Aviva Stadium are starting to fill up and the volume is edging ever slightly upwards.
"There's a few knocks and bangs but that's part and parcel of football," says Declan Kidney to RTÉ's Claire McNamara on the monitor in front of me. "But everyone's looking forward to the day." He's not wrong there.
Let's have your predictions.
If anyone's planning on stealing Gavin Hastings' identity we now know his address: cloud cuckoo land, according George Hook. The former Scotland talisman insisted moments earlier that if Scotland score a couple of tries they'll win or something to that effect. As I type Declan Kidney, the quiet man of Irish sport, is striding away from an Irish huddle in which he was stuck in the middle, barking out final words of encouragement in the absence of BOD and POC. Good stuff.
Declan Kidney has just handed me his team-sheet and topped up my tea. Nice one, Deccie. Here's those starting XVs:
Scotland: S Hogg; L Jones, N De Luca*, G Morrison, S Lamont ; G Laidlaw, M Blair; A Jacobsen, R Ford (capt), G Cross, R Gray, J Hamilton, J Barclay, R Rennie, D Denton.
Replacements: S Lawson, E Murray, A Kellock, R Vernon, C Cusiter, R Jackson, M Evans.
Ireland: R Kearney; T Bowe, K Earls, G D'Arcy, A Trimble; J Sexton, E Reddan; C Healy, R Best (capt), M Ross, D O'Callaghan, D Ryan, S Ferris, P O'Mahony, J Heaslip.
Replacements: S Cronin, T Court, M McCarthy, S Jennings, T O'Leary, R O'Gara, F McFadden.
Note to self: Insert joke about golden ticket and/or playing at scrum half…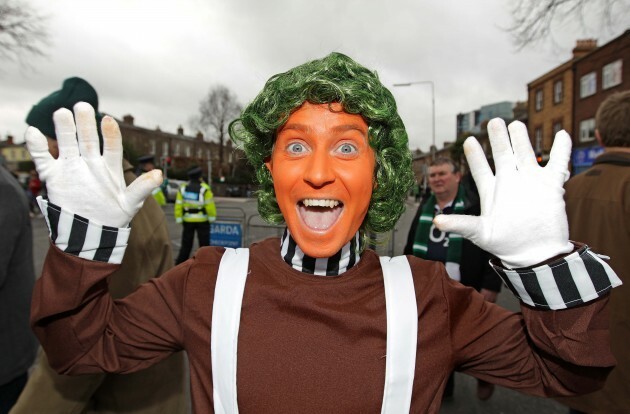 Pic: Inpho.
We've just had the anthems and Ireland's Call and we're about to kick off. Let's do it.
Ireland 0 Scotland 3 It's first blood, Scotland then thanks to an early penalty from Greg Laidlaw. Ireland have yet to get going though the first engagement in the scrum was probably advantage to the hosts and Cian Healy. Scotland then took a quick tap and went wide. They were called back for a forward pass when it looked like they had men and opportunities outside and the visiting No 10 made no mistake from his first effort on the posts. Is that clear?
First line out of the evening after Keith Earls threw in a massive challenge on Evans, forcing the ball loose as Scotland were again on the front foot.
Ireland 0 Scotland 6 And that first line-out is botched and Scotland roar forward again, as has been the pattern over the course of the first 11 or 12 minutes here. Gordon Darcy was then adjudged to have come in from the side and Laidlaw arrowed it over for another three points. The crowd around us are attempting to lift their own performance too after a pretty quiet opening period.
TRY! Ireland 7 Scotland 6: What a response from Ireland. Stand-in skipper Rory Best told Jonny Sexton to kick for touch rather the posts and the brave decision paid off when he took an offload from Keith Earls, dropped the shoulder on Mike Blair, drove over the line and touched down himself. Jonny Sexton then adds the conversion points despite Lamont charging out and kicking downfield. He got another go and made no mistake with an excellent effort.
Ireland showed a lot of patience to go through plenty of pick and rolls, metres from the Scottish line. Reddan almost wriggled through at one stage but was stopped by Denton. Ultimately, the home side were penalised for hanging on to the ball and the pressure is eased for Andy Robinson's outfit. "At least now both sides will know hwat is expected of them from the referee," Donal Lenihan says from the gantry here in the west stand. 25 minutes gone now.
Ireland 10 Scotland 9 That's a weird one. Scotland were piling on the pressure within Ireland's five-metre line. The Irish defence was fracturing, Rory Best was told his players were on the brink of a yellow card and then the visitors decide to kick for the posts. They'll feel they had to get something for their efforts, but the supporters here will be happy to concede just three.
TRY! Ireland 17 Scotland 9 (Eoin Reddan 32′) After Laidlaw kicked that penalty effort, Ireland reclaimed the restart, Scottish players flooded past the tackle line, the Leinster scrum half reversed past them and made for the line unopposed.
So we had some technical difficulties there for a second or so… as did Ireland's defence. This is what happened, as Scotland earned a try, according to The Guardian: "Gray bombs through a couple of tackles down the left. Bowe's in front of him, but Gray sells him a dummy to the left, drops a shoulder to slip to Bowe's right, and tears across the tryline. Wonderful solo play." So there.
TRY Ireland 22 Scotland 14 (Andrew Trimble 40′) The final action of the half is Jonny Sexton kicking his first missed punt at goal of the first 40. Ireland go in with an eight-point cushion thanks to a try from the Ulster man in the dying moments. Rob Kearney first threatened before the ball ultimately came to Trimble and he finished — in no small part thanks to poor Scottish defending — right in the corner.
So, what did you make of that then? Are Ireland clinical with ball in hand or are Scotland's defence making them look good?
Jonny Sexton gets us underway as the sky darkens and Shipping Up To Boston rings in our ears. More of the same would be nice.
TMO! Tommy Bowe collects a cross-field kick after a magnificent passage of play from Ireland. The Ospreys man landed on his back and had to battle to turn and touch down. He grounds it but the question is about the movement I suppose. What do you think?
NO TRY The TMO decides Bowe did in fact make two movements and a penalty is awarded. That would have been a record-equalling sixth try for the Monaghan winger in this championship. We're enduring a break in play meanwhile as the ref's communication system is sorted out.
Tom Court trots on to deputise for Cian Healy, who is off down the tunnel with a blood injury, There's now 51 minutes on the clock. I'm exhausted.
ROG-cam: tracksuit top is coming off. Stay tuned.
Tomás O'Leary, O'Gara and Sean Cronin have been introduced together in place of Darcy, Reddan and the skipper Best respectively. Sexton will go to 12 I suppose in what should be an interesting experiment and ROG takes over the captaincy. Cian Healy, meanwhile, is back pitchside.
I'd probably be asking for trouble if I asked for your caption suggestions, when there's visiting royalty involved. But here's Michael D and Princess Anne in the posh seats below us.
Pic: INPHO/Morgan Treacy
By the whoever had 57 minutes in the Fields of Athenry sweepstakes, please collect your prize at the top of the hall. The crowd have just given it its first airing of the evening.
Very, very worrying scenes. Lee Jones is on the ground, out cold, after a clash of heads with Andrew Trimble. Scotland were on the front foot for the first time in this half; Jones took a pass that was slightly behind him and as he did, the Ulster man crashed in at full throttle. Jones was out cold as he fell to the turf and landed heavily, obviously. He's now receiving medical attention. In the meantime, Shane Jennings is introduced for Peter O'Mahony.
Cian Healy concedes a penalty for not releasing after a sustained period of Irish pressure. Kearney, Cronin and O'Gara all threaten as the home side search for a fourth try and the win but it comes to naught. Some good momentum after that injury lull however.
PENALTY! Ireland 25 Scotland 14 Jonny Sexton puts that extra bit of daylight between the sides with a lovely kick from a difficult angle. Ronan O'Gara had a word in his ear too, beforehand. Class.
YELLOW CARD! Max Evans trudges off to the sin bin. Rob Kearney broke from the halfway line, fed Earls outside him on the wing. Then… Evans was adjudged to have interfered with the Munster player when he kicked the ball on. "Keith Earls made the most of it," says Donal Lenihan, "But the red card was justified." What do you think?
TRY! Ireland 30 Scotland 14 Fergus McFadden was introduced for his Leinster team-mate Rob Kearney moments ago and he's made an immediate impact with his third international try. It took him two attempts but he eventually ducked in next to the base of the post. Good stuff.
The whistle blows at 80 minutes but this game was over some time ago. Ireland's scrum was as good as it's been, they were clinical with ball in hand and looked good without some of their biggest names?
What did you make of it?
Okay, that's your lot, thanks for your company. Keep the comments coming. We're heading downstairs to listen to what the players and staff have to say. Stay tuned for some analysis and reaction.