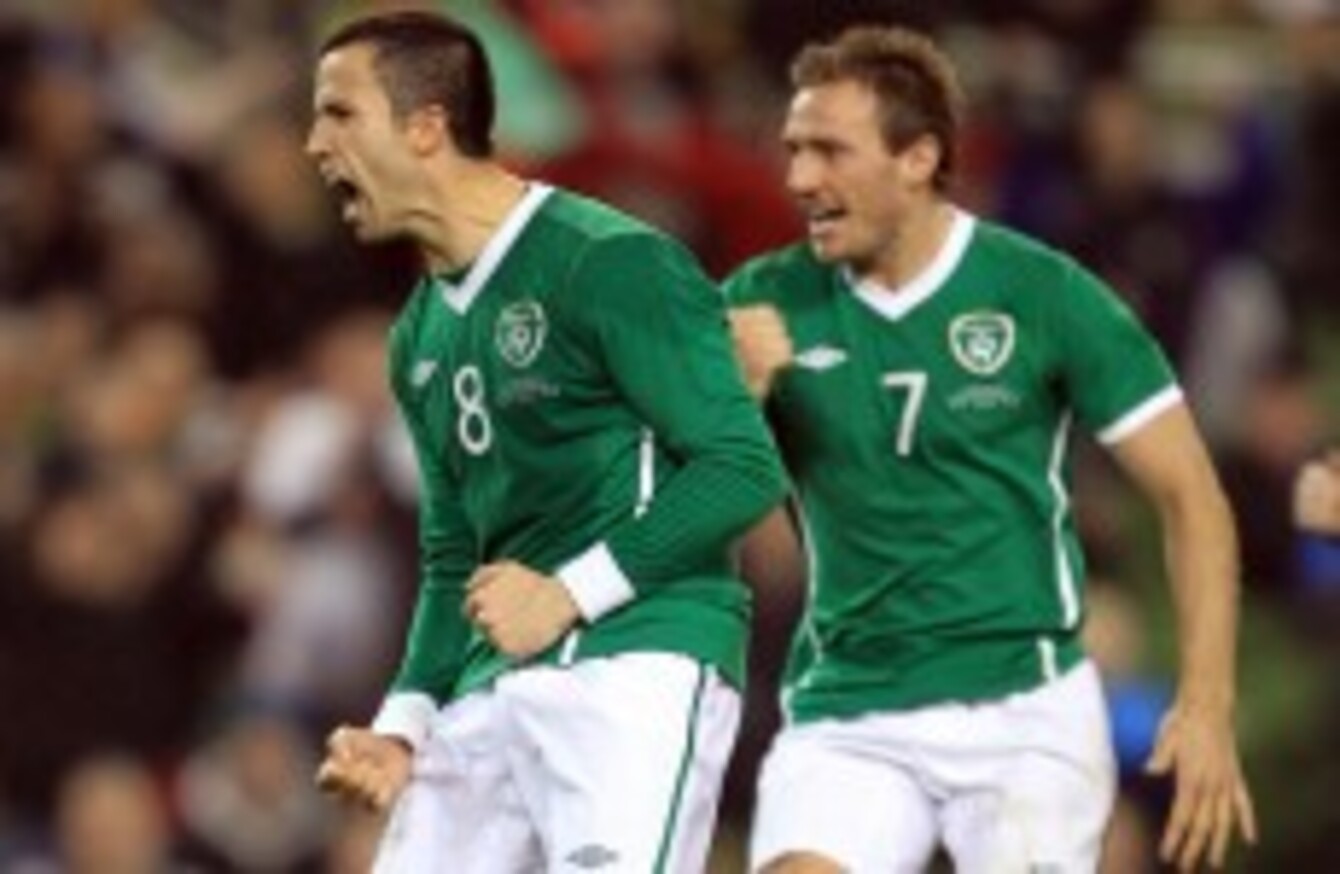 Image: Inpho
Image: Inpho
Get in touch with your comments and thoughts as the evening's action unfolds. Leave a comment below, send your e-mails to adrian@thescore.ie, tweet us @thescore_ie or find us on Facebook.
9.39pm Thanks for joining us. We're down to the press area to tell multiple-Scudetto winner Trap where he went wrong. Join us later for more news and analysis after the press conference. The pints can wait.
FULL-TIME Ireland 2 Uruguay 3. That was much better than anyone could've expected.
Ireland's young side looked a bit gauche and inexperienced at times but showed no little intent and courage. There's plenty to take from the night at a three-quarters empty Aviva.
9.33pm The 90 minutes are now up. Uruguay have slowed it right down like a DJ in the 80s.
There'll be three minutes of added time. They haven't announced the attendance yet interestingly.
9.30pm If Derry had Gibson taking points like that last September, they would've beaten Cork.
9.28pm And Keogh is rewarded for protecting his pretty face at the back post by getting the hook. Anthony 'Stokesy' Stokes is on.
GOA…wide! How did that stay out? A free kick is whipped across the yawning face of the goal, the keeper again makes a hash of it and two blonde heads – Green and Keogh – fail to turn it in.
I gotta tell you I thought it was a goal.
As I type, the superb Shane Long again forces his way past the centre half and turns the ball back but there's no one there to capitalise. Seven or eight minutes there for Ireland to score. When was the last time Trap drew 3-3?
9.21pm Aiden McGeady gets a fulsome welcome form the crowd – is that the right word? – as he replaces Lawrence. The Portsmouth man worked his green socks off.
9.18pm Damien Delaney comes on for Ciaran Clark. The Corkman's product of the League of Ireland, Trap might want to note.
He comes on as the Irish defend a corner – never a good idea – and it's almost a fourth conceded goal but Lawrence  heads off the line from the back post.
Less than 15 minutes left.
9.12pm Shay who? Westwood pulls off an unbelievable double save after Cavani is left to trot in on his own from the right. He tries a cheeky lollipop – as they call it on the continent – but Coventry stands tall to the shot and again for the rebound. Uruguay are looking dangerous again though.
And as I write Hernandez misses a sitter from ten yards maybe.
9.08pm Cavani's booked for dive in the box. I'm not saying it was Swan Lake-esque; but Natalie Portman called and she wants her tutu back. He's no longer my favourite player.
In the meantime, Treacy's on for McCarthy and Gibson replaces Fahey.
9.01 James McCarthy blocks a clearance in the Uruguay six-yard box and the ball spins across the face of goal. Liam Lawrence arrives like the light brigade but his shot cannons off Godin.
As the Zutons once sang: pressure, pressure, pressure, pressure.
8.58 I think the technical term for Fernando Muslera is – and I'm not sure if I'm pronouncing it right – a 'dodgy keeper'.
He's looked more agitated than Liam Brady in an RTE studio all night and almost gifted Long another goal when he punched a Keogh shot into his path just now.
The Reading man could only drive it over however.
8.57pm This is the press area, by the way, for those interested:
8.56pm this is a solid start from Ireland. McCarthy looks much more lively and Paul Green never hesitated in shooting when presented with a half chance earlier. The visitors are pegged back.
Darren O'Dea has been booked for a late, silly tackle halfway up to the Irish half.
GOAL! 2-3 What a start. Keogh and McCArthy go for the same ball (there's only one) and Cacedes managed to bring them both down in the box. Keith Fahey stepped up and confidently tucked it into the left corner.
As a very wise man once said: Game on, Ger.
8.41pm Welcome to TheScore's half-time bootroom – where the real issues are discussed.
Katy Perry's Firework is pumping from the PA. Is it wrong to love-love-love this tune?
Will a hot-dog be instantly regrettable?
Why are there two goalkeepers on the bench?
HALF-TIME So we go in 3-1 down to a clinical-looking South American outfit. They carved us open at will at times with this new-look side pretty shaky at the back.
The pitch is being watered here – make of that what you will. The last time Ireland conceded four was against Holland in 2006 by my reckoning. I don't think we've ever shipped five at home. Am I right?
GOAL! 3-1 Lawrence lost the ball in the centre circle as he failed to attack a square Fahey pass, Alberto Pereira drove forward and slipped it through to Hernandez. The No 11 has been lively on the right – and he made no mistake.
8.24pm The singing section won't give the stewards the balls back. Hernandez just curled another into the north section. That probably tells you a lot about how the game is gone.
8.18pm No one's yet attempted to claim the Sunday Game annual with a guess at the attendance. My over/under is 12,000. I should've mentioned there's contributions from all the RTÉ team including Morrissey.
In the meantime, Forlan had a range-finding effort fly over the bar after O'Dea and Kelly stood off.
8.11pm Gavin tweets to say: "waiting on u to start a Mexican….we'll continue in east stand". Okay 3…2….1…
GOAL! 1-2 They've only gone and scored again, reader.
Abel Hernandez skipped in from the wing and eventually threaded a neat ball into the Napoli striker Edinson Canani. He has been banging them in this year in Serie A. He made no mistake here.
SEE SPORT
DIFFERENTLY
Get closer to the stories that matter with exclusive analysis, insight and debate in The42 Membership.
Become a Member
We're getting our money's worth here anyway, those who've decided to pay in. I'd like to see more of 'the lad McCarthy' on the ball though.
GOAL! 1-1 Long equalises with a header. He held it up on the D, played it to Green who spread for Lawrence. He crossed for Long, who'd picked himself up and made the run, and the Reading man showed poise and power to nod in. This is a cracker. But does a tree make a sound if no one's in the woods or something?
GOAL! 0-1 The skipper Lugano puts the visitors one-up. A Forlan free-kick is floated into the box, Fahey heads it down into Cavani, it breaks for Lugano six yards out and he turns it home. Soft.
7.55pm Keith Fahey almost put Ireland one up with a wicked shot that the keeper Muslera spilled over the bar. Lucky.
7.51pm Bright enough start for what it's worth. Ciaran Clark just made a monkey out of Cavani – my favourite player – with about three Cruyff turns and half a dozen Zizou roulettes.
Keith Fahey swung in a dangerous free-kick too but Shane Long couldn't do much with it.
Who can guess the attendance?  I'll give a Sunday Game annual to the nearest estimate in the comments. We'll get through this night together!
7.40pm The teams are on the pitch. We're just had the anthems.
Uruguay anthem verdict: douze points. That concludes the voting from the Ballsbridge jury for now.
7.30pm I'm in situ in the West Stand. I was here for the media opening of the stadium a few months ago and I literally think there was more people here then.
It's like that Heineken Cup advert when the groundsman sees ghosts in a deserted ground. hopefully it'll fill up before kick-off.
What do people fancy tonight? The Uruguayan side looks very strong, I gotta tell you.
Here's the view from my well-padded seat, right.
Early doors: Are we all sitting comfortably? Then let's begin.
I'm currently in the lush new press room deep in the bowels of the new Lansdowne Rd stadium.
Giovanni Trapattoni's men will take to the Aviva Stadium pitch in the next 30 minutes to take on a Uruguay side containing eight of their World Cup heroes.
For Ireland, it's a new-look side, with Trap forced to make wholesale changes in the wake of the defeat of Macedonia. We reckon it could be a long night for home side, but it'll be instructive if nothing else.
The teams are:
Ireland – Westwood, Foley, Clark, O'Dea, Kelly (c), Green, Lawrence, Fahey, Keogh, McCarth, Long
Uruguay – Muslera, Lugano (c), Godin, M Pereira, Cacedes, Perez, Rios, A Pereira, Forlan, Cavani, Hernandez