Liveblog
Good afternoon all.
If we weren't hyped for the Six Nations, we bloody are now after a sensational Welsh performance against Scotland in the curtain-raiser in Cardiff.
You can find that report here. But from here on in, we're fully focused on events in the Stade de France.
Simon is too.
Here's a reminder of the teams named for this one.
Joe Schmidt has given James Ryan and Bundee Aki a Six Nations debut, but on the other side there is the rare sight of a teenage Test out-half – a feat last achieved by Billy McCombe in the '60s.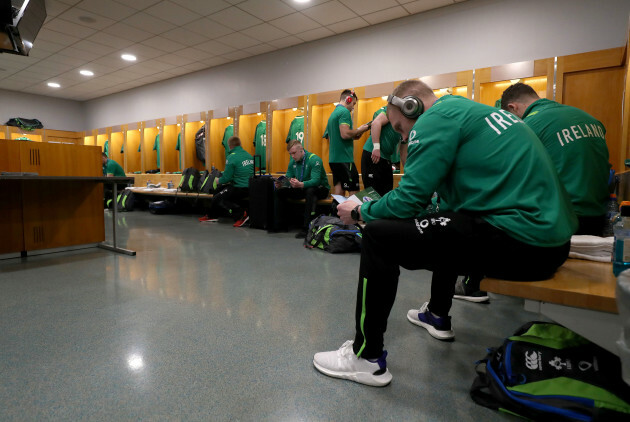 Source: Dan Sheridan/INPHO
France:
15. Geoffrey Palis
14. Teddy Thomas
13. Rémi Lamerat
12. Henry Chavancy
11. Virimi Vakatawa
10. Matthieu Jalibert
9. Maxime Machenaud
1. Jefferson Poirot
2. Guilhem Guirado (captain)
3. Rabah Slimani
4. Sébastien Vahaamahina
5. Arthur Iturria
6. Wenceslas Lauret
7. Yacouba Camara
8. Kévin Gourdon
Replacements:
16. Adrien Pelissié
17. Dany Priso
18. Cedate Gomes Sa
19. Paul Gabrillagues
20. Marco Tauleigne
21. Antoine Dupont
22. Anthony Belleau
23. Benjamin Fall
Ireland:
15. Rob Kearney
14. Keith Earls
13. Robbie Henshaw
12. Bundee Aki
11. Jacob Stockdale
10. Johnny Sexton
9. Conor Murray
1. Cian Healy
2. Rory Best (captain)
3. Tadhg Furlong
4. James Ryan
5. Iain Henderson
6. Peter O'Mahony
7. Josh van der Flier
8. CJ Stander
Replacements:
16. Sean Cronin
17. Jack McGrath
18. John Ryan
19. Devin Toner
20. Dan Leavy
21. Luke McGrath
22. Joey Carbery
23. Fergus McFadden
Referee: Nigel Owens [WRU].
The teams are out, time to pretend you don't love the French anthem for half a minute.
KICK-OFF
Jalibert gets us going and doesn't fluff the opening line.
France possession ends in touch and Ireland impress on their first attacking platform, flowing right with slick hands from Henshaw and Aki on the outside to put Ireland in the French 22 where they earn a penalty.
PENALTY! France 0 Ireland 3 (Sexton '3)
Straightforward one for Sexton to begin with, capping a perfect start from Ireland.
It gets better as Sexton kicks clear from his 22, Kearney rises high to beat Jalibert to the dropping ball and Earls kicks the ball to touch in France's half.
France show they want to attack with width too, but Kearney blocks a grubber and Henderson steals the resulting line-out.
A better effort from France over the past few phases, good continuity of possession and forcing Ireland to defend.
Jonny Sexton was sat own by Thomas and James Ryan put in a strong tackle to plug a hole around a ruck.
Possession stat on the tv screen now tells a tale. France have pushed their way to 59% dominance of the ball. Excellent response from them after Ireland's bright early sparks.
Oh, hang on… Gourdon has spilled the ball on the back of a scrum.
A gift for Ireland on halfway
The gift wasn't taken with both hands. Murray grubbered in behind, but didn't find touch and France kicked their way back to halfway.
Jalibert continues to show some nice touches, the latest of which is a half break and offload to Thomas, who is shut out on the left.
James Ryan starts another fine sweeping move from Ireland with a reverse pass. Henshaw follows up by hitting Kearney who might have straightened his line a tad more to free up Keith Earls who ended up having to check back.
Another penalty comes from Nigel Owens. Sexton swipes at the drop-goal on advantage, but we're back on tee.
PENALTY! France 0 Ireland 6 (Sexton '22)
Ryan shows a touch of inexperience perhaps there as he bashes a ball at Conor Murray's chest from point blank range as he lays at the back of a ruck.
The pill bounces loose and France fly hack and chase towards the line.
Kearney does well to slide in and clean up. Murray arrives to box kick clear to ease the danger.
Bundee Aki down getting some treatment after a knee knock with young Jalibert.
Ireland struggling to put sets of phases together without the ball going to deck.
Jalibert has been called for a HIA after that clash, so 19-year-old out-half is replaced by the grizzled veteran 21-year-old Anthony Belleau.
Another messy turnover from Ireland after a promising break from Earls and strong carry from Furlong.
Kearney, again mopping up a kick into his half, is hit hard and penalised for holding on. Well in Machenaud's range.
PENALTY! France 3 Ireland 6 (Machenaud '34)
Josh van der Flier is in absolute agony on the turf after a nasty looking knee twist as he stepped in to contact.
The number seven hobbles off with a grimace, cue Dan Leavy coming in as a direct replacement on the openside.
For what feels like the first time, Ireland get through 10 phases of possession with fine carries from Aki and Ryan before Murray is smashed behind the ruck. Penalty.
PENALTY! France 3 Ireland 9 (Sexton '39)
HALF-TIME: France 3 Ireland 9
Sure lookit, after the sensational show in Cardiff, this match was always going to be something of a comedown.
Ireland have been impressive in flashes, but issues in handling and at the ruck have limited their ability to unlock this French side.
Still, six points to the good with 40 to go. In Paris, you have to be happy with that.
SECOND HALF
We're off and running for the second half then. Can Ireland fulfill the expectation that fitness will help them pull away from the heavier, more cumbersome French?
Ireland set up to attack, but again the phase is cut short by error, Peter O'Mahony showing why we raved about Wales Prop Samson Lee earlier by clumsily batting the ball forward in an attempt to flick it laterally.
PENALTY! France 3 Ireland 12 (Sexton '47)
France now getting a warning from Nigel Owens for consistently shocking discipline.
The rain is pouting in Paris and Les Bleus are playing into Ireland's hands.
Ireland battered at the French line, but without much width and the individual power of the hosts manages to come up trumps just in the nick of time again. Poirot digs in and rips the ball away from Tadhg Furlong of all people.
That was Ireland's best chance of a try so far.
Flag
Oh dear. Penalty for holding on – just the fourth Ireland have conceded – and Machenaud makes it count, booting Les Bleus back within a score.
PENALTY! France 6 Ireland 12 (Machenaud '54)
Strong showing from Ireland's scrum now after the replacements come in for France. Machenaud forced to deal with very messy ball and Stander forces a penalty on halfway which Sexton drills towards the corner.
Jack McGrath is in the game to help turn the screw on the scrum, replacing Cian Healy after another solid shift.
France in from the side after Ireland run through some smart phases off the line-out. Chance for Sexton to put Ireland out of striking distance now.
Oh no. Johnny Sexton blazes a quite straightforward penalty wide left of the posts.
By my count, that's the first miss of the Championship after Halfpenny went 6 from 6 earlier today.
Vital penalty win for Ireland in their own 22 as France barrelled forward with the scent of a possible shock win.
Squeaky bum time now. Keith Earls pinged for a high tackle on Thomas.
Should have been a knock-on prior to that though surely.
Either way, France are setting up camp on the Ireland 22 with a line-out.
Big Dev Toner is in to stem the flow, he replaces James Ryan after a terrific display from the 21-year-old.
Poor kick through from Belleau. Lobbed over the top as Ireland's backfield shifted positions, but Kearney merely has to wait to touch it dead at his own posts.
Nigel Owens is widely regarded and respected as the world's best referee, but he's played a part in this game's descent into the mire.
Took an age to warn France for consistent indiscipline, never mind card them for it. And has also brushed off non-calls on Tauleigne and Vahaamahina.
Flag
TRY! France 11 Ireland 12 (Thomas '71)
Absolutely sensational stuff from Teddy Thomas, cutting in on a scything run through multiple flailing green jerseys on his way to the try-line.
The conversion is an easy one. Ireland trail.
France 13 Ireland 12
Five minutes to go. What are Ireland made of?
Replacement scrum-half Dupont is going off injured, but that could well work in France's favour as Machenaud is an experienced head to come in and steer the ship home.
Ireland arguing with Owens over whether Machenaud should be allowed back on. France have engineered that one by calling it a HIA.
More pertinently, France's scrum have a taste for battle now and they power through John Ryan to force a penalty.
Curiously, Belleau was handed kicking responsibility instead of Machenaud but he missed the chance to put France four clear.
Ireland are still pushing and a Sexton cross-kick to Earls has them in enemy territory.
France now can't concede penalties.
Can Ireland force a chance?
Flag
After 40 phases Johnny Sexton with a 50 metre drop goal to steal victory from France.
An unbelievable finish!
Johnny Sexton comes up with the goods when all hope seemed lost.
We said 40 above, it was actually 41 on the clock when Sexton got his hands on the ball in the pocket.
A truly iconic moment in the career of the Ireland, Leisnter and Lions 10.
I'm off for a lie down.
FULL-TIME: France 13 Ireland 15
Contribute to this story: