LEINSTER ARE OUT to be the first team since Wasps to win a double.
Can they do it? Or will the Ospreys continue to hold a hex over Joe Schmidt's side.
As always, we'd love to hear your thoughts on the games. E-mail seann@thescore.ie, tweet @thescore_ie, post a message to our Facebook wall, or leave a comment below.
Leinster 30 – 31 Ospreys
Good afternoon, you're very welcome along to a scorching hot RDS where Leinster and the Neath-Swansea Ospreys are currently warming up their muscles ahead of the (drum roll please) RaboDirect Pro12 final.
The teams were announced on Friday, but here they are again. The only real news since then is that Cian Healy is deemed fit enough for the bench so Jack McGrath is left out.
Leinster: R Kearney; McFadden, O'Driscoll, D'Arcy, Nacewa; Sexton, Reddan: Van Der Merwe, Cronin, Ross; Cullen (capt.), Toner; McLaughlin, Jennings, Heaslip.

Replacement: Strauss, Healy, White, Thorn, Ryan, Cooney, Madigan D Kearney.

Ospreys: Fussell; Dirksen, Bishop, Beck, Williams; Biggar, Webb: James, Hibbard, A Jones; AW Jones, Evans; R Jones, Tipuric, Bearman.

Replacements: Baldwin, Bevington, Jarvis, King, Smith, Fotuali'i, Morgan, Isaacs.
The entire Leinster squad have just taken a light jog around half the pitch, it draws a massive appreciative roar from the sun-drenched crowd.
The Welsh outfit are not without their fans either. Most of them appear to have gathered behind the goals at the Ballsbridge end of the ground. Though I reckon there are still plenty at the Lansdowne hotel where (last I checked) they were being treated to renditions of various Stereophonics hits.
20 minutes until kick-off now, so they should be on the march.
So lets have your predictions. If it helps, here's how Leinster are shaping up from our vantage point in cool cool shaded stand.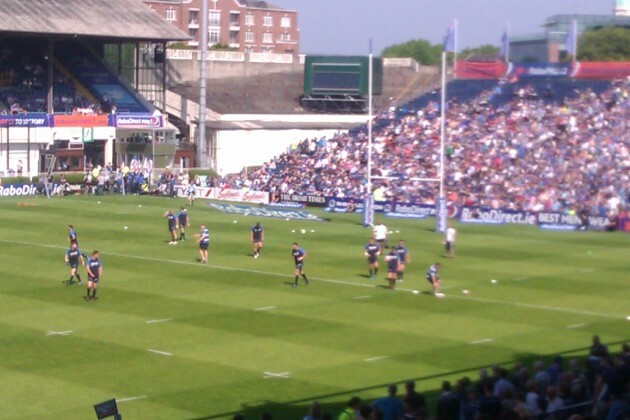 The home favourites go off to a chorus of cheers and the beat of jungle drums. The beat is hypnotic, I almost missed the Ospreys follow them down the tunnel.
It's close.
A rather under-choreographed flag show has replaced the brilliant drum. Luckily, it's only four minutes before we see some rugby.
Aaah, now it makes sense.
The flag bearers (slowly) made their way to the tunnel and now they flank the two sides as the come out into the glaring sun, a see of blue flags and smoke.
It's on now.
KICK OFF:
Dan Biggar get us under way and Leinster have the ball in their own half. The pack takes it on for three phases before Sexton takes it wide, but still they keep it tight, Heaslip and Toner making good ground.
A penalty is quick-tapped. The home side want to play with ball in hand and are rewarded with another penalty, this one is kickable.
3 mins: Leinster 0 – 0 Ospreys
Sexton, from 45 metres, cuts his penalty left and wide.
5 mins: Leinster 0 – 0 Ospreys
A big hit from McLaughlin looks to have rocked Beck, but Webb hoists a kick high and Kearney and McFadden get in each other's way. Ospreys attack now after a solid line-out.
PENALTY: 8 mins: Leinster 0 – 3 Ospreys (Biggar)
Leinster manage to turnover in front of their own posts and McFadden does well to gain 10 yards with Shane Williams hanging off him. But Poite penalises the blues on the next phase.
Dan Biggar coolly bisects the posts from the left hand touchline. A superb strike to open the scoring.
PENALTY: 10 mins: Leinster 3 – 3 Ospreys (Sexton)
From the restart Paul James has gone off his feet and offered Sexton and easy chance to level the scores. No mistake this time, on the angle from the 22 line.
13 mins: Leinster 3 – 3 Ospreys
After a breathless opening, the teams are allowed some respite to take on some water as Leo Cullen is treated. We resume with a scrum and Poite instantly awards a penalty to the Welsh side. It's kickable, but they opt for another scrum. Confident.
SUB: 13 mins: Leinster 3 – 3 Ospreys
Oh dear, Mike Ross has hobbled off injured. Nathan White is in. But his first act is to win the penalty against James and the home side are back in opposition territory,
16 mins: Leinster 3 – 3 Ospreys
A side-step by McFadden creates room for some Isa Nacewa magic and the Kiwi makes 20 yards before losing the ball on a grubber. Leinster win it back and spin back to Jennings in midfield, showing off his kicking skills by pinning Ospreys into the corner.
But they fight their corner well, these boys.
PENALTY 20 mins: Leinster 3 – 6 Ospreys (Biggar)
Leinster fall behind, but they are mighty fortunate it is only by three points. A dropped pass on halfway fell to Biggar and he had a clear run at the try-line, just not the pace.
He passed left to Rhys Webb and he too only found traffic. Leinster clamoured to slow the ball down and were caught by Poite for a straight-forward kick for Biggar.
TRY 25 mins: Leinster 10 – 6 Ospreys (Cronin)
The crowd give a roaring seal of approval as Leinster send the white scrum back-peddling on their own ball.
Webb's pass is not held by Biggar and the hosts stream through. A phase later, O'Driscoll straightens the line brilliantly allowing the slightest of gaps for Sean Cronin.
The former Connacht man would never be denied from there. Sexton coverts from a relatively easy angle on the left
31 mins: Leinster 10 – 6 Ospreys
Perhaps now both teams will ease off the pedal slightly, it's been a frenetic opening half an hour. You would never guess that these are extraordinarily difficult conditions to play in.
PENALTY: 33 mins: Leinster 10 – 9 Ospreys (Biggar)
After his initial burst, White has found the going tough against Paul James and Biggar executes another perfect kick from the sideline.
TRY: 36 mins: Leinster 17 – 9 Ospreys (Nacewa)
Amazing.
Straight from the kick-off, Sexton cathces the white jerseys napping. Nacewa rises to claim the restart at full speed and he romps to the line. The crwod enjoyed that one.
'Isa, Isa, Isa' rings around the RDS before Sexton adds on the extra two. Magnificent stuff from the man who should have been an All Black.
SIN-BIN 38 mins: Leinster 17 – 9 Ospreys (Van Der Merwe)
A thrilling game of rugby is drawing towards half time, my colleague from the Pro12 can't believe it's flown by so quick. 30 players on the field would disagree. Ospreys are on the attack, drawing more penalties from that weakened Leinster scrum.
Van Der Merwe is the man singled out by Poite, he gets an extended half-time break. Jack McGrath is on in place of McLaughlin as Leinster defend their line from five metres.
39 mins: Leinster 17 – 9 Ospreys
No mercy from the visitors here, they are sucking penalties from Poite's whistle. They want another yellow, or a penalty try….
HALF TIME: Leinster 17 – 9 Ospreys
The visitors wanted a penalty try, but they did not receive. As feet pounded in all corners of the ground, Poite awarded a penalty Leinster's way. It's a massive moment and don't the crowd just know it.
Sexton rushes in to get the ball and the other 11 jerseys crowd in to pat Wright and McGrath on the back. The table-toppers were hanging on grimly for a full six minutes.
The stuff of champions?
Those of you paying close attention will notice that Jack McGrath came on at loose-head, not Cian Healy.
Ireland's number one was included among the replacements on the team-sheet, but it seems he wasn't fit enough to shove McGrath out of contention. Hopefully he will be fit and ready for the long-haul to New Zealand. As it's a thigh injury, I'd be shocked if he wasn't.
TRY:41 mins Leinster 17 – 16 Ospreys (Beck)
Sexton kicks off the second half, but nowhere near as impressive as his last effort.
The Ospreys march methodically back upfield and, still with a one man advantage, create an opening for Ashley Beck to break through from 20 yards. Sexton wrestles him to the ground as he crosses the line, but it would have taken a miracle to stop him grounding from there.
Biggar converts.
PENALTY: Leinster 20 – 16 Ospreys (Sexton)
It's another tit-for-tat scoring sequence. This time, from close to 50 metres on the left wing, Sexton smashes the ball straight as an arrow and over the bar to put Leinster into a four-point lead.
Van Der Merwe's sin bin is up, so back he comes alongside McLaughlin. Brad Thorn is also on the field as a replacement for Leo Cullen.
PENALTY, 51 mins: Leinster 23- – 16 Ospreys (Sexton)
Sexton has well and truly found his range now. Having the 15 men back on the field has really freshened up their impetus and, from 40 metres, he makes the gap seven again.
52 mins: Leinster 23- – 16 Ospreys
They're chanting 'Isa' again… but this time it's no try. After a poor Ospreys line-out, Leinster sniffed blood and shifted the ball left where Heaslip was arriving at speed.
His pass was a little too flat for Nacewa, but the Kiwi held on and did his best Superman impression diving to the corner, but he was pushed out of bounds before he touched down.
TRY 58 mins: Leinster 23 – 21 Ospreys (Williams)
Since conceding the try, the eastern province have played almost entirely in Ospreys territory. But when Hibbard had a line-out on half way, the platform was set.
The ball was instantly spun left and Fussell came on it at speed, in a flash, Shane Williams is diving (Nacewa-esque) into the corner. We go to the TMO briefly, but there's no doubt.
From the difficult angle, Biggar is wayward with the conversion. It's game on again, and what a game.
TRY, 64 mins: Leinster 30 – 21 Ospreys (Nacewa)
When the going gets tough…
Sexton orders his back to give the backs a break and from just outside the 22, they get a powerful maul moving. As white shirts are sent flying, who is there to finish off the score, 'Isa, Isa, Isa'
That's the man of the match award sorted, so.
SIN BIN, 73 mins: Leinster 30- – 21 Ospreys (White)
Leinster are down to 14 men for the second time (and this time for good) as Poite gives Nathan White some time off. That brings us to uncontested scrums, so Ospreys opt to kick their penalty.
PENALTY: Leinster 30 – 24 Ospreys (Biggar)
No mistake from the young fly-half, the visitors are back within a score, but it's Leinster back on the attack.
TRY: 76 mins Leinster 30 – 31 Ospreys (Williams)
Shane Williams has scored his second try of the game, Leinster were defending magnificently, but could not hold out against the 15 men. Williams sneaks into the corner and Biggar nervelessly slots home the conversion.
Leinster trail by two with no time left.
80 mins: Leinster 30 – 31 Ospreys
The game should be over, but it's not. Leinster have the ball and the crowd are willing them forward. Can Sexton emulate a Ronan O'Gara drop goal?
FULL TIME: Leinster 30 – 31 Ospreys
Boos ring out around Dublin 4. O'Driscoll looked to have given the platform needed, 30 metres from goal, but the white shirts pour through and steal the ball. Fussel stabs it into the stand.
The Ospreys win at the RDS… again.
Joe Schmidt loses just his second game of knockout rugby as a head coach and it's in the Pro12 final… again.
Three years in a row Leinster have gotten to this stage, three years in a row they have lost.
Men in blue jerseys lay strewn all over the field. The crowd booed the final whistle, but it was soon drowned out by 'Leinster, Leinster'. They will feel this is a game they should have won, it was at home, they led by nine points at one stage.
But then came one little man for the big occasion. Shane Williams tipped the game on its head. And he ran, alone, from the crowd back to the winners' circle a black flag held aloft.
Nacewa won the man of the watch award, but you sense it was chosen before Williams touched down a second time. Leinster have collected their silver medals and must watch on as Alun Wyn Jones and Ospreys claim the spoils on their turf..
The double dream is over, for another year.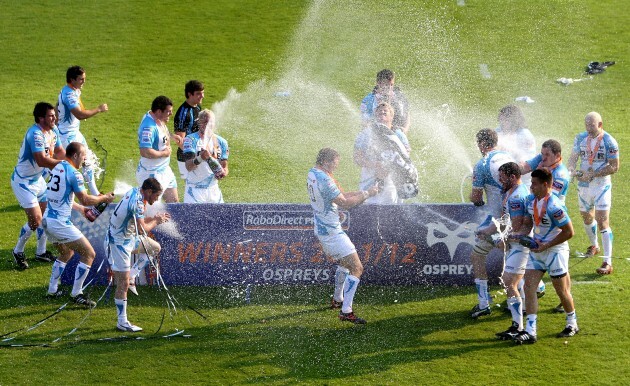 ©INPHO/Ryan Byrne
Thanks for joining us on what has been a fantastic day of rugby, just not the result most of the crowd here wanted. But who could begrudge Shane Williams one last medal.
Signing off from the RDS.