Send us your thoughts and comments on this afternoon's action. Tweet us @thescore_ie, find us on Facebook, or leave a comment below.
Full-Time: Cardiff 2-2 Liverpool (AET – Liverpool win 3-2 on penalties)
A stunning effort from Glen Johnson inside the first three minutes, as Liverpool immediately seize the initiative at Wembley. It's all set up to be a great game as the Reds have their first 'final' since beating West Ham in the 2006 FA Cup final at the Millennium Stadium.
Here are today's teams…
Cardiff: Heaton, McNaughton, Hudson, Turner, Taylor, Cowie, Whittingham, Gunnarsson, Mason, Miller, Gestede
Subs: Marshall, Kiss, Gerrard, Earnshaw, Conway, Naylor, Blake
Liverpool: Reina, Johnson, Skrtel, Agger, Jose Enrique, Henderson, Gerrard, Adam, Downing, Suarez, Carroll
Subs: Doni, Maxi, Kuyt, Spearing, Carragher, Kelly, Bellamy
Referee: Mark Clattenburg (Tyne & Wear)
Cardiff's first effort as Kenny Miller shoots over from just inside the Liverpool penalty area. It's been a busy start to the match but both teams are still trying to find their rhythm after that Johnson curler almost gave the Reds the lead.
Charlie Adam crosses in towards Andy Carroll, but the former Newcastle man's header goes… well… I never saw where it went but it certainly wasn't anywhere near the goal.
Did you know that Andy Carroll cost £35million?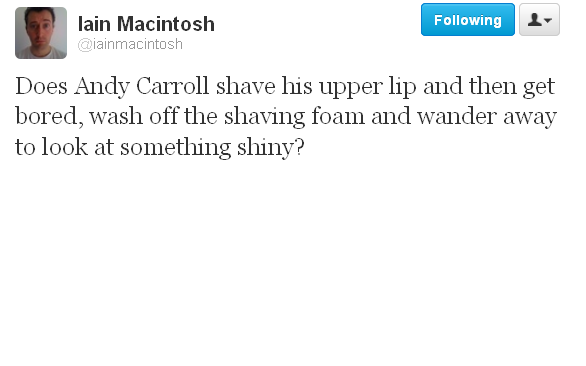 Henderson dawdles too long on the ball, losing the opportunity to shoot. The ball eventually finds Luis Suarez, who crosses for Carroll to head meekly at Tom Heaton.
Cardiff 1-0 Liverpool. Well, that was poor from Liverpool and Cardiff have the lead! Martin Skrtel's weak defensive header finds Kevin McNaughton. The full-back feeds the ball to Kenny Miller, and his dinked pass is seized upon by 20-year-old Joe Mason. It's his eighth goal of the season.
Liverpool immediately go back on the attack as Daniel Agger's effort is deflected out for a throw. The ball ends up with Downing but his cross is weak. A quarter of the match has been played.
That was a tidy finish from Ireland under-21 striker Mason, but Liverpool seemed to be asleep.
Fine interplay between Downing and Enrique before the ball is played in front of the Cardiff defence towards Carroll. He finds Johnson, who finds a player from the opposing team. Momentum wasted.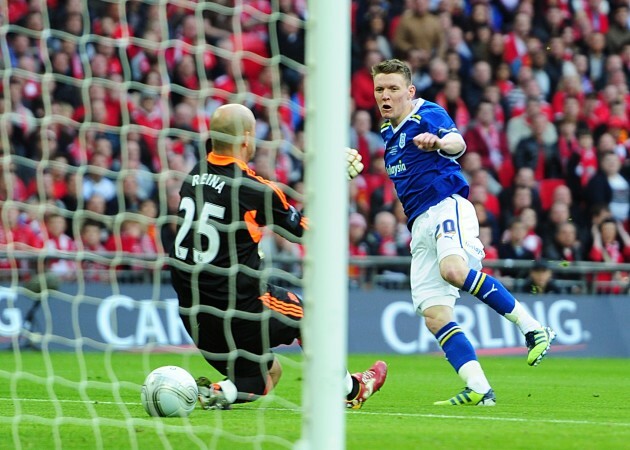 Downing produces Liverpool's best moment of the match so far, tearing down the wing and crossing brilliantly, but there's no sign of anyone coming on to the ball. Where was Carroll?
Meanwhile, Adam sets himself before shooting inches wide of Heaton's post.
Mason does it at the other end too, getting his head in the way of Skrtel's foot as Liverpool go in search of an equaliser.
As John W Henry watches on, Gerrard's pass to Suarez goes harmlessly out of play. Meanwhile, Craig Bellamy warms up with the look of Arnold Schwarzenegger in the film Predator.
Liverpool's biggest chance of the game – Downing's cross results in a fresh air kick from Jordan Henderson. The ball runs through to Gerrard, normally so accurate coming on to a ball like that, but he balloons it over the bar.
Have I even mentioned Suarez' name yet? The Uruguayan seems to be lacking his usual pace, touch, and general ability to be a footballer.
Ouch! Gerrard floats over a free-kick and Daniel Agger heads straight at Heaton from point-blank range. Either side and it would have been a goal. Liverpool's captain is beginning to show some form.
That's it for the first half, as Cardiff withstand a red onslaught to keep their half-time lead. Joe Mason's goal separates the sides at Wembley.
We're back for the second half, as Jordan Henderson does his best to divorce the corner flag from its standing position. Less a shot than a thrash of the ankle.
Cardiff have their best effort since the goal. Don Cowie's reverse pass finds Miller and the veteran striker – who still looks 17 – shoots narrowly wide of Pepe Reina's goal.
Suarez gets away from Hudson and his shot is deflected into the path of Carroll by Heaton, or at least it would have been if Carroll wasn't loitering on the 18-yard-line. Stupid play from the 23-year-old.
Suarez appeals for a handball after a Charlie Adam shot is deflected over the bar. Nothing. After the subsequent conrer, Anonymous Henderson (as we may start calling him) is booked for a foul on Mason.
You would have expected Liverpool to come into the second half with renewed purpose, but they've actually been worse than in the first half. They can't string two passes together and Cardiff look more dangerous going forward.
Another moment of nervous goalkeeping from Reina almost allows Miller in. How come goalkeepers never try to catch the ball anymore?
Craig Bellamy is stripped and ready to come on for Liverpool. Anonymous Henderson goes off, hopefully with a view to finding himself.
Cardiff 1-1 Liverpool. Martin Skrtel equalises for Liverpool. Luis Suarez hits the post after good pressure from a corner. Skrtel gets the rebound, takes a touch, then fires it in.
Reina gets down to save a shot from Mason, while Bellamy appeals for a corner after threatening the Cardiff goal. Better from Liverpool.
Brynjar Gunnarsson goes down injured with a head issue and the game comes to a halt. He takes an accidental crack in the face from Gerrard.
The game is subdued once it restarts, caution sneaking into it.
Then, out of nowhere, Skrtel volleys towards Heaton and the 'keeper needs to be at his best to get down in time.
A cross from Craig Bellamy is headed over by Carroll. The Welshman has been his usual, busy self since replacing Henderson. Bellamy is, of course, playing against his former side.
Bellamy, found by the impressive Downing, pulls the ball back for Carroll but McNaughton steals in from nowhere. Carroll had not a clue where the ball went there. I'd love to be able to write something positive about the Liverpool striker, but he has been muck.
Meanwhile, somebody's happy after Liverpool's equaliser…
Kenny Miller gets a free-kick after brushing hands with Downing. Peter Whittingham will take it – he hits the wall and it goes out for a throw.
Downing and Suarez combine again but the South American doesn't shoot. He draws a corner, Liverpool pepper the Cardiff goal with shots but it all comes to a halt when Johnson shoots wide.
A great chance from Cardiff! Cowie puts in a delicious cross and defender Ben Turner's header goes JUST wide. Reina would not have had a hope.
Suarez finds space for himself, then finds Adam, who finds the safe hands of Heaton (who has been outstanding today).
Turner gets an important interception as a cross-shot from Johnson would have found Suarez. Meanwhile, Agger seems to be injured and leaves the field. There's some Carragher fella on the pitch, never heard of him before…
Miller wastes a glorious chance to win it for Cardiff! He beats the offside trap, collects the ball and blazes over when it looks easier to score. Liverpool go up the other end but don't threaten, and Cardiff counter once more. The ball goes out. Will we be denied extra-time?
Coming soon to the Premier League: Ben Turner. Stunning defensive display. Blocking everything and a threat going forward.
There will be four minutes of injury time, and then extra time if things stay as they are. Gerrard shoots over for Liverpool, who look more knackered than Cardiff at this stage.
Full-Time: Cardiff 1-1 Liverpool. Martin Skrtel equalises Joe Mason's first half goal for Cardiff City, and both teams miss chances to win it. Cardiff, arguably, should have shaded it in normal time.
It's 2001 all over again as Liverpool are taken to extra-time by a lower league club.
Extra time kicks off, and Suarez immediately lets a shot go that Heaton fingertips away. Set up by Bellamy… From the corner, Suarez' shot is cleared off the line by a Cardiff defender.
Mason, by the way, has been replaced by Filip Kiss for extra-time.
There seem to be more blue shirts than red on the pitch. Downing is outmuscled when things seemed to be opening up for him.
Will Kenny Dalglish introduce Dirk Kuyt, or even Maxi, for the flagging winger?
Cardiff captain Mark Hudson is forced off the pitch after an exceptional performance – he and Turner have been magnificent. Anthony Gerrard, cousin of Steven, comes on his place.
Downing shoots over again – he just never looks like scoring – before Steven Gerrard drives forward and wins Liverpool a corner. From that, Carroll heads narrowly wide.
And that's it from Carroll – he's replaced by Kuyt. No real surprise, Liverpool needed a new idea.
Bellamy almost scores! He exchanges passes with Kuyt before ghosting past McNaughton and narrowly shooting over the bar.
Downing to Adam to Johnson to just past the post. This has been Liverpool's problem all season – plenty of opportunities but none of the accuracy.
The first period of extra-time comes to a close and it's still Cardiff 1-1 Liverpool.
Kevin McNaughton leaves the field of play and Darcy Blake comes on. Tick tock.
Kuyt gets free down the right and his cross finds Suarez. The former Ajax man was going backwards and the chance left him.
Cardiff 1-2 Liverpool. Dirk Kuyt scores for Liverpool. The Dutchman's original shot comes off a Cardiff defender but Kuyt follows up and stabs the ball past Heaton. 108 minutes in, and it's looking like Liverpool's trophy.
This isn't over quite yet. Cardiff are camped in the Liverpool, with the broken Gunnarsson dictating play from a standing position. Pretty much like Jan Molby, but actually injured.
Cardiff are level! Ben Turner with the goal! Cardiff 2-2 Liverpool. After Cardiff hit the bar they win another corner. Kuyt misses it as it comes in and Turner stabs it into the net. Amazing!
Liverpool try to win it before the need for penalties. They have a corner and there will be an extra minute. Kuyt's overhead kick is cleared by Gunnarsson! Whew. Johnson's cross is blocked and here we go – penalties!
Alan Shearer: "Penalty takers are going to be nervous."
Licence fee, folks.
"You can't replicate this is training."
No.
Steven Gerrard with Liverpool's first – and it's saved brilliantly by Heaton! Amazing save, on to the crossbar.
Kenny Miller strikes the post and they're both level again.
Charlie Adam shoots over the bar. Awful effort. No successes yet.
Finally – Don Cowie nets for Cardiff. 1-0 to Cardiff.
Kuyt scores, then Gestede hits the post for Cardiff. He never looked like scoring. Then Downing makes it 2-1 to Liverpool.
Whittingham beats Reina. 2-2. Up steps Glen Johnson. Scores. 3-2 to Liverpool. Anthony Gerrard has to score…
…and Anthony Gerrard misses! Liverpool have won the Carling Cup.
Liverpool are jubilant but (cliché alert) you have to feel sorry for Cardiff City. They defended magnificently, while Liverpool's shooting was off kilter all through the match.
It all got pretty breathless in the end but Liverpool have their first trophy since the 2006 FA Cup.
Thanks for keeping up…